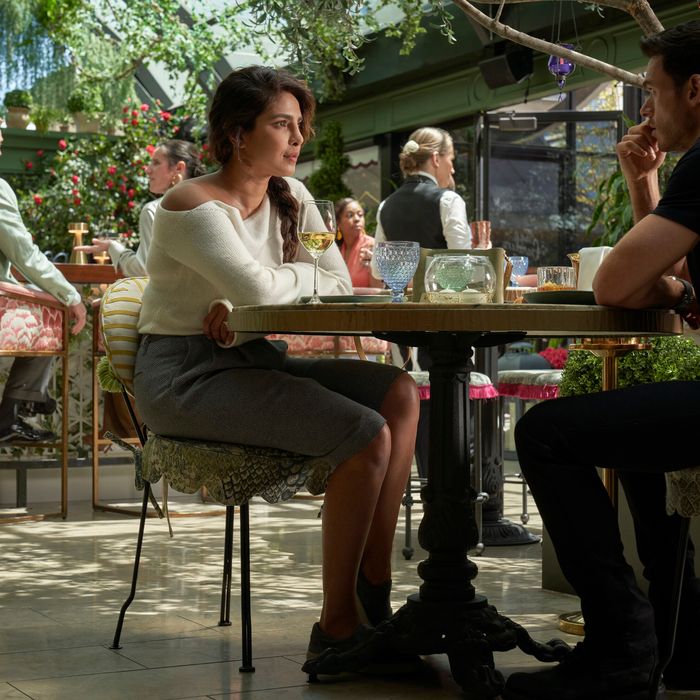 Photo: Paul Abell/Prime Video/Paul Abell/Prime Video
Welcome back to Citadel, where everyone is trying to play three-dimensional chess, and none of them is as good at it as they'd like to imagine, which is embarrassing for a bunch of seasoned international espionage professionals. Aren't brilliant tactical and strategic skills such as thinking ahead to the enemy's likely moves and countermoves the bedrock of their whole deal?
Let's start with each organization's core mission and how they can fall apart. Both Citadel and Manticore believe that they're doing the right thing in service of world peace and/or the truth. Those are noble goals (though the truth is more of a concept than an objective — they'll have to work on that in their next round of strategic planning), but they're driving each agency's leaders to create and execute horrifying plans and tools. Before authorizing the procedure for Celeste, Bernard likens backstopping to killing, and Anders's brainstem-dissecting sonic screwdriver is so awful that Dahlia leaves him alone to deploy it on Bernard.
Dahlia's rationale for perpetrating so much violence in the name of the truth is deeply personal. She didn't turn against Citadel until pretty late in the game, noting that "I admired you for creating a safer world until I found out firsthand that the most dangerous weapon of all wasn't nuclear arms or biological weapons. It was Citadel." She's so invested in pursuing the truth and vengeance that she authorized the murders of thousands of Citadel agents eight years ago. She dismisses the deaths on her hands as those of war criminals and murderers themselves, a very bloody means to her declared end of peace via disarmament.
Contextual clues over the last few episodes — her solemn, thousand-yard stare while the camera panned across an old family photo, the forearm covered in scar tissue from some unspecified, horrific burns, Bernard's scathing comment that "Thomas would be so ashamed of what you've become" — make it clear that Dahlia blames Citadel for the deaths of her husband and child, and has been raining hellfire down on the organization and its straggling remnants ever since. Parenthood makes blinkered zealots and/or easily exploited pawns of all, even those who have only learned of the existence of their child mere moments ago.
If you had "secret baby" on your Citadel bingo card, congratulations! Yep, that "package" Nadia secretly messaged a mystery person about in episode three is Asha, the Valencia-born baby she kept a secret from Mason and who has been raised for the last eight years by her dad, Rahi Ghambir, who is also, according to a thunderstruck Carter, a sometime Manticore asset. This family contains multitudes! Mason has just barely begun to process the existence of a daughter he never knew about when another Manticore agent, Mr. Yamazaki, rolls up with his team — four SUVs' worth! — to politely insist that he speak with Dahlia, who wastes no time in telling him he can either activate Russian nuclear missiles and meet Asha, or he can refuse (for the greater good) and leave his and Nadia's child to a wretched fate.
It's a move that worked for Dahlia just a few hours ago with Bernard, who immediately surrendered the nuclear codes when she made a credible threat of an airstrike against the safe house in Wyoming. Our knowledge that she ordered her henchmen to "clean up" in Wyoming anyway should be a warning to Mason and Nadia. Here's hoping they anticipate a double-cross and can buy some time to cook up some countermoves while they pretend to comply.
Once again, the most powerful threats to each agency's pursuit of its chosen greater good are personal reasons and secrets. Our bonds with other people tend to take precedence over our loyalties to institutions, and our need to share information with our nearest and dearest makes it nearly impossible to maintain secrets in perpetuity. Both are classic tropes in espionage narratives going back decades: James Bond is a successful spy partly because he's an orphan whose only long-term relationship is with MI6. Even the ragtag, surprisingly competent bunch in Slow Horses is primarily a bunch of loners. Mason, with his dead father and abandoning mother, is much the same. Like his forebears, he's a safe recruit and reliable agent because he has no one to share his secrets with. The other side of that coin is his correct observation that Nadia wears a mask of unknowability because she doesn't want to be seen. Citadel has always been a second family for her, but Mason doesn't know the half of it. Nadia needs to keep her relationship with her father a secret, and later, must keep Asha's very existence a secret; her treasured family relationships are professionally disqualifying, exploitable, or both.
On the Manticore side of things, Dahlia has been drawing on her grief and rage to fuel her years of ruthlessly dedicated service, but I suspect we'll see her exhaust those reserves by the end of the season. On the other hand, she's shrewd enough to suss out Asha's existence and probable location in Valencia and had a gut feeling that Anders is going to break sooner or later. Five minutes alone with Bernard proves her right; Anders's near-decade of pining and grief for Brielle was his undoing. Dahlia pronounces the late Anders a dipshit, but I think the only difference between them is that he's sad and she's furious. Different stages of grief yield different effects, but surely we can all regard our colleagues with a bit more compassion than a bullet to the head?
Speaking of collegial grace, or the lack thereof, this episode is packed to the rafters with scathing looks in Mason's and Carter's direction. They were both so convinced that their collected circumstantial evidence pointed to Nadia being a traitorous insurgent, but instead, she reveals that, yes, she had stolen the Oz Key and then destroyed it, correctly arguing that its power was too great to be wielded by anyone. Her disappearance from the espionage scene after breaking up with Mason for his lack of trust in her was not the act of a guilty conscience but of a mother intent on protecting her child. It seems like she'd been far too busy to be the fed-up, conscience-stricken Citadel agent who approached Dahlia eight years ago.
If we eliminate Nadia from consideration, who is left? Dahlia has made it clear that the agent in question is a woman. The other women we've gotten to know are Celeste/Abby, who has been backstopped and whose memory vial has been destroyed. Unlikely. Bernard's ex-wife, Jo? Maybe. It's unclear if she's ever worked for Citadel directly, but she knows a great deal about Bernard's work and disapproves of a fair amount of it. Nadia's mother, a retired (and so far as we know, living) Citadel agent? Possible! We haven't met her, but we hadn't met Rahi until this episode, either. Finally, there's Grace, the soft-spoken Citadel higher-up who seems very regretful about backstopping Celeste and who contacted Nadia to request her presence on the now-infamous Italian Alps job. My money is on Grace being the conscientious objector, but only time will tell.
It will be interesting to see how Citadel approaches its season finale next week: Besides providing the usual plot resolutions and cliffhanger moments to pique viewer curiosity for next season, the episode must also lay the groundwork for Citadel's planned multiple spinoff series. Keep those speculation engines running, folks!
Fun With Bullet Points
• The way Richard Madden doesn't miss a beat to spit out "Eat your FUCKING salad" at the eavesdropping diner one table over is the line reading of the episode. This is no mean feat in a show co-starring Lesley Manville and Stanley Tucci.
• A couple of Nadia questions are lingering. If Asha is living in Valencia, it's kind of weird that their paths haven't crossed once in the last eight years, right? Valencia is Spain's third-largest metropolitan area, but eight years is a long time. And! Now that we know the true nature of Nadia's yearlong mission away alluded to in the premiere's cold open, are we also meant to think that Bernard didn't know why she was away and where?
• Another episode, another gorgeous jewel-tone dress for Nadia. Scarlet and emerald are her colors for sure; as Priyanka Chopra Jonas's brother-in-law's ex might say, she polishes up real nice! (NICE!)