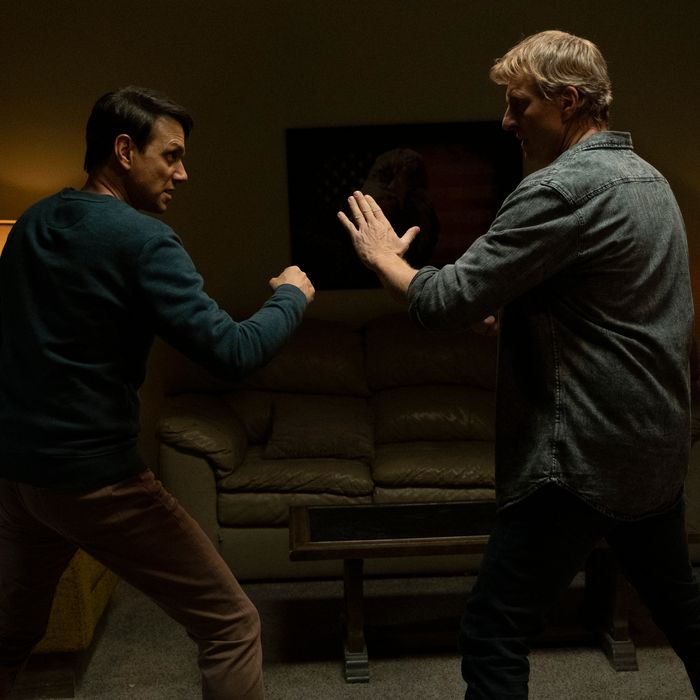 These two, at it again.
Photo: Steve Dietl/Steve Dietl/YouTube/Sony Pictures Television
Netflix is starting off 2021 on a good note by giving the people exactly what they want — more episodes of Cobra Kai. We want more from middle-aged Daniel (Ralph Macchio) and Johnny (William Zabka) and their warring karate dojos, more brawls between expertly trained high schoolers, and more psychological explorations of those who refuse to be defined by their complicated pasts, whether they are students or teachers. That's only some of the magic behind this crafty series that expands upon the Karate Kid story, which initially gained popularity as a YouTube Original before being purchased by Netflix. Just this past August, Netflix started carrying the series to hype up its upcoming third season, which picks up right after season two's series-best battle royal.
Any fan of the show will tell you that Cobra Kai is much more than nostalgia for The Karate Kid, in part because it ushers in a whole new generation to its decades-old rivalry, and also because it provides a seemingly endless supply of battles, karate-based and otherwise. To prepare for the third season of Cobra Kai, debuting on Netflix this Friday, we've compiled all of the fights you need to remember — not just the major physical confrontations, but the internal struggles and personal beefs as well.
Daniel vs. Johnny
It all started back in 1984, with a crane kick to the face. After a whole film of them beating up on each other physically and emotionally, high schoolers Daniel LaRusso (Ralph Macchio) and Johnny Lawrence (William Zabka) took their beef to the mat of the climactic All Valley Karate Championship. Daniel's win was a defining moment in both of their lives. Daniel, a student of Mr. Miyagi (Pat Morita), became a legend in the region, which he rode all the way to owning a successful car dealership that gives customers bonsai trees. But it also marked the slow descent that put Cobra Kai student Johnny in the booze-soaked, isolated state in which we find him in Cobra Kai's pilot episode, establishing the show's brilliant framing of Daniel as the one who emerged as the ultimate jock.
Johnny vs. Miguel's Bullies
Johnny's resurrection as a badass came from a heroic act: He saved a young man named Miguel (Xolo Maridueña) from torture by his high-school bullies, fending them off with fists and feet as if he had never stopped practicing karate. Miguel, who also happens to be Johnny's neighbor, begged Johnny to teach him, which inspired Johnny to open his own dojo. Hence, Cobra Kai was reborn, along with its tenets of "Strike Hard, Strike First, No Mercy." When Daniel saw the logo one day while driving to work, it wiped the grin right off the former champion's face.
Miguel vs. Miguel's Bullies
Cobra Kai struggled to attract students until Johnny's teachings went viral — namely when Miguel was filmed at school delivering an impressive takedown on the bullies who beat him up at a Halloween dance and were now teasing Sam LaRusso (Mary Mouser), daughter of Daniel. New recruits included Miguel's previously picked-on friend Eli (Jacob Bertrand), who was quickly radicalized by Johnny's aggressive philosophies, and even got a mohawk (and a tattoo of a hawk with a mohawk, for good measure) to reinvent himself as a tough guy named none other than "Hawk."
Johnny vs. Robby
One of the greatest struggles within Cobra Kai is that of Johnny and his estranged son Robby (Tanner Buchanan). Their relationship is what both of them need to truly heal, but they are further divided by Johnny and Daniel's revived beef, and their own allegiances. Robby has transformed in the series from thief to dedicated employee and karate student because of Daniel's guidance, which Johnny sees as a betrayal and insult. Robby feels the same way toward his father when he finds out that Miguel has become Johnny's No. 1 student, receiving the support that Robby never had.
Johnny and Daniel vs. Friendship
These two high-school rivals will always see the other as the bully, but Cobra Kai has found ways to briefly unite them. In season one, a begrudging test drive in a LaRusso car led to them rocking out to REO Speedwagon and connecting over their childhoods; in season two, their dual date nights put them at the same table in a cramped restaurant, their initial disgust briefly lightening up when they started teasing each other about the All Valley championship fight. Everything reverts to animosity when their kids pop into the picture in distress, but it's brief passages like this that make us wonder what a stable Daniel and Johnny camaraderie would look like.
Cobra Kai vs. Robby
The season-one finale of Cobra Kai took the franchise action back to the All Valley Karate Tournament, with a new generation of Cobra Kai and Miyagi-trained fighters. Robby represented himself initially (after losing Daniel's trust when he found out that his employee Robby was Johnny's son) and had his shoulder dislocated by Hawk with an illegal kick from behind. The final match between Johnny's son and his top student ended with Miguel in full-on villain mode, exploiting the injured shoulder all the way to first place. Robby left the match with a second-place title and a sling, but the events did inspire Daniel to open the Miyagi-Do dojo in order to promote karate as a form of self-defense. Though Sam initially had romantic feelings for Miguel, she left disgusted by Miguel's actions and wanting to learn karate from her father.
Johnny vs. Laptops and Dating Apps
First, it was learning about what a website is. Later on, it was learning how to boot up an old laptop, connect to Wi-Fi, and realizing he could search "hot babes" and conspiracy theories on the internet. Johnny's journey into modern living has been punctuated by funny interactions with technology, which has become one of his most earnest, disarming traits. After he finds out that dating apps exist and that they do suck, season two ended with Johnny making a connection he hadn't pursued in years — his ex-girlfriend Ali, who for now only exists in the show as a Facebook profile.
Johnny vs. Kreese
Following through on the cliffhanger image from season one, season two started with Johnny facing his mentor and abusive sensei, Kreese (Martin Kove). A handshake from Kreese led to Johnny trying to hurt him — to silence him — exploding into a brawl that damaged the dojo. Flipping the dynamics of their last interaction in The Karate Kid II, in which Kreese broke his second-place trophy and almost killed Johnny, it was now Johnny who had his opponent in a deadly headlock. Though this fight ended in a draw, it started a longer battle for the soul of Cobra Kai, with Kreese manipulating Johnny to let him stay and help teach.
Daniel vs. Robby's Criminal Past
A trip to a country club to promote the Miyagi-Do dojo to rich parents put Robby back up against the thieves he used to collaborate with (and disowned in season one). But when they attack Robby on the beach, Daniel jumps in to save the day just as Mr. Miyagi did for him in The Karate Kid. Aside from this being the first moment we got to see Macchio truly kick ass on the show, it was also an indicative moment of what Daniel wants for Miyagi-Do. Robby recorded the beatdown, but he wants people to come to the dojo because of necessity, not viral popularity.
Sam vs. Tory
Sam LaRusso took after her father's more peaceful ways of not looking for a fight — even when her friend Aisha joined Cobra Kai, she was mostly successful at maintaining the friendship. But her judgmental qualities created a rival in the form of the hard-edged Tory (Peyton List), a rising Cobra Kai student whom Sam insults when she accuses her of stealing her mom's purse. Even worse, the two girls both develop feelings for Miguel, creating a love triangle that leads to escalating aggressions (including pushing each other over at the roller rink). There's a deeper point to their animosity that feels particularly on-brand for a Karate Kid story: Tory sees Sam as privileged and naïve, whereas Sam sees Tory as classless and a bully.
Kreese vs. the Truth
As the show's true villain (so far, at least), Kreese is the eccentric in the mix of Cobra Kai who provides the deepest threat — he treats this dojo like he's raising a karate army, in part because of his own history in the armed service. But what parts of his mercenary days has he been making up? Miguel caught him confusing Rwanda for Somalia when trying to impress Cobra Kai students about being in Mogadishu during the '90s; later, Johnny found out that he wasn't actually staying at a hotel, but at a homeless shelter. Kreese's past is a big question mark, but expect parts of it to be cleared up early in season three.
Demetri vs. Eli
They used to be binary brothers from computer camp. By the end of season two, they were karate opponents, with the frail Demetri (Gianni Decenzo) learning the defensive ways of Miyagi-Do to protect himself from his best friend. The second half of season two saw tensions rise between the two, especially as Demetri tried to embarrass Hawk (Eli) at a party, revealing that he used to wet the bed. In turn, Demetri has become a mirror that Eli yearns to destroy, trying to erase his own origins as a former social outcast.
Daniel vs. Cultural Appropriation
As a white guy who runs a dojo in California and hands out bonsai trees to his car-dealership customers, it's amazing that Daniel hasn't received more flack for appropriation than he did in season two. After making a video promoting his teachings and his dojo, the comment section finally caught up with him, labeling him "Daniel LaRacist." The rest of the season doesn't reference this subtext to the series, but there's hope that it will in season three, especially as we know the action takes Daniel back to Japan, where he will be reunited with two central characters from The Karate Kid II.
Johnny and His Fellow Cobra Kais vs. Mortality
Johnny found some clarity with others who share his Kreese-related trauma — his former Cobra Kai buddies Bobby (Ron Thomas), Tommy (Rob Garrison), and Jimmy (Tommy O'Dell) — when they stole their cancer-stricken member Tommy from the hospital to the woods for some bonding (after kicking some ass during a gratuitous bar brawl). It became clear that they've all tried to distance themselves from the ways of Cobra Kai, lamenting the warped perspective it gave them as they took on the real world. In one of the series's most poignant references to The Karate Kid, former tournament heckler Tommy got his previous wish of "Get him a body bag, yeah!" only for the emotionally pivotal episode to end with him inside of it.
Cobra Kai vs. Miyagi-Do
For many episodes, the tension in this show was about only the threat of mass conflict. But that battle actually came to fruition in the incredible season-two finale, with Cobra Kai and Miyagi-Do students brawling in their high school, as started by Tory's desire to beat Sam's ass for kissing Miguel during a party. The results: Miguel was paralyzed when Robby kicked him over the side of a guard rail, Demetri threw his friend Hawk (Eli) into a trophy case, and Sam had to go to the hospital after fighting Tory. Though this moment in Cobra Kai was certifiably badass in how it unfolds, with long camera takes and excellent choreography, it was by no means an honorable moment, and it affected everyone. Technically Miyagi-Do won the fight, but it's such a disaster that the ultimate victor was Kreese: He got the destructive battle he had been dreaming of, and because Miguel's devastating injury inspired Johnny to get away from the dojo, Kreese got Cobra Kai back, too.
Everyone vs. Their Regrets About Ali
In a show that's jam-packed with regrets about the past, one of the biggest ghosts is Ali (Elisabeth Shue), the woman that Daniel wooed away from Johnny in the original Karate Kid movie. Whenever she gets brought up her name inspires an air of lament, like when Tommy quietly confesses to Johnny that just like Daniel and Johnny, he, too, was in love with Ali. And we have to mention the parting image of season two: Ali's pending Facebook friend request, making her one of the most anticipated characters as we head into season three.