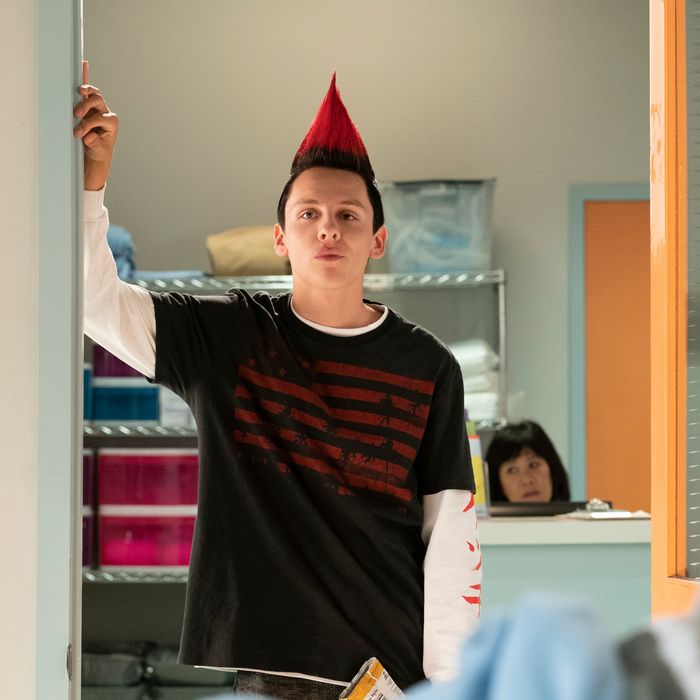 After the rock-'em sock-'em, dadtastic quest of last episode, this was a little bit of a letdown. Johnny and Daniel are once again on their divergent paths as they both have to focus on something other than doing karate for a change. Come on, guys, you know you're at your best when you're kicking ass. This is a building episode, setting up the direction for the rest of the season. I get it, but even laying the groundwork for our character's arcs doesn't need to drag this much.
We start off with the set-up to a joke. A drunk, an ex-convict, and a disgraced dojo owner walk into a church … But it's not three guys, it's just Johnny there to surprise one of his old karate friends who has become a pastor. He's telling the crowd that you can be forgiven for everything you do. "Even that time in Reno with those soccer moms?" Johnny drunkenly asks in the middle of a service. Yes, apparently even that, though I would love to hear where that story came from.
Our boy Johnny Feel Good is wallowing in his sadness that he tried to do the right thing for once and it all ended up like shit with his son in juvie and his protégé, Miguel, in the hospital. "You don't do the right thing because it always works out," the pastor tells Johnny. "You do the right thing because it's right." I think I learned that in Sunday School myself, so that all tracks. The pastor tells him that he can take him to go see Robby because as a member of the clergy he's allowed inside juvie. He also tells him they will donate some money to pay for Miguel's experimental surgery to help him walk again.
Johnny decides the best way to help is to raise some money for the kid he feels responsible for putting in the hospital. First he tries to get a job, but after he has to confess all of his altercations with the police, including beating up a bunch of kids, he's out on his ass. I love when Cobra Kai reality checks the ridiculousness that is Cobra Kai. Then we get more ridiculousness when Johnny is out in the car looking at the classified ads in the paper. Would a child even know what this is? Do people under the age of 40 know that we used to get jobs, cars, apartments, and lovers via this hunk of paper slapped on our doorsteps every morning? It totally makes sense, though, that our analog protagonist would be so backward.
For all the rest of his stops on his quest to get money — including at the pawn shop he visited in season one that is owned by Jimothy Olyphant, Timothy's older brother and doppelgänger — it's clear where this is all pointing. Johnny is going to have to go visit his stepfather, Sid, to ask for cash.
He ends up there and poor Ed Asner has to perform in a scene. This man is 91. Let him rest. He needs to live out his years doddering around the house and telling stories about Mary Tyler Moore. Give him a break. It's also a little crazy to see him because Ed Asner has been old my entire life and now I am old, so seeing him even older is, I don't know like, breaking a Flux Capacitor or something.
Sid won't give him the money, but Johnny swipes a statue on the way out and suddenly this is the first season of Fleabag and I'm not mad about it. When Johnny goes to drop the money off at the hospital, he runs into Miguel's mother and abuela and they ask him to stay and pray with them, even though that will make him miss his visit with Robby.
Robby isn't having the best time adjusting to juvie. He's trying to lay low and read Lord of the Flies, which is so on the nose that it's like a witch's hairy mole. There is a bully without a name (we can call him Juvie Bully) who is harassing him, beating him up, and stealing his pillow. Robby is really looking forward to his dad showing up, but he disappoints him once again. I don't get why Johnny does this. Couldn't he just say, "Hey, I have to go see my own kid for a little while, but I'll come pray in a few hours when I'm done." It's not like Miguel is going anywhere. He can't even walk! (Sorry, I shouldn't joke about that.)
Daniel has his own challenges. Business at LaRusso Autos is in the shitter ever since there was a karate riot at a nearby school. (We really need Cobra Kai to reality check the ridiculousness that is this plot point.) Amanda, Daniel's wife, has gotten rid of all the karate branding in an attempt to boost their customer base. But did she get rid of the bonsais that are free with purchase? Did she murder all of those innocent plants? That awful Amanda.
Let's pause for a minute, though, to consider Amanda's role. Her role is basically to be the show's scold. She is there to tell Daniel to be reasonable and do things that make sense. Don't open a free dojo when you have a job to hold down. Don't let a teenage ruffian move into the house and start boning your daughter. Don't endanger your business just so you can be a karate master. Then it's Daniel's job to do the exact opposite and make Amanda look like an asshole. Amanda is not the asshole. Daniel is the asshole. He keeps doing things that make absolutely no sense and are totally inadvisable and they keep working out for him. This doesn't show his wisdom, this shows his luck. He should listen to Amanda once in a while, already.
Anyway, Tom Cole, LaRusso's main competitor, comes by to buy the dealerships and Daniel says no. Amanda is like, "Maybe we should listen?" and Daniel is like, "Look at me. I'm a jerk. I don't listen to my wife. NO!" Then they find out that Cole used the negative publicity from the karate riot (Ha! As if!) to convince their Japanese car distributor to dump LaRusso and sign an exclusive deal with them, effectively putting Daniel and Son (as the business should have been called) out of business.
In a move that would make Johnny proud, Daniel takes Cole's offer and draws a big middle finger on it. Maybe Johnny is finally starting to rub off on Daniel after all. But don't worry, Daniel has a plan. It apparently has something to do with flying to Japan and sitting in the lobby of a building that suspiciously looks like Nakatomi Plaza. You know, the building that gets hijacked in Die Hard. I guess we'll have to wait to find out.
Sam is happy that her dad is out of town on business, though. She goes to visit Miguel at the hospital with a card that says, "You octopi my thoughts," with a photo of an octopus with its tentacles wrapped around a heart that looks like something from a 1980s Valentine's Valu-Pak that my mother bought at Caldor's. Anyway, she finds out that Miguel needs Surgery Money, so unlike any other teenager in the Year of Our Lord 2021 who would just start a GoFundMe and put that shit on TikTok, she throws a car wash fundraiser. What is she gonna do next? Find a job in the classifieds?
I was a little disappointed by this car wash because while the cheerleaders were there, there wasn't even one bikini. I thought you had to wash cars in a bikini in TV car washes. There was even a Skinemax movie about it. Anyway, everyone leaves and it's just the skinny kid with glasses who is left and, like Juvie Bully, he does not have a name of his own. It is officially Skinny Glasses. Hawk and the other Cobra Kais show up to steal the money so that they can donate it to Miguel and not give Miyagi-Do the satisfaction, but they also beat up Skinny Glasses, which is totally uncalled for.
Skinny Glasses goes to Sam's house and tells her what happened and she's so incensed that she reopens Miyagi-Do without her father, who is about to deal with some German terrorists in Nakatomi Plaza or whatever the hell he's doing in Tokyo. I guess these conflicts will all pay off in the next few episodes. We're building, people. Even if it's boring.