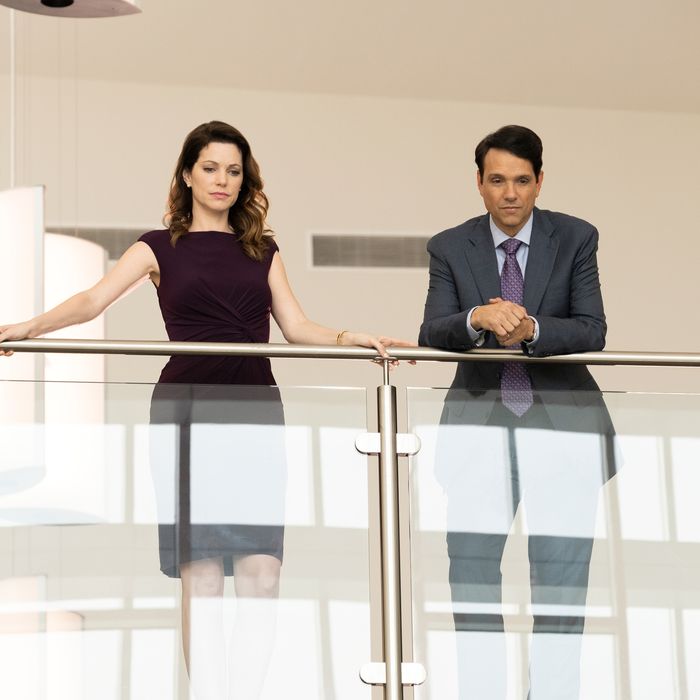 I can't believe that Cobra Kai blew its entire budget and flew Daniel to Japan for like, one episode. Is that why Aisha isn't back this season? They spent her salary to send Daniel to Japan? Just kidding. There is no way they sent him to Japan. Production just bought a bunch of signs in kanji and then through Hollywood magic made us believe it was Japan. Sure, Cobra Kai has that Netflix money now, but it spends about as much for an entire season as The Crown does on wigs for one episode.
While they might have cheesed out on the journey, the story focuses on the show's classic themes, even though it also skimps on some of the action that makes the better scenes really sing.
This episode is really about teachers connecting with their mentors and fathers connecting with their sons.  Yeah, there are a few girls here and there on this series, but even Daniel's daughter has a boy's name. (Speaking of, where the hell is Daniel's son? Did they have to choose between having him on this season or Ralph Macchio flying business to Okinawa?)
Daniel's big trip to Japan to secure his car dealership's future by pleading his case to Dayona in person is thwarted in about the first seven seconds of the episode, when they tell him that the wheels are already in motion to give his competitor all the best cars. He goes to the bar to drown his sorrows with a scotch featuring the biggest, roundest, nicest ice ball I have ever seen in my entire life. After a bartender tells him he's being way too American, he decides to go to Okinawa to retrace the steps of Karate Kid II, seen here in glorious flashbacks because, honestly, we all forgot this one even if we saw it in the movie theater back in 1986.
In the old movie we see Mr. Miyagi traveling to his native village, a "land that time forgot," with teenage Daniel. I will give Ralph Macchio this: He basically looks exactly the same 35 years later, including the same feathered-in-the-front haircut that all the kids on my tee-ball team had back then. The village, however, is drastically different. Now it's just a mall. There is a Gap, a Red Lobster, and a KFC (which is what Japanese people eat for Christmas). It's not even a good mall. Where is the PacSun? The Aunt Annie's Pretzels? The Orange M-er F-er Julius?
This is all just so Daniel can meet his old flame Kumiko, who is a dance teacher performing at the mall like she's a 1986 Tiffany and she thinks she's alone now. Thankfully we see the clips from the movie of them meeting, dancing together, and making out during a typhoon as Peter Cetera croons "The Glory of Love" on the soundtrack. They immediately recognize each other and she tells him that she has never been married, because no one ever fought to the death for her since Daniel. You know what they say, once you go Macchio, you never carpaccio.
This whole episode exists, mostly, so that Kumiko can give Daniel one of the old love letters Mr. Miyagi wrote to her aunt, who was his great love. He wrote it the week before he died and he says that Daniel was just like his son and made his life so much better, even if he could be a little too hard-headed at times. Daniel has been so concerned about his business failing that he forgot about all the lessons that Mr. Miyagi taught him, to fight smart and to never give up. I was half expecting Daniel to hear the letter and go, "That's it!" and come up with some idea that was going to give him a whole new revenue stream, but just when you think Cobra Kai is dumber than Rudy Guiliani at a press conference, it ends up surprising you.
At its heart, that is what Cobra Kai is about: men having to reckon with the value systems they inherited from their mentors and making them work in their modern life. Daniel is always trying to live up to the standard that Mr. Miyagi set for him, and often failing. Johnny is trying to be as tough and merciless as Kreese taught him to be and coming up short, sometimes to his own benefit.
After ditching Robbie to pray for Miguel, Johnny shows up at a soup kitchen where Robbie and the rest of the juvie kids are serving meals to the homeless. Johnny looks so rough that he just walks in with his ratty clothes and under-eye bags and no one even thinks to question whether or not he's homeless. However, he does stop to tell Robbie that he wants to talk to him and will wait as long as he has to for his audience. I was just about to shout at the TV, "You're holding up the line, asshole!" when some lady behind him did exactly that for me. Even when Johnny is trying to do the right thing, he still manages to be a bit of an asshole to others.
Johnny inspires Robbie a bit by hanging around waiting for his shift to be over, but when Robbie asks why he didn't show up to their visit he basically tells him he chose Miguel over him, which is exactly what every son wants to hear from his father. Robbie tells Johnny to piss off, and he leaves in a huff, spilling a giant vat of soup in his wake. I know you're mad, but don't take it out on the soup.
As he usually does when he's upset, Johnny drowns his sorrows in Coors Light at a bar, but why is he not at an Applebees? Has he been banned from all of them in the Valley? Somehow, even though it's not a mid-tier fast-casual dining establishment, Kreese finds Johnny and wants to talk to him. Johnny wants to beat him up but there is a cop there ordering a chicken sandwich, so Johnny tells him he has three minutes to talk before the cop leaves. Everyone knows that three minutes is the exact amount of time it takes a cop to get his chicken sandwich at a non-Applebee's-type restaurant. Kreese tells Johnny that even though they had differing philosophies and he put his kids on "the wrong path," he will always be Johnny's teacher and he knows him better than anyone else. He tells him to stop being so emotional and just fight for victory already.
This means going to meet Miguel in the hospital, where he's struggling to reach his phone on the table hovering over his bed. If he can't reach his phone, how else is he going to doom scroll Cobra Kai's Insta? Johnny tells him if he wants the phone to go get it, and rolls the table halfway across the room. Johnny tells Miguel he's sick of hearing the words "never" and "can't." He tells him, "You crawl across the floor and grab it with your teeth if you need to. But I will always be here next to you because I'm your teacher."
Miguel throws off the covers and is about to get out of bed for the first time in months to retrieve his phone, all because of some stupid pep talk his half-drunk karate coach gave him in a hospital room. Just as I'm ready to roll my eyes for everything being too easy, the show does the unexpected, which is why Cobra Kai is so great: Miguel falls on his face, just next to his bed. "Well, you fell like a champ," Johnny tells him before shouting, "Nurse!" That is Johnny's character in a nutshell: doing the wrong thing for the right reason and then having someone else come clean up the mess when he fails. (It did make me LOL IRL THO as the kids are textses-ing these days.)
While Kreese's message worked for Johnny, it's not really helping the current Cobra Kais, who apparently have names like Caldwell, Johnson, and Rittenberger, when I've just been calling them Meat Puppet 1, Meat Puppet 2, and Blocked Me on Grindr because, I swear, that big dumb-looking brunette one totally blocked me on Grindr last time I visited LA. This toxicity bleeds into school, where Hawk decides to destroy Dimitri's 8,251-piece Lego sculpture for his Earth Science class. He then provokes Sam into pushing him in front of a teacher, who asks, "Did she enter your personal bubble without your consent?" Hawk answers, "Yes, she definitely triggered me in my safe space." Nothing like a little bit of making fun of the way they treat kids these days to cater to the Fox News dads.
As revenge, Sam comes up with the idea that she and the Miyago-Do crew of dweebs can use a PE soccer game as a way to attack them without riling up the teachers. But no one is even subtle about this. Sam literally stands on someone's chest in her cleats. They're kicking the ball at each other's faces and doing flying windmill kicks and shit in gym class. Uh, duh! Did they think they weren't going to get caught? When Hawk is called into the principal's office, he says something — we don't know what because we don't see — that gets him, the Meat Puppets, and Grindr Jerk off the hook while the Miyagi-Do clan has Saturday detention.
Daniel can't be mad at her, though, because he's still in Japan, where we see three slabs of ice put into a holder. Is Daniel going to break them with his fist like he did back in the day? Naw. They're just going to chip off the ice to put in his drink. Hey, what happened to those perfect round spheres? This ice is totally lame. Just as he's about to drink up, the old villain from KK II: This Time It's Personal walks in. Thank god for flashbacks, because I had no clue who this dude even was.