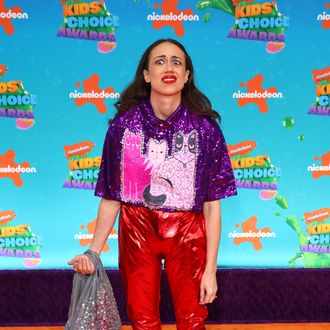 Photo: Leon Bennett/Getty Images
In 2016, Miranda Sings was borderline inescapable. A character created by Colleen Ballinger in 2008, Miranda Sings is a parody of a teenage girl with an annoying (on purpose) personality, bad red lipstick, and a smug, crooked smile. It was simple enough for Ballinger, then a 21-year-old student at Azusa Pacific, a private Christian university, to transform into Miranda Sings. All she needed was a crumpled blue button shirt, red sweatpants hiked to her waist, and a signature, yet unplaceable, accent. And not liking Miranda Sings was always part of the brand. But now, former fans of the YouTuber and 36-year-old mother of three are more than annoyed. In the midst of her national tour as Miranda Sings, Ballinger is facing multiple accusations of inappropriate relationships with minors and bullying. One of her tour stops has been canceled "due to unforeseen circumstances," and more past racially insensitive material is coming to light.
Early in her career, Ballinger, who majored in vocal performance, said that she created her Miranda Sings character to mock other videos she saw of actual teenagers singing in their rooms in hopes of being discovered on YouTube. "They were terrible," she said in a 2011 interview with Seth Rudetsky for his Playbill YouTube show, Obsessed. "But they were so cocky. On their YouTube pages, in their profiles, they'd be like 'I'm doing this to become famous.'"
Now that Ballinger herself is famous with almost 9 million followers on her personal YouTube channel and close to 11 million on her Miranda Sings channel — although her popularity has largely waned — she's maintained a legacy, both as herself and her most popular character, by regularly posting YouTube, TikTok, and a new podcast co-hosted with another controversial internet figure, Trisha Paytas (who has since said she is "embarrassed to be associated with" Ballinger).
Accusations of inappropriate behavior by Ballinger date back to an April 28, 2020, video by Adam McIntyre, an ex-fan and YouTuber. McIntyre has claimed that Ballinger interacted inappropriately with him when he was a minor, a claim that Ballinger addressed in an apology video. However, more allegations have since surfaced, which she responded to on June 28, 2023 in the form of a 10 minute ukulele song (yes, that's real). Here's a breakdown of everything we know so far about the controversy around Ballinger.
What were the first allegations against Colleen Ballinger?
On April 28, 2020, a 20-year-old YouTuber from Derry, Ireland, named Adam McIntyre uploaded a video titled "colleen ballinger, stop lying" to address recent drama he had with Ballinger. McIntyre started running a fan account for Miranda Sings in 2013, when he was just 10 years old, and had since developed an online friendship with Ballinger. In the video, he says just a month prior, on March 26, 2020, he was given control of the official Miranda Sings Twitter account to post preapproved original content. "I have a present for you today. I've never done this with anyone but I'm trusting you," McIntyre claimed Ballinger messaged him on Instagram on March 26, 2020. "Right now I'm considering you my social media intern." After he posted a satirical tweet he posted on the Miranda Sings account about her coming out as a Meghan Trainor fan received backlash, Ballinger issued an apology and deleted the post, as well as everything else McIntyre had posted. As a result, McIntyre claims Ballinger ignored him, bad-mouthed him, and caused him to lose the community of friends he had made through running his fan account and the Miranda Sings account. In the video, he holds up lingerie that he says Ballinger sent to him, which his mother took from him "'cause she was so shocked." (McIntyre will come up again soon, as he'll release 12 more videos describing Ballinger's behavior and their interactions.)
Did Colleen Ballinger respond to the initial allegations against her?


Around the same time McIntyre shared his story about the lingerie, Ballinger answered for other bad behavior, including a racist video she made mocking Latinas, a fatphobic comment she made about a woman on an airplane, and a video where she talks about abusing her childhood dog. She apologized for all of these videos in a video titled "addressing everything," released May 12, 2020. She also seemed to address McIntyre's claim that she sent him lingerie: "No, I should have never sent a fan underwear, how stupid am I? No, I definitely should have never given him access to my Twitter account, and no, I shouldn't have talked to him as often as I did," she said. "But, I am not a monster and I am not a groomer." She said that McIntyre wanted to move on, and so did she. So, Ballinger kept making videos, both as Miranda and as a family-channel vlogger, while McIntyre began making videos for his own channel, which now has 232,000 subscribers. The matter was scarcely discussed after 2020, until Kodee Tyler Dahl brought the conversation to 2023.
Why have allegations against Ballinger resurfaced?
On June 4, 2023, Kodee Tyler Dahl posted a now-deleted video titled "why I left the colleen ballinger fandom …" In the video, Dahl says Ballinger reached out to them in 2020 after McIntyre posted his video. Dahl, 33, claimed they were planning on making a video on their own drama channel, KodeeRants, siding with McIntyre, until Ballinger reached out. "I wanted to reach out to you privately and in confidence and let you know why I'm staying silent," Dahl claims Ballinger wrote in a private message on Twitter. In the video, Dahl says Ballinger's message made them feel important, saying "I was going to be her knight in shining armor." Dahl started to become less entrenched in the fandom when they learned about previous jokes Ballinger had made regarding race, weight, and sexual assault. But the bulk of the new allegations come from a group message on Twitter called "colleeny's weenies group chat."
Wait, what is "colleeny's weenies group chat"?


"Colleeny's weenies" was a group chat on Twitter reserved for Ballinger's inner circle of fans — what members have said were mostly minors, at the time — to vent, talk about the fandom, and send memes with Ballinger herself. In one message to the group, McIntyre, who was around 15 at the time, asked the group for questions to be used in a YouTube Q&A. Dahl's alleged screenshot appears to show that Ballinger, who was in her early 30s, responded "Are you a Virgin?" and also asked McIntyre what his favorite sex position was. In another alleged screenshot, Adam tells the chat his "ass looks good today" and Ballinger appears to respond "pics adam." Ballinger has yet to comment on these screenshots. In Ballinger's 2023 response, she did not directly comment on the screenshots. Dahl also agreed with McIntyre's claims that Ballinger would "trauma dump" on the group of tweens she called friends, especially when she was getting her divorce from Joshua David Evans.
In his June 7, 2023, video, McIntyre says Ballinger would promise special things, including a trip to the National Wax Museum, in exchange for his loyalty. The 15-year-old and 31-year-old had planned to spend the day together in Dublin before her June 8, 2018, show. However, in the video, McIntyre says that when the day came, she was being unkind and flaky to the point that even his parents were apprehensive about them meeting. He says they ended up meeting for only five minutes. He still cites this as an example of emotional whiplash that he said had become all too common in their dynamic. Ballinger has yet to directly respond to these claims and did not respond when asked for comment.
Though people have been doxxing him and sending death threats, to the point where he claims to have filed a police report, McIntyre said he isn't backing down. Since Dahl's video was posted, McIntyre has made 12 YouTube videos on the controversy. In a recent video, he claims Ballinger grooms her fans emotionally.
On June 4, 2023, Dahl's "why I left the colleen ballinger fandom …" video had less than 1,000 views, but still ignited conversation about Ballinger's behavior. Ballinger did not respond to the accusations in the video.
So, Colleen Ballinger has been accused of her own inappropriate behavior, but what is happening with Miranda Sings?
On June 13, 2023, a former Miranda Sings fan with the TikTok username @noitsbecks described an experience she had at a 2019 Miranda Sings show where she said she was left feeling humiliated onstage. It was well known that Ballinger would bring up audience members for various segments of the show, usually seeking out a specific type of person to fulfill different roles in her show. She scouted girls wearing short dresses, crop tops, or anything Miranda would consider racy, so she could make jokes about it during the show. So, Becky chose to dress for the Miranda gaze and wore a romper. "I was kind of trying to dress skimpy, so that I would be called up onstage," Becky said in a TikTok video posted on June 13, 2023. She also tweeted about the incident. Instead of being chosen for the porn bit, she was chosen for the yoga bit.
Pause. What is a "porn bit" and what is a "yoga bit"?
These names of the portion of the show are extreme to elicit a reaction from the audience, but it's still a bit weird. Both the porn bit and yoga bit required audience volunteers. For the porn bit, it was usually a young girl wearing something that showed skin. So think spaghetti straps, skirts, crop tops — basically anything that would get you dress-coded in a strict public school. She would also bring up a fan in red sweatpants and full coverage top — the Miranda Sings uniform — to compare the two outfits. The girl showing even the slightest bit of skin was "porn" and the Miranda Sings clone was not. For the yoga bit, Miranda and an audience volunteer copied bizarre-looking, difficult yoga-inspired poses. At the show Becky attended, she was chosen to come on stage for the yoga bit, and she said the experience left her feeling unsafe in front of a large audience of people. Becky is not the only former fan who has come forward to talk about their uncomfortable Miranda Sings tour experiences as minors.
Similar to Becky, a person named Grace posted a video to TikTok about seeing the Miranda Sings tour when she was 14. In the video, the 14-year-old has on a black skirt, white shirt, and green jacket and a 31-year-old Ballinger, as Miranda, declares that "all it takes is a little breeze and I'll see all the bits." Another portion of the show had Miranda going on "dates" with audience members during a "search for a bae" segment. A portion of this segment she would repeat was putting a bag of cheese balls in the front of her pants, and inviting the audience member to reach in and grab a handful of cheese balls. One infamous clip of a young boy named James participating in this bit during a 2016 London show has resurfaced, amongst other photos and videos of similar occurrences in multiple cities and over the span of a couple years. Ballinger has not directly responded to the allegations by Becky, Grace, or anyone else alleging inappropriate behavior during any Miranda Sings tour show.
What are Kory DeSoto and Trent Ballinger accused of?
An 18-year-old former fan named Oliver claims they had inappropriate interactions with Colleen's brother Trent Ballinger, mostly over Twitter direct message and later via text. Oliver claims they were 13 to 14 at the time, while Trent was in his 30s. Oliver said the conversations centered around their sexuality.
DeSoto and Ballinger met as freshmen at Azusa Pacific University. He eventually ended up working for Ballinger, and even lived with her for a time. He was widely known in the fandom, and even has his own online presence and fanbase. Some of his fans created a group chat, named "kory's klit." Members of the group, mostly minors, claim that DeSoto did not name the group chat, but he was an active participant in it. Some members of the group chat claim he was modeling similar strange and inappropriate behavior to Ballinger — trauma dumping, bullying, taunting fans, complaining about Ballinger, and talking about sex, drugs, and alcohol. One leaked message also appears to show that DeSoto would threaten to block people if they shared info about the group chat. A Reddit group, r/ColleenBallingerSnark claims DeSoto started scrubbing various social-media accounts once allegations about himself and Ballinger started to spread on social media. Controversy struck. One post claimed that he had deleted 80 videos and listed 75 of the titles of those videos, which included "SEXY WALL TWERKING" and "Sex Advice: Cosmo Corner." DeSoto deleted his Twitter around June 11, 2023.
Another former fan and employee of Ballinger's, Johnny, came out with a video with similar allegations of bullying and being paid and treated poorly during his time on tour with Ballinger, Evans, and DeSoto. In this, he claims that DeSoto was a bully. Evans issued a public apology to Johnny. Ballinger's response did not specifically respond to Johnny's claims and DeSoto has yet to respond entirely.
Has Colleen Ballinger/ Miranda Sings released an apology?
Ballinger posted a ten-minute video, titled "hi," on June 28, 2023, where she denied the allegations in song while accompanying herself on the ukulele. After looking dejected for ten seconds, she launches into a speak-sung monologue, in which she condemns the internet for boarding the "toxic gossip train, chugging down the tracks of misinformation." In this video, she declares that her team advised her to not speak on the allegations against her, but said nothing about singing. This video has a decidedly different tone than her 2020 response. Yes, she admits to messaging fans, but says it was in a "loser" way because, as she put it, "the only thing I've ever groomed is my two Persian cats." She claims to have made jokes in poor taste and bad decisions, but sings that her intentions were not malicious, despite what "millions of people" have decided. "I know that you wanted me to say that I was 100 percent in the wrong / Well, I'm sorry I'm not going to take that route of admitting to lies and rumors that you made up for clout," she sings. She also states that Miranda Sings is PG-13-rated content and blames parents for bringing their kids to her shows as it is not her responsibility to cater to a younger audience: "That's why you won't find my videos on the YouTube Kids app." The message of the video is best described with one of Ballinger's lyrical denials: "I'm not a groomer / I'm just a loser." Multiple times in the video, including a long chorus near the end in which she rhymes "human" with "human," she states that she is not a horrible human, but a human who made a mistake and doesn't deserve hate. The video/song ends with Ballinger resigning both the chorus and herself: "Well, what do I know? Fuck me, right?" Vulture reached out to Ballinger for comment.
Previous to the video, her podcast with Trisha Paytas has lost sponsorship from OneSkin and ZocDoc, according to TMZ. "We were made aware of this previously and have decided to cease the relationship completely. This behavior is appalling and we do not condone or support it in any form," OneSkin said in a statement to TMZ. As of publishing, she has lost 30,000 followers since June 15. Ballinger's June 28 video on her vlog channel has been her only response, besides an impromptu speech at a recent tour stop, where she claimed "there were so many things to say," but decided to "not say those things." One person reportedly booed at the end of the show, and one twitter user claims they spent $3 on a ticket and attended just to support McIntyre.
Ballinger's August 10 tour stop in St. Louis, Missouri, was canceled on July 5 due to "unforeseen circumstances," per the venue. Currently, Ballinger has six other shows set before August 10. Vulture reached out to the concert promoter for additional comment.
Have there been any further accusations?
Yes. Ballinger has been accused of body shaming Trisha Paytas and texting unsolicited nudes of Paytas to at least two former fans — including Adam McIntyre, who confirmed in a July 4 video that he was 14 years old at the time. In a 21-minute video titled "colleen," Paytas addressed Ballinger's alleged messages, calling them "disgusting" and "illegal." Referencing a fan's description, she claimed Ballinger held "viewing parties of my adult content to make fun of me." According to Paytas, Ballinger "vehemently denied" ever sending any photos of Paytas, instead claiming that an underage fan sent the photos and everything was being taken "out of context." Paytas said she is embarrassed to be associated with Ballinger. She further noted that her sexual content is paywalled to people over age 18 and criticized the negative impact that Ballinger's alleged actions could have on perceptions of sex workers. "I will never speak on Colleen again," Paytas concluded. "She just does not exist to me anymore." Ballinger has not publicly responded to Paytas's video.
Meanwhile, April Quioh, a television writer and former writer's assistant on Ballinger's short-lived Netflix show Haters Back Off, wrote about her experience on the show in her newsletter. Quioh described her time as writer's assistant as "so, so uncomfortable" due in part to Ballinger's demand that the show include "incestual innuendo" involving a character named Uncle Jim. (Uncle Jim, part of Miranda Sings "lore," has an implied sexual relationship with Miranda). "She often pitched stories in which Miranda and Uncle Jim would be caught in compromising positions or stomach-churning moments of intimacy that could always be easily explained away by a clueless Miranda," Quioh wrote.
Quioh also wrote about racist behavior from Ballinger, including Ballinger's "insistence that we used limited POC background actors as the show took place in Washington." While filming in an Asian food market dressed as a bodega, Ballinger "demanded assurance that all the 'Asian shit' would be removed before filming," according to Quioh. Ballinger repeatedly crossed professional boundaries with Quioh and the rest of the crew, per Quioh. "She had a knack for making 'funny,' biting comments about the people around her and since we all had her to thank for our jobs, we were forced to just go with it," Quioh wrote. "She saw no issue with commenting on my hair, or my clothes, or asking about my personal life. Her lack of boundaries was remarkable." Ballinger has not responded to the accusations from Quioh.
On July 5, 2023, YouTuber Paige Christie posted a clip of Ballinger (as Miranda) allegedly in blackface, pretending to be Beyoncé while performing "Single Ladies" in 2009. Legal representation for Ballinger denied she was doing blackface in a statement to Vulture. A full video shared by Variety shows Ballinger in Elphaba-green face paint performing "As Long As You're Mine" from Wicked with Oliver Tompsett, a member of the original West End cast, directly before going into her "Single Ladies" performance.
This post has been updated.