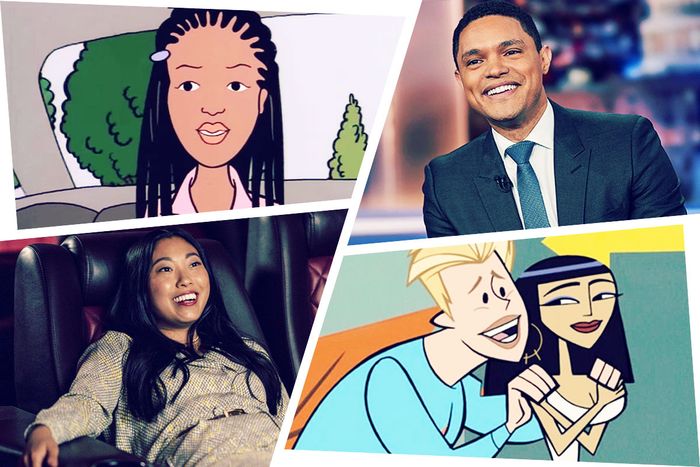 Under the new direction of Chris McCarthy, Comedy Central is revamping its approach to scripted comedy (
Awkwafina Is Nora From Queens)
, adult animation (the
Daria
spinoff
Jodie
and a rebooted
Clone High
), and topical programming (an expanded
The Daily Show With Trevor Noah
).
Photo-Illustration: Vulture, MTV and Comedy Central
Sometime last year, Charlamagne Tha God took a meeting with Comedy Central execs and pitched them an idea for a talk show. "They did not get it — in any way, shape, or form," the Breakfast Club host says. "I was told that they didn't know where the funny was going to come from." That might have been the end of things, but a few months later, change came to Comedy Central: The ViacomCBS network was put under the control of Chris McCarthy, a 16-year company veteran most recently responsible for revitalizing MTV with unscripted hits such as Floribama Shore and the Jersey Shore reboot. Even before his new role was announced, McCarthy got in touch with Charlamagne. He wanted to see if he was still interested in coming to Comedy Central.
While it has yet to be officially announced, McCarthy tells Vulture that Charlamagne — recently in the news for his candid interview with likely Democratic presidential nominee Joe Biden — is onboard to host a weekly, half-hour interview show for Comedy Central, with the goal of getting it into production before the November election. The Charlamagne show is part of a flurry of moves McCarthy has made in recent weeks as he looks to put his mark on Comedy Central. He's announced reboots of MTV animated classics from major names such as Mike Judge (Beavis and Butt-head) and producers Phil Lord and Christopher Miller (Clone High) while officially green-lighting Jodie, the long-in-the-works spinoff of Daria. He outlined a plan to make between ten and 20 original movies each year under the Comedy Central banner, part of a broader film initiative across the many brands within the McCarthy-headed ViacomCBS Entertainment & Youth group. And Vulture can also exclusively report that John Mulaney, who cut his teeth at the network in the late aughts, is moving his Sack Lunch Bunch to Comedy Central: He's made a deal to produce and appear in at least two specials featuring the cast from his 2019 Netflix special, starting with a holiday-themed event. In addition, McCarthy tells Vulture plans are under way to expand the footprint of The Daily Show With Trevor Noah by turning the channel's signature series into an hour-long program, likely by the end of the year.
It's an ambitious slate, particularly given that McCarthy, 45, has been in charge of Comedy Central for barely six months. Not long ago, McCarthy's reasoning for making these shifts as the new guy in charge would have been relatively straightforward: boost ratings by tweaking which shows get made. But he and his bosses at ViacomCBS have set a far more ambitious goal for themselves: They want to transform Comedy Central from a linear-focused cable network to a multi-platform content machine, one with programming targeted at the hard-to-reach demographic of viewers under the age of 25.
"Gen Z is what we're working on at Comedy Central today," McCarthy says. "It's a generation I'm actually very comfortable with — my first network was MTV2, where we did comedy for Gen Z. They're empowered. They're resourceful. And they're not looking for permission or gatekeepers. In many ways, they're a DIY generation. And it's that spirit that we will bring to the way that we're reimagining Comedy Central."
As part of this evolution, McCarthy has all but eliminated the word "network" from the company's internal vocabulary. Instead, Comedy Central and the other services within his portfolio are now thought of as "brands" that manifest themselves through different "expressions": traditional cable channels; streaming services such as Pluto or CBS All Access; and shows made by branded studios (say, Comedy Central Productions) for competing services. Nielsen numbers still matter, but it no longer makes sense to simply develop shows for specific time slots in order to grow linear ratings, McCarthy says.
"The reality is we're not channels. We're content," he explains. "What represents us is the content that we create, the talent we work with. So the whole idea of what we've been doing has been about shifting the entire paradigm so that we take the best out of the groups [and] really liberate the brand."
This larger bid to disrupt the operations of the ViacomCBS cable empire has also forced changes in how content gets created at Comedy Central (and the other not-networks). Because there's now less of an emphasis on linear channels and their individual needs, programming is being developed (and often promoted) across all of the brands in the Entertainment & Youth group — MTV, Comedy Central, Paramount Network, Smithsonian Channel, Pop, CMT, VH1, TV Land, and Logo — rather than by individual network teams. "We're not thinking, Where is this [show] going to be scheduled? That concept is antiquated," McCarthy says. "Our content was never made specifically for one platform. It was always made for many."
This rethinking is, in some ways, just a concession to reality: The traditional cable-TV model simply doesn't work as it once did, particularly when it comes to Gen-Z audiences raised on YouTube and Netflix. Much as big broadcast networks have seen ratings plummet, Nielsen numbers for the biggest cable channels are way down versus ten or even five years ago, forcing the giant conglomerates that own them to find new ways of getting eyeballs for their shows. This is why Disney created FX on Hulu and put the channel's best creative content on streaming, and why a TBS show such as Search Party is now an HBO Max original.
None of this is to suggest cable is somehow "dead," at least at ViacomCBS. McCarthy's boss, ViacomCBS CEO Bob Bakish, says the company does not have to choose one form of distribution over the other. "The mission is maximizing linear while simultaneously building out these other expressions," Bakish explains. Indeed, McCarthy says he's still very interested in the performance of his linear channels, making sure to point out recent Nielsen gains across his portfolio. "Believe it or not, we believe there is growth on cable," he says. "But cable's no longer the end. It's really just the beginning … To keep all of our brands contained on one particular platform, in a world where everybody's consuming more content than ever on more platforms than ever, just feels, quite honestly, constraining."
So what does all this mean in terms of what audiences will see coming out of Comedy Central? McCarthy says his plan to reimagine the don't-call-it-a-network has three major programming pillars, all geared toward getting Gen Z (and maybe even its older siblings and parents) invested in an iconic brand that celebrates its 30th anniversary next year:
Rethink the role of scripted by shifting to a movie-centric slate
Despite rumors and reports to the contrary, Comedy Central isn't getting out of the business of making scripted entertainment. It is, however, changing the way it develops it and what form it takes. "We're making a real big shift and reimagining the role of scripted, and no longer thinking about it as just sitcoms and 30-minute series," McCarthy explains. Instead, the company will focus on producing anywhere from ten to 20 movies for Comedy Central every year, using a mix of established and up-and-coming talent both in front of and behind the camera. Some of the movies could be used as part of themed stunts — think Hallmark and Lifetime's hugely popular holiday lineups — while others could be stand-alone events. Meghan Hooper White, a former A+E Networks exec recently recruited by ViacomCBS, will oversee production of the movies (as well as similar slates for four other brands in the Entertainment & Youth group).
Beyond providing Comedy Central with a steady supply of new content, McCarthy thinks movies can also serve as an incubator for new talent and new franchises more quickly and effectively than traditional scripted series. "The idea behind it is to really turn upside down the concept of how you make a comedy pilot now," he says. "That traditional process would take nine months to well over a year to find out if a show's going to get made. The movie model allows us to go straight to air."
McCarthy says he is thinking of most of the movies being planned as "literally three pilots put together in a 90-minute movie, straight to air in six to nine months," adding that the strategy gives Comedy Central the ability to develop new franchises without the risk that comes with spending $20 million or more for a ten-episode series. "We will definitely be turning some of these into sequels, series [or] recurring events," McCarthy says. "We really have preserved all of the upside and the flexibility to get as creative as we want, but yet what we've done is take out all of that arduous old process and reinvented the model." He also thinks it'll be easier to get well-known talent to make projects for Comedy Central with movies because they won't require the same time commitment (or uncertainty) as a series.
But even if a movie clicks enough with audiences to merit being turned into a series, McCarthy says it's quite possible that series won't actually live on Comedy Central (though he doesn't rule it out). Instead, a spinoff could end up on a sister streaming platform (such as the soon-to-be-remodeled CBS All Access) or even on an outside streamer such as Netflix or Peacock, with Comedy Central Productions serving as the studio. That willingness to let Comedy Central be a springboard for an idea that would live elsewhere is a nod to how hard it is to get audiences to tune in every week for a comedy series on cable. Not that it's impossible: McCarthy gave a massive, multi-network marketing push for Awkwafina Is Nora From Queens — he had worked with Awkwafina on MTV's Girl Code — and the result was Comedy Central's top-rated new series in five years.
Still, new live-action sitcoms are becoming an endangered species on cable of late. WarnerMedia shifted Search Party from TBS to HBO Max, while truTV's underrated I'm Sorry has yet to break out, even with reruns on Netflix. Similarly, even with great reviews and solid buzz, Comedy Central's own The Other Two and South Side barely made a blip in the Nielsens during their freshman seasons last year. While both were renewed for second seasons, it wouldn't be a shock if the shows ended up shifting to a streaming platform if they return, though McCarthy says no decisions have been made.
Bakish, who's had long conversations with McCarthy about the programming direction of Comedy Central, says what matters most is finding the right balance of cost-effective scripted programming and unscripted shows. "Programming, particularly for a linear network, is all about mix. And there was a point where, for a linear service, [Comedy Central] was too leaned toward scripted," Bakish says. "The reality is scripted is a tough genre, and it tends to work better in more on-demand environments where you can binge." And while linear cable can still score scripted wins — like Nora From Queens or Paramount Network's Yellowstone — cable programmers can no longer operate like it's 2010. "You've got to be focused in terms of what specific shots you are taking," he says.
McCarthy's movie-centric strategy is also a more cost-effective and less risky way of making TV, since money isn't wasted on pilots that never air. While he wouldn't get into budgets for the movies, he says the movie model reminds him of the first network he ran, MTV2. "The amount of budget I had to spend was $800,000 for the year, which now I think is mind-blowing. But back then, I was like a kid in a candy store," he says. "And the first comedy pilot I created was a show called Guy Code, and we did it for like $18,000. We didn't get caught in the old [development] process. We created a process that worked for us, that was fresh and new, and it worked. We were able to work with some, at the time, brand-new talent. People like Awkwafina, Pete Davidson, Charlamagne."
That doesn't mean all of the Comedy Central movies will be made on the cheap; on the contrary, McCarthy says he's willing to step up and spend more for the right talent. Still, he says the success of Guy Code underscores "money isn't always the answer. In many ways, it can limit your thinking."
Invest heavily in animated series for adults
As highlighted by the recent announcements about Beavis and Butt-head, Clone High, and Jodie, "We're going to double down on adult animation in a really, really big way," McCarthy says. It's a strategy Bakish says Comedy Central should have pursued long ago. "We actually have a real cornerstone in adult animation on Comedy Central in the form of South Park, a cornerstone we never built on," he says. "And that was a mistake."
While the three shows announced so far originally aired on MTV, with that brand now focused on unscripted programming, Comedy Central seemed a more logical fit for animation, McCarthy says, hinting that more could be in the works, including "a great project" with actor-writer John Leguizamo. "There's no doubt that the landscape of content is a little crowded and there's a lot of adult animation out there," he says. "But we have such a treasure chest of IP … that we can lean on and that we can use to break through that clutter."
Focusing so heavily on reboots naturally raises the question of whether Comedy Central is in danger of overdosing on nostalgia. But McCarthy rejects the notion that reboots automatically equal retreads. Instead, he says the plan is to "use IP to bring the audiences in but tell a fresh new story," often by focusing on new or underexplored characters and by having younger writers oversee day-to-day production of the shows. Jodie, for instance, is being written by Insecure and Inside Amy Schumer alum Grace Edwards. And in the case of the new Beavis and Butt-head, McCarthy says Judge is looking at a show in which the iconic duo moves beyond riffs on music videos and pop culture: "The story that we're talking about working with Mike is: What happens if they grow up? And what happens if they have kids?"
More Trevor Noah, more topical comedy
McCarthy and his team consider the Daily Show host the "face of the brand," and they're about to make him an even bigger part of it. Noah's show has been lengthened from 30 minutes nightly to 45 minutes during the coronavirus pandemic, and now McCarthy tells Vulture there are plans to make it even bigger. "We're going to move that to an hour by the end of the year," he reveals, saying the response to the supersized shows has been "unbelievable," both on linear (ratings among adults under 50 are up 11 percent this year) and streaming (digital views so far are up 57 percent as more Daily Show content goes viral).
"When COVID hit and we needed to change production, Trevor was the first to raise his hand and say, 'I'm ready to go,'" McCarthy says.  "And he's having tremendous success — he's killing it. He's helping people make sense of the world." In addition to giving Noah "all the space that he needs to tell all the stories he wants to tell," McCarthy says expanding The Daily Show also makes it easier "to incubate talent on that show, which you'll see us spin out into their own shows."
The extra-large Daily Show will be part of a bigger effort to do more topical comedy under the Comedy Central banner, with Charlamagne Tha God's new program being the first big example of the push for timeliness. In an interview with Vulture last week, Charlamagne said he didn't want to say too much about the format of the show, "but I will tell you that it's going to have a cable-news construct. It's going to be me. I'm going to give you something that you don't get on the news all of the time, and that's the God's honest truth." And while he's not opposed to the idea of a nightly show, "I think weekly shows, honestly, have the most impact," Charlamagne said. "Because I'm not one of those hot-topics people who just is running around looking at what's trending on Twitter. I want to talk about the things that can actually impact somebody's life in a real way — the things that can actually help move the culture forward."
McCarthy is not ready to lock in a date for when the Charlamagne show will launch, though the goal is to do it sooner rather than later. "I'm hopeful we can get something up by the end of the year," he says. "I think his voice, in this time, is incredibly important.  If we could get him on today, I would. But we want to give him the time to work the creative out."
In addition to the Charlamagne project, McCarthy puts the Sack Lunch Bunch specials being developed by Mulaney (and yet-to-be-announced projects from a few other comics) into an expanded, somewhat loosely defined "topical" bucket of programming along with the new version of Some Good News, which is being developed by John Krasinski for ViacomCBS via Comedy Central Productions. The latter series will stream on CBS All Access, and McCarthy said it will "also have moments on CBS" as well as on ViacomCBS social-media platforms. While something such as Sack Lunch Bunch doesn't exactly riff on the latest headlines, McCarthy says it still fits because Mulaney uses it to "tackle existential topics for our time" by deploying "comedy which allows us all to process the hard truths of life."
Unsurprisingly, McCarthy's effort to upend how and what Comedy Central makes has resulted in significant staffing changes. Sarah Babineau, who had run programming for the network, is transitioning out of that role and will leave by the end of the year; her former partner, Jonas Larsen, left in January. And many lower-level staffers who used to report to them have been laid off in recent months, though several execs on the program-development team remain. In their place, McCarthy's longtime No. 2, Nina L. Diaz, now oversees all development and production at Comedy Central as part of her role as president of content and chief creative officer for the Entertainment & Youth group. Pop TV exec Justin Rosenblatt is also now working on developing scripted and unscripted comedy shows across the group, while Tanya Giles, a longtime Viacom exec, serves as general manager, and Jacqueline Parkes oversees the group's digital studios while serving as Chief Marketing Officer.
The departure of respected execs such as Babineau and Larsen, combined with the exit of so many members of Comedy Central's series development team, resulted in some initial industry speculation that ViacomCBS was retreating from scripted programming and looking to replace it with cheaper unscripted fare. But talent reps who work closely with Comedy Central say they've been reassured by conversations with McCarthy. 3 Arts Entertainment co-founder Michael Rotenberg, whose company represents Judge and produces series such as Never Have I Ever and It's Always Sunny in Philadelphia, says McCarthy and his team have "made a lot of smart and decisive moves. I respect that."
Similarly, Noah's manager and production partner, Norman Aladjem, says McCarthy and Diaz "have been very open to Trevor's creative ideas. Sometimes humans tend to worry about change because they don't want to be outside their comfort zone. But working outside your comfort zone is how people grow. And, so far, these guys have been a blessing." And contrary to the notion that Comedy Central is tightening the purse strings when it comes to talent and production, Rotenberg says he's sensed the opposite since McCarthy took over. "Comedy Central's issues in the past have been a monetary commitment to content," he says. "It feels like they are now committing the money to grow their brands. The business is difficult, but they're finding ways through it."
Bakish clearly has confidence in McCarthy and his plans for the ViacomCBS entertainment and youth cable brands, given how dramatically he has expanded his responsibilities in recent years. He says he's been most impressed with McCarthy's ability to solve problems rather than just talk about them. "A lot of people, they'll say, 'Well, we got this problem, that problem' — they start with the problems. That's not Chris," Bakish explains. "Chris says, 'Yeah, we can do something here. Hey, here we could try it this way or that way.' And the results speak for themselves."
Charlamagne offers a similar assessment of McCarthy's style, saying the exec didn't need to study or focus-group the idea for his talk show; he just jumped right on it. "I showed it to him, and he was like, 'I want to do this now. Like, let's go,'" Charlamagne says. "And then, in, like, true Chris fashion, next thing you know, your agent is hitting you about the contract that was sent. There's no talk with him whatsoever. You might have, like, one conversation. When he says he wants to do something, he's going to absolutely get it done."