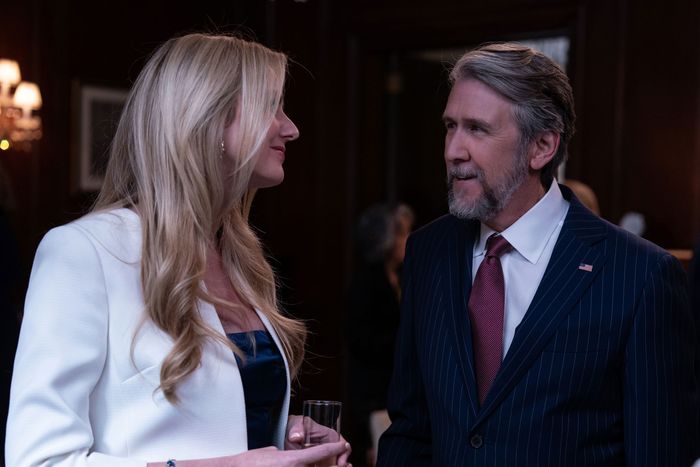 Photo: Macall B. Polay/HBO
The lead-up to Connor Roy and Willa Ferreyra's wedding has included all of those classic fairy-tale moments. You know the ones: when the fiancée walks at the rehearsal dinner. When the fiancé tracks the location of his wife-to-be's phone all night. When he monologues about how he doesn't need love at all — or when she points out that she's not "vital" to the wedding proceedings. Okay, maybe they're not fairy-tale moments, but they're elements that track for the engagement between an emotionally needy billionaire presidential candidate and his former escort who loves having access to a lot of money.
Connor's self-financed presidential campaign is currently polling at one percent, so he transformed his wedding into a bonanza of "jet packs and confetti guns and razor wire and bumfights and goody bags and hoopla and razzmatazz" in order to gain back momentum. Willa, again, loves money, and marrying Connor will ensure she continues to have a lot of it. Basically, this wedding is not so much about the romance of being married; it's about getting stuff they want. Which raises the question: What do they want? Here, our idea of what Connor's (and Willa's) wedding registry looks like, give or take a few historical figures' body parts.
Tesla Cybertruck
Connor's desperate attempts to be friends with Elon Musk — @ replying to each of the billionaire's tweets with a Photoshopped doge meme — have failed. He thinks being first in line for Tesla's new truck will finally seal the deal.
11 more Oonis
What's not to love about a high-end countertop device that delivers a perfect wood-fired 'za in a tight 90 seconds? I'll tell you what: It only makes one pie at a time. How is a man supposed to host a Night in Napoli dinner party for his 11 closest campaign donors? By risking an Ooni bottleneck resulting in cold pizza and congealed cheese? No. A man needs more Oonis.
At-home cryogenic freezing kit
In case Willa succumbs first when the grid goes down.
Approximately 400 Apple AirTags
Speaking of going off the grid, it's difficult not knowing where your young wife is! She could be partying in Brooklyn or having an existential crisis while searching for a Starbucks in the New Mexico desert. Luckily, Apple has developed some great technology Connor can simply have sewn into each of her dresses. As long as his phone has juice, she can't win at marital hide-and-seek.
Pure Himalayan Cordyceps Gold
Connor will not be one of those old-ass presidents with health scare after health scare. $7,000 mushroom extract (that only sort of evokes The Last of Us) is how he and Willa stay vital on the campaign trail.
A new lasso and spurs for trips to Austerlitz
Tired of hearing Connor's complaints about "that asshat John Dutton III," Willa throws some country gear that allegedly belonged to Billy the Kid on the registry.
The bones of Richard III
Connor promises to return them to the British people after his own death.
The fanciest room-temperature butter the world has ever known
No one seems to agree which fancy butter is both the fanciest and finest, but obviously, the one with the most prestige is French: Bordier. "Many in the culinary world" apparently swear this butter is that bitch because she takes work — "kneaded by hand on a wooden table instead of being processed with factory equipment." In butter math, it apparently takes 12 times longer to produce a singular batch of this stuff compared to the butter for poors. Purchase Connor the "Sweet Madagascar Vanilla," and don't you dare serve it cold. Or better yet, buy him Bordier Inc.
A small island off the coast of Maine
Maine is just lousy with little islands that can be bought by wealthy people who enjoy peace, privacy, and the illusion of being an independent, salt-of-the-earth man of nature. Connor will be so happy cosplaying as an overalls-clad lobsterman while Willa frowns in her muddy Wellies.
Cash
Frankly, this is just a $100 million campaign-finance workaround fund to prevent that one percent in the polls being "squeezed down to decimals."
A private trip to space
Jeff Bezos went there. So has Richard Branson. Why not Connor Roy?
A case of vintage Chateau Haut Brion Rouge, 1989 
Connor drinks this vintage red wine at his rehearsal dinner and would certainly appreciate a case of this near-perfect blend. King Charles II apparently poured wine made from these vines in 1660, but did he hyper-decant? In matters of the oenological, the eldest Roy trumps royalty.
A Bored Ape NFT
"These are our generation's Rembrandts," Connor slurs at Willa after his fourth glass of Shipwrecked 1907 Heidsieck.
A lifetime membership to the San Vicente Bungalows
The couple can easily afford entry into Los Angeles's hottest celebrity haunt (membership costs $4,200 annually); they only put this on the registry so that one of their 800 wedding guests knows how to get them to the front of the club's 7,000-person wait list — and past its notoriously finicky committee.
A small Welsh football club
Connor watched one episode of Welcome to Wrexham.
Mint-condition first-edition LP of Leonard Cohen's Songs of Love and Hate
Connor will only practice his rendition of "Joan of Arc" alongside "the best-sounding version of our Godfather of Gloom."
Kopi luwak 
True luxury is disgusting. This coffee is shat out by a civet before roasting, which does something. Probably. What's important is that GQ had 2 Chainz try it one time. Since there's street cred, we know what Kendall's getting the happy(?) couple(??).
Kurt the Cloned Horse
"Kurt is rare, like you, babe."
A copy of The Artist's Way
Willa will be the city's buzziest new playwright in no time. Next up: a Tony for Sands, then a West End run!