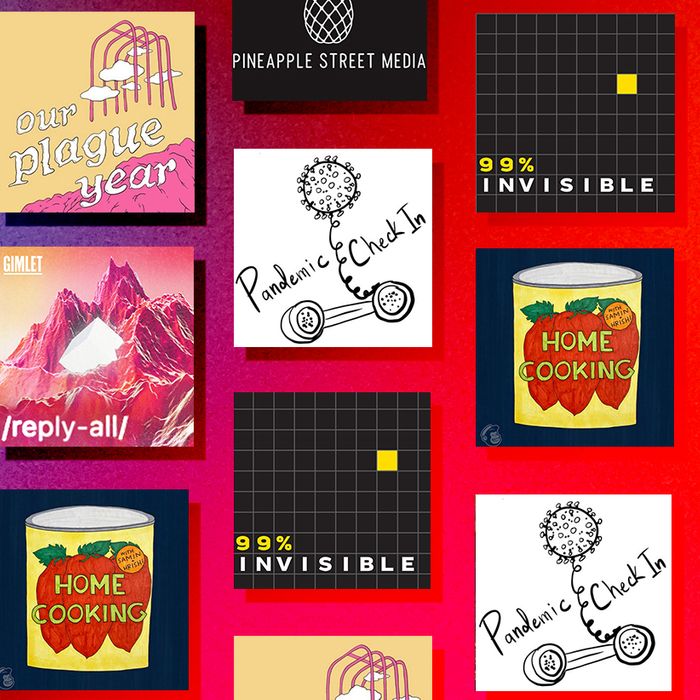 It's been said that constraints tend to foster greater creativity. Well, here we are: largely confined to our homes, physically separated from our collaborators, and burdened with a generational kind of anxiety. That last thing is all-consuming — indeed, it's enough to throw some into a perpetual tailspin. But the creativity is flowing, and this can especially be seen among podcast folk, many of whom are making fun, experimental episodes and/or pop-up projects as a response to the moment. Here are eight examples that stood out to us.
99% Invisible's "Roman Mars Describes Things As They Are"
99% Invisible creator and host Roman Mars already exudes an exceedingly chill vibe, between his sonorous voice, commitment to being present and observant of the world, and the podcast's generally quiet disposition. But a recent special episode, produced and published as Mars stays confined in his Oakland home, brings all those things to another level. Its title, "Roman Mars Describes Things As They Are," basically tells you everything you need to know: Mars moves from room to room, selecting objects and describing them, occasionally adding a chunky piece of historical context and a related story that was previously produced. The whole thing is gloriously meditative, Headspace gone wild. Also, keep an ear out for a fun Easter egg. You'll know it when you hear it.
Nerdette's "Introverts Guide to the Good Life"
WBEZ's Nerdette podcast has long been an excellent hang, and unsurprisingly, it's responding to the sharp upswing in global/existential anxiety by kicking off a series of minisodes dedicated to serving you ideas on how to work from home, what to read and check out, plus some odd things here and there meant to perk up your spirits. A solid balm for isolation and loneliness.
Reply All Is Taking Your Calls
Fresh off releasing an instantly legendary episode, the Reply All team is settling into the new normal by taking phone calls from listeners about how they're coping with their respective situations and livestreaming the whole process on Twitch. There's some expectation that all of this will be carried over into a full episode at some point in the future. The team has carried out this experiment twice already this week, and from the sounds of it, there's a pretty good chance it'll be doing more with this setup as this self-isolation period grows from days to weeks to maybe even months.
The line between podcasting and radio seems to be getting blurrier these days, especially if more podcasts try doing "live broadcast" tapings. Pandemic Check In, though, makes for a particular interesting spin on things designed for this most interesting time. This podcast is a collaboration between the Los Angeles–based podcast studio Western Sound and Brooklyn Minds, a psychiatry and psychology practice, and its big design concept revolves around the idea of a mental-health call-in show. Pairs well with a Frasier binge, perhaps?
Somewhat in keeping with "Roman Mars Describes Things As They Are," Our Plague Year is a pop-up project written and produced by Welcome to Night Vale co-creator Joseph Fink that also prioritizes the acts of witnessing and noting. Fink describes the project as "an experiment in public anxiety," which is just about the best way you can pitch the thing. Based on its first episode, the podcast carries the feel of a performed journal, with Fink sticking together various observations of his world as it progresses deeper into total change. He also brings on guests, like sci-fi writers Cory Doctorow and Nisi Shawl, to perform their own pieces.
Conan O'Brien Needs a Friend's "A Very Special Self-Quarantine Episode Featuring Andy Daly"
Far from being just a celebrity, Conan O'Brien is also a normal human being, and therefore subject to self-quarantine recommendations. So in this very special episode, we find him shacked up in the home of his producer, Matt Gourley, as they amble their way through a more-casual-than-usual session, complete with special guests. Hanging out with your crew and receiving visits from several people isn't exactly a strict adherence to social-distancing best practices, but then again, the episode was released several days before the new guidelines advising even against personal gatherings. So we're not wagging any fingers here.
The Kids Are All … Home (Upcoming)
Are you a parent being made to work from home, amid your young children who are actively vying for your attention? The fine folks at Pineapple Street see you, they empathize with you, and they're putting together a special podcast to help keep your kids entertained. They're describing The Kids Are All … Home as a "podcast for kids with nothing to do, by kids with nothing to do," and the way it works is that they're crowdsourcing recordings from interested kids (instructions here) that they will stitch together, polish, and distribute as a podcast. Supersmart idea, and frankly deserving of a humanitarian award.
Home Cooking (Upcoming)
Look, like many other people, I've been holed up in my house that I've liberally stocked with shelf-stable goods like beans, pasta, and canned versions of various things, plus buckets and buckets of candy. However, one thing I didn't really account for is my complete lack of preparation regarding actual recipes to use with my prepper pantry. Thank goodness, then, for Home Cooking, an upcoming pop-up podcast that promises to help listeners figure out what they should do with, say, their epic stash of beans. The podcast is being put together by chef and food writer Samin Nosrat (Salt, Fat, Acid, Heat) and indie podcaster extraordinaire Hrishikesh Hirway (Song Exploder, The West Wing Weekly). Honestly, there are no two people I'd like to learn from more about what to do with all those beans. The pod is scheduled to drop at some point over the next few days, once they get enough listener questions sent in.
We're committed to keeping our readers informed.
We've removed our paywall from essential coronavirus news stories. Become a subscriber to support our journalists. Subscribe now.