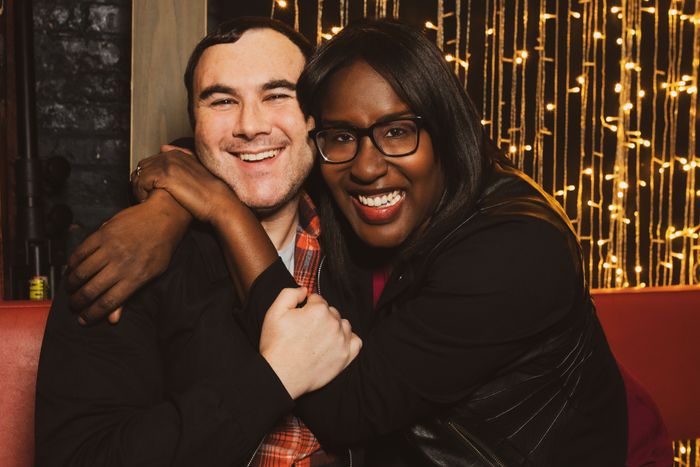 Andy Beckerman and Naomi Ekperigin.
Photo: Arin Sang-urai
Are you new to comedy podcasts, overwhelmed by the array of options, and wondering where to begin? Then welcome to Start Here, a recurring guide to the best comedy podcasts available — and our recommendations for which episodes are the best entry points to your next auditory obsession.
By the time Naomi Ekperigin and Andy Beckerman launched their podcast, Couples Therapy, in September 2018, the Ekperigin-Beckerman brand was in full force. The couple's monthly live show of the same name first gained steam at the HiFi Bar in New York in 2015, then moved, along with the hosts, to Los Angeles in 2017. There, it developed a reputation as a prime showcase for experimental, often goofy sets from a diverse group of up-and-coming stand-ups and headliners. In the show, Ekperigin, a stand-up and actress best known for 2 Dope Queens, and her "Jewboo" husband, Beckerman, a TV writer for The Pete Holmes Show, talked through their personal relationship onstage. They then featured comedian couples (and sometimes friends or family) doing the same.
The podcast simply distilled that format into a tighter hour or so for those unable to attend the limited-capacity live shows. Each episode begins with an invitation to "open your hearts, loosen your butts — it's time for Couples Therapy." Ekperigin and Beckerman then typically recount their latest fights, apologies, family dramas, and small victories before playing the best clips from their recent guests' sets from the live show. In the spaces between the sets, they add a pinch of color commentary here and an ad break there. Et voilà.
For the first two years of its run, Couples Therapy was released on the iHeartRadio network, where it was the funniest original by a country mile among series like The Ron Burgundy Podcast and Life Will Be the Death of Me With Chelsea Handler. But at the end of Ekperigin and Beckerman's two-year contract in mid-2020, iHeart decided not to renew the show, leaving them somewhat inexplicably without a network since iHeart later told Beckerman it had "above-average numbers for a comedy podcast."
Frankly, it was the best thing that has ever happened to the podcast because from the ashes of this split arose a beautiful phoenix of an episode. Episode No. 101, as Vulture comedy-podcast reviewer Leigh Cesiro wrote at the time, is not just another "cute little sneak peek behind the curtain" of the Ekperigin-Beckerman relationship; titled "The Whites You Can Trust," it is instead a no-prisoners-taken look at a Black woman's experience in the still dominantly white male spaces of Hollywood. It is also, despite how upsetting that sounds, a tremendously fucking funny introductory episode for new listeners.
Though the episode's guests normally introduce the show, it is the hosts who jointly command us to loosen our butts this time — and without the standard iHeart opening ad to boot. Sammus's dance-rap banger of a theme kicks in as usual, but as it ends, Beckerman makes it immediately clear that everything else has changed since their previous episode: "We are a real-life couple, and on the show … YOU KNOW WHAT? WHO KNOWS ANYMORE!" He and Ekperigin reveal that their world as "a couple — a couple of comedians" has been permanently shook by "three months of quar," by "11 days of protests against the police state," and by "Nancy Pelosi finally [wearing] kente cloth." They admit that they were shocked that iHeart would drop one of its only shows with a Black host "at the height of the second civil-rights movement."
Yet this, coupled with the suspension of any live Couples Therapy sets during the pandemic, Ekperigin says, offered them an opportunity to "reconnect as lovers, reconnect as hosts," and deliver a special episode. While she insists that the podcast will continue to "help you handle your scandal" in the future, she and Beckerman announce that it is time to spill some tea since they're finally broadcasting without supervision: "We're independent now. I will not be silenced! The revolution will be recorded!"
"If you were wondering what it's like to be a Black person working in Hollywood," begins Beckerman, "Andy's gonna tell ya," Ekperigin interjects.
As she remembers it, in 2016, Ekperigin was set to host Inside Caucasia, a pre-Trump travelogue series based on her own observations of exclusively white subcultures around the world, for TruTV. Her hope was that in selling the series to a comedy-friendly (though admittedly quite white) TV network, she and Beckerman might be able to "get answers from the root — go to where Caucasity began." From freeganism to squash-playing to Weezer, no specifically white niche space was off-limits.
But the white middle-aged male producers of the series had different plans. From the moment the pilot was ordered, Beckerman says, "I got the nagging suspicion that on the shoe of Naomi, I was the dog shit in their eyes." Allegedly, the producers peacocked their executive roles over the young couple, making power moves like rewriting Ekperigin's comedic monologue without her consent (including adding a joke in which she dragged the hairstyles of the Little Rock Nine) and excluding Beckerman from key calls with his wife.
Then there was the network itself, which Ekperigin remembers tried to parade her around at the upfronts before paying her or Beckerman a cent for their work on the pilot. Beckerman suggests that executives rushed her out onstage because the network had so few other shows featuring Black talent at the time. "They needed my Black ass to stand on that stage!" agrees Ekperigin. "You can't tell me that's trash?"
But more than the entitled bluster and hint of minstrelsy imposed on them by their producers, what really seems to infuriate Ekperigin — one of America's sharpest and most astute working commentators on race — was the sheer hackiness of their ideas. While Beckerman and Ekperigin wanted to use their new platform to spit truths about "Naomi's lived fucking experience" in classically white spaces, one producer preferred to make broad, lazy jokes about such whiteness signifiers as kale, NPR, and tote bags. As Beckerman puts it, "If you were taking a stand-up class and you were asked to make fun of white people, these are the things."
"We were trying to be agreeable, like, 'Well, is there a way we can make that work?'" Ekperigin laughs with a hint of venom. The answer quickly revealed itself to be no. When she realized that, Ekperigin says, "I died." Try as they might to deliver a "white people be like …" show to "the fuckin' moneybags," Ekperigin couldn't stand the fact that "my face was gonna be on [the show]." So when the network tried to turn Inside Caucasia into "millennial 60 Minutes," she remembers, "I said, 'Get the fuck out of here.'"
Despite the unignorable "racismo" of their experience, the couple, and the podcast, land on a buoyant and apropos ending. After "I got an ulcer and this bitch 'bout to have a heart attack," Ekperigin recalls, she and Beckerman successfully walked away from the pilot deal thanks to the advice of none other than their couples therapist, James. They did get sued, unfortunately, but Ekperigin's lawyer, whom she calls her "legal Jewboo," ultimately put the case to bed.
With this debacle, the latest rejection from iHeart, and their first episode as independent broadcasters now fully in the rearview mirror, the husband and wife commit at the end to keeping their podcast game strong through their Patreon and Twitch streams. But, Beckerman warns, should anyone pull the same bigoted bullshit with Ekperigin ever again, he stands ready to deliver a bruising. "No one puts my baby in the corner!" he yells. "Ooooh, honey!" Ekperigin responds with delight.