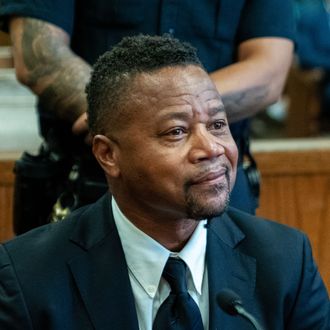 Photo: David Dee Delgado/Getty Images
Cuba Gooding Jr.'s civil sexual-assault trial in Manhattan federal court is scheduled to start on Tuesday June 6 with jury selection. Gooding's trial stems from an August 2020 lawsuit against the disgraced Snow Dogs actor. In this lawsuit, a woman identified as Jane Doe claims that she met Gooding about one decade ago at a restaurant in downtown New York City. That evening, she alleges, they went to a nearby bar and then Gooding lured her to his hotel room under the false pretenses of needing to change clothes and sexually assaulted her.
While Gooding did face criminal prosecution in New York City several years ago for groping several women — during which some 30 other women came forward with uncharged accusations such as licking, kissing, and biting dating to 2001 — this week's trial centers on the most serious allegations against him. And it's the first time jurors will weigh such allegations, given that his Manhattan state criminal case fizzled out in what can at best be described as a sweetheart plea deal. Gooding maintains his innocence and denies the rape allegation. When the lawsuit was filed, Gooding's then-attorney remarked, "The allegations are completely false and perjurious." He also said, "The incident never took place, and did not give rise to any criminal complaint seven years back, when it purportedly took place." Here is a brief rundown of Gooding's upcoming sexual-assault trial.
Cuba Gooding Jr. allegedly tricked the woman to isolate her
In her August 2020 lawsuit, Gooding's accuser maintains that she and her friend met Gooding on August 24, 2013, at a Greenwich Village restaurant. She and her friend went into the VIP "lounge" area of the restaurant, where Gooding introduced himself and subsequently invited them to his table. After they went to Gooding's table, he invited them for drinks at the Mercer Hotel. Gooding left his table and a man "who appeared to be a security guard" approached, claiming that Gooding wanted to meet this woman outside in a taxi. The woman told her friend, who said she would meet them at the hotel for drinks. When the cab arrived at the hotel, Gooding advised her to use the hotel's side entrance "so that he could get out at a different entrance so as to 'avoid the paparazzi,'" her suit contends. They saw each other in the hotel lobby, where Gooding said he needed to change. The woman made a suggestion: She could wait downstairs. But Gooding claimed he would "be quick," so she joined him upstairs. After they arrived at his fifth-floor hotel room, the woman mentioned that her friend was meeting with them "in an effort to suggest that they leave to head back down soon and politely convey that she did not have any interest in staying in his room."
Cuba Gooding Jr. allegedly raped the woman after getting her alone
Once inside his room, the woman alleges, Gooding put on Mumford & Sons, positioned himself between her and the door, and stripped. The woman — insisting she needed to leave and meet her friend — tried to get up from the bed, where she was seated. Gooding "blocked her from the door and pushed her onto the bed," she claims. Gooding allegedly started to grope her. Despite saying "no" and and trying to push his hands away, he forcibly touched her genitals and ultimately vaginally raped her, the suit alleges. The suit contends that Gooding then went to the bathroom. She dressed and tried to leave, but Gooding, she alleges, penetrated her anally without consent. Gooding fell asleep and she went into the bathroom. When she heard him wake and fearing "that she might be raped again," the woman said she had to meet her friend and fled, she alleges.
Three other women are expected to testify about Gooding's alleged misconduct
More women are poised to testify about similar, unrelated incidents. One of the women has alleged that Gooding tried to "digitally penetrate" her anus without consent in 2009. Another accuser claims that Gooding touched her genitals without consent in 2012. A third claims that Gooding touched her breast without consent in 2019. In a June 2, 2023, filing, Judge Paul Crotty said their testimony was admissible given rulings in other cases that deemed relevant any evidence that might indicate "the defendant's propensity to commit the alleged acts." Crotty also said, "The prior acts are sufficiently similar to Plaintiff's allegations because all involve sudden sexual assaults or attempted sexual assaults connected with the Defendant and victims' presence in social settings prominently featuring drinking like festivals, bars, nightclubs, and restaurants." Crotty is not allowing a fourth accuser to testify. "Given the similarity between her testimony and [another accuser's] testimony, any probative value is substantially outweighed by being needlessly cumulative and increasing the potential of improper bias," Crotty said.
There is a bit of overlap between Gooding's criminal and civil cases
Gooding is not facing criminal charges for this alleged rape. However, one of Jane Doe's supporting witnesses, Kelsey Harber, is among the women Gooding was charged with groping. (Harber has publicly identified herself. Vulture generally does not use sex-assault accusers' names without their consent.)
Now, more about Gooding's criminal case
Gooding's legal problems started in June 2019, when a woman accused him of groping her breast. Gooding, who surrendered to police on June 13, 2019, would ultimately face six misdemeanor counts for alleged sexual misconduct. He did not go on trial in that case and pleaded guilty to a single misdemeanor count on April 13, 2022. During Gooding's April 13, 2022, plea proceeding, prosecutors said one reason they reached a plea deal was because of the judge's ruling not to permit uncharged bad acts at trial. Under the deal, Gooding was required to continue counseling for six months and stay out of trouble during that time. If he met these requirements, Gooding was to be permitted to withdraw his guilty plea and re-plead to a harassment violation — and since a violation isn't a crime, he wouldn't wind up with a criminal record so long as he complied. In the end, Gooding did meet the requirements and walked away from his criminal case without a criminal record.