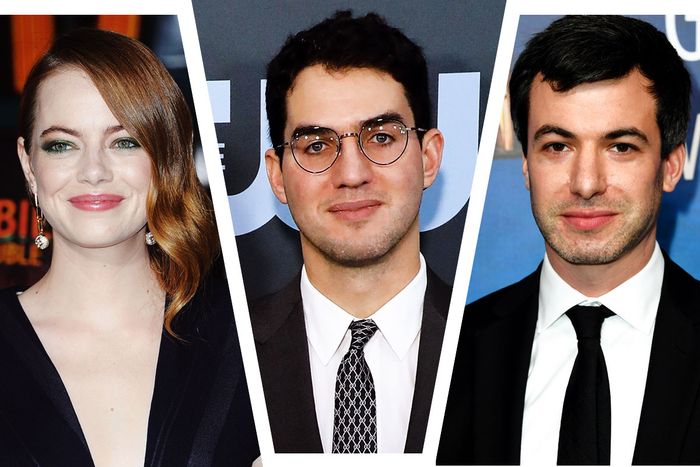 What a cast!
Photo-Illustration: Vulture and Getty Images
Back in 2020, it was announced that Nathan for You's Nathan Fielder was teaming up with the Safdie brothers to work on an A24-produced half-hour comedy pilot at Showtime and the project had been ordered to series with a big star in the cast. According to Showtime's press release, Emma Stone will join Fielder and Benny Safdie as stars of the comedy titled The Curse. Sounds promising, no?
In addition to co-starring, Stone will serve as an executive producer alongside Fielder and Safdie. Fielder, who created the show with Benny Safdie and most recently executive produced HBO's (now renewed) How to With John Wilson, is also attached to direct. We're confident in framing The Curse now the same way we did back in 2020: It sounds all but confirmed to be our new favorite (and very bizarre) show. In a new trailer, menacing Oneohtrix Point Never music plays as Fielder and Stone recite cheery copy through frozen smiles, talking to a camera about a solar-powered fire station or something. Watching Fielder smile with teeth is very unsettling.
So, The Curse is about an HGTV show with sinister vibes?
Yes, but unlike Love It or List It, this show is a spoof, not a real program. The Curse has the weirdest and most intriguing logline ever: "a genre-bending scripted comedy that explores how an alleged curse disturbs the relationship of a newly married couple as they try to conceive a child while co-starring on their problematic new HGTV show," according to the press release. Co-creator and co-star Safdie told GQ that the show evolved into something more serious than originally planned. "It started out as a 30-minute comedy and became an hour-long comedy-drama," he said in a July 18 profile. Apparently, it's now as much about the cursed nature of the channel as it is about our current housing crisis and a couple making a TV show about their attempts to gentrify "ethically."
"They live in an area called Española, which is close to Santa Fe," Safdie described the main characters in GQ. "And that's where they're building their new homes. They have a very different way of gentrifying the community. They want to do it ethically, and they want to do it in a way that doesn't hurt anybody. So, they want to make a show about that. And you follow their lives as they're doing it." Spooky.
Who's in the cast?
Safdie and Fielder enlisted Constance Shulman (Orange Is the New Black), Corbin Bernsen (Psych), and Elara Pictures veteran Barkhad Abdi (Good Time) to star alongside themselves and Stone in undisclosed roles, per Variety.
Is Oneohtrix Point Never reuniting with the Safdies to make some sick synth beats?
You know it. The frequent Safdie Brothers collaborator behind music for Good Time and Uncut Gems, Oneohtrix Point Never a.k.a. Daniel Lopatin, will score The Curse. The composer also revealed the other masterminds in charge of soundtracking the show in an Instagram post on January 17 — jazz-keyboardist John Medeski of the jam-band trio Medeski Martin & Wood and metal producer Randall Dunn, both pictured together with the show's co-creators. "let's face it tv stinks!," Lopatin captioned the post. "not anymore folks meet a few of the hot hunks bringing you 'THE CURSE' @showtime sometime sooner than later." Dunn clarified in his own post that he will oversee production recording and mixing, Medeski will compose, and Lopatin will executive produce.
When's the release date?
November 10 on Paramount+ with a Showtime plan, of course.
This post has been updated.