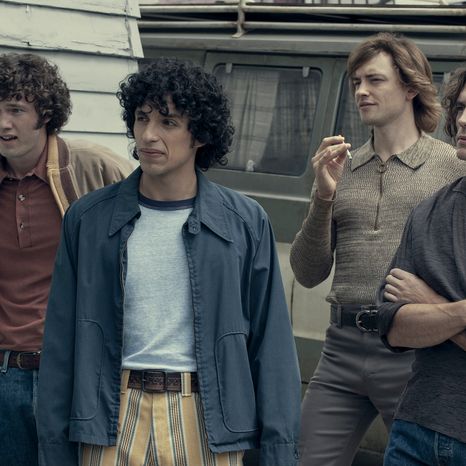 Photo: Vulture; Photo: Lacey Terrell/Prime Video
In preparation for recapping the Amazon series, I recently reread Taylor Jenkins Reid's best-selling 2019 novel, Daisy Jones & The Six, which I now deeply regret. As far as casting goes, this is a Hello Sunshine production, and Reese Witherspoon's people have nailed it as per usual. Even if Riley Keough doesn't look like the Daisy Jones of your mind's eye, she's got the feel of her. As the L.A. grandbaby of Elvis and Priscilla, she brings to the role of a preternaturally cool Hollywood ingenue the imprint of her own autobiography plus the hypnotic chaos she brings to everything she touches (Zola, American Honey). I didn't picture Finnick Odair for my Billy Dunne (Sam Claflin), but I kinda buy the 35-year-old actor in the young flashback scenes, and I trust he'll look at home later, once Billy grows up and adopts his denim-on-denim uniform.
Let me explain for the four or five people reading this who know nothing of that uniform or, indeed, the novel at all. The book is written in the form of an oral history of a 1970s rock band (inspired by the twisty love lives of Fleetwood Mac), which is to say that reading it already feels like reading something akin to a movie script. If the TV series had been but a filmed table read of the novel, I think the show would have basically worked (and probably been a lot shorter!). When I imagined what an adaptation would look like, I pictured an episode of Behind the Music, augmented with fake family photos, unseen tour-bus footage shot on home camcorders, and, of course, archival concert film.
Because Reid didn't just write the book for Daisy Jones & The Six — she wrote music. An epilogue to the novel includes the lyrics to some of the fake band's most intimate and influential fake songs. To read the book is to wish you could hear their breakout album, Aurora, and one of the thrills of the TV series is that now you can. (Phoebe Bridgers, Marcus Mumford, and Jackson Browne are among the musicians to write on it.)
The novel is admittedly cheesy, though the oral-history format made the cheese digestible. The musicians were speaking for themselves about themselves, and so any artistic pretension belonged to the characters. It was allowable that the novel didn't capture the very nature of musical genius because Daisy and Billy didn't necessarily understand exactly what made them special. They just had it in droves, and not the ability to explain to the rest of us what made their chemistry crackle.
But the series does more than flesh out the spine of the novel. It vaguely adopts a documentary structure (with an offscreen interviewer) but mostly tells its story in flashbacks. In episode one, lots and lots of flashbacks. And the flashbacks eat away at the story's subtlety. One of the delightful tricks Reid plays over and over again is to allow two characters to describe the same event — from an argument down to an outfit — as they remember it. And, of course, they remember it differently, which says more about them than it does whatever happened. As Reid writes in the book's (fake) author's note, "The truth often lies, unclaimed, in the middle."
Anyway, as this is not a column about the series's fidelity to the novel, I'll retire the subject (for now) with a piece of advice. If you haven't read the book yet, don't rush out and buy it. Enjoy the series for what it is on its own terms and come to the book later when you've forgotten what "Impossible Woman" sounds like on the show and you can hum it however you please. I should warn you that there are a couple of additional spoilers for the novel in this recap, but if you've decided to watch a TV series about a novel before you've read said novel, I think you've made your own bed.
Honestly, not very much happens in episode one, which I suppose is the way of a chronological history. Our childhoods shape the rest of our lives, and yet they often feel like pure preparation for the future. Graham Dunne (an adorably tousled Will Harrison) and his older brother, Billy, form a band with some of Graham's loser high-school friends; Billy meets a really pretty girl and convinces her to go to L.A. when the band does. That's what happens. That's the forward action. Everything else is character. By 1977 — less than ten years later — this ragtag band of misfits will have soared to the top of the "Billboard" charts before entirely combusting.
Let's start with Billy, the band's lead singer, lead songwriter, and, well, leader. When the band gives these interviews circa 1997, he seems the tensest in front of the camera and the most skeptical that the other band members — namely, Daisy — are volunteering for this turbulent trip down memory lane. I think it's a safe assumption that they don't speak much; it's less clear whether the silence between them is friendly or unfriendly.
The band — called the Dunne Brothers at first — is formed with fairly straightforward motivation: Its members want to get girlfriends. Billy and Graham, the band's lead guitarist, were raised in Pittsburgh by a single mom. Warren (Sebastian Chacon), their drummer, was a high-school friend of Graham's, as was Eddie Roundtree (Josh Whitehouse), the band's reluctant bassist (he'd have preferred if Billy let him play guitar). There's also Chuck, a guitarist who, in the book version, gets drafted and dies in Vietnam, which I mention only because it seems like such a glaring omission from the show. Any series about rock and roll in the '70s is inherently political; later in the episode, Billy will even say he's writing a song about the Catonsville Nine. Chuck's tragic story plugs the larger narrative into a specific moment in American history, but in the series, Chuck merely ditches the band for dentistry school. What a chump.
About a year after the band starts rehearsing together, the Dunne Brothers are already booking local gigs — proms, graduations, and even a wedding where the brothers Dunne run into their deadbeat dad, who doesn't bother to say hi or hide himself away in embarrassment. How scarred they are by their father's desertion can be measured in their reactions: Graham votes to ignore him, whereas Billy punches him in the face. According to the talking-head videos, this is the seminal moment when Billy decided the Dunne Brothers would become the biggest band in the world.
Daisy — the band's eventual lead singer and co-songwriter — is given her own unambiguous story. The neglected daughter of a wealthy father and gorgeous mother, she keeps only records for close company. So she grows up fast, ditches her bra, and starts sneaking into clubs on the Sunset Strip. Soon, hardly a scene goes by without her bumping or popping or smoking something. Daisy is attracted to the refuge of the music, but she'll stay for whatever substance is on offer, which leaves her vulnerable to the full-grown men who prey on her sexually. Honestly, Daisy puts it best and most brutally, looking back from 1997: "People say I was naïve. I wasn't naïve. I was a baby."
To her mind, the rest of her life, including her journey into songwriting, was a reaction against the weakness she felt back then. Figuring out how good she was at belting out a sad song was a reaction to her mother slighting the lyrics she read in her diary. Even pursuing a music career at all can be boiled down to a few key moments — some guy in a band Daisy briefly dated who stole her song; the buffoonish, sexist screenwriter who co-opted Daisy's quirks into his movie's manic pixie dream girl. It's all inputs and outputs, the simple mathematics of life.
This is the kind of self-mythologizing that works when people are just sitting around and talking about themselves. Certain moments burn brighter, and so we assign to them extra significance when, really, who we are is likely the product of a zillion unknowable little things. And this is why the flashbacks started to grate for me. They echo the nonsense people are saying in their interviews, and suddenly a person's account takes on the rigidity of fact. But Billy didn't become the biggest rock star in the world because his drunk dad was a dick to him at a stranger's wedding. That's just a story he and Graham tell about that day. It helps them make sense of why something so unlucky and cruel could happen to them.
Other real-life flashbacks feel more honest, like the meet-cute between Billy and Camila (a magnetic Camila Morrone) at a Pittsburgh fluff-and-fold. She pretends not to recognize the local rock star, and he confesses he's still living at home with his mother, which is cinema's great equalizer. The show remakes Camila into an aspiring photographer, which is a nice excuse for how much band footage they have at their disposal for the documentary. It's all-in-nothing's-going-to-stop-us puppy love. After a year of rehearsals and bigger and better shows, a manager tells the Dunne Brothers they need to go to L.A., and Camila hops in the van, despite her parents' clear objections to Billy, his rock-star dreams, and probably also the length of his hair.
We meet a few other characters, but barely — they're essentially bookmarked for future use. The tour manager who lures the band west is Rod (Timothy Olyphant under a regrettable mop of a wig). In the latter-day interviews, he'll say he saw in Billy Dunne the world's next Mick Jagger.
Simone Jackson (Nabiyah Be), billed in the documentary as a "disco pioneer," is introduced as Daisy's only friend and an older-sister figure. She's why Daisy never bottoms out, even when struggling most. Simone pushes her to pursue her music.
And lastly, there's Karen Sirko (Suki Waterhouse), the English keyboardist the band meets at a gig. Her notable traits include a complete disregard for Graham and a refusal to play up her sexuality to satisfy Rod's sleazy idea of what women who rock look like.
The episode ends with the band arriving on the Sunset Strip, staring up at the lights like kids on a class trip, just as Daisy Jones walks down the same stretch of pavement like she owns the place. They don't meet, but the juxtaposition augurs what's bound to happen when they do. Daisy's a Strip-famous groupie in the fashion of Penny Lane, and the Dunne Brothers are noobs. We know they'll somehow form a band and make great music, but the harmony won't come easy.