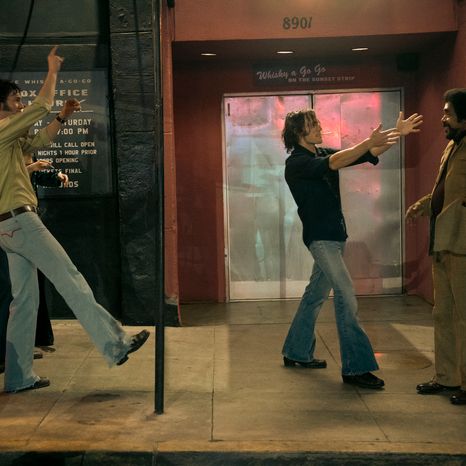 Photo: Lacey Terrell/Prime Video
Amazon has made the messy decision to drop the first three episodes of Daisy Jones & the Six on us at once, so here we are, together again. This tranche will be followed by three new episodes next week, then two episodes the week after, and the final two episodes the week after. This strikes me less like an artistic decision about how the series is best consumed and more like a panicked admission of doubt. Nothing about this initial trio of episodes shouts out for grouping. Perhaps Amazon suspects Daisy Jones doesn't have the juice to capture our attention on ten separate occasions. Based on my viewing of just episodes one and two, I would understand that concern.
The first episode looked like a million bucks, but nothing much happened. In episode two, everything happens — the Dunne Brothers' entire rise and fall. But it all happens so fast, and I wasn't yet emotionally invested. It's objectively very disgusting that Billy would cheat on his pregnant new wife with rando groupies, but I don't understand Billy well enough to know if this outcome is tragic or foreseeable (or both, I suppose). I'm as eager for Daisy to meet the Six as anyone, but Houston, we have a pacing problem. At least now we also have Teddy.
When the name Teddy Price (Tom Wright) is first uttered in the series premiere, Billy Dunne's reverence is clear; by the end of "I'll Take You There," that reverence feels entirely deserved. I wonder how many (fake) music producers have made it to The Merv Griffin Show sofa. This is a man whose effect on music and on his musicians is bigger than his job description. He tells Merv that all rock stars are "orphans," but Billy isn't anymore after Teddy. Albeit reluctantly, Teddy becomes the father Billy never had.
But first, the band has to figure out how to even meet Teddy Price. Upon arrival in L.A., the Dunne Brothers and Camila show up at the condo of moppy-haired Rod, who looks into their hopeful faces like he's never seen them before. As it turns out, Rod's not even a band manager; he's a tour manager. He eventually agrees to call his buddy at Filthy McNasty's, the dirtiest and emptiest club on the Strip, to set them up with a gig, but that's where the free help ends.
Critically, Rod also gives them Karen's phone number. The band is just as smitten with her lush keyboards as young Graham is smitten with the English rose playing them. After getting Camila's assurance that The Dunne Brothers aren't just wasters, Karen joins them in the Laurel Canyon cottage where they scrape the money together to rent. (It's a change from the book's Topanga Canyon, but one that's surely meant to conjure the ghosts of rock and roll greats: the Mamas and the Papas, CSNY, and Daisy's treasured Carole King.)
And that's their life for a little while. They live together among a dead old lady's belongings in a fusty cottage, writing songs by day and playing to crowds of one or two at Filthy's by night. Karen thinks the boys are nerds, which they are. Camila and Billy are in love, and, as Billy Dunne says to the camera in one of the episode's dwindling nods to the music documentary they're supposedly making, "That was where we really fell in love as a band." Eight months in, they have a strong set list of original songs, and they have undeniable swagger.
Unfortunately, they still don't have a record deal. None of the producers Camila endlessly cold-calls ever turns up to see them play. Grocery money is tight. It's not immediately clear to me that Billy is drinking too much, but the series really thinks he's drinking too much. Every pour gets a close-up. But the band does find some resilience in a name change. "The Dunne Brothers" doesn't fit the group's composition anymore, so they rebrand as the Six, which sounds dangerous and intriguing. I would 100 percent watch a true crime doc about the Six, a Laurel Canyon commune that became a cult.
And yet the Six is still a mysterious name for a band with five members. In general, the relationships between the guys in the band are broad and underdeveloped, but Camila and Karen — or maybe just the actors who play them, Camila Morrone and Suki Waterhouse — are quietly developing real rapport, an accumulation of looks and whispers that feel more lived-in than even the relationship between Graham and Billy, who've known each other their whole lives but have no shorthand. It's Karen who knows that there's no band without Camila. Camila makes them whole, and Camila makes them the Six.
Eventually, the Six do get a chance with Teddy. Graham spots him by chance at a convenience store, and Billy slobbers all over him until the famous producer promises to listen to just one song. It's the hokiest of music movie cliches. "If you had one shot or one opportunity to seize everything you ever wanted — one moment — would you capture it or just let it slip?" Well, these guys capture it. On Camila's advice — and against Eddie's wishes — they play a ballad called "Silver Nail" that knocks Teddy Price's socks off, but which we, unfortunately, don't hear, robbing the audience of a much-needed emotional catharsis.
Now, until this point, the episode is moving crisply. It's very satisfying. Then some buster hits the NOS. With 16 minutes left in the episode, all of the following occurs: The Six records an entire album off-screen. Camila anxiously announces she's pregnant hours before she joyfully shotgun-marries an equally joyful Billy in a sweet backyard ceremony. And The Six leave pregnant Camila in the hills as they embark on their first real tour. I think elder Billy Dunne speaks for the home audience when he says, "Everything had gone so slowly, and then suddenly it was just all happening so fast."
For Billy, the tour could not be coming at a more — and less — opportune moment. He doesn't want to leave Camila alone; I don't think. Nor would he be free to drown his fear of fast-approaching fatherhood in whisky if she were around. Even twenty years later, no one wants to talk about the ill-fated tour, which Billy destroyed with drinking, drugs, and ugly and obvious philandering in less than 16 minutes. Not even Eddie, who hates Billy's guts, tells Camila what's going on. She has to show up and see it for herself. And by "it," I mean her husband in the back of the tour van with not one but two groupies. The honeymoon is over before it starts.
Camila, gracious and exasperated and kinder than I could ever imagine being, offers Billy a better deal than he deserves. She's too pregnant to deal with his shit, so she gives him until the baby is born to knock it off. I can't decide if it's an ultimatum offered out of love or desperation, but Billy doesn't live up to his side of the bargain anyway. Teddy drives Billy to the hospital on the night baby Julia is born, but Billy is too drunk, stoned, and self-loathing to even get out of the car. He doesn't comfort his wife, who cries alone in a hospital bed; he doesn't rock Julia to sleep or even meet his daughter the night that she's born at Cedars-Sinai, just about a mile off the Sunset Strip.
It's easy to imagine Daisy relatively nearby while all this is happening. She leaves home and moves in with Simone, who continues to encourage her musically. Simone even invites her on stage at the Troubadour to sing one of her own enchantingly delicate songs. After the show, she introduces Daisy to Teddy, who's under fire at the label even before Billy blows up The Six tour. But Daisy's principal trait in this episode is arrogant self-belief, which, incidentally, feels like the opposite of the last episode's uncertainty. When Teddy first offers to work with her, she's offended that he suggests her songs need work at all, that she hasn't arrived on the scene fully formed.
Teddy is persistent with Daisy, though it's not just about her. It's something in Teddy. He doesn't give up on people. Even after Billy refuses to go into the hospital, for example, he insists Billy go "somewhere else" instead, presumably rehab. Eventually, Daisy falls under the same spell that gripped Billy for a time — a need to please Teddy Price. She actually takes the time to write him a song that moves the way he tells her a song should. The series doesn't do much by way of makeup to age the actors up for their 1997 timeline, but Riley Keough efficiently conveys a sense of her character's journey. Once upon a time, Daisy was another impudent Hollywood brat. Now, she blow-dries her hair straight and sees how Teddy helped her. The Six is falling apart, yes, but maybe they're not going to be the ones to save Teddy's reputation at the label after all.