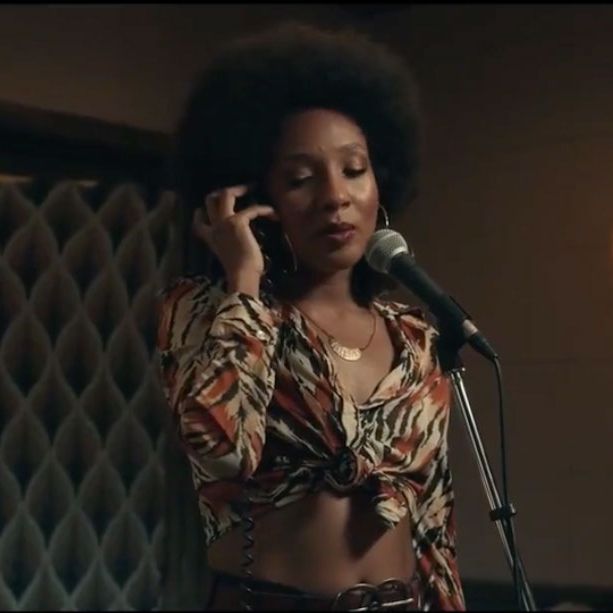 Photo: Vulture; Photo: Amazon Prime Video
This isn't the first time we've watched Daisy run away from home. Before, it was from her neglectful parents, who gave her a beautiful house in the Hollywood Hills but not their time or love. It was Simone who took her in and showed Daisy a real home.
In this episode, we catch up with our runaway again in Greece. A month has passed since she fled the Chateau Marmont, which is apparently long enough for Daisy to convince herself she's home again. She's set to marry Nicky, some descendent of the long defunct Irish monarchy, which mostly just means he's wealthy — an intriguing shift from the book, in which the princely husband was an Italian grifter. Daisy's so scared she's unlovable that she attaches herself like a barnacle to the first person who shows her any attention. The more we get to know Nicky, who doesn't do anything that terrible but emits a venal air nonetheless, the more it becomes clear how lucky Daisy was to find someone as generous as Simone the first time she fled.
But before we see what Daisy is up to on the sleepy island of Hydra in 1977, we catch up with Simone back in 1975. She steps off the bus to New York City, looking remarkably fresh-faced for a transcontinental Greyhound passenger, and goes straight to the club to meet up with Bernie. Seriously, I look more haggard when I go five stops on the B63.
In L.A., Simone was known to be talented but still wasn't getting anywhere in the music biz, at least partially because she wasn't submitting to the sleazy demands of producers who wanted to check the firmness of her thighs with their meandering hands. But in this thriving queer Black disco club in New York City, Simone's already a star. Bernie — a talented DJ in her own right — has taken Simone's vocals and layered them into a banger the crowd is still frothing for when Simone sings it for the umpteenth time in a row. If only Simone had considered leaving California earlier, she could have been this happy already.
And the musical success she's finding is only part of her new zip code's appeal. It's Bernie that's the meaningful difference. After years of babysitting Daisy, Simone finally has someone to look out for her, someone to sleep next to. But as comfortable as Bernie makes her at home, Simone's old fears of her sexuality threatening her career also took the Greyhound to New York. It's one thing to wake up with Bernie in their apartment, another to dance up on her in the DJ booth.
Still, Simone's already evolving. While in the past, "hiding" herself came naturally, now she feels conflicted over it. And that pain fuels the music she's making in New York. Soon, Simone's performing four shows a night, at mainstream Manhattan discos, at New Jersey roller discos, and then, always, back at their home club, Better Days, where the song she wrote about finding freedom has special resonance.
In fact, Simone's about to go meet execs who want to put out a whole album with her when Daisy pops back into her life via a telegram, already an outmoded way of getting someone's attention in 1977 — then again, Daisy's always dramatic. Simone, fearing the worst, cancels her shows and packs her bags that night. Bernie, the best person on Daisy Jones & the Six and possibly all of television, also packs a bag. When they make landfall on Hydra, the telephone lines are unmissable.
Perhaps it would have been better if Simone traveled 4,000 miles to find Daisy wasting away in a Greek jail. While unfortunate, that scenario feels fixable. What's an inevitable disaster is Daisy marrying Nicky, a dude who parties as hard as she does, only consorts with trustafarians, and has never even bothered to listen to her music. Needless to say, the practically-minded Simone does not approve, especially when she finds out Daisy's also planning to quit The Six on the eve of their big tour. That part of this particular meltdown just pisses Simone off. She's been hustling for years to get her music heard while Daisy was offered a magical shortcut to the cover of Rolling Stone. Simone could have resented her friend's elevator ride to the top, but she was always gracious and encouraging. How dare Daisy throw it all away?
Ironically, the tiny island of Hydra, where I imagine the population of Black lesbians in 1977 hovered around zero, is where Simone feels freest to be with Bernie in public. They even dance together at Daisy and Nicky's hillside wedding in full view of a crowd of strangers. They're on the small Mediterranean island when they trade their first I love yous, one at a time. For a full day, Bernie waits for the reply she trusts will come. It's hard to imagine that Daisy can see the patient love Simone and Bernie share and still think it's a good idea to marry a dude who wants to drop acid and take a midnight swim to a rock some unknown distance from shore in the middle of their wedding reception. Alas, the coked-out heart wants what it wants.
Unlike Bernie, though, Simone isn't so content to let people come to their own decisions in their own time — maybe because she knows the window of opportunity will close for Daisy the moment the tour starts without her or, worse yet, doesn't start at all. But she strikes out every time Simone tries to convince Daisy to leave this paradise and spend her honeymoon on a tour bus. Daisy is happy, a feeling she's not had much experience with. I can see why she'd resist endangering that by sharing a small space with Billy — a man who rejected her privately, then shit-talked her in a major national music magazine. So Simone tries to persuade Nicky instead, to explain to him that this is too big a chance to pass up. Daisy doesn't want to be a weekend poet like his deadbeat friends; she wants to be a rockstar. She's happy now, but she won't be happy marooned on this island forever.
But Nicky is an idiot and, I think, more of a manipulator than an actual bigot, but really, on second thought, probably both. He tells Daisy that he suspects Simone is in love with her. Which makes any attempt of Simone's to pump the brakes on their wedding or rope Daisy back to America for the tour an expression of her unchecked jealousy and not the sisterly concern she's demonstrated for Daisy from the night she met her. And because Daisy's an idiot, too, she has the audacity to fact-check Nicky's suspicions.
Maybe it's easier for Daisy to write off Simone's concerns as some sort of sapphic obsession. It's an excuse to avoid the tough questions Simone asks about art as a form of pure self-expression versus art as a form of communion with others. Daisy has always longed for connection. It's that reckless longing to be seen that compelled her to move in with a perfect stranger when she was a teenager and later to relinquish her heart to a married man. It's why we're all in Greece right now so she can marry the leprechaun king in exile.
"Some of us have to work our damned asses off to get even half the breaks you've gotten," Simone tells her. After seven episodes of watching Daisy jeopardize every golden ticket with drugs and carelessness, Simone comes as close as she ever has to calling Daisy a spoiled brat. More meaningfully, though, she's also acknowledging the tremendous privilege she's been forced to watch her friend squander. Daisy's opportunities are the kind Simone would kill for, the type that a Black woman artist isn't just handed.
This is the first time we've gotten a Daisy episode without The Six's storyline in parallel, but the hour really belongs to Nabiyah Be. She makes a world out of Simone, a woman who exists at the margins of Taylor Jenkins Reid's 2019 novel. Even in the series, Simone is mostly assembled out of reactions. She doesn't have a backstory or much of an internal life unless she bounces off Bernie or Daisy. After asking Simone if she's in love with her, Daisy grabs Simone's shoulder, but if you focus on Be's face, you'd think she was processing something far more violating. There's a depth to the betrayal she feels right now. It's completely heartbreaking.
Soon after, Daisy apologizes, but the damage is done. When Simone calls Daisy "a real selfish bitch," she speaks for all of us. In the end, Daisy does go back to California, just as Simone told her to, and she does it with Nicky's support, just as Simone told him to offer. He promises not to let anyone — not even Billy Dunne — hurt her again, which is sweet enough, if impossible. But as sure as I am that Daisy will get hurt again, we can be sure that Simone will turn up to rescue her. Simone's not in love with Daisy, no. But she still may be the only person to really love her.