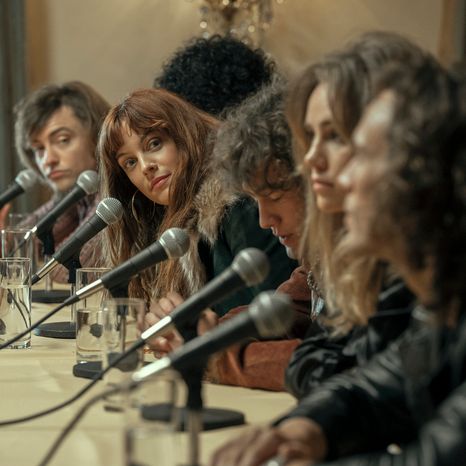 Photo: Vulture; Photo: Lacey Terrell/Prime Video
Episodes of Daisy Jones & the Six take two different cadences: nice and easy and way too fast. Episode seven took its time to let the relationship between Bernie and Simone blossom as the friendship between Simone and Daisy curdled. Episode eight, I think, seeks to re-create the hectic chaos of a nationwide stadium tour by squeezing months of tension into 45 minutes, but that's self-defeating. The faster the calendar pages fall off, the less real these people seem. I get that these good/bad ole days will eventually blur together, but that's the impression you get when you're looking back. First, they have to happen at a regular pace of days.
By the time Daisy arrives back in Los Angeles, kissed golden by the Mediterranean sun, she's missed the album-release party, the album-mixing sessions, and the tour rehearsals. So you can guess how pleased Mr. Do the Right Thing is to see her, even before she starts nitpicking his proposed set list. To be fair, Billy has cut "Look at Us Now" — their first hit together — and "Regret Me," the scorned-woman anthem Daisy wrote about him. Luckily, they don't waste too much time on proxy wars. Almost the second they see each other, Billy and Daisy start laying into each other about the ugly Rolling Stone piece, which is probably for the best. Neither of them is as convincing at burying their feelings as they think they are.
Now, we can't be certain Billy needed to go so hard with his criticism of Daisy to convince Jonah to kill his original piece ("head case" was particularly unkind), but I'm stupefied that Daisy doesn't see a difference between what she did and how Billy responded. Daisy told another person's darkest secrets to a magazine because, in that moment, her feelings were hurt. What Billy did was damage control. The less sorry Daisy is for what she did, the less I care about the pummeling her ego took in the cover story.
Poor Rod, the gone-but-not-forgotten tour manager played by Timothy Olyphant's wig. He makes a victorious return to the narrative just in time to drive himself crazy trying to keep the most volatile band in America to a schedule. The solution Daisy and Billy find to coexisting on tour is as extreme as it is infantile: They demand separate everything. Daisy and Billy get separate buses between stadiums, and then, when they get there, separate greenrooms to prepare. Their hotel suites are on separate floors. It's not a great omen for band harmony, but at least it gives Camila, stuck at home with 2-year-old Julia, one less thing to worry about. Nicky will accompany Daisy, though I'll admit I questioned the rock-and-roll sensibility of a man who turns up to a recording studio in the Valley in a turtleneck and blazer.
The Aurora tour kicks off in Albuquerque, and for all the bickering over lighting cues and costume changes, it's a huge success. Despite the month apart and their incessant grievances, Daisy and Billy still make sense together onstage. In real life, they do their worst to repel each other, but drenched in stage lights, they're magnetic. Their dynamic is what the crowd responds to night after night; the bigger the city, the louder the screams.
But when the concert ends, they return to their respective corners. For Billy, it's jogging and watching reruns on his lonely sober tour bus for one. Rock and roll is a two-hour set that ends with the encore. For Daisy, though, it's a lifestyle. The show is just the pregame for a night of reveling with Nicky — who may not love the music, but man, does he love the drugs — and the rest of the band.
And so the tour rolls on. Night after night, Daisy and Billy set the stage on fire, doing battle on the same mic after long days of not talking at all. When they are forced together — at press conferences and radio interviews — they immediately get on each other's nerves, Daisy deliberately so. But across the episode, there's hardly any threat the animosity is real. Though Billy can't risk getting close to Daisy for fear of the family it could cost him, his desire for her is underscored every few minutes via long, lingering stares. Daisy, try as she might to sublimate her feelings with pills and alcohol and Nicky, is the one to close the gap between them as they sing. The series has never been subtle, but the aerial shot of Daisy looking vacantly into the camera while having sex with Nicky was more hackneyed than even those two deserve. If anything, until now, the series has made a clear distinction between love and sex. Eddie and Camila had sex without love, and Billy and Daisy have had love without sex.
Overall, the series's title, Daisy Jones & the Six, is feeling more and more misaligned with its content. Only occasionally do we get fleeting glimpses of the lives of the rest of the characters. The label is showering Teddy with gifts in the hopes he'll stay on staff, but who cares? Camila's booked a professional photography job, but whatever. Eddie's still pining for Camila, but fat chance. Despite bunking on the same tour bus, Karen and Graham manage to keep their relationship a secret. One of the episode's only real laughs is Karen's defense of Graham, who is taking yet another beating from the guys for not sleeping with groupies. "He's not into dudes, and his dick is … it's perfect," she says, then drags him to the back of the bus to prove she's not joking.
In general, the documentary footage adds little to the series's forward story, but adult Graham is emerging as Daisy Jones & the Six's answer to Jim from The Office. Actor Will Harrison can take you on his character's journey quickly and wordlessly. While remembering the day Karen revealed their romance to the band, his face takes three different shapes in a matter of seconds — wide and half-laughing, which morphs into an uneasy smile before settling into a rueful one. As happy as I was to learn that Karen and Graham's romance was finally in the public domain, it's written all over Graham's face that they'll one day break up, too.
As uncomfortable as this tour is, it feels like it could persist in this delicate balance forever. The peace is not perfect, but it's steady. The partying is not controlled, nor is it lethal. That is until Daisy receives a letter addressed to "Margaret." She doesn't open it, but we can be sure from Daisy's cold shiver and the use of her birth name that the penmanship belongs to her mother. After that, she stops drinking to have fun and starts drinking to die. She can't make it through a set without pausing to snort a line or two or more. She's messing up lyrics at night and sleeping through sound check in the afternoon.
It gets so bad that Billy confronts Nicky about getting Daisy to slow down. He's worried about her, yes, but he's worried about the health of his tour too. Billy has been at this crossroads before. Unfortunately, Nicky's got his jealous demons, and the insinuation that he needs Billy's help handling his wife riles them all up. Nicky accuses Billy of wanting Daisy to need him; Billy tells Nicky he'd be nothing more than a silk shirt without Daisy. They're probably both right, but it feels good to see Billy take a swing at the "royal prick" as Warren so aptly christens him.
As you can imagine, Daisy's husband and the bandleader brawling just before showtime does little to improve her performance that night in Miami. She really does sound like shit. She refuses to leave the stage to see a medic, preferring to perform with blood running down her leg after falling into the drum kit — anything is better than ceding the floor to Billy. Because these last few months have been nothing but a power struggle for her — a fight against Billy and against her feelings for him — she assumes it's the same for him. When she takes the mic, she delivers an a cappella rendition of the banned "Look at Us Now" while the band stares on in stunned silence, except Eddie, who's gleeful at the insurrection. Billy quits the stage, and his concern for her evaporates. Now it really is a power struggle on both sides. Or, as Billy, who has always treated the band as his own little fiefdom, calls it, "a mutiny."
After the show, Daisy and Nicky retreat to the hotel to celebrate Daisy's victory with four or five hundred lines of coke plus whatever else. (I wonder what the actors really snort on set.) By the time Billy stops by to kick Daisy out of the band, though, she's barely breathing on the shower floor. Nicky first refuses to let Billy and Rod into the room; then he can't pack his bag fast enough, leaving his wife to overdose in another man's arms. The episode ends with Billy cradling Daisy, his warm, tear-streaked cheek pressed to her cold, sweaty forehead, begging for his "baby" not to die.
She's alive, of course, but she's also deadly. The longer this tour goes on, the clearer it becomes that it can't survive with — or without — Daisy Jones.