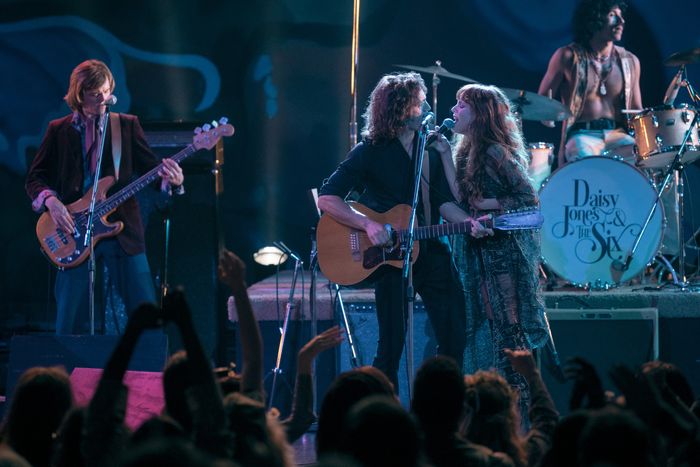 Photo: Lacey Terrell/Prime Video
Watching Daisy Jones & The Six is a bit like buying a Fleetwood Mac T-shirt from Urban Outfitters. The dye from the graphic transfer is fresh and the seams are unfrayed; there's crisp newness to the product. The garment links you, the listener, to them, the band, and you can be part of that public fandom for $39 or so. But what no amount of money can do is take you back to the time and the place that shaped the music your T-shirt is conveying appreciation for. You're buying an advertisement, not a time machine. That same dilemma plagues Daisy Jones & The Six, Prime Video's adaptation of Taylor Jenkins Reid's best-selling 2019 novel. For all the series' delights — the chemistry between Sam Claflin and Riley Keough, the constant scene-stealing by Camila Morrone, the fizziness of the original songs — there's an unignorable smallness throughout, a sense that, as with that Fleetwood Mac T-shirt, we're settling for a copy of a copy.
The series shrinks Reid's novel (partially inspired by the infamously stormy relationship between Fleetwood Mac's Stevie Nicks and Lindsey Buckingham) into a claustrophobic love triangle mostly uninterested in looking beyond its three points, and indifferent to the paranoia and exhilaration of the 1970s. Creative process is recurrently pushed aside for romantic pining, and there's no imagination for artistic motivation past jealousy and lust. The world-building is teeny-tiny, confined to the interiors of mid-century homes, buses, and recording studios; brief visits to Greece or New York City are only interruptions, not immersions. And for a story set in the '70s, it's inconsistently political, elevating a queer-character arc but erasing a meaningful subplot from the novel about the Vietnam War.
The cast transcends nearly all of these limitations — and some inevitable comparisons to the similar-in-subject film Almost Famous — to craft enjoyable melodrama; if you're convinced by Keough's unflinching stare or how Claflin clenches that sculptural jawline, you'll be hooked early on. But the appeal of these performances only accentuates how the surrounding material of Daisy Jones & The Six, the connective tissue that is meant to ground this story in a recognizable reality, often feels like a diorama: stylishly designed, but paper-thin.
Daisy Jones & The Six uses a documentary-style frame to tell the story of the titular band, who got huge in the 1970s and then just stopped — stopped making music after one album, stopped touring after one sold-out nationwide jaunt, and stopped being friends. In the 1990s, an unseen filmmaker trying to understand what really happened back then interviews the mostly reticent former band members: lead singers and songwriters Daisy Jones (Keough) and Billy Dunne (Claflin), lead guitarist Graham Dunne (Will Harrison), bassist Eddie Roundtree (Josh Whitehouse), drummer Warren Rojas (Sebastian Chacon), and keyboardist Karen Sirko (Suki Waterhouse). Some of them are matter-of-fact about what they had and what they lost, like the brusque Karen. Some of them are nostalgic, like the easygoing, wisecracking Warren. And some of them, like Daisy and Billy, are caught up in their own mixture of bitterness and bemusement; whatever happened between the two of them, it hurt. The series establishes these personalities early, then backtracks into the past to show us how they were calcified.
In novel form, Daisy Jones & The Six spent nearly its entire first half tracking how these band members individually found music, then each other. In this ten-episode adaptation, we get an hour or two of backstory before zooming forward, a pacing issue that flattens everyone a bit. Daisy grows up beautiful, rich, and too fast, an "It" girl known to everyone in the California music scene but disinterested in being a man's muse. Billy, Graham, Eddie, and Warren toil in Pittsburgh as a popular cover band before getting more musically adventurous when Billy falls in love with aspiring photographer Camila (Morrone). After the band and Camila move to California, they're joined by keyboardist Karen and name themselves the Six. Daisy and the Six's paths cross when record producer Teddy Price (Tom Wright) puts them together on a song, and that's when the series becomes most reminiscent of its Fleetwood Mac mimicry, with intra-band flings, breakups, and makeups dominating the storytelling.
The band spends most of the miniseries working on their album Aurora, opening up opportunities for both personal and professional conflict, and the series' best scenes are the ones that plunge into how they developed their sound, wrote their songs, and complemented or challenged each other. When Daisy and Billy spend a day arguing about how their painful childhoods shaped them as artists, or the camera loops around the recording studio to capture the myriad emotions communicated in their heated gazes, or the pair instructs Warren and Eddie to sound more "swampy," it shades in what made the group so singular. The songs help, too; written by Blake Mills with a passel of collaborators including Marcus Mumford and Jackson Browne and performed by the actors, they're catchy enough when we intermittently get to see them in full. They're not nearly as sticky or iconic as any of the musicians used for needle drops — Carole King, Faces, and even Fleetwood Mac themselves — but good luck getting Claflin and Keough's harmonizing on "Look at Us Now (Honeycomb)" out of your head.
Yet all of this nitty-gritty procedure stuff, the details that help us understand what makes these people tick beyond their attractions, falls by the wayside once the series pivots into will-they-or-won't-they territory. In spending so much time centering Daisy and Billy in the studio and Camila's growing suspicions about their relationship outside of it, Daisy Jones & The Six loses the text's equitable quality, fails to fully take advantage of its split-timeline setup, and indirectly does Fleetwood Mac a disservice. There was more to that band than just Stevie and Lindsey's ups and downs, and there could be more to Daisy Jones & The Six than its primary fixation on who in the band is sleeping together.
There isn't a weak link in this ensemble, so why not give them more to do? Spending a scene or two in the studio with Graham, Warren, Eddie, and Karen while Daisy and Billy aren't there would have expanded them past just hard-partying background figures, and would have filled out their opinions on each other, their ambitions, and their fears. Using the documentary framing to interrogate the band members' divergent memories of what happened in the '60s and '70s would have added an intriguingly sticky layer to their own conceptions of themselves, an angle the show feints at whenever Billy and Daisy argue about their oppositional versions of the truth, but unfortunately avoids using for others in the Six. Instead, the talking-head interviews often just reiterate what we already saw onscreen, as if the show doesn't trust that its audience is entirely paying attention: Billy and Camila kissing, and Eddie bemoaning that they started dating; Billy and Daisy arguing, and Billy describing their argument. It's a welcome diversion when Daisy Jones & The Six makes space for non-romantic relationships, like the friendships between Daisy and fellow singer Simone (Nabiyah Be), Karen and Camila, and Warren and Eddie, and when it breaks away from the band's squabbling to explore cultural shifts occurring outside of glamorous Los Angeles (the rise of punk, disco, and Saturday Night Live). But even with a ten-hour run time, those excursions are all too rare.
In Almost Famous, also about an ascendant band in the 1970s and the infighting that nearly tore it apart, teen journalist William asks Stillwater guitarist Russell what he loves about music in the film's bittersweet final scene. Daisy Jones & The Six's version of that question is "When did you first fall in love with music?", which doesn't make for nearly as reflective an answer since the series' depiction of that "when" is so clichéd. That's its most pervasive shortcoming: Daisy Jones & The Six checks all the boxes of cool-girl protagonist and emotionally complicated main guy, pockets full of pills and closets overflowing with Bohemian-style outfits, hotel rooms littered with empty liquor bottles and the pieces of smashed guitars. There's an enjoyable indulgence to all this muchness. But where Daisy Jones & The Six hesitates is in connecting this tableau to an atmosphere that would give it solidity; it gives us the cocaine, but not the mirror. What Daisy and Billy might see in each other is all Daisy Jones & The Six lets us see, too.
Daisy Jones & The Six premieres its first three episodes March 3 on Prime Video.