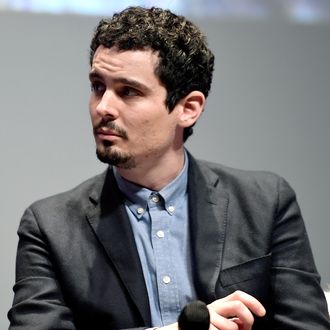 Damien Chazelle, a cosmopolitan man.
Photo: Matt Winkelmeyer/Getty Images for SBIFF
Yes, just to get this out of the way in advance: La La Land director Damien Chazelle's new TV show The Eddy is going to be a musical. And yes, it's going to be set in a club, which happens to be in "multicultural Paris." Will there be talk about jazz? Probably, since the show will focus on the club's owner, the house band, "and the volatile city that surrounds them." Jack Thorne, who recently wrote Harry Potter and the Cursed Child with J.K. Rowling, is writing the script. It's not too much of a surprise that the Oscar-winning director would sign up to direct a TV show, as Moonlight's Barry Jenkins is adapting Colson Whitehead's Underground Railroad for Amazon, but it's nevertheless a sign of the Peak TV times. In addition to The Eddy, Chazelle is also set to direct a Ryan Gosling Neil Armstrong biopic, while a script he wrote called The Claim is also in development. Every single one of these projects better include a dream ballet.
Update, September 1: Damien Chazelle's trip to Paris will come courtesy of Netflix. The eight-episode series will be executive produced by Chazelle, who will direct two episodes, according to Netflix. Alan Poul (Six Feet Under, The Newsroom) will also executive produce, and Glen Ballard (Alanis Morissette's Jagged Little Pill, Michael Jackson's Bad) will write original music for the series. The series will feature dialogue in French, English, and Arabic, so start brushing up now.