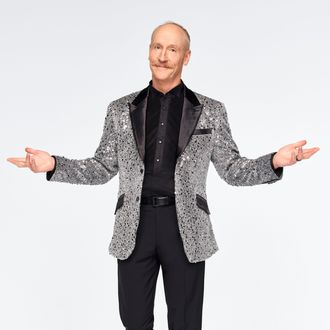 Do you have some kind of ballroom-dancer special?
Photo: Andrew Eccles/ABC
In a move that will certainly help people separate him from the conservative with the same name, comedian Matt Walsh (Veep) is "taking a pause" from the upcoming season of Dancing With the Stars due to the Hollywood strikes. "I was excited to join the show and did so under the impression that it was not a WGA show and fell under a different agreement," Walsh said in an Instagram Story September 21. "This morning when I was informed by my union, the WGA, that it is considered struck work I walked out of my rehearsal." In line with Walsh's decision, ABC is planning to postpone the show's 32nd season, according to Good Morning America. A replacement date has yet to be announced. The show, which was originally slated to premiere September 26, does have a WGA writer on staff and will be working in compliance with SAG-AFTRA guidelines, per GMA, another Disney offspring.
For its part, SAG-AFTRA issued a statement in support of its members who are performing on the show. "Our members appearing on Dancing With the Stars are working under the Network Code agreement, which is a non-struck contract," the statement reads. "They are required to go to work, are not in violation of SAG-AFTRA strike rules, and we support them in fulfilling their contractual obligations." According to SAG-AFTRA, many cast members are legally required to return to the show "if the producer exercises their option which the producer has done." The Network Code agreement also includes a "no strike clause" that prevents performers from striking until the agreement expires on June 30, 2024. "By not showing up to work, our performers can be held in breach of contract and the Union is prohibited from advising them not to work," SAG-AFTRA said, noting that it stands "with our union siblings across the industry as we also recognize our obligations under federal labor law."
Whenever it does shuffle on back, DWTS, a beloved ABC institution, is ready to take on another of America's most beloved cultural institutions: Romy and Michele's High School Reunion. Next season's cast was announced onGood Morning America on September 13, and the Oscar-winning Mira Sorvino, who starred as Romy White, is among them. Despite a Matt Walsh on the lineup, no one will be more controversial than Jamie Lynn Spears, sister and enemy of Britney Spears. Spears was confirmed to be joining the 32nd season of the show on September 12, according to The Hollywood Reporter. We hope for her sake that some of that dancing ability is genetic.
On August 21, as part of the finale of The Bachelorette, Charity Lawson, who just completed her reign, let us know she's putting on her dancing shoes. She's following in the footsteps of former Bachelorette and DWTS runner-up Gabby Windey — and we like Dotun well enough, but if Lawson wants to take it a step further and date a queer alt-comic, we'd recommend Celeste Yim. She'll be facing off against someone known for a slightly less fairy-tale-like reality TV relationship — Ariana Madix. Dancing With the Stars mostly uses pretty classy dances, so we're not sure if there's any space to do the worm (with a mustache), but if anyone could fit it in, it's Ariana. Madix, best known as the receiving end of the worst cheating scandal to ever hit the cheating-heavy Vanderpump Rules, was the first star revealed to be competing DWTS on none other than Good Morning America on Friday, July 7. Below, find the entire list of the upcoming contestants — Veep fans, we expect a lot from you.
Barry Williams (The Brady Bunch) with Peta Murgatroyd
Matt Walsh (Veep) with Koko Iwasaki
Alyson Hannigan (How I Met Your Mother) with Sasha Farber
Mauricio Umansky (The Real Housewives of Beverly Hills) with Emma Slater
Harry Jowsey (Too Hot to Handle) with Rylee Arnold
Tyson Beckford (model) with Jenna Johnson
Lele Pons (social-media star) with Brandon Armstrong
Adrian Peterson (NFL) with Britt Stewart
Xochitl Gomez (Disney star) with Val Chmerkovskiy
Mira Sorvino (Romy and Michele's High School Reunion) with Gleb Savchenko
Jason Mraz (singer) with Daniella Karagach
Jamie Lynn Spears (Britney nemesis) with Alan Bersten
Charity Lawson (The Bachelorette) with Artem Chigvintsev
Ariana Madix (Vanderpump Rules) with Pasha Pashkov
This post has been updated throughout.