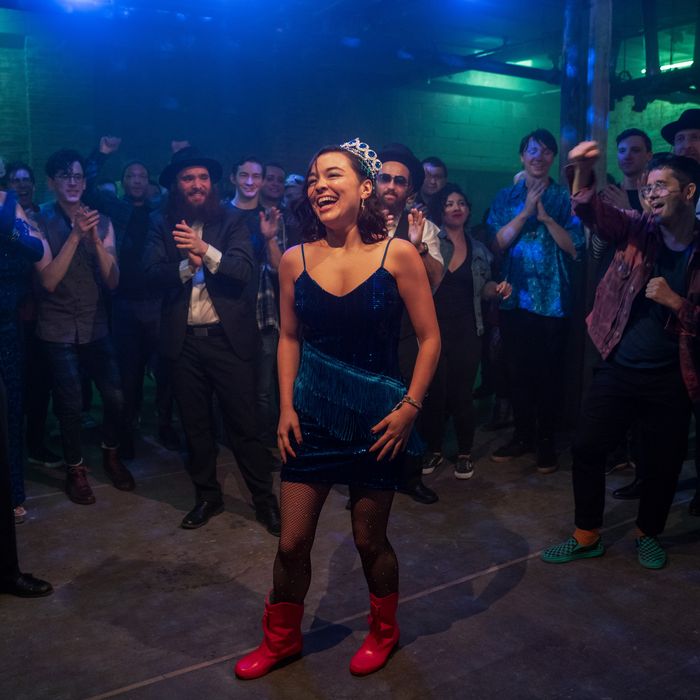 Photo: ALISON COHEN ROSA/NETFLIX
We need to protect Lily at all costs. She is too kind and good and full of joy, and I fear the world will turn her into just another one of us monsters. I mean, look at episode three here: She spends one evening–slash–early morning in an underground club raging to a Jewish punk band called the Challah Back Boys and suddenly she is fleeing home, one fabulous red boot short, in tears. Tears! Our Lily!
Okay, fine. It's very clear that Lily has been hiding from the real world in an attempt at self-preservation, and while her job here is to challenge Dash to open himself up to happiness and fun and love again, Dash is clearly here to challenge Lily to stop hiding from life, to have real experiences, and to do it while not caring what other people think about her. For what is a rom-com if the two very different people falling for each other aren't making one another the best version of themselves? Rom-com 101, baby.
Now that the rules have been set for the notebook and both participants are fully and excitedly in, Dash and Lily want to really get to know each other. One thing Dash will most definitely not reveal is his name, since it's so uncommon and a little detective work could possibly expose him — instead, he tells her his name is "a connector of words," which honestly is so Dash it is excruciating. Lily thinks it's cute and that's all that matters. Anyway, these getting-to-know-you dares send Lily to Central Park to try the saltiest pretzel on the planet (called Lot's Wife) and Dash to a cannoli place to stuff his face. If you're like, Hmmm, stuffing your face with cannoli isn't really a dare and more like a nice Wednesday evening in the springtime, don't worry your pretty head. The hard part of Lily's challenge is for Dash to tell her about his best Christmas. Sure, that's more of a truth than a dare, but who cares.
Dash is very Dash about his answer and it starts out nice — the best Christmas he had was when his parents told him he'd have two Christmases that year — but ends with the thoroughly depressing tale of his parents' divorce. You know what? I now honestly believe that a kid like this would comfort-watch a depressing French-language film. I know it sounds like I'm constantly ragging on Dash, but I swear I do really enjoy him and think he's great for Lily; he's just begging to be ragged on, and you know Boomer isn't going to do it.
Here's a great example of Dash being good for Lily: After his response to her question, he asks her to tell him about her worst Christmas. She wants to lie, but between the protection the notebook provides and Dash confiding in her about something so personal, she feels brave. He makes her brave. Ugh, I'm tearing up just thinking about it … but also I'm, like, elbow deep in my remaining leftover Halloween candy, so take that for what you will.
Lily tells the story about the exact moment when she began to shut herself off from the world: In middle school, a carefree Lily, just as weird (that's a term of endearment here, okay?) and into homemade clothing as she is now, made friendship bracelets for her classmates for the Winter Dance. The boy she was in love with, whom she calls "E," even asked her for one. She was riding that high until she discovered everyone had just tossed the bracelets on the floor. To add to the pain, she overheard E calling her "weird" (not a term of endearment here) and laughing about her with his friends. It was devastating to little Lily. In that moment, the lesson Lily learns is that to have friends you have to hide who you are — and she would rather be alone than do that. So, she's been alone, scared to put herself out there again.
Dash reads that story and at first wants to beat E up, but then he gets a better, much more productive idea. When the Challah Back Boys, friendly with Dash and Boomer, show up at Two Boots to promote their secret underground concert, Dash decides he's sending Lily there. "Weird is cool, Lily, and I'm going to prove it," he writes to her before leaving the notebook at the Alice in Wonderland statue in Central Park — Alice is the "patron saint of weird girls," according to Lily.
This dare freaks Lily out more than any before because it's pushing her to put herself out there. Like, literally, be out in the world. She's worried that she'll be exposed and embarrass herself and Dash will figure out she's not the girl he pictures in his head. The nightmare she has before the dare reveals all: She pictures Dash (he's in a mask and very blurry) saying things like, "You don't belong," and most gutting, "Nobody wants to know you in real life." Lily breaks my heart sometimes! After a pep talk and some wardrobe help from Langston and Benny (Lily has a cute sparkly blue dress she's been hiding underbed, too afraid to wear, that's coming out), Lily goes to complete her dare.
The drag-queen bouncer — who, yes, is Jeff the Elf from Macy's — won't let her in until she admits something that's a drag in her life, and after much prodding, Lily admits that she's never been kissed. Unable to let such a travesty stand, our drag-queen bouncer lets Lily in immediately, telling her to "head down the rabbit hole."
At first, it's the total disaster Lily worried it would be, and after having a drink spilled on her, she seeks refuge in the bathroom. She wants to hide or leave or somehow do both. But then she looks up at the graffiti-covered bathroom mirror and sees a note just for her: Get back out there, Lily. Dash knew how hard this would be for Lily and he left her a message. Somehow, just through the notebook, he really, truly sees her. So Lily gets out there and eventually starts dancing her little heart out. It involves a lot of kicks and elbows. It's weird, but weird is cool, remember? And she's having the time of her life.
And then she hears someone call out her name and comes face-to-face with Edgar, or "E," the boy who broke her heart all those years ago. He seems genuinely happy to see her, but when he sees that red notebook she's supposed to leave upon completing her dare, he laughs and says, "You are so weird." From where I'm sitting, Edgar says this with a playful, friendly tone in his voice — like he loves how different she is. Lily is already way back in her junior-high memories and all she can see this moment as is the nightmare she was dreading. She knew this would be a disaster. She runs out of the club in tears and is moving so fast, she loses one of her red boots in the snow as she gets into a cab. She failed Dash's test and what's worse: She forgot to leave the notebook and now has no way to get it to him.
Oh, wait, actually, you know what really makes the whole evening worse? When she gets home at 4 a.m., she thinks there's an intruder attacking Langston and Benny, but it's really just her grandfather, home early from Florida. And he is extremely not pleased to see her just walking in the door. So, overall, maybe not the best night?
Holiday Trimmings
• The scene in which Dash and Lily are relaying the stories of their worst Christmases through the notebook is cut as if they are sitting across from each other in the restaurant and even then there is chemistry. That's not an easy feat to pull off!
• To help Lily get to know him better, Dash sends her to Grand Central Station before the first train of the day, when it is empty and quiet and you can just stare up at the constellations on the ceiling. Dash says there's no place in the city "that feels like [him]," but there is a time. Okay, it sounds a little pretentious when I write it out, but it's actually a very lovely moment in the show.
• I know we have much more important matters to deal with and I'm sure she just wanted to look fabulous and also who wants to deal with a coat at a secret underground club, but bare arms in December in New York? Use your head, Lily.
• Wait, I love that Lily, first-time clubber, goes to bed and sets her alarm for 1 a.m. to wake up and go out instead of any type of even nonalcoholic pregame situation. I told you we need to protect her at all costs. How pure!
• Uh, the Challah Back Boys really know how to get after it.