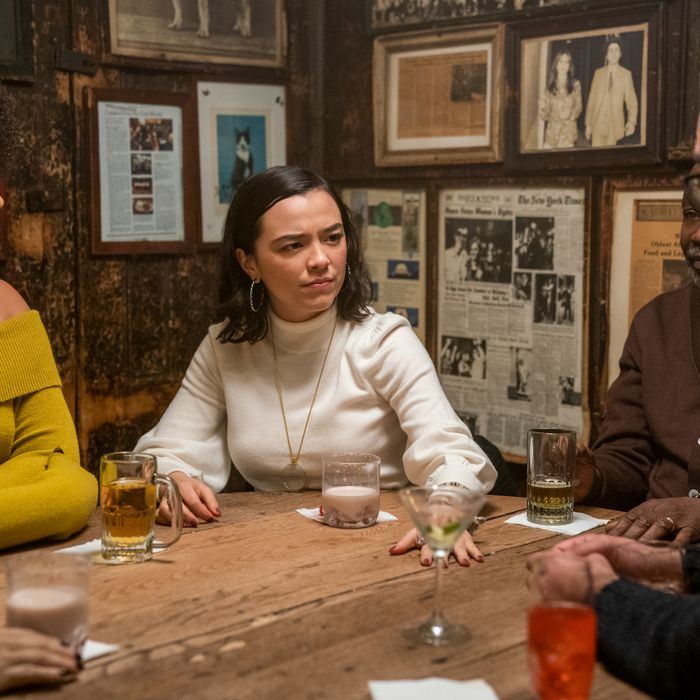 Photo: ALISON COHEN ROSA/NETFLIX
Hmm. Maybe it is the most detestable time of the year. It's finally Christmas Day and everything should be possible because magic, but wow do things go downhill fast for Dash and Lily.
Poor Lily. She wakes up Christmas morning so excited, used to walking out to find her smiling family in matching pajamas and lots of presents and general merriment; this year, she finds none of that. The only present to be found is the serial-killer book Langston got for their dad. That's an excellent dad gift, but it does not help Lily's overall demeanor. This news also means that no, Dash did not end up getting the notebook to Aunt Lillian so that it could be under the Christmas tree waiting for Lily with Dash's name revealed. Lily's disappointed, but she's not giving up yet. She runs over to Aunt Lillian's to see if perhaps she has the notebook. She's even wearing the one red boot she has, in case she does meet him today; He'll know who she is. Alas, Aunt Lillian has to tell her great-niece that Notebook Boy hasn't been around since the first time she met him.
Lily's confused and worried that she scared Dash off when she asked to meet in person, so when her caroling group tells her to get her buns to McSorley's because they're getting drunk, Lily is happy for the distraction. She's a little worried that Notebook Boy could show up after she leaves, in which case, Aunt Lillian tells her that she'll "dash it right over — no pun intended." Whoops. When Lily asks what pun she's talking about, Aunt Lillian covers it up by saying she said have fun. Aunt Lillian is a pro.
Still, Lily can't shake it. She starts going over the sentence in her head. What could "dash" mean? Is he fast? she wonders. Is he a hyphen? And then it hits her: He said his name was a connector of words. His name is Dash. And then it hits her again: She just met a Dash last night. It must be him. BUT THEN IT HITS HER A THIRD TIME: She watched that Dash leave the party with his beautiful, cool girlfriend. Lily needs some confirmation of her theory, so she calls up the only source she has: Boomer. How does she get Boomer's cell number, you ask? "I called Two Boots and told them I was your girlfriend and I'm in the army and I wanted to surprise you for Christmas," she explains to Boomer. I'm still laughing at the specificity of her plan.
Unfortunately, Boomer does confirm what she was worried about: Dash was at that party. He did leave with his ex Sofia.
What's a brokenhearted girl to do on Christmas Day but get drunk on peppermint schnapps with her caroling group? Uh, that peppermint schnapps hits Lily real hard, real fast. Our pure, innocent Lily quickly becomes part of the great tradition of sad people who get too drunk and send a very misguided booty text. Lily's learning so fast! As Lily soon finds out, she sent a text to Edgar about wanting him to kiss her and being at McSorley's. Okay, it's more like "mcsorleysss." Anyway, Edgar gets the idea, heads to the bar with a piece of holly he's going to call mistletoe, and our Lily gets her first kiss — a sloppy drunk one in the middle of a crowded bar on Christmas Day. That's romance, baby!
That kiss, however, is interrupted when Dash rushes into McSorley's, boot and notebook in hand, only to find his Clue Girl sucking face with Edgar Thibaud.
And then we rewind.
We head back to Christmas Eve, this time to follow Dash's story. You'll remember that last we saw him, he and Sofia were hooking up in the Morgan Library and it seemed as though he had completely forgotten about the girl he'd been writing to. Now, however, we see that Dash stops the whole thing before it goes too far. "I'm kissing you, but thinking about her," he tells Sofia. The exes get honest with each other: Neither one really wants to start this up again. Dash has found someone who really gets him in Lily, and Sofia, who is constantly moving with her family, was just looking for something familiar and comfortable. It's all very amicable! They do, however, decide to spend the night at the Morgan Library, just for kicks. They immediately go to sleep instead of, I don't know, running around an empty museum like any normal person would do in this situation. What's up with these people?
Christmas morning arrives and Dash and Sofia realize they slept in too long, and Dash forgot to get the notebook to Lily and it's all a mess! Sofia tells her now-friend that Lily "deserves more than a notebook at Christmas." You know what? She's right! Just then Dash gets a notification from the Manhattan Mommy app Boomer put on his phone, knowing those Manhattan mommies can find anything you're looking for, and he was right. Someone on the app spotted the red boot at McSorley's. Dash can't believe it! Everything's working out perfectly! This must be what Christmas magic is! He runs to McSorley's, making a pit stop at the movie theater to buy two tickets to Collation. The kid even hugs Santa Claus! "I believe!" he shouts into the streets of New York. Dash has been filled with the Christmas spirit and love and nothing can stop him now!
And then he gets to the bar and finds the red boot attached to the foot of the girl he met at the Christmas Eve party … and she is, well, you know, she's kissing Edgar.
It is the worst-nightmare version of what Dash and Lily's first meeting could be. He's trying to process what he's seeing and getting very judgy, might I add. She's too drunk to process anything. She needs to leave, but can't go home in this state, so Dash decides he'll take her to Aunt Lillian's.
The cab ride there is excruciating. They're both mad at each other for not being completely honest in the notebook and for whom the other has been kissing, and Dash makes an extremely judgmental comment about Lily kissing guys that makes me want to throw a snowball directly in his face. He's angry that when he was a little late with the notebook that morning she completely lost faith in him. And then truths just come tumbling out of Lily's mouth: The notebook wasn't even her idea, her brother wrote the first clues, and she hates that stupid notebook (okay, that last one is not a truth, but dang it stings). She also lets it slip that she met Boomer, which really upsets Dash. They're both thinking that what literally everyone in their lives warned them about is coming true: They aren't the person they imagined in their heads. Dash writes one last letter to Lily in the notebook before handing her over to Aunt Lillian. When Aunt Lillian questions why he'd want to stop the game just when it got interesting, he sulks, "I guess I don't want to play a game anymore."
Wow, wow, wow, are these two the saddest little lovebirds. Dash goes to yell at Boomer for betraying him in person and then heads home to, well, I guess he's just doing push-ups alone in his dad's apartment. Lily has to face her very angry grandfather … who then takes her drunk ass home only to reveal that her entire family is there in matching pajamas for a Christmas surprise. Lily proceeds to barf into her red boot.
The evening does not get better from there. Lily's parents don't ream her out for being hungover — that will come tomorrow — but they do tell her that her dad's taking the job in Fiji and they'll be moving on New Year's Eve. Lily has the only acceptable response to that news and screams loudly into a pillow. Let's make things worse, shall we? She picks up her notebook and finds Dash's last letter. It begins with "we set ourselves up for this disappointment" and gets worse from there. They should've known "the fantasy was never going to live up to the reality" and it was his fault for believing and he doesn't think they should see each other again. "It's better if we both move on," he writes. He says good-bye and then wishes her a Merry Christmas. Okay, fine. Now is the time you're allowed to listen to Joni Mitchell's "River." It's Christmas and we are all devastated.
Holiday Trimmings
• When Aunt Lillian asks Lily what she's learned from her day-drinking fiasco, Lily's response is: "Taking too many sips of other people's drinks leads to headaches. And heartaches." This is actually a great lesson to learn at 17, it will come in handy!
• When Dash buys his tickets to Collation: Movie Theater Guy: "I've never cried harder and I've seen The Notebook 20 times." Dash: "Collation is sad?" Movie Theater Guy: "Tears of joy." Just let me see this movie!
• "Merry Christmas, you beautiful, angry New Yorker!"