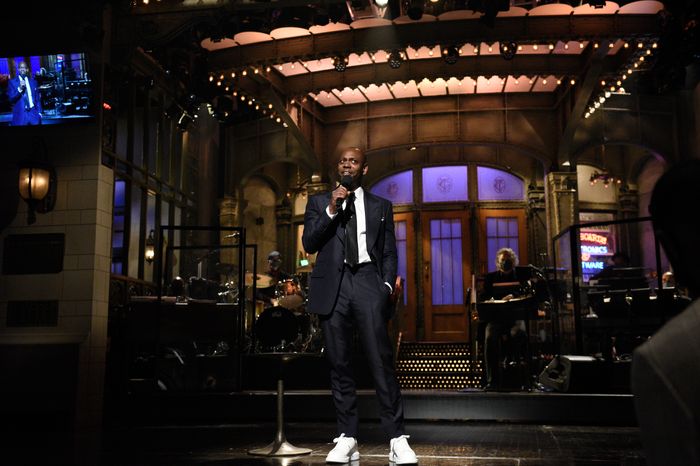 Dave Chappelle on
SNL.
Photo: NBCU Photo Bank via Getty Images
Beneath the backwoods authoritarianism, the reality-warping dishonesty, and the endless, salesman-like arm-twisting, Donald Trump is an entertainer. He works the room, whether on '80s talk shows, '90s radio, '00s reality television, or the rallies of the last five years, whether buttering up David Letterman on Late Night or working his constituency into a frenzy with a flurry of fantastical accusations about his political enemies. He's withering and absurd at top speed, such that it is difficult to trace where the truth ends and the ingratiating showmanship begins, and even tougher devising a parody half as certifiably batshit as the real thing. Sarah Cooper's TikTok lip-sync series lets the man's own lurid language do the work; the cold opens of the current season of Saturday Night Live have struggled to keep pace with the daily madness of the president's campaign for reelection.
This weekend, at the apparent end of the affair, after ballot counts delivered former vice-president Joe Biden a steady enough lead for news outlets to say he won, Dave Chappelle assumed SNL hosting duties to make sense of an eventful week (and to remind viewers that Chappelle's Show is now streaming on Netflix and HBO Max, and that he doesn't make any money from that, and that it's bullshit that he doesn't). It was a no-brainer having the veteran comic who perfectly captured the unstable feel of the spring unrest with June's 8:46 come to deliver a nightcap this week. In his opening monologue, Chappelle seemed to still be unpacking everything that's happened like the rest of us, but struck a much lighter tone than when he appeared in the same slot four years ago, spooked by the possibilities of a Donald Trump presidency, calling back to the 2016 set last night when he mused that COVID had (briefly) solved our mass-shooting problem.
Chappelle's set split the difference between a state of the union on the shrinking white American middle class and a roast of the more outrageous plot points of the fall, where the president and his inner circle caught the deadly disease he spent much of the year downplaying — a sequence of events that, like everything else in Trump world, is somehow both completely beyond the pale and also the most logical conclusion. The riff about how our views on drug addiction and government assistance soften the more they affect white families was blazing truth; you wish he took it a step further and poked at people whose political choices make their lives materially more difficult. But the simple idea that Americans starting to feel their quality of living deteriorate should huddle with others who've persevered as underdogs was an uncommonly conciliatory message on a night where everyone seemed a little joyfully blasted. The Trump stuff was a little half-baked, understandably so with only an afternoon's warning of which president-elect would win. Getting people to laugh at Freddie Mercury's AIDS diagnosis sucked, but the success in the room was proof of keen attention to the studio audience's threshold for jokes about others' misfortunes. Chappelle is as fascinating of a performer when things are running perfectly smoothly as he is off script. The raucous break in the "Uncle Ben" sketch, where he made Pete Davidson spit out his prop teeth, was likely much funnier than whatever the Allstate Guy was supposed to say to Count Chocula in the scene.
As was the case with 8:46, Chappelle's SNL monologue was notable not just for its ideas but also for how they landed in the room. While 8:46 was received with a pained, knowing silence that heightened the seriousness of Chappelle's observations on race and American oppression, on SNL, he seemed unsure of where his own spiel was going and got the same energy from viewers in studio when he paused for a beat for a laugh that never came after riffing dryly on Trump's disastrous "very fine people, on both sides" remark after the violence at the Charlottesville Unite the Right rally, and when he joked about a virologist making less money than her male colleagues. The latter point drew a scandalized whoop from the crowd that pulled Chappelle back into the confrontational mood of the more prickly parts of his recent stand-up specials (where he sometimes falls into the "cancel culture" paradox of blaming your audience for your own miscalculation of what your audience won't like). "I thought we were having a comedy show," he cracked at the crowd. "It's like a woke meeting in here." This won them back over. Watching Chappelle navigate these points of pressure and sell deeply weird lines — "He looked like a 1970s penis: raw-dogging Earth" — was revealing, and the sharp turns between the good jokes and the ones that bricked were more arresting than some of the more mannered monologues this season. It was smarter than the Bill Burr clip that went viral this fall, more fun than Adele showing concert footage last month, and more crass and off-the-rails than John Mulaney's family-friendly intergenerational humor last week. When Dave does television, he sets out to destroy it.
The culture-war posturing is getting old; in a perfect future, "Did I trigger you?" is a relic of the year the country nearly broke in half from people going out of their way to spite each other. On the night where we began to dream up our next phase, Dave Chappelle's celebration of the enduring Black American spirit that helped make it possible — and lessons for white Americans whose grievances became a mandate for the orange man whose election loss sparked a worldwide dance party — made for a satisfying conclusion. It was maybe a bit of a mess, but it was an illuminating mess.