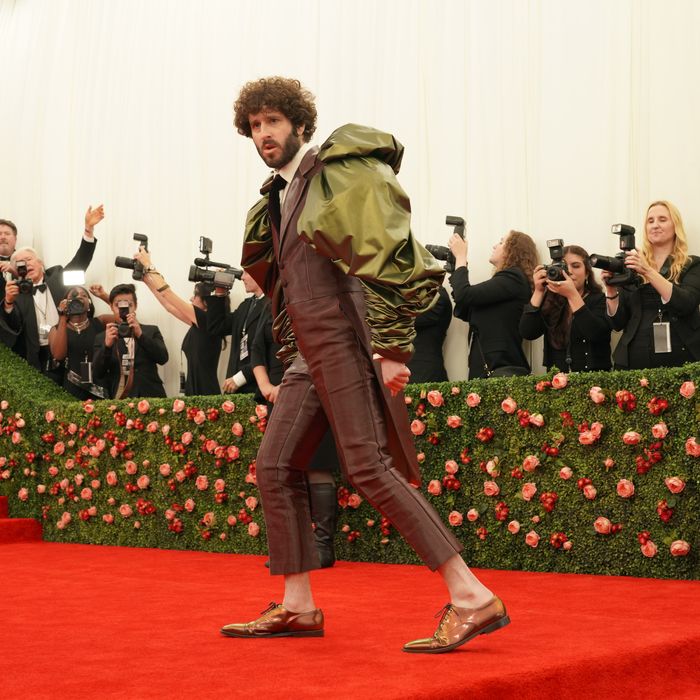 Photo: Byron Cohen/FX/Copyright 2023, FX Networks. All rights reserved.
Celebrity cameos have played an important role in Dave since the first episode when Dave made it to YG's Instagram Story. Sure, there's the inherent comedic value of Lil Dicky bantering with Kourtney Kardashian about male pregnancy or Trippie Redd handing Elz a wad of hundreds to babysit his nephew. Just as importantly, though, they serve as a barometer for Dave's relative position and comfort in the music industry at any given point. By season two, Dave was getting interviewed by Kareem Abdul-Jabbar, hanging out with Kendall Jenner and Hailey Bieber at Benny Blanco's pool, and matching with Doja Cat on dating apps.
With so much of this season spent on tour, Dave hasn't been around to run into many celebs; the exception was "Hearsay," when he worked too hard to impress the Black rappers and singers he met in Atlanta. Of course, Dave doesn't always like to reveal how desperately he craves the approval of the Hollywood elites. He likes to think he's more evolved than that. Look at the faux casualness with which he mentioned going to Justin Bieber's party in season one, and look at his scoffing off the Met Gala to Robyn now. He insists that he isn't wrapped up in the "Hollywood pecking order bullshit" and that what he really wants is a steady, reciprocal relationship. Still, there's a difference between knowing what you should pursue and what you truly desire in your heart of hearts. With two episodes to go in season three, that could be the conflict that jeopardizes what he has with Robyn.
An invitation to this event for the elite indicates Lil Dicky's increasing legitimization, but the stakes are high. This is his first real opportunity to make a splash and announce who the new Lil Dicky is post-death scam. Ally suggests he bring attention to climate change as part of his rebrand, earning her the "CEO of Morality" role, so the fashion designer (played by Jordan Firstman) gets to work.
It's his most ambitious project yet: a suit that inflates to a 40-foot globe when a chain is pulled at the back. It could do some damage to whatever lucky starlets are in his general vicinity, but the way Dave figures it, "It'll hurt more if the world wasn't saved." And who cares if he's banned from the Met Gala forever? It's a phony event for sellouts.
Of course, Dave is canonically a sellout, no matter how pure his original ambitions are. So he finds it very difficult to pull the trigger (or the chain, rather) once he's actually out there on the red carpet, stammering statistics about the environment that easily get swallowed up in the din. He's only really motivated to do it when he has a target: his nemesis, Jack Harlow, who shows up to hog all the attention. But inevitably, Dave backs down again when he gets an invitation to smoke a joint with Don Cheadle and Denzel Washington (the former of whom appears in the episode). Who could say no to that?
For obvious reasons, "Met Gala" features the most celebrity cameos of the season. Travis Barker and Finneas almost fight in hand-to-hand combat over a literal Met ball, only to reveal it's a prank they play on first-year attendees. Anna Wintour (not the real one) challenges everyone to consider their rivals and who is most elite, leading Jack Harlow to approach Dave and make fun of him. Even Dave is left speechless when Harlow grabs his own junk and says, "You got beef? Cause I got a whole slab. Pussy."
The proceedings have a touch of surrealness, as is the norm for this show. (I'd love to see The Other Two's take on the same event.) But before Dave can get too dejected about his botched stunt, two opportunities present themselves. First: a chance to get on-camera and pull the chain at an iconic yearly bathroom selfie that happens during the gala. Second: a shot with Rachel McAdams.
Well, probably not — McAdams has to be the biggest (or at least most surprising) guest star of this episode, to the point that she got her own spot in the press email, and I have no clue if she'd make any more appearances on this show. But she and Burd do have a surprisingly lovely, playful chemistry (stronger than his chemistry with Robyn, honestly). When she joins Dave on the floor to use a nearby outlet, he opens up about his Met Gala stress, and she agrees to help corral people for the bathroom selfie.
After eavesdropping on an amusingly shady Don Cheadle phone conversation, Dave manages to get in the selfie, though Jack Harlow exposes him for hiding in the stall. To Dave, it's a worst-case scenario: getting humiliated in front of respected Oscar-nominated actors and YouTube celebrities alike. In addition to Harlow and Cheadle, the selfie squad also includes Megan Fox, Machine Gun Kelly, Travis Barker, David Dobrik, and Emma Chamberlain.
Once again, it's Dave's resentment of Harlow that jazzes him up to pull the cord, both to prove himself and to directly harm an enemy. And again, he backs down when it would mean damaging his rep with someone he actually likes: Rachel McAdams, who decides to join the selfie at the last minute. (Okay, he also doesn't want to harm her. Who would?) In the end, Dave can only stand there dejected, watching his opportunity to leave a mark slip through his fingers. He's probably barely even visible in the selfie, with Harlow's raised middle finger blocking his face.
Then again, who cares when Rachel McAdams calls you cute and funny, suggests you get a meal together, and puts her number in your phone? But my natural inclination to fanboy is exactly the same problem Dave has: No matter how much he might hate the newer generation of "cool people," he still covets and fetishizes that proximity to fame and success. I'd imagine the idea of going on a date with Rachel McAdams feels so remote and fantastical that when presented with the actual reality, it's difficult to say no.
Now, does Dave need to hide it from Robyn and pretend the whole night was uneventful? Of course not. He's kidding himself if he thinks he and Robyn are just having "casual sex with a fuck-ton of heart"; he introduced Robyn to his parents, and they even adopted an elephant! They speak about their future together like it's a real likelihood. I suspect that Dave will struggle to have it both ways as he's seduced by the glamor of Hollywood — to give equal weight to the emotionally fulfilling relationship he thought he wanted. It's not about Rachel McAdams actually becoming a new long-term love interest; it's about what she represents to Dave, like most of the celebrity cameos in this show.
And yet there's a final twist. The chain catches as he's on his way out, setting off a cacophony that we hear over the credits: screams, crashing cars, and Dave's voice yelling, "I'm sorry!" and "Save the Earth!" It's a pretty funny ending, getting around the high-budget impossibility of filming what this would actually look like. It remains unclear what kind of fallout (literal or metaphorical) this will leave next episode, but like any colossal Dave fuck-up, it could either ruin his career or accidentally help him.
GaTa's story has hints of cynicism, too, though it's much shorter and simpler than Dave's. He's going through a similar process, gradually getting acquainted with the spotlight, though, and Elz even says, "He'd do anything to be famous at this point." Elz is there for moral support while GaTa speaks on a panel about media depictions of mental illness — not that he really knows much about the subject outside of his own experience.
Elz suggests GaTa was invited to be the one Black guy who can fit in with the white people on the panel. But GaTa doesn't let that discourage him, even if he does struggle to win over the audience with his frank stories about his sex addiction. (To be fair, "That's when I realized: I got sucked by a fat bitch just to feel something" is not exactly a broadly acceptable anecdote to share.) When he starts to lose the audience, he just brings the conversation back to his trauma: specifying his bipolar disorder, opening up about his complicated family history, and simply dropping the buzz phrase cognitive dissonance. It always leads to applause and respectful nods or a tender pat from Demi Lovato (another big cameo, even outside the Met Gala setting).
This story seems partially intended to seed the idea of GaTa finding fame through an avenue other than music; during the panel, Elz meets a reality-TV producer interested in GaTa for his series, Nuthouse. There's reason to distrust the guy, who most likely wants to exploit GaTa's mental illness for trash TV. (I mean, the name of the show is Nuthouse. Come on.) But GaTa is perpetually underestimated, and maybe this guy recognizes his ability to be his most authentic self while shape-shifting to ingratiate himself when necessary. That's what made him such an asset in "Hearsay," and it could lead him down an interesting new path now. How much will GaTa have to sacrifice to reach Lil Dicky's level, and how much will be enough for Dave?
Dick Jokes
• Ally gets indefinitely suspended from her teaching job after confronting a crass student who posted a TikTok about wanting to fuck her. I get why it looks bad to walk in on a teacher repeatedly saying, "You want to fuck me, Beau?" But it still feels very unfair. Curious if this is just a temporary contrivance to keep Ally in Dave's orbit or the beginning of a longer story, though we're nearing the end of the season.
• And Mike and Ava's relationship continues to play out subtly in the background, with each of them using Dave's relationship to argue their own positions on casual sex versus something more serious.
• Dave on Jack Harlow: "He's tall, he's good-looking, he makes Gen Z's pussy quiv. Who cares?"
• Similarly: "What world are you living in, one that's TikTok based?"
• The real-life Lil Dicky released a (bad) charity single to raise awareness about climate change in 2019: "Earth," which featured even more guests than this episode (and was produced, of course, by Blanco). It's funny to think of that when we hear Dave exclaim, "How is no one talking about this?"
• When one journalist asks what's next for Don Cheadle, he replies, "Oh, you know, the Marvel shit." Especially funny, considering he'll be in Secret Invasion next month.