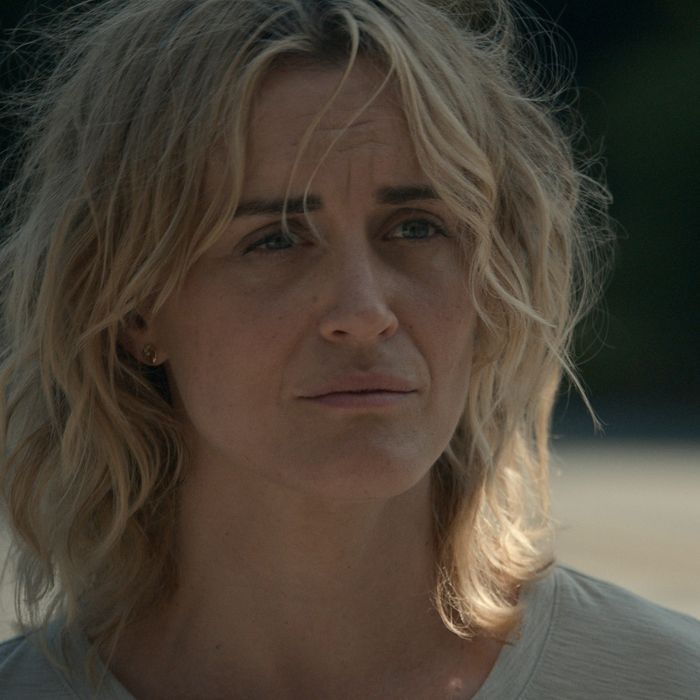 I'll never know why episodes of Dear Edward were not 80 percent grief-group scenes and 20 percent whatever else. There have been so few of those scenes for a show about … people connected through grief? The few grief-group moments we have gotten throughout the show's first season have a spark to them that other scenes don't (unless Connie Britton is there, obviously), and, I don't know, wouldn't you want your stellar cast to interact as much as possible? When I think about Dear Edward as an entire season, I can't help but feel that the lack of a home base, a foundational touchstone for this ensemble to work from, was such a major misstep. It's a thought that has been needling me for some time, but in the finale, it finally made me angry, because here, in the very last grief-group meeting, the group is reveling in a much-needed moment of joy. It's so lovely, and yet I couldn't help but think of how much more powerful it had the potential to be had we spent more time with these people in this room.
I don't know, friends, maybe I'm just like Dee Dee — lashing out with anger to mask a deeper pain! This poor woman! She's having a tough time moving on from this group. When she winds up sobbing in the general direction of a very nice priest she has roped into helping her set up for the party, we learn exactly why: "Sometimes, I feel like if I disappeared, no one would even notice." This is what this woman is walking around thinking?! That is gutting. Dee Dee lost her husband (in more ways than one!), her daughter will barely speak to her, and now she is being forced to say good-bye to the only people who really get her because of a cheap-ass airline? People who, she believes, all have other people, other important things going on in their lives — something to return to. She can barely get out the sentence "They need me more than I need them," because she knows it isn't true. It's why she's so upset when it seems like no one has decided to attend the good-bye party — it means their three months together didn't mean as much to them as it did to her.
But, of course, everyone else shows up. Surprisingly, it's Zoe who walks in first. She needed time to process her life imploding, and it seems like she's not some monster offspring after all (at least not all the time). Zoe sits and listens as her mother gives her all the details on who everyone else in the group is, she helps her clean up afterward, and when she finally asks Dee Dee what is next for them, it sounds like it comes from a place of real support. Ten weeks later, we learn that Dee Dee and Zoe have moved to Los Angeles, where Zoe's going to school and Dee Dee has become a real-estate agent. "I don't know what it is. These L.A. people love the shit out of me," she tells Zoe after making a sale. It's safe to say that Dee Dee has cooled it on the kombucha slander. It's a real full-circle moment. In their former home, Dee Dee was slamming a hammer through the walls — here, in this new life she is creating with her daughter, a life after death, Dee Dee's painting the walls. Our girl's gonna make it!
The rest of the crew shows up at that party too. Steve arrives with the soup dumplings. But no Amanda — she decided it was time for them to stop their codependent relationship once Steve uttered the dreaded phrase "I'm falling in love with you." That's not what their time together was supposed to be — at least not to Amanda. She tells Steve that, for her, this was about getting closer to Brent. What they have — that's no way to start something real. She's right. It would always be Steve, Amanda, and Brent in that relationship. He's sad, but then he gets to share those soup dumplings, a part of his brother, with the group. It's a healing moment for him. Ten weeks later, he's marrying Daphne, and Amanda is playing the piano onstage again. Everyone is seemingly moving on, and that's great, even if I have very conflicted feelings about Steve's marriage!
Sam arrives at the group good-bye and tells Lacey that he has decided to stay with Sienna and that he's "at peace" with that decision. We know it's because the last thing he wants to do is hurt his daughter, which is noble but misguided. Even Lacey's like, Uhhhhhh. Thankfully, Sam's wife gets it. When Sam gets home, Sienna decides she loves him but doesn't want to be married this way. I'm no therapist, but I'd have to assume, in the long run, that this is best for Sam and Sienna's daughter too.
Sam's not the only good-bye-party attendee facing major life changes: Adriana arrives at the final grief group, even though it's Election Day. Friends, of course. Adriana wins. And she thanks Kojo for pushing her to run in her speech that night. Poor Kojo watches a live feed of the speech, happy for Adriana but aware that this means there's no shot for the two of them — at least not anytime soon. He eats a slice of pizza — he convinced her to run while they were sitting at a pizzeria, you'll remember — like a sad little boy. Thankfully, ten weeks later, as he and Becks watch Adriana's swearing-in ceremony, he seems to have processed it all. Life goes on.
The VIP of the party, however, is not the future congresswoman. It's Edward. Last we saw of Edward, he was about to have a big ol' emotional breakdown after finding the letters his aunt and uncle had been keeping from him — some tragic, some encouraging, many terrifying, all too much for this kid, who I repeat, is still not in therapy, to take. When John returns to the boiler room from his call, Edward is gone. Oh boy, does Lacey lay into him for leaving Edward alone. "You don't pay attention," she hurls at him. In writing, that doesn't seem too harsh, but trust me, you add in the face Taylor Schilling is making at that moment and John is in a lot of trouble.
Thus begins Lacey's frantic search for her nephew. She starts with Shay, who sends her to Mahira, who sends Lacey to the Museum of the Odd and Peculiar. Strangely enough, she realizes, thanks to our favorite uninterested museum attendant, exactly where Edward must have ended up: home.
After almost losing it at the museum, then again in the middle of Times Square, Hallucination Jordan arrives and leads Edward somewhere safe, back to their old apartment. While Edward might have visions of his family sitting inside waiting for him (people, change your locks and check for old spare keys!), they disappear the moment Edward hears a dog barking. He didn't have a dog. This is not his home anymore. This home belongs to a new, very nice family. I say "very nice," because when they walk into their apartment and find a curly-haired boy playing on their keyboard (they don't know how huge this is for Edward!), they don't immediately scream and toss him out. They recognize who Edward is and give him some time and space in his old home. He teaches their daughter how to play a little on the keyboard, the same way his father taught him, and he takes her and her sister around to show them all of his and Jordan's hiding spots. The whole ritual of it is healing for Edward, and we know this because Hallucination Jordan comes and he goes, as Edward needs him less and less.
When Lacey finally shows up, Edward doesn't run or hide. He walks up to her and says, "You found me," before giving her a hug. "I'll always find you," she tells her nephew. Maybe some of us were sobbing at this point. Who can really say? Edward wants to say good-bye to Faakhir, the falafel-cart man, and explain what really happened to Edward's family, which immediately ended my sobfest, because although I get the closure of it all and how it symbolizes Edward accepting that his family is gone — Hallucination Jordan walks off into the distance — it still is sort of ridiculous. What a way to ruin Faakhir's day. The man is just trying to make the best falafel in New York City! Leave him be!
Edward tells Lacey that he's "ready to go home" now — another indicator that he is not the same kid we met after the crash. Following a pit stop at the grief group, Lacey and Edward head to Nyack. John gives Lacey a real, top-notch speech about how he does pay attention, and it is very swoony. Honestly, John may be giving mixed signals like nobody's business, but he can get it. It points to hope for Lacey and John in the future. Edward, too, makes a big gesture for the woman he's hurt: He apologizes to Shay — who, it should be noted, is back to roller-skating — and gives her a little memento box he found at his old apartment. It looks like it's full of junk — buttons and key chains — but each item has a story that he shares with her. It's Edward's story, and he wants Shay to keep it. He tells her that he wouldn't be alive without her. That's a heavy thing for Shay to take on, but it's true.
Ten weeks later, Lacey and Edward happily share a meal at the dinner table with Shay and Linda and her daughter (no sign of John just yet). Later, Edward and Shay continue working on their latest hobby: reading every letter Edward has received and writing back to those they think might need it the most. The letters remain tragic, encouraging, terrifying, and, in a little surprise twist, mysterious too. Shay opens one from someone claiming to be Edward's uncle — an uncle Edward has never heard of. What a wild, wild decision for a show like this to end on a cliffhanger. Dear Edward does not need a cliffhanger! Especially one out of nowhere that does very little to enhance the story. If the show gets a second season, we're not coming back to solve the mystery of Edward's uncle. We're coming back for the characters. (Although, if we do get a season two, I'd love it to be about an L.A.-based grief group in addition to following Edward. Dee Dee can come too.) To end the season like this felt cheap and unnecessary. This is not how I choose to remember Dear Edward. Instead, I'll remember it by that lovely scene in which Lacey walks Edward into the grief-group party and Dee Dee says, "Welcome, Edward." He is immediately part of their group. They hug, laugh, dance, and eat soup dumplings together. They get to experience joy alongside the pain, which, you know, is basically how life goes.