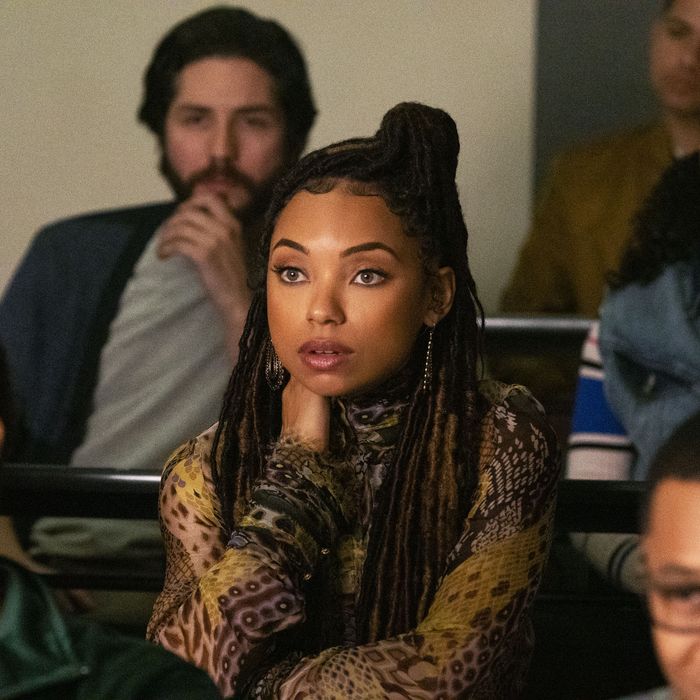 Logan Browning in
Dear White People.
Photo: Lara Solanki/Netflix
In 2004, Justin Simien started writing a movie called Dear White People. By 2014, the film was premiering at Sundance and in theaters across the country to accolades and controversy. By 2017, the movie would turn into a Netflix show that would still make angry white people everywhere ask, "Well, why isn't there a Dear Black People?" Then, last month, U.S. demand for the show suddenly increased by 329 percent. Due to a national tragedy, massive civil unrest, and a lot of white guilt, some people are finally confronting Dear White People's themes for the first time.
"It's folks who didn't think it applied to them realizing that maybe it does," Simien says. With Netflix announcing the show's fourth and final season, he spoke with Vulture about the show's legacy, his frustration with the ways Black shows are promoted, and what the industry still needs to do to support marginalized creators.
The first thing I want to ask you about is Ingmar Bergman. He's a clear influence in the episodes you directed for season three. You got to showcase a lot of individuality, but so did the directors you brought on. How do you balance that while maintaining the show's tone so well?
I really create an environment where, when artists come to work on the show, they have a full canvas to be authentic and unique. I try to set a pace and a tone for what I think the creative process should be on-set. I actively encourage directors not to think of it as lines to color inside of, like, a format, which is how TV had traditionally functioned up until this point. What's more important is that we get into the humanity of the Black experience and all of the surprises that come about from these different cultural intersections.
In order to really support Janicza Bravo when she's on-set, I need to make sure she can make a Janicza Bravo episode. Same for Sam Bailey. It's just like I try to do for myself. I reference Bergman and Fritz Lang and these directors in my work, but what's even more important than that, for me, is that these other filmmakers come in and are able to make references and cinematic statements that they don't get to do in other TV shows.
I've been following Sam Bailey's work since her web series You're So Talented and Brown Girls. I've always considered her to be an amazing young director. I was so excited to watch her season three episode. It didn't feel like any other episode of TV I've ever watched.
Right!
A lot of young Black directors don't get the opportunity to create an episode of television with so much freedom. What did it mean to have her on the show?
One thing I knew, going from the movie to the series, is that I can't make this by myself. Who am I to speak for Black women? I wanted those voices to not just authentically be there to specifically tell the stories of Sam, Joelle, and Coco but to offer frames of references that would never occur to me. This idea of taking a filmmaker who has done shorts or a web series and giving them an episode of television, that happens all the time with white men. It happens constantly. But for whatever reason, Black filmmakers — and if they're further marginalized by being gay or a woman or trans — they never get that shot. The truth is, Sam Bailey is clearly a filmmaker with a capital F. It was just so obvious to me that this woman is going to make an amazing episode of television that's going to surprise me. The first day, I remember she put that damn camera in the washing machine …
Yes, that scene!
And it was so great. It's so peak Dear White People, and I never would've come up with it. That is all Sam.
Dear White People has also brought in directors like Barry Jenkins, Cheryl Dunye, Salli Richardson, and Kimberly Peirce. What's it like to work with them?
I live for directing, but that is my favorite part of the show. Getting to see people who have been important filmmakers for a while but for whatever reason people don't know who they are yet, like Cheryl Dunye. They're masters at the craft. They're just lovely people and they get the voice of the show. My creative process is about surrounding myself with people who love the work and who are coming from an authentic place.
It makes for complex Black storytelling. I think Hollywood is still overwhelmed by that, especially with Black ensemble shows.
It's literally the opposite of what any show about white people would face. Something like Succession, people delight in parsing out all of the reasons to love it. But when it's Black and the reasons to love it are more complicated and nuanced, people freak out. There's a queer element to Dear White People that I think is singular. I'm a queer artist, so my art has a queer sensibility to it. I have to think that might be part of it too. There are episodes like the Barry Jenkins–directed episode in season one about Reggie, which is incredibly masculine. It's about being a Black man. And then there are episodes where we go to a gay sex club for the first time with Lionel. These things sit right beside each other in our show, and I don't think everyone knows what to do with that, but what I'm suggesting we do is accept that they can exist side by side.
There's been an increase in viewership since protests started around the country. It's interesting that Dear White People has become somewhat timeless as these other shows deal with blackface episodes. You're not a creator who hides from race, but do you worry how your own work might be read as conversations around race change?
I'm not one of these people who thinks, "Let's never talk about Gone With the Wind again." I'm not on that tip, because I want the conversation to be more nuanced. There are steps we took with Dear White People that, frankly, are going to feel wanting ten years from now. They should, if Dear White People is doing its job. It's hopefully transitioning the culture into a more free place, but we are not free culturally by any means. I hope and expect that the next person who makes a show that's similar to ours in terms of format will go a step even further. To me, that's the whole point of art. So I'm not worried about it. I invite it.
I was watching M*A*S*H the other day because I'm a nerd, and it has so many problematic elements to it. It's incredibly misogynistic, there are absolutely racist overtones, but that show was necessary to transition us culturally in a place where we could reject the Vietnam War and see comedy on television as an art form. You have to have M*A*S*H in order to get to the next stage. But a lot of these instances are awkward. Especially with the blackface stuff. I remember seeing Tropic Thunder. I remember seeing the blackface episode in 30 Rock. I remember those references and at the time feeling like they were inappropriate. It was just an excuse to get a blackface joke in.
Knowing that season four is going to be the last, how are you changing your approach to the show?
It makes me want to make something definitive. I think you could tell stories from the world of Winchester forever, but the story about these particular kids and what they've gone through is done. I think Dear White People really is a diary of the Black experience of this moment in time, from the mid-2010s to about right now. So I have come to some conclusions in that time period about what's important to me in my life and what my personal pursuit of freedom looks like in this country.
There's a pattern of Netflix renewing shows just to give them a last season. Sometimes that's positive — showrunners get a chance to choose their ending — but sometimes it seems like it's just the mysterious inner workings of viewership and profit.
I think that that's not untrue. For me, as an artist, I need to move on. I need to tell other stories. I need to find a new president for Winchester University. But I actually think that Dear White People works as a franchise, so I would love to see that continue. If I were in charge of those things, I would do that, but I'm not. So I will happily take this fourth season. It's actually a great relief to know when the show is ending. Usually we don't know that when we finish a season, so we have to create a season that makes you want to see a new season, but if it didn't happen, you'd feel like something came to a conclusion. With this final season I won't have to thread that needle, which is actually really great.
With the industry paying more attention to Black creators, a Dear White People franchise makes sense. At the same time, though, something about this attention feels temporary. Do you get that feeling?
I think any marginalized group of people understands this feeling. A fire has started, but how long is it going to burn? How far is it going to reach? I think we are keenly aware of how deeply corrupted the systems that perpetuate racism are. It really is gonna take a long time and a lot of work, so this is always the fear. Just looking at human history, we've seen these things come and go before. We're all just being smart, frankly, to recognize these things do have a timeline. They shouldn't. But they do.
At least we're able to hold networks more accountable. With social media, we can say, "Hey, you made these promises, but we haven't seen the results."
I am one of those folks that's like, let's not pat ourselves on the back too soon. There's a lot of stuff that isn't making it to Twitter or to the news. There's a public face to this and a private face to this, and the private face is always harder. Getting people to do the right thing when no one is looking, when no one is writing an article about it, when it's only obvious to a small group of people what's going on, that is a lot harder. We have not reached the promised land, but at least we're moving in a direction now.
Due to the pandemic, your horror comedy Bad Hair most likely won't get a theatrical opening but will be coming out on Hulu in October. Do you think these streaming movie premieres will help services like Hulu and Netflix build larger catalogues of Black media?
I think it's great. Being able to do things in streaming that one would not be able to do on everyday television, that's what got me my big break. But the thing that excites me about Hulu is not only are we going to be streaming on this platform that people can access from their homes, but there's a dedication to the piece that is singular. There's a dedication to giving Bad Hair its moment in the culture that excites me. That's the thing that we're all looking for. We don't wanna just be on the shelf. We want what the white shows get; we want what the white movies get. I feel like on Hulu, a lot more movies get that because they really do treat it with white gloves — not to use a racial metaphor. I've been really encouraged by that so far.
Netflix seems eager to embrace Black shows, but when it comes to promotion, it's like they're afraid to really advertise those shows. Like Astronomy Club: So many people didn't know about it and it got canceled. Is that still a barrier for Black shows? That you can get your show made but there's still marketing and promotion issues that are out of your hands?
Absolutely. I started in publicity. The first thing I ever did, I worked on the Brokeback Mountain Oscar campaign. I did that before I actually got my break into film. It's because of that experience I know what questions to ask and how to follow up on a promotion. But even with that knowledge, it is an ongoing fight to get the promotional marketing that the things I work on deserve. There's this sense that the marketplace will just dictate what's popular and the algorithm tells us what works, but when it comes to Black content and content about marginalized communities in particular, that stuff — the algorithm, the marketplace — they never support those things. Our stuff falls into the blind spots and it's a continuous fight to get people to see that something has fallen into their blind spot.
And like you mentioned before, it is very difficult in a show like ours where it's an ensemble. This is not a show that is contained around an easy-to-digest, singular Black star that you already signed on for. This is a show that requires you to lean into the writing, the various performances. It's been almost as hard to get proper promotion and publicity and marketing as it is to make the movies in the first place.
It's so interesting that when they finally create these shows, they don't trust us to market them.
I don't even need the trust; I just need someone to do it. I just need it to be a concern for folks as much as it is for me. When any of the great white auteur directors come out with something, all of this pipe is laid before the movie comes out to educate the audience. Black things do not get that. Black things have to be visceral or they have to be about slavery or some kind of tragedy that's easy to digest or else they fall in the cracks. You see it all over the place. It's not just our show. Why the hell hasn't Insecure won an Emmy yet? That's ridiculous. I'm watching I May Destroy You, I know everyone is going to freak out about Michaela [Coel], and she better get her damn flowers for that show. There are so many shows and programs and movies that just come and go. The Last Black Man in San Francisco, we should've opened a museum to that film, it was so beautiful.
Do you think people are unsure of how to market to Black audiences or they assume the audience is only Black people?
White people are not the majority race around the globe, but white stories are considered universal. And so white stories, big and small, get full, comprehensive, thorough marketing and promotional pushes, whereas Black shows don't. Dear White People is a very universal show. It's about identity and self, something that every person has to deal with that has ever walked the face of this planet. It's doing it from a Black point of view, but it's still universal. These stories can still strike a nerve around the globe if you treat them as if they can.
Yeah, there's no reason why someone like Anna Kendrick should be seen as more relatable than Marque Richardson.
Absolutely. We don't make an Anna Kendrick show and go, "How do we market this specifically and only to white women?" That conversation has never happened. But Black shows and shows that are specific to gay folks and brown people, it's always like, "We can only market to these groups." Which, by the way, is a substantial amount of people who are not being marketed to well. The fact that you just cut yourself off from doing anything else is very frustrating. It's so entrenched and it's so expected that it just happens without anyone thinking about it. It is a struggle, and our show gets decent treatment compared to shows that we're not talking about. There's a reason why my side eye is always cocked.