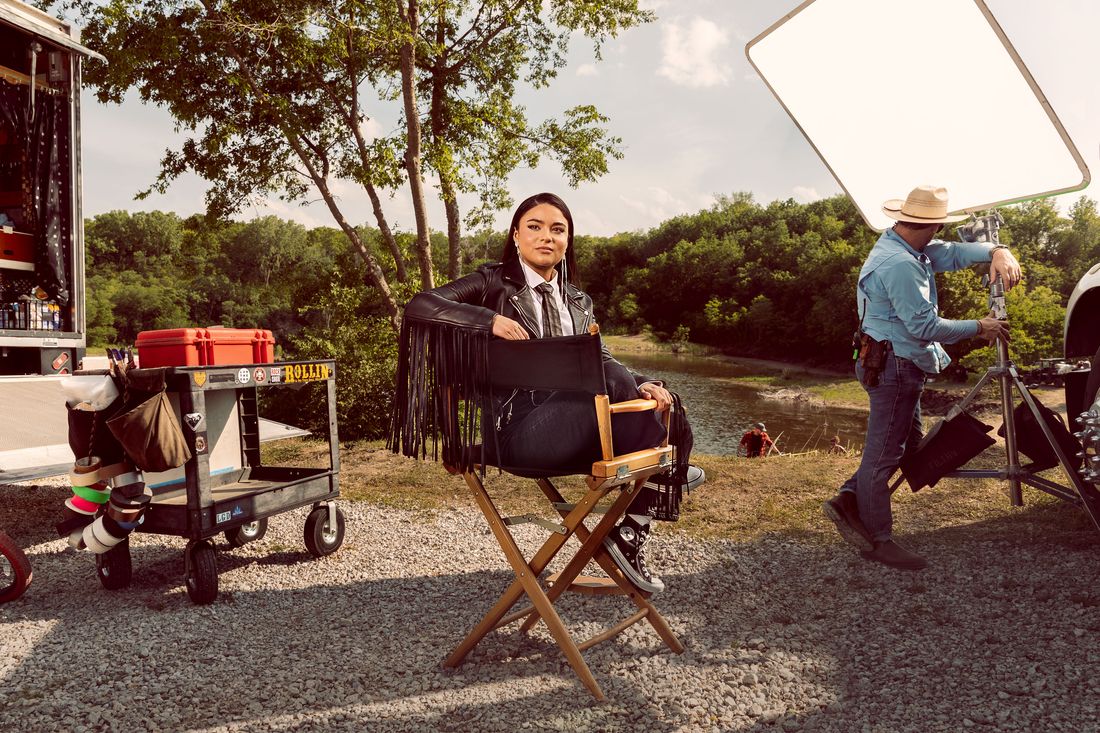 Devery Jacobs is clinging to the wall by her fingertips. We're at a rock-climbing gym in Tulsa, and Jacobs is midway up a beginner bouldering route where every bulbous pink handhold is the size of a dinner plate. "That's brutal," she says as she grips one, searching along the wall with her right foot for a chip she can use to push upward. She has never done this before, and she's determined — as you might be if you had trained as a gymnast for nearly 14 years. "I'm not competitive against other people," she says. "But I personally like to be the best at things." When she slips off one route, she gets right back on and propels herself all the way to the top.
Jacobs doesn't waste time. It's a quality that the actress, writer, and filmmaker shares with Elora Danan Postoak, her openhearted, resolute character on Reservation Dogs. The FX series, about four Native teenagers living in the fictional reservation town of Okern, shoots here in Oklahoma and follows Elora and her self-described fellow Rez Dogs — Bear Smallhill (D'Pharaoh Woon-A-Tai), Willie Jack Sampson (Paulina Alexis), and Cheese Williams (Lane Factor) — as they grieve a friend's recent suicide and get into high jinks. They're all trying to decide whether to stay on the reservation, where their community is supportive but struggling financially, or leave it for a world that could be less welcoming.
The show is playful and specific in its depictions of reservation life and Indigenous cultural traditions and has been praised for its thoughtful character development. Elora is the character most likely to dictate the Rez Dogs' moneymaking plans, the one who pretends to be Cheese's auntie to keep him out of a group home, the one who runs away first. Jacobs manages to radiate both self-possession and vulnerability whenever she's onscreen, and now she's taking on roles behind the camera as well: She joined the writers' room in the second season and directed an episode for the third, which drops on FX on Hulu August 2.
Jacobs, 29, had been working in the industry for over a decade before Reservation Dogs, and she didn't always think she would find a role that resonated with her this much. She was born Kawennáhere Devery Jacobs in Kahnawà:ke, a Mohawk reservation across the St. Lawrence River from Montreal, which is technically in Canada. But Jacobs doesn't consider herself Canadian; for her and her community, Canada is an "enemy state." She grew up just a few years after the 1990 Kanehsatà:ke Resistance, also known as the Oka Crisis — a nearly three-month land dispute between Mohawks from nearby Kanehsatà:ke and Oka, the neighboring, mostly French Canadian town. Oka wanted to expand a golf course and build condos on land to which the Mohawk claimed rights; when Mohawk protesters blockaded the area, they were met by Quebec provincial police and, eventually, troops and armored vehicles from the Canadian military. Mohawks were harassed and attacked by white residents, even outside the blockade, in acts of racist violence that seemed tacitly approved by authorities. The standoff ended after the federal government made a deal with the developer to purchase the land — which it did not give back to the Mohawk.
When she was a kid, Jacobs says, "there was a sense of defiance toward Canada," and she took pride in the idea that Mohawks were known as "shit disturbers." She and others of her generation were given Mohawk first names, and the adults around them emphasized Mohawk culture and language. Devery's childhood was defined by a sense of belonging and closeness; she biked around the bush with her cousins and enjoyed family meals with her three siblings and parents. But she did gymnastics with kids from outside the reservation, and when she was about 7, a white teammate began bullying and physically hurting her. Devery's mother brought her concerns to the girl's mother, who blew her off. Devery remembers her mom saying that the woman "was probably a rock thrower" — meaning one of the hundreds of people who gathered at a bridge during the Oka Crisis and pelted Mohawk vehicles with rocks and bricks. One Mohawk elder died of a heart attack a few days after driving through this scene, and some in the community see his death as a direct result of the onslaught. "I had heard of all of that, but it hadn't fully clicked what that meant and who those people were until that small incident," Jacobs says.
She had always wanted to be an actress — even with gymnastics, "it was really the performance aspect of it that I loved" — and joined a local theater company. When Devery was 10, her mother submitted her name to a talent agency. There were few opportunities for her as a young Indigenous actress and non–French speaker in Quebec, so she put acting on the back burner and pursued her interests in social work and activism, attending college in Montreal to study youth and correctional intervention and working at the city's Native Women's Shelter. At the time, she thought she would find a balance between creativity and service like the one modeled by her father, who served as a tribal police officer by day and sang in a band at night.
But she was still going to the occasional audition — and then came the film Rhymes for Young Ghouls. At 19, Jacobs had already spent years being offered subservient "Pocahontas" characters and working on shoots where she found herself drafted into the role of unpaid cultural adviser, compelled to educate her colleagues on Native issues and history. That wasn't an issue here: The director of Rhymes, Jeff Barnaby, was Mi'kmaq. It was Jacobs's first feature with an Indigenous writer-director. She played Aila, a Mi'kmaq teenager in the 1970s who's arrested for dealing drugs and sent to a residential school — one of the notorious boarding schools that were run by the Canadian government to assimilate Indigenous children into white culture — and decides to get revenge on those who put her there. Jacobs plays the character with weariness and tense physicality, glaring from an oversize hood, her hands shoved into her pockets.
The character gave her "permission in my own life to try on more of a masculine shape," she says. Jacobs is queer, though she didn't really understand that until she was an adult. "I had performed heteroness very well. I saw what I got positive reinforcement for in my community, and
I leaned into that really hard," she explains. "There are only, I want to say, about 50,000 Mohawk people left in the world. There's enormous pressure to get married to a Mohawk person and have Mohawk babies." Becoming Aila — the leader of her friend group, all boys and young men who call her "boss" — was freeing.
She loved Barnaby's writing, but his directing style was destabilizing at first. She recalls him telling a crew member not to pay her a compliment until filming was completed. "I learned if he says nothing, it means you're doing it right," Jacobs says. "That's something I've carried with me for the rest of my career: I'm just going to continue doing this until the director tells me otherwise." The film was a success, for a Canadian indie, and Jacobs got a role in Barnaby's next feature, 2019's Blood Quantum, about a reservation closing its doors to the zombie-infected outside world. When Barnaby died from cancer last year at 46, Jacobs posted a tribute to the "beautifully stubborn" filmmaker. "If it weren't for him, I wouldn't be in this industry today," she says.
She began to prioritize working with Native filmmakers as well as writing and directing her own shorts, including 2016's Stolen, about the thousands of Indigenous women who are missing in Canada, and 2017's Rae, about a Mohawk girl and her mother, who is schizophrenic. She already knew Reservation Dogs co-creator Sterlin Harjo through the indie-film community when she auditioned for the role of Elora, and she had long admired the series' other creator, Taika Waititi, from afar; his 2010 film Boy, which centers Maori culture, made her feel like, "If Taika can do it, I can do it."
Now that Jacobs is in the writers' room, she has a new relationship to her co-stars: She can hear their voices in her head as she writes their characters. That's true for everyone's voice except Elora's. "She's the hardest to write for — I'm not bound to the others in the same way I am to her," she says. "There's a little work to untether before I go in and approach it from a writing perspective." She's grateful for how Reservation Dogs incorporates goofy subplots that let its characters just be teenagers, even if she is older than the actors who play the other Rez Dogs, who are in their late teens and early 20s. When the four met for a chemistry test in February 2020, she says, "they were like, 'I'm in grade eight,' 'I'm in the tenth grade,' 'What grade are you in?' I was like, 'I just got prequalified for a mortgage.'"
She jokingly refers to herself as the provider of "unsolicited auntie advice" and is known to hand out info about accountants and entertainment lawyers in her group chats. ("If we are going to be uplifting Indigenous people with a show like this, let's actually uplift our youth in terms of the practical things," she says.) Alexis, who calls Jacobs "one of my sisters," says watching her in Rhymes helped her believe she could become an actress too. "Whenever I'm lost with something and I don't feel like asking anyone, I always ask Devery first," she says.
The success of Reservation Dogs has pushed Jacobs into a new phase. She has a major role in the upcoming Marvel series Echo, out in November, for which she reunited with one of her favorite Reservation Dogs directors, Sydney Freeland. Echo follows a Deaf Native superhero played by Alaqua Cox, and Jacobs — who learned American Sign Language for the role — says she sees the series as a "measure of mainstream success" in the vein of Black Panther and Shang-Chi and the Legend of the Ten Rings: "I would watch and admire those films and hope one day that there could be an Indigenous project that centers in this fun, commercial world."
The flip side is that these jobs can pigeonhole. "I feel like there's an expectation for me to now be the go-to Native actress," Jacobs says. She's ready to step into more roles for which her identity is just one part of the story — like the upcoming film Backspot, a queer cheerleading drama directed by her partner, the Canadian DJ and filmmaker D. W. Waterson, which just finished shooting. It's the first feature from Elliot Page's production company, and Jacobs co-produces and plays one of the leads; she's excited to take on a character who just happens to have a girlfriend and for whom queerness is not the problem. She points out that this film "has nothing to do with being Native." (She also did nearly all of her own stunts.)
Years ago, a director asked Jacobs what she desired from her career, and she says the question spun her into an "existential crisis for months." She's still finding the answer, including by writing a "dream project" screenplay — one she wouldn't discuss, citing the ongoing Writers Guild of America strike — and continuing to adapt her directing skills to TV. She's asking those questions about her life outside of work, as she tries to find some form of balance after the whirlwind of the past few years. "I will say that's one of the benefits of not being a straight person: There is no map, for better and for worse," she says. "You're forced to become reflective to figure out what actually sits right with you and what you genuinely want."