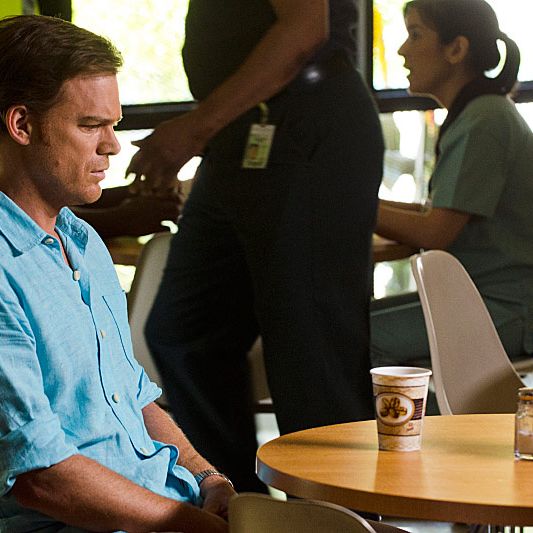 Michael C. Hall as Dexter Morgan in Dexter (Season 8, episode 12) .
Photo: Randy Tepper/Showtime
Dexter finished its eight-season run tonight with a series finale that is certain to rankle. What happened to Miami's most loveable serial killer? And how did the series end in general? Not well. Full-on spoilers after the jump.
First: Deb dies. Deb initially survived last week's shooting, but her injuries were too severe, and the doctors told Dexter that she was brain-dead. (Sorry, Quinn.) So Dexter did what Dexter does and pulled the plug himself. Then he wheeled her body out of the hospital, which no one seemed bothered by, since everyone was trying to evacuate due to the impending hurricane. Then he carried her body right down the hospital's pier (or something?) to his boat, where he loaded her on and buried her at sea. A.k.a., threw her body overboard like he'd done so many times before. Then he drove the Slice of Life right into the storm, apparently killing himself. Everyone thinks Dexter is dead, including Hannah — who's now saddled with raising Harrison in Argentina. Muy malo. Fade to black.
Except Dexter isn't dead! He survived the hurricane and is now a beardo working as a logger and looking very sad. In the final moments of the series, he sits at a table and looks down forlornly, and then stares right into the camera with his signature sinister stare. [Fin.]
And that's what happened on the Dexter finale. Vulture will have a full recap in the morning, of course.