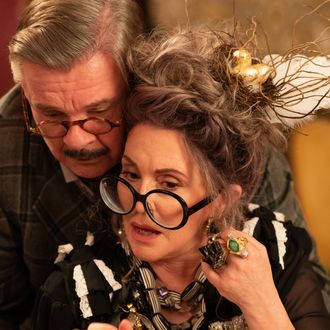 Everybody say "All love is love!"
Photo: Justin Lubin/A24/Justin Lubin
Dicks: The Musical is ready to bring chaos to your local multiplex. A24's first movie musical is not so much Sound of Music as it is "queer entropy with music." When even the press release uses words like "unhinged" and "depraved," it's a pretty good bet that this is not the musical film to take the sweet adults in your life to. Beginning its life in the basement of a Gristedes, Dicks: The Musical is this fall's raunchiest, weirdest, and most problematic (compliment) film. It's also the best steal in Vulture's Movie Fantasy League at just $1! So here's all the hard-hitting (heh) details we know so far about Dicks.
What's Dicks about?
Valid question! It's about dicks. Dicks meaning jerks who don't care about what people think or feel, of course. And also penises. The movie follows two callous businessmen who discover they are identical twins, separated at birth, with one growing up living with his mother and one with his father. The two then decide to trick their parents into getting back together. If that sounds similar to something you've seen before, ask yourself, "Did Lindsay Lohan have Sewer Boys and Megan Thee Stallion?" No! That redhead just had fencing.
Who's a dick?
Written by and starring Josh Sharp and Aaron Jackson, the movie is based on their UCB stage show F*cking Identical Twins. In the role of their mother is Megan Mullally, their father is played by Nathan Lane, their boss is Megan thee Stallion, God is Bowen Yang, and the Sewer Boys play themselves.
Okay enough facts. What's the vibe here?
Judging by the initial trailer, the vibe is "offensive, disgusting, stupid, and very, very gay." "Life's a fucking handjob," the businessmen sing. "And I only play to win!" Okay, that metaphor doesn't make sense but, also, why should it? Megan thee Stallion is rapping and the sets are all extremely "set"-like. Directed by Larry Charles, who directed Borat, this is another in 2023's line of straight-up, stomach-turning, very queer comedies.
I assume there's music?
There sure is! The Dicks: The Musical soundtrack is currently available to pre-save. But if you need a teaser, there is a single out that is sure to run straight up the Hot 100 alongside Doja Cat, called "All Love Is Love." Lin-Manuel Miranda may have said that, "Love is love is love is love," already, but did he ever proclaim that, "God is a faggot and all love is love?" No!
When can I see this thing?
Dicks: The Musical had its world premiere at TIFF as the opener for its Midnight Madness selection. Afterward, the Toronto Gay Men's Chorus sang "All Love Is Love" to the audience and the film had its opening night party at Hooters. For those who couldn't be at TIFF, the film is opening September 29. So pull out those lockets and set aside any sweet sensibilities — Dicks is ready to get freaky.
This post has been updated.