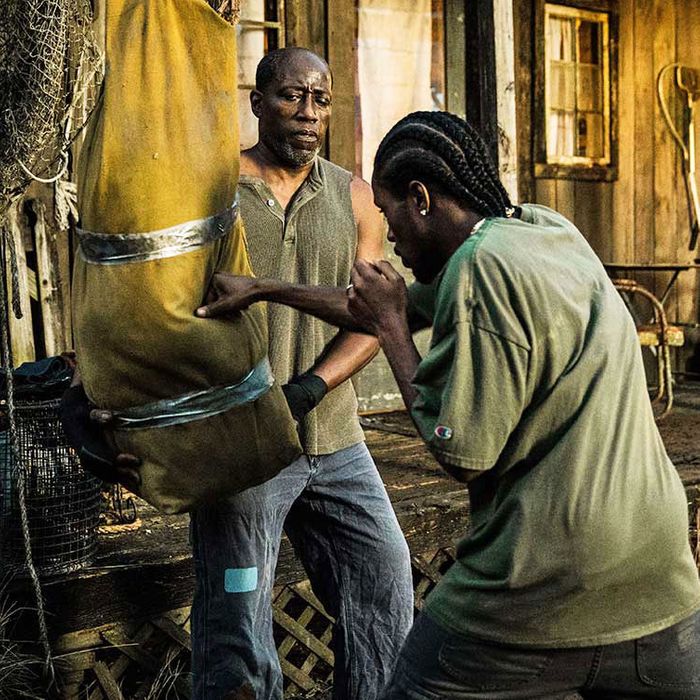 Cut Throat City
.
Photo: Well Go USA Films
This article is updated frequently as new titles enter the calendar.
How do you watch movies? With the film business going through industry-wide changes — even before the landscape-altering pandemic — more and more people are waiting out the theatrical experience to watch the latest hits at home. Now that most theaters are closed, movie fans have little other choice than to go the on-demand route. And while streaming services like Netflix and Hulu are a lot of people's go-to, sometimes the best new releases are only available to rent.
As such, we've put together a handy calendar of upcoming video-on-demand rental availability for movies that we think might be worth your time. (Note: While films are often available digitally for purchase earlier than they are to rent, this is structured around rental availability.) Check back often and circle your favorites.
July 24
Directed by: Romola Garai
Starring: Alec Secareanu, Carla Juri, and Imelda Staunton
Genre: Horror
A Sundance 2020 premiere, this is the story of a soldier who agrees to help a woman tend to her ailing mother, who has been quarantined to the top floor of a creepy house. To say there's something unusual happening to mom would be an understatement.
Directed by: Dave Franco
Starring: Alison Brie, Dan Stevens, Sheila Vand, Jeremy Allen White, and Toby Huss
Genre: Horror
IFC is being tantalizingly vague about this movie. All we know is that it's about a vacation rental gone horribly wrong and that it stars Alison Brie and Dan Stevens. Oh, and that it was directed by an actor not exactly known for horror. We're intrigued.
Directed by: Karen Maine
Starring: Natalia Dyer
Genre: Drama
A Catholic teenager, played by Dyer of Stranger Things fame, struggles with sexuality in the early '00s in this film that premiered (and snagged a prize) at the 2019 SXSW Film Festival.
July 31
Directed by: Eli B. Despres, Josh Kriegman, & Elyse Steinberg
Genre: Documentary
A nonfiction look at the many battles that the American Civil Liberties Union has led in the court system since one Donald J. Trump became President.
Directed by: Nick Rowland
Starring: Cosmo Jarvis, Barry Keoghan, Ned Dennehy, and David Wilmot
Genre: Crime Drama
A young man struggles with pulling away from his role as an enforcer for a criminal organization to start a family of his own. When he's asked to kill someone for the first time, he's forced to make a decision.
Directed by: Jessica Swale
Starring: Gemma Arterton, Gugu Mbatha-Raw, Penelope Wilton, and Tom Courtenay
Genre: Drama
Arterton plays a reclusive writer in World War II London who finds herself an unexpected guardian to a refugee. Expect hearts and minds to be moved.
August 7
Directed by: Kris Rey
Starring: Gillian Jacobs, Jemaine Clement, Kate Micucci, Hanna Marks, Jorma Taccone, Zoe Chao, and Josh Wiggins
Genre: Comedy
A down-on-her-luck author facing something of a life crisis is asked to do a reading at her alma mater, sending her back into her college insecurities in an unexpected way. Virtually premiered at SXSW 2020.
Directed by: James D'Arcy
Starring: Liam Neeson, Micheál Richardson, Lindsay Duncan, and Valeria Bilello
Genre: Drama
A father and his estranged son are forced back together to deal with the estate of his late wife in this drama from IFC Films. Neeson's son co-stars opposite in the role, adding a deeper layer to the entire thing, especially considering the tragic death of Natasha Richardson in 2009.
Directed by: Hans Petter Moland
Starring: Stellan Skarsgard, Bjorn Floberg, Tobias Santelmann, and Danica Curcic
Genre: Drama
A widower moves to the country after his loss, but a chance encounter with someone he knew a half-century earlier changes his trajectory. Based on the bestselling novel.
Directed by: Marc Munden
Starring: Dixie Egerickx, Colin Firth, Julie Walters, and Edan Hayhurst
Genre: Family
Yet another adaptation of the beloved Frances Hodgson Burnett novel about an orphaned girl who finds a magical harden in her uncle's estate.
Directed by: Amy Seimetz
Starring: Kate Lyn Sheil, Jane Adams, Kentucker Audley, Katie Aselton, Chris Messina, Tunde Adebimpe, Jennifer Kim, Josh Lucas, and Michelle Rodriguez
Genre: Horror
The highly buzzy film from the SXSW that never really was, this horror flick about a woman who becomes convinced she's going to die tomorrow feels tailor made for Summer 2020. It turns out her existential dread is, well, contagious. We can relate.
Directed by: David Ayer
Starring: Shia LaBeouf, Lana Parrilla, George Lopez, and Bobby Soto
Genre: Action
The director and star of Fury reunite for this action movie about a soldier in a crime empire whose family is threatened when a war breaks out between his boss and an old rival.
Directed by: Ciro Guerra
Starring: Mark Rylance, Johnny Depp, Robert Pattinson, Gana Bayarsaikhan, Greta Scacchi, David Dencik, and Sam Reid
Genre: Period Drama
Based on the novel by J.M. Coetzee, this is the story of a magistrate at a distant outpost who wonders exactly what he's fighting for. It's from the director of Embrace of the Serpent, who has been recently accused of sexual harassment and abuse.
August 11
Directed by: Lech Majewski
Starring: Josh Hartnett, John Malkovich, John Rhys-Davies, Keir Dullea, and Jamie Ray Newman
Genre: Drama
A reclusive trillionaire and his biographer interact in a film that promises to include Navajo lore in a "mysterious and idiosyncratic vision of America." Whatever that means.
August 14
Directed by: Paula van der Oest
Starring: Claes Bang, Olga Kurylenko, Brian Cox, and Alice Krige
Genre: Thriller
A man stands by his wife when she's accused of their son's murder, but what if he's wrong?
Directed by: Robin Pront
Starring: Nikolaj Coster-Waldau, Annabelle Wallis, Zahn McClarnon, Melanie Scrofano, and Hero Fiennes Tiffin
Genre: Thriller
A man who lives way off the grid joins forces with the local sheriff in an effort to track down the man who kidnapped his daughter years earlier.
Directed by: Egor Abramenko
Starring: Oksana Akinshina, Pyotr Fyodorov, Fedor Bondarchuk, and Anton Vasilev
Genre: Sci-fi
Adapting his acclaimed short film "The Passenger" into a feature film, acclaimed director Egor Abramenko delivers an acclaimed genre experiment that was set to premiere at Tribeca 2020. In 1983 Russia, a spacecraft crashes with only one cosmonaut survivor … and maybe an extra passenger.
August 18
Directed by: Lee Tamahori
Starring: Adrien Brody, Sophie Cookson, Paz Vega, Thomas Kretschmann, Oliver Platt, Bill Skarsgard, and Eddie Marsan
Genre: Action
Once planned for a wide theatrical release, this is a period action movie about Johanna of Ghent and the vengeance she sought on Roman Emperor Charles V after the death of her father. Expect a lot of swords, sex, and bloodshed.
August 21
Directed by: Kevin Willmott
Starring: Trai Byers, Bashir Salahuddin, Aja Naomi King, Mo McRae, Tosin Morohunfola, Mykelti Williamson, and Thomas Haden Church
Genre: Drama
The story of the 24th United States Infantry Regiment and the Houston Riot of 1917, from the Oscar-winning co-writer of BlacKkKlansman.
Directed by: RZA
Starring: Shameik Moore, Demetrious Shipp Jr., Denzel Whitaker, Keean Johnson, Rob Morgan, T.I., Terrence Howard, Joel David Moore, Eiza Gonzalez, Ethan Hawke, and Wesley Snipes
Genre: Action
The Wu-Tang mastermind directs this thriller about a group of young people caught up in a heist after Hurricane Katrina hits New Orleans, leaving them with too few opportunities to escape.
Directed by: Aaron B. Koontz
Starring: Melora Walters, Noah Segan, Zachary Knighton, Stan Shaw, Pat Healy, and Natasha Bassett
Genre: Horror
A gang of train robbers take shelter in a small ghost town and discover that it's actually occupied by a coven of witches. Don't you hate when that happens?
Tesla
Directed by: Michael Almereyda
Starring: Ethan Hawke, Kyle MacLachlan, Jim Gaffigan, Donnie Keshawarz, and Eve Hewson
Genre: Drama
Do we really need another telling of the life of Nikola Tesla? If the response from Sundance 2020 is to be believed, we do! This one got good reviews in Park City and features an unusual approach from the director of Marjorie Prime.
August 28
Directed by: Dean Parisot
Starring: Keanu Reeves, Alex Winter, Samara Weaving, Kristen Schaal, Brigette Lundy-Paine, Erinn Hayes, Wiliam Sadler, Holland Taylor, Jayma Mays, Jillian Bell, Anthony Carrigan, Beck Bennett, and Kid Cudi
Genre: Comedy
Wyld Stallyns forever! Bill and Ted are finally back as middle-aged dads forced to save the universe again, dude.
Directed by: Brendan Walsh
Starring: Vincent Piazza, Genesis Rodriguez, and Mavia Simpson-Ernst
Genre: Horror
A married couple end up stuck in their frozen car after a horrible storm and struggle to survive.
Directed by: M.J. Bassett
Starring: Megan Fox, Jessica Sutton, and Philip Winchester
Genre: Action
The star of the Transformers movies turns to action again, playing the leader of a squad of soldiers trying to rescue hostages in Africa. She's stranded and forced to face a horde of lions. Yes, seriously.
September 4
Directed by: John Leguizamo
Starring: John Leguizamo, Rachel Bay Jones, and Michael K. Williams
Genre: Drama
Initially scheduled to premiere at the SXSW that never happened, this is the true story of the 1998 Miami Jackson Senior High School chess team, the first urban team to win the U.S. Chess National Championship. The award-winning actor John Leguizamo makes his directorial debut.
Directed by: William Olsson
Starring: Alexandra Daddario, Carice van Houten, and Takehiro Hira
Genre: Drama
The True Detective star plays an English teacher living in Japan who lacks direction in her life until she meets a charismatic member of the Yakuza. Based on the book by Catherine Hanrahan.
Directed by: Julius Berg
Starring: Maisie Williams, Sylvester McCoy, and Rita Tushingham
Genre: Thriller
A group of young people break into an empty house and find a safe full of cash…then the owners come home. Things probably don't go well from there.
September 11
Directed by: Unjoo Moon
Starring: Tilda Cobham-Hervey, Evan Peters, and Danielle Macdonald
Genre: Biopic
Another music biopic! This story of the life of 1970s artist and activist Helen Reddy premiered to mixed reviews at TIFF 2019.
September 18
Directed by: Gerard Bush & Christopher Renz
Starring: Janelle Monae, Eric Lange, Jena Malone, Jack Huston, Kiersey Clemons, and Gabourey Sidibe
Genre: Horror
An author is faced with a nightmare when she's sent back to the days of slavery through the kind of time-traveling thing that happens in movies inspired by Rod Serling.