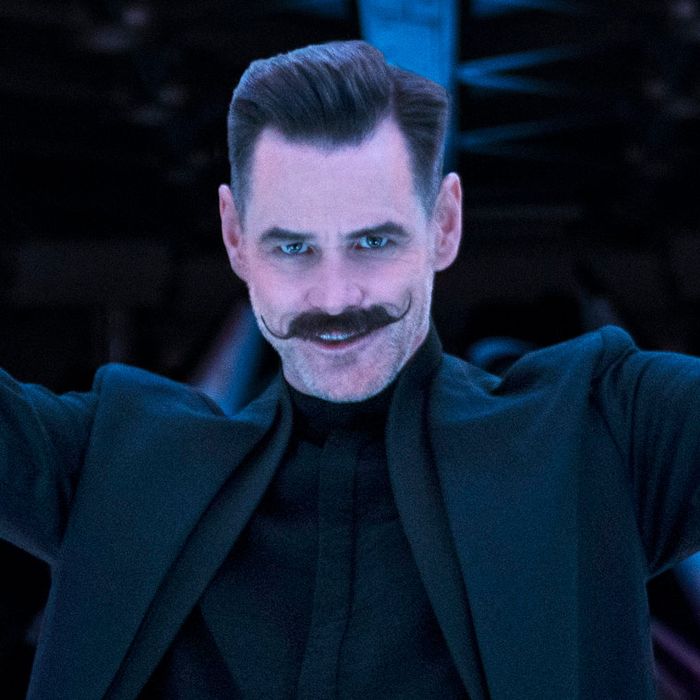 Sonic the Hedgehog
.
Photo: Doane Gregory/ Pictures and Sega of America, Inc.
This article is updated frequently as new titles enter the calendar.
How do you watch movies? With the film business going through industry-wide changes — even before the landscape-altering pandemic — more and more people are waiting out the theatrical experience to watch the latest hits at home. And while streaming services like Netflix and Hulu are a lot of people's go-to, sometimes the best new releases are only available to rent.
As such, we've put together a handy calendar of upcoming video-on-demand rental availability for movies that we think might be worth your time. (Note: While films are often available digitally for purchase earlier than they are to rent, this is structured around rental availability.) Check back often and circle your favorites.
Calendar: April 3 | April 7 | April 10 | April 14 | April 17 | April 20 | April 21 | April 24 | April 28 | May 1 | May 5 | May 7 | May 8 | May 12 | May 15 | May 19 | May 22 | June 5 | June 12 | June 16 | July 10 | July 24 | July 31 | August 21
April 3
Clover
Directed by: Jon Abrahams
Starring: Jon Abrahams, Mark Webber, Nicole Elizabeth Berger, Chazz Palminteri, Ron Perlman, Tichina Arnold, Erika Christensen, Julia Jones, Jessica Szohr, Michael Godere, and Jake Webber
Genre: Crime
Two brothers work to protect both a teenage girl named Clover and themselves from a vicious mob boss and his hit women. A blend of dark comedy and action in the criminal underworld.
Lazy Susan
Directed by: Nick Peet
Starring: Sean Hayes, Allison Janney, Matthew Broderick, Jim Rash, and Margo Martindale
Genre: Comedy
The Will & Grace star co-wrote and stars in this comedy about a middle-aged woman named Susan who tries to find some meaning in her drab suburban life. He also plays Susan. No, seriously.
Once Were Brothers: Robbie Robertson and the Band
Directed by: Daniel Roher
Genre: Documentary
The Opening Night film from the 2019 Toronto International Film Festival, this is the story of the massively influential The Band told from the perspective of one of its essential founders, Robbie Robertson. Features interviews with music legends like Eric Clapton, Bob Dylan, Bruce Springsteen, and many more.
The Other Lamb
Directed by: Malgorzata Szumowska
Starring: Raffey Cassidy, Michiel Huisman, Denise Gough, Eve Connolly, and Kelly Campbell
Genre: Drama
Cult life is just the worst. Selah (Cassidy) is a girl who was born into a cult led by the mysterious Shepherd (Huisman), but she starts to question his teachings and structure. The bloody nightmares she's having probably don't help.
The Whistlers
Directed by: Corneliu Porumboiu
Starring: Vlad Ivanov, Catrinel Marlon, Rodica Lazar, and Agusti Villaronga
Genre: Crime/Comedy
The deadpan wit of the writer/director of 12:08 East of Bucharest returns with a clever send-up of crime films that centers on an ancient whistling language and a man caught up with a femme fatale.
April 7
A Kid From Coney Island
Directed by: Coodie Simmons and Chike Ozah
Genre: Documentary
You may not have any sports to watch, but you can watch this acclaimed Tribeca hit executive produced by Kevin Durant about one of the most famous people to come out of Coney Island, Stephon Marbury, who targeted a career in the NBA when he was only five.
Birds of Prey
Directed by: Cathy Yan
Starring: Margot Robbie, Rosie Perez, Mary Elizabeth Winstead, Jurnee Smollett-Bell, Ali Wong, Chris Messina, Ella Jay Basco, and Ewan McGregor
Genre: Action
The Joker's girlfriend gets her own movie in this February theatrical release rushed to VOD because of the pandemic. It's a bright, vibrant action film for grown-ups with some excellent choreography and another great Margot Robbie performance. Forget Suicide Squad. This is the real deal.
Cats
Directed by: Tom Hooper
Starring: Idris Elba, Rebel Wilson, Jason Derulo, Jennifer Hudson, James Corden, Ray Winstone, Judi Dench, Ian McKellen, and Taylor Swift
Genre: Musical
Already considered one of the most notoriously awful movies ever made, Cats has led to theatrical screenings in which people mock the film from their seats. Now you can do it at home!
Dolittle 
Directed by: Stephen Gaghan
Starring: Robert Downey Jr., Antonio Banderas, Michael Sheen, Jim Broadbent, Jessie Buckley, and the voices of Emma Thompson, Rami Malek, John Cena, Kumail Nanjiani, Octavia Spencer, Tom Holland, Craig Robinson, Ralph Fiennes, and Selena Gomez
Genre: Family
So much talent and money were expended on this update to the classic tale of the doctor who can talk to the animals that it's almost depressing how much it bombed with critics and audiences in January. Maybe everyone was wrong? Check it out for us and report back.
Little Women 
Directed by: Greta Gerwig
Starring: Saoirse Ronan, Emma Watson, Florence Pugh, Eliza Scanlen, Laura Dern, Timothée Chalamet, Tracy Letts, Bob Odenkirk, Louis Garrel, Chris Cooper, and Meryl Streep
Genre: Drama
Gerwig adapted and directed this Oscar winner for costume design and nominee for Best Picture, Actress, and Supporting Actress. If you think there's no way to retell the classic Louis May Alcott story in a way that would feel fresh and new again, think again. This is a charming, moving piece of filmmaking with an incredible ensemble.
The Night Clerk
Directed by: Michael Cristofer
Starring: Tye Sheridan, Ana de Armas, Helen Hunt, John Leguizao, and Johnathon Schaech
Genre: Thriller
Tye Sheridan stars in this thriller about a hotel clerk with Asperger's Syndrome who also happens to be a voyeur with cameras in several of the rooms. One night, he sees what looks like a murder, and gets caught up in a Hitchockian mystery with a femme fatale played by Ana de Armas.
Swift
Directed by: Christian Haas
Starring: the voices of Kate Winslet, Willem Dafoe, and Josh Keaton
Genre: Animated
No, it's not a Taylor biopic. A bird named Manou grows up thinking that he's a seagull and learns the hard way that he's a species called a swift, a very different kind of bird. He runs away and makes friends before saving the day for both swifts and seagulls. Wacky hijinks and moving drama likely ensue.
What You Gonna Do When the World's on Fire?
Directed by: Robert Minervini
Genre: Documentary
A critical darling at Venice and TIFF in the fall of 2018, this film captures life in New Orleans in the summer of 2017, as racial strife and crimes against black men were on the rise. An examination of cultural identity and social justice at a time when the world was changing radically.
April 10
Sea Fever
Directed by: Neasa Hardiman
Starring: Hermione Corfield, Connie Nielsen, and Dougray Scott
Genre: Horror
An average trawler west of Ireland encounters something inexplicable in the ocean that leads them to the discovery of a deadly new species. With echoes of The Abyss, this was a hit at TIFF this year.
We Summon the Darkness
Directed by: Marc Meyers
Starring: Alexandra Daddario, Keean Johnson, Logan Miller, and Johnny Knoxville
Genre: Horror/Thriller
Satanic cults, heavy metal, and road movie tropes collide in the story of three friends who party with three musicians one night and, well, bodies start piling up. We're not sure which one of them actually summons the darkness.
April 14
Final Kill
Directed by: Justin Lee
Starring: Ed Morrone, Randy Couture, Dr. Drew Pinsky, Danny Trejo, and Billy Zane
Genre: Action
Look at that B-movie cast! And Dr. Drew! Sometimes you want something artistic and intellectual. Sometimes you want Danny Trejo and Billy Zane in a story of someone hired to protect a couple who stole money from the wrong people. And Dr. Drew!!!
Just Mercy
Directed by: Destin Daniel Cretton
Starring: Jamie Foxx, Michael B. Jordan, and Brie Larson
Genre: Drama
The Black Panther star leads this film as Bryan Stevenson, a civil rights defense attorney who worked to free a clearly innocent man, played by Foxx. It's an emotional drama about people doing the right thing against all odds.
Underwater
Directed by: William Eubank
Starring: Kristen Stewart, Vincent Cassel, T.J. Miller, Jessica Henwick, John Gallagher Jr., and Mamoudou Athie
Genre: Action
It's an underwater monster movie! What more do you want? Stewart stars in the story of a deep-sea rig that faces a disastrous hull breach, but the survivors learn that the pressure from the water may be the least of their problems.
April 17
Abe
Directed by: Fernando Grostein Andrade
Starring: Noah Schnapp, Dagmara Dominczyk, Mark Margolis, Alexander Hodge, and Seu Jorge
Genre: Drama/Family
One of those lovable scamps from Stranger Things plays the title character, a kid who happens to be half-Israeli and half-Palestinian. Of course, he tries to bring the two halves of his family tree together, using his blooming culinary skills as the glue.
Bad Therapy
Directed by: William Teitler
Starring: Alicia Silverstone, Michaela Watkins, Rob Corddry, Sarah Shahi, Haley Joel Osment, Dichen Lachman
Genre: Comedy
It's really all there in the title, isn't it? A comedy about a couple who seek the counsel of a therapist who needs some help herself.
Endings, Beginnings
Directed by: Drake Doremus
Starring: Shailene Woodley, Jamie Dornan, Sebastian Stan, Matthew Gray Gubler, and Lindsay Sloane
Genre: Drama
The director of Like Crazy and Newness is back with another dramedy about navigating the tough waters of dating life for young people. It's tough out there for beautiful people in 2020.
The Quarry
Directed by: Scott Teems
Starring: Shea Whigham, Michael Shannon, Catalina Sandino Moreno, Bobby Soto, and Bruno Bichir
Genre: Thriller
The Boardwalk Empire co-stars reunite in the story of a man on the run who steals the identity of a local minister in a remote Texas town. Of course, he can't keep his many secrets for long, especially with someone like Michael Shannon sniffing around.
The Way Back
Directed by: Gavin O'Connor
Starring: Ben Affleck, Al Madrigal, Michaela Watkins, and Janina Gavinkar
Genre: Drama
Ben Affleck gives one of the best performances of his career as Jack, a man who fights alcoholism and is given a safety net when he's presented with the chance to coach a youth basketball team. From the director of Warrior and Miracle.
April 20
Why Don't You Just Die!
Directed by: Kirill Sokolov
Starring: Aleksandr Kuznetsov, Vitaliy Khaev, and Evgeniya Kregzhde
Genre: Comedy/Thriller
Russian family nightmares are the best! Andrei is a horrible patriarch of a clan of just-as-awful children, all of whom have a reason to enact vengeance on dear old dad. A Russian indie hit making it to the States is rare. It probably means it's worth a look.
April 21
Bad Boys for Life
Directed by: Adil and Bilall
Starring: Will Smith, Martin Lawrence, Vanessa Hudgens, and Joe Pantoliano
Genre: Action
Mike Lowery and Marcus Burnett are back! People born on the day the last Bad Boys movie came out may be able to drive by now, but there's still great interest for this pairing, as proven by the box office success and plans for a fourth film. Don't wait another 17 years.
The Gentlemen
Directed by: Guy Ritchie
Starring: Matthew McConaughey, Charlie Hunnam, Michelle Dockery, Jeremy Strong, Colin Farrell, Henry Golding, Hugh Grant, and Eddie Marsan
Genre: Action/Comedy
Ritchie returns to the world of quick-talking tough guys in the story of an American who tries to sell a drug empire in London and all the violence and chaos that ensues.
Ip Man 4: The Finale
Directed by: Wilson Yip
Starring: Donnie Yen, Scott Adkins, and Danny Kwok-Kwan Chan
Genre: Action/Drama
Donnie Yen kicks ass. The martial arts star plays the kung fu master in the film that purports to be the end of this saga, a film which takes him to the United States to confront a student who has opened a Wing Chun school there.
The Last Full Measure
Directed by: Todd Robinson
Starring: Samuel L. Jackson, Christopher Plummer, Ed Harris, Sebastian Stan, William Hurt, Bradley Whitford, Linus Roache, Michael Imperioli, and Jeremy Irvine
Genre: Drama
William H. Pitsenbarger was a helicopter pilot during the Vietnam War who flew rescue missions in to wartorn areas to rescue soldiers stuck behind enemy lines. It took 34 years to get the war hero the Medal of Honor he deserved.
Like a Boss 
Directed by: Miguel Arteta
Starring: Tiffany Haddish, Rose Byrne, Jennifer Coolidge, Billy Porter, and Salma Hayek
Genre: Comedy
A buddy comedy with super talented comedians Haddish and Byrne, this is the story of a old friends with different business approaches who are forced to get over their differences when a business titan tries to steal their small company from them. Critics kind of hated it. Maybe you won't!
The Turning
Directed by: Floria Sigismondi
Starring: Mackenzie Davis, Finn Wolfhard, Brooklynn Prince, and Joely Richardson
Genre: Horror
The classic The Turn of the Screw by Henry James gets yet another modern horror adaptation with the stars of Halt and Catch Fire, Stranger Things, and The Florida Project. Barely released in theaters, it's the kind of B-movie horror film that often makes a bigger impact at home.
April 24
1BR
Directed by: David Marmor
Starring: Naomi Grossman, Taylor Nichols, Giles Matthey, Andrea Gabriel, Alan Blumenfeld, and Nicole Brydon Bloom.
A woman leaves behind her dark past to start a new life in Hollywood, but she hears strange things at night and starts receiving threatening notes. Is she going crazy or being watched? Or maybe both?!?
Robert the Bruce
Directed by: Richard Gray
Starring: Angus Macfadyen, Anna Hutchison, Patrick Fugit, Zach McGowan, Melora Walters, and Jared Harris
Genre: Drama
Have you heard of the legendary King of the Scots from the 14th century? Yeah, it's another movie about him.
To the Stars
Directed by: Martha Stephens
Starring: Kara Hayward, Jordana Spiro, Tony Hale, Liana Liberato, Shea Whigham, and Malin Akerman
Genre: Drama
The story of a crucial friendship between a farmer's daughter and a new girl in town serves as the center of this coming-of-age Sundance hit set in 1960s Oklahoma.
True History of the Kelly Gang
Directed by: Justin Kurzel
Starring: George MacKay, Essie Davis, Nicholas Hoult, Thomasin McKenzie, Charlie Hunnam, and Russell Crowe.
Genre: Drama/Action
The story of the Australian legend Ned Kelly, a man who pushed back against authority in the outback in the 1870s and became an iconic figure in his country's history. Starring the kid from 1917 and directed with righteous, dirty anger by the man who made Assassin's Creed.
April 28
The Assistant
Directed by: Kitty Green
Starring: Julia Garner, Matthew Macfadyen, and Makenzie Leigh
Genre: Drama
The Emmy winner from Ozark stars as the title character, an assistant to a powerful executive who runs a predatory culture at her office that threatens to destroy everyone. This one got raves in theaters and should find an audience at home.
The Rhythm Section 
Directed by: Reed Morano
Starring: Blake Lively, Jude Law, and Sterling K. Brown
Genre: Action
A woman still grieving the loss of her family discovers that the plane crash that took them was the product of a terrorist attack. She sets out to kick some ass and take some names.
May 1
Bull
Directed by: Annie Silverstein
Starring: Rob Morgan, Amber Harvard, and Yolanda Ross
Genre: Drama
This character piece was supposed to premiere at SXSW before a March theatrical release, but both of those were sabotaged by the virus. And so the story of a wayward teen who meets an aging bullfighter who lives next door comes home first.
Deerskin
Directed by: Quentin Dupieux
Starring: Jean Dujardin, Adéle Haenel, and Albert Delpy
Genre: Comedy/Horror
The man who once made a film about a sentient car tire (Rubber) returns with a film about a man who becomes obsessed with a deerskin jacket that may or may not have supernatural powers. He teams up with a bartender to make a movie about his beloved jacket.
The Flood
Directed by: Anthony Woodley
Starring: Lena Headey, Ivanno Jeremiah, Amira Ghazalla, Iain Glen, and Jack Gordon
Genre: Drama
A hardened immigration officer is handed the case of her career, and she has to decide if the applicant needs to be rescued by giving him asylum, or if there's something dangerous about to happen.
The Wretched
Directed by: Brett Pierce & Drew T. Pierce
Starring: John-Paul Howard, Piper Curda, Jamison Jones, and Azie Tesfai
Genre: Horror
Have you ever wondered if the creepy lady next door might be a witch? Well, so does the kid in this movie, who decides to face-off with the century-old supernatural creature disguised as his neighbor.
May 5
Arkansas
Directed by: Clark Duke
Starring: Liam Hemsworth, Clark Duke, Vince Vaughn, John Malkovich, Vivica A. Fox, Michael Kenneth Williams, Brad William Henke, and Eden Brolin
Genre: Drama
Duke and Hemsworth play a couple of low-level drug runners who end up caught up in something they really can't handle when a deal goes very, very wrong. This was supposed to be a SXSW premiere before the festival was canceled.
Bloodshot
Directed by: David S.F. Wilson
Starring: Vin Diesel, Eiza Gonzalez, Sam Heughan, Toby Kebbel, Talulah Riley, Lamorne Morris, and Guy Pearce
Genre: Action
An adaptation of the comic book series about an elite soldier, played by Diesel, who basically can't be killed. After dying in combat, he's been resurrected via a technology that allows him to heal instantaneously. He discovers he's being used by a corrupt system in this frenetic action flick.
Gretel & Hansel
Directed by: Osgood Perkins
Starring: Sophia Lillis, Alice Krige, Samuel Leakey, and Charles Babalola
Genre: Fantasy/Horror
The director of The Blackcoat's Daughter reimagines the classic fairy tale in a way that feels fresh and new in this critically-acclaimed genre piece from January of this year.
The Lodge
Directed by: Veronika Franz & Severin Fiala
Starring: Riley Keough, Jaeden Martell, Alicia Silverstone, Lia McHugh, and Richard Armitage
Genre: Horror
The directors of the terrifying Goodnight Mommy return with another nightmarish vision, this one about two children being stuck with their father's girlfriend, the only survivor of a massive cult suicide. You think your mom is crazy?
Ordinary Love
Directed by: Lisa Barros D'Sa & Glenn Leyburn
Starring: Lesley Manville and Liam Neeson
Genre: Drama
A character drama about how a couple who has been married for years deals with the unexpected trauma of a breast cancer diagnosis. The kind of adult storytelling that people often complain doesn't get made anymore.
Promare
Directed by: Hiroyuki Imaishi
Starring: the voices of John Eric Bentley, Steve Blum, and Johnny Yong Bosch
Genre: Anime
This hit anime from Japan was released by GKIDS last year to rave reviews. With bright colors and intense action, it's a futuristic tale of superpowers and mech combat. You know the deal.
Saint Frances
Directed by: Alex Thompson
Starring: Kelly O'Sullivan, Charin Alvarez, Lily Mojekwu, Jim True-Frost, and Ramona Edith-Williams
Genre: Dramedy
This delicate and nuanced character study was a hit on the festival circuit in 2019 after its SXSW premiere. It's the Chicago-set story of a young woman who ends up nannying an inspirational six-year-old although nowhere near as maudlin as that makes it sound. Genuine and sweet.
May 7
Driveways
Directed by: Andrew Ahn
Starring: Hong Chau, Lucas Jaye, Brian Dennehy, and Christine Ebersole
Genre: Drama
A boy travels to his late aunt's house to help his mother clean it out and befriends the retiree who lives next door, played by the late Brian Dennehy, in one of his final roles.
May 8
Hope Gap
Directed by: William Nicholson
Starring: Bill Nighy, Annette Bening, and Josh O'Connor
Genre: Drama
A couple goes to visit their son and things get incredibly dramatic when dad tells the boy that he's planning on leaving his mother. A character study for two great actors, this drama premiered at TIFF 2019.
How to Build a Girl
Directed by: Coky Giedroyc
Starring: Beanie Feldstein, Emma Thompson, Jameela Jamil, Lucy Punch, Chris O'Dowd, Paddy Considine, Sharon Horgan, and Alfie Allen
Genre: Comedy
A coming-of-age story based on Caitlin Moran's memoir about an average teenager who becomes a famous music critic named Dolly Wilde, and has to learn some tough lessons about friendship, love, and business while basically pretending to be someone she's not.
Porno
Directed by: Keola Racela
Starring: Evan Daves, Blake French, Jillian Mueller, Katelyn Pierce, Larry Saperstein, and Glenn Stott
Genre: Horror
This B-movie was a hit at SXSW 2019 and is finally getting a wider release after a festival run. It's the story of a bunch of average young people who work at a movie theater and stumble upon a violent sex demon. Yes, that says violent sex demon.
Valley Girl
Directed by: Rachel Lee Goldenberg
Starring: Chloe Bennet, Peyton List, Alicia Silverstone, Mae Whitman, Jessica Rotrhe, Judy Greer, Camila Morrone, and Logan Paul
Genre: Comedy/Musical
An adaptation of the beloved 1983 film about lovers from different sides of the track but this one is an actual musical set to a new wave '80s soundtrack. This was supposed to come out theatrically in 2018 but then Logan Paul acted like a jackass and it got shelved for almost two years before its now-digital-only release.
Walkaway Joe
Directed by: Tom Wright
Starring: David Strathairn, Jeffrey Dean Morgan, and Julian Feder
Genre: Drama
A young boy has been traveling from pool hall to pool hall across the country, looking for his runaway father, and the loner he befriends along the way. Expect a lot of lessons to be learned and second chances to be earned.
May 12
Capone
Directed by: Josh Trank
Starring: Tom Hardy, Linda Cardellini, Kyle MacLachlan, Noel Fisher, Matt Dillon, and Jack Lowden
Genre: Drama
Another variation on the life of Al Capone, played here by Tom Hardy under heavy make-up in his forties, as Capone remembers the major events of his life while starting to suffer from dementia. This is another project once planned for theatrical but now being dropped on VOD.
Fantasy Island
Directed by: Jeff Wadlow
Starring: Michael Pena, Maggie Q, Lucy Hale, Austin Stowell, Jimmy O. Yang, Portia Doubleday, Ryan Hansen, and Michael Rooker
Genre: Horror
Blumhouse offers a critically-reviled spin on the classic show in which Mr. Roarke made people's wildest dreams come true. Those dreams probably turn into nightmares here. Just a guess.
Lost Transmissions
Directed by: Katharine O'Brien
Starring: Simon Pegg, Juno Temple, Tao Okamoto, Alexandra Daddario, Bria Vinaite, and Jamie Harris
Genre: Drama
Simon Pegg plays a famous record producer who has gone off his medication for schizophrenia, leading to his friends coming together to try and get him into a psychiatric facility.
The Photograph 
Directed by: Stella Meghie
Starring: Issa Rae, Lakeith Stanfield, Chelsea Peretti, Lil Rel Howery, and Courtney B. Vance
Genre: Romance
A journalist writing a story about a famous photographer falls in love with the woman's daughter in this romantic drama that's further evidence in the case that Lakeith Stanfield can do anything.
The Traitor
Directed by: Marco Bellocchio
Starring: Pierfrancesco Favino, Luigi Lo Cascio, Fausto Russo Alesi, Fabrizio Ferracane, and Maria Fernanda Cândido
Genre: Drama
The true story of Tommaso Buscetta unfolds in this 2019 festival hit. Buscetta was a major player in the Sicilian mob scene but became world famous when he turned informant on the mafia, bringing down many of its leaders in a high-profile court case in Italy.
May 15
Blood and Money
Directed by: John Barr
Starring: Tom Berenger, Kristen Hager, and Paul Ben-Victor
Genre: Thriller
A retired veteran goes on a hunting trip and finds something no one expects: a dead woman in the middle of nowhere, and she's got a large sum of money. That kind of thing never ends well.
Scoob!
Directed by: Tony Cervone
Starring: (The voices of) Frank Welker, Will Forte, Zac Efron, Gina Rodriguez, Amanda Seyfried, Mark Wahlberg, Kiersey Clemons, Jason Isaacs, Tracy Morgan, and Ken Jeong
Genre: Animation/Family
It would have gotten away with going to theaters if it weren't for that darn virus! The latest reboot of the most famous mystery-solving dog was supposed to be a wide theatrical release on this date but will go the Trolls 2 route and be available at home instead.
May 19
Brahms: The Boy II
Directed by: William Brent Bell
Starring: Katie Holmes, Ralph Ineson, Owain Yeoman, and Christopher Convery
Genre: Horror
A sequel that no one really asked for ends up basically rewriting the end of the first movie. Yes, once again, there's a creepy doll that may be alive. We can't get enough of creepy dolls. Well, maybe we can this time.
Buffaloed
Directed by: Tanya Wexler
Starring: Zoey Deutch, Jai Courtney, Judy Greer, and Jermaine Fowler
Genre: Dramedy
Peg desperately wants to escape her miserable life in Buffalo, New York, and will take part in any hustle that gives her the money to do so. We keep waiting for Zoey Deutch to become the superstar she should be. Maybe this will help.
Emma.
Directed by: Autumn de Wilde
Starring: Anya Taylor-Joy, Angus Imrie, Letty Thomas, Bill Nighy, Rupert Graves, Johnny Flynn, and Mia Goth
Genre: Dramedy
The Jane Austen classic gets another update in this critically-acclaimed dramedy whose theatrical release was truncated by the virus. The star of The Witch steps into the titular role, a woman who meddles in the love life of her friends before learning a lesson or two about love herself.
The Postcard Killings
Directed by: Danis Tanovic
Starring: Jeffrey Dean Morgan, Famke Janssen, Naomi Battrick, and Ruairi O'Connor
Genre: Thriller
A serial killer sends postcards to journalists after he commits his horrible crimes. Don't check the mail!
Sonic the Hedgehog 
Directed by: Jeff Fowler
Starring: Ben Schwartz, James Marsden, Tika Sumpter, Adam Pally, Neal McDonough, and Jim Carrey
Genre: Family/Action
The Sega character finally gets his own movie, fighting against the evil Dr. Robotnik, played by a Jim Carrey chewing the scenery in a way only he can. James Marsden plays the guy stuck in the middle. Doesn't he always?
May 22
The Haunted
Directed by: David Holroyd
Starring: Nick Bayly, Maggie Daniels, and Virginia Denham
Genre: Horror
Emily goes to a creepy old house to take care of a patient with dementia. Of course, she discovers that she's not alone and the house carries some dark secrets. They always do.
Inheritance
Directed by: Vaughn Stein
Starring: Lily Collins, Connie Nielsen, Simon Pegg, Chace Crawford, and Michael Beach
Genre: Thriller
The patriarch of a family passes away and leaves an inheritance that is apparently complicated enough to name a movie after it. That's pretty much all we know about the film.
Survive the Night
Directed by: Matt Eskandari
Starring: Bruce Willis, Chad Michael Murray, and Lydia Hull
Genre: Action
The subgenre of Bruce Willis B-movies that go straight to VOD gets another entry in this thriller about a doctor and his family being held hostage by criminals.
The Trip to Greece
Directed by: Michael Winterbottom
Starring: Rob Brydon and Steve Coogan
Genre: Comedy
The stars of The Trip reunite for a fourth film in this series that also includes The Trip to Italy and The Trip to Spain. Expect more gorgeous vistas, wonderful cuisine, and rampant mid-life crises.
June 5
Judy and Punch
Directed by: Mirrah Foulkes
Starring: Mia Wasikowska, Damon Herriman, Benedict Hardie, and Tom Budge
Genre: Drama
Two puppeteers are struggling to get their marionette show off the ground when a tragedy separates them forever, leading to a war between the title characters. Premiered at Sundance way back in January of 2019.
June 12
The King of Staten Island
Directed by: Judd Apatow
Starring: Pete Davidson, Marisa Tomei, Pamela Adlon, Machine Gun Kelly, Steve Buscemi, Bel Powley, Maude Apatow, Bill Burr, Moise Arias, Kevin Corrigan, Jimmy Tatro, and Domenick Lombardozzi
Genre: Comedy
You know how Judd Apatow built comedy vehicles around Steve Carell, Seth Rogen, and Amy Schumer? Well, it's time for SNL star Pete Davidson to get that time in the spotlight. Was meant to premiere at SXSW 2020 on opening night back in March.
June 16
The Short History of the Long Road
Directed by: Ani-Simon Kennedy
Starring: Sabrina Carpenter, Maggie Siff, Danny Trejo, Rusty Schwimmer, and Steven Ogg
Genre: Drama
A fest darling in 2019, this dramedy stars Sabrina Carpenter as a young woman who has lived a nomadic life with her father, traveling the country in their RV. A shocking event sends her out on her own in search of a mother she's never known.
July 10
Relic
Directed by: Natalie Erika James
Starring: Emily Mortimer, Bella Heathcote, and Robyn Nevin
Genre: Horror
Mark your calendars for this one. The best horror movie from Sundance 2020 is the story of a woman (Mortimer) who comes to take care of her ailing mother (Nevin) and finds out there's more to her situation than meets the eye. That's all you need to know. This is one of the best horror movies of 2020.
July 24
The Rental
Directed by: Dave Franco
Starring: Alison Brie, Dan Stevens, Sheila Vand, Jeremy Allen White, and Toby Huss
Genre: Horror
IFC is being tantalizingly vague about this movie. All we know is that it's about a vacation rental gone horribly wrong and that it stars Alison Brie and Dan Stevens. Oh, and that it was directed by an actor not exactly known for horror. We're intrigued.
July 31
Summerland
Directed by: Jessica Swale
Starring: Gemma Arterton, Gugu Mbatha-Raw, Penelope Wilton, and Tom Courtenay
Genre: Drama
Arterton plays a reclusive writer in World War II London who finds herself an unexpected guardian to a refugee. Expect hearts and minds to be moved.
August 21
Tesla
Directed by: Michael Almereyda
Starring: Ethan Hawke, Kyle MacLachlan, Jim Gaffigan, Donnie Keshawarz, and Eve Hewson
Genre: Drama
Do we really need another telling of the life of Nikola Tesla? If the response from Sundance 2020 is to be believed, we do! This one got good reviews in Park City and features an unusual approach from the director of Marjorie Prime.