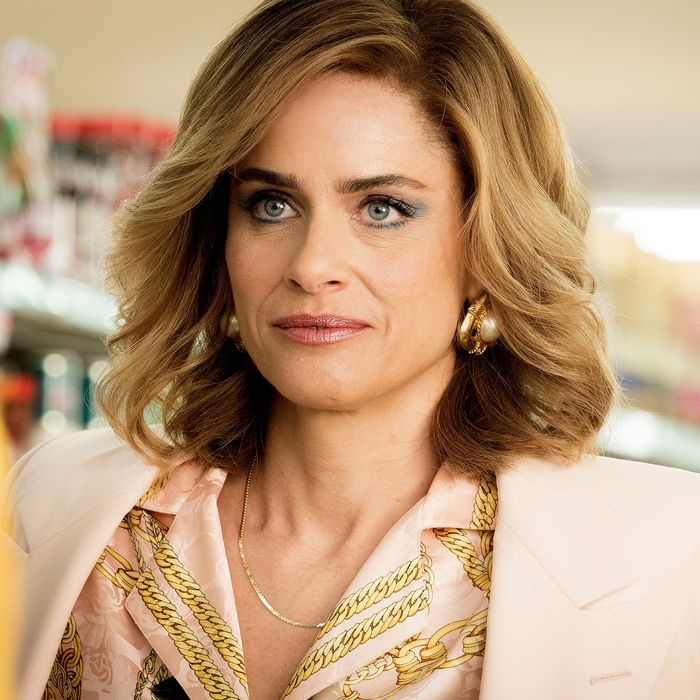 Amanda Peet plays Betty Broderick in this season of
Dirty John.
Photo: Isabella Vosmikova/USA Network
The first season of Dirty John, which focused on a scheming playboy who messed with the wrong family of women, came down to a handful of central characters, all played by recognizable faces. The latest iteration of the anthology series, The Betty Broderick Story, traffics in fundamentally familiar territory — a scandalous domestic murder against an illusory backdrop of high society — homing in on spousal duo turned divorced nemeses Betty and Dan Broderick. In November 1989, after years of legal and personal rancor between them — ostensibly spurred by Dan's infidelity — Betty shot and killed her ex-husband and his new wife in the couple's bedroom, and has been serving out a sentence of 32 years to life since her 1991 conviction.
From there, The Betty Broderick Story casts a wide net that includes upward of two dozen family members, friends, co-workers, and court professionals in a rotation of semi-recurring roles, most of them portrayed pseudonymously. So as we set out to compare the show's characters with their true-life counterparts, we're focusing on the five figures who are most instrumental in the show's narrative, using them as a lens through which to parse details on the very real people who were directly impacted by a dramatic crime.
Note: Due to Dirty John's portrayal of real-life events, some spoilers for the series lie ahead.
Dan Broderick (Played by Christian Slater and Chris Mason)
It's no surprise that Daniel T. Broderick III wanted a big family. He was one of nine children born to parents Daniel Broderick Jr. (who passed away in 2010) and Yolande Broderick (née Gordon) and raised in a tight-knit Irish-Catholic family in Pittsburgh. As depicted in Dirty John, Dan went on to Notre Dame for undergrad, where in the fall of 1965 he happened upon a then-17-year-old Elizabeth Anne Bisceglia, who was visiting a friend from her native Eastchester, New York. Dan would soon commence his doctoral studies at a Cornell University campus in Manhattan, allowing their paths to coincide in earnest. They were married before the decade was out, with two of their four surviving children born over the ensuing two years. (The couple did, as characterized, tragically lose one son within days of his birth.) In interviews conducted by the San Diego Reader for a story that was never published because Dan threatened legal action, but that ran in modified form after his death, Dan alleges that Betty asked for a divorce almost immediately after their nuptials. He added, "There were requests, demands, for divorce, hundreds of times … I'm not exaggerating."
The basic outline of Dan's academic and professional trajectory parallels what Dirty John lays out: restlessness with medical pursuits, followed by enrollment in Harvard Law School (supported by both Betty's earnings at the time and her raising their children while he studied); ascent up the ranks of San Diego law firm Gray, Cary, Ames & Frye (which was subsequently a part of multiple mergers and absorbed into global firm DLA Piper in 2005); and eventually striking out on his own, finding wealth and repute as a no-nonsense malpractice lawyer and president of the San Diego Bar Association.
In his interview with the Reader, Dan denied some of Betty's claims about the where and when of his relationship with 20-something receptionist Linda Kolkena, whom he would marry less than seven months before their deaths in April 1989. But he also acknowledges that during their marriage — which he described as one with "real incompatibility problems" — he was "far from the kind of good, loving husband I could have been."
Dan Broderick was shot and killed in the bedroom he shared with Linda by his ex-wife Betty Broderick on November 5. A single bullet fatally pierced his lung.
Betty Broderick (Played by Amanda Peet and Tiera Skovbye)
Like Dan, Elizabeth Anne Bisceglia was born into a large Catholic family. She was one of six children born to Frank Bisceglia, a World War II Air Force veteran who was CEO of the contracting company started by his father, and Marita Bisceglia (née Curtin). The children were raised in relative comfort in the tony New York City suburbs of Westchester County. ("We had country clubs and cars, Broderick told the San Diego Reader. My mom's real social, so we had lots of clothes and designer things.") After high school, she attended the private Catholic College of Mount St. Vincent in the Bronx. Merely two months after receiving an accelerated degree in December 1968, she was engaged to then-budding doctoral candidate Daniel Broderick, whom she'd met while visiting a friend in Notre Dame, where he was a premed student, several years prior.
While some nuances of the couple's accounting of their early years differ — in his 1988 interview with the Reader, Dan insisted his med-school coats were not specially tailored or initialed as Betty said, though Dirty John kept that detail in the show — they mostly agree that Betty minded the kids and supported them financially while he was in school.
From Dan's perspective, their marriage was pressurized and rife with discord almost from the outset, though Betty has long maintained that they were happy until Dan — enamored with his status among California's legal elite and removed from the realities of raising their children — began having an affair with his building's receptionist turned personal assistant, Linda Kolkena.
In an interview with the Los Angeles Times less than a month after the murders, Betty told reporter Amy Wallace, "I have never had emotional disturbance or mental illness — except when [Dan] provoked a 'disturbance.'" Over the ensuing three-plus decades, she has reiterated that Dan's leverage over her in endless court proceedings amounted to a kind of abuse while also conceding to almost all her illicit behavior. In that same Times interview, she confirms having driven her car through Dan's front door while the kids were home and, years earlier, lighting fire to his clothes in their yard. (Eldest daughter Kim, played as "Tracy" by Lily Donoghue in Dirty John, testified about these incidents and others, such as Betty smearing a pie all over Dan's bedroom, in subsequent trial proceedings.) And the evidence of her profanity-laced tirades against Dan and Linda — often directly in the ear of her children — were indeed recorded and played back in court.
Betty, who was convicted of two counts of second-degree murder and sentenced to 32 years to life, has repeatedly been denied parole for being "unrepentant." In the interim, she was portrayed in a pair of TV movies by Family Ties's Meredith Baxter and has been the subject of numerous books, including one by Kim (more on her in a bit). She is next eligible for parole in January 2032, at which time she will be 84 years old.
Linda Kolkena Broderick (Played by Rachel Keller)
It's harder to piece together the background details of Linda Kolkena's life than those of her slain husband Dan and the woman who took both their lives, Betty Broderick. That in itself is of a piece with the tragic fact that she is, and was then, the somewhat overlooked casualty of the spousal war between Dan and Betty. Some research does uncover that her father, Arnold, was married multiple times, as Linda had at least two stepmothers. It also appears evident that she and her two brothers Raymond and Roger and sister Maggie grew up in the Salt Lake City area before she made her way further west to California.
Prior to encountering Dan Broderick as a 21-year-old receptionist, Linda had worked as a flight attendant, and numerous accounts from friends and family concur that she was a performative, funny extrovert, whether acting out flight-safety instructions as living-room theater or reenacting scenes from Peters Sellers movies with Dan over dinner. Dirty John puts into relief that Linda was no pushover, either. A scene in which Linda trespasses in Betty's home to recover a wedding guest list, but leaves with more, was taken directly from the housekeeper's testimony.
It is also true that Betty would speak of Linda in wildly profane terms to virtually everyone in her, including her children. Kim even claimed that, not long before Linda and Dan were married, Betty asserted she was "going to kill them. I'm going to shoot them."
On November 5, 1989, Betty Broderick shot and killed Linda Kolkena Broderick, then 28, with a fatal bullet to the head.
Kim Broderick (Played by Lily Donoghue)
None of the four surviving Broderick children had an easy time during their parents' long separation and bitter divorce. There was 11-year-old Danny, who pleaded with Betty on the phone while getting an earful of venom about his soon-to-be stepmom (the tape can be heard at roughly 42:30 into this clip), not to mention younger daughter Lee, who struggled with drug use and testified on her mother's behalf, saying Dan would use words like fat, disgusting, and monster to describe her when she wasn't around. But Kim, the oldest child, had the most complicated relationship with Betty. She was 19 when the murders occurred and 21 by the time her testimony for the prosecution in both trials was complete in 1991. She eventually agreed to a 2014 memoir about her life story and her troubled history with her mother as told by author Nanette Elkins.
While living in the Coral Reef House in La Jolla that Dirty John depicts as a centerpiece of the divorce dispute, Kim attended the private, preparatory Francis Parker School. "They fought a lot, so I didn't think it was a happy marriage," Kim remarked in testimony at the final murder trial in 1991.
Both Kim's court testimony and the revelations in her memoir are steadfast about Betty's volatile outbursts, be it hurling objects at Dan at the dinner table or lighting his clothes on fire, as well as Betty being unrepentant. She even alleges in the book that Betty holds out hope her kids will buy her a condo near La Jolla if she gets released. Kim and Lee — who was 18 when Betty was  arrested — both continued to reside in San Diego in the aftermath of the trial, while Danny and their youngest brother Rhett moved to Colorado in the custody of their aunt Kathy, Daniel's sister. Both Kim and Lee (who goes by her given first name, Kathy) now live in central Idaho.
Brian Forbes (Played as Richard Crowley by Cliff Chamberlain)
When Brian Forbes and his wife, Gail (played as Evelyn by Holley Fain in Dirty John), first met Betty and Dan Broderick, Brian was a second-year grad student at the UC Hastings College of the Law in San Francisco. The Brodericks took them out to dinner, and soon after, Brian joined Dan at San Diego firm Gray, Cary, Ames & Frye. Like Dan, Brian specialized in malpractice. Even after Dan struck out with his own practice, Brian and Dan remained close for the subsequent 15 years. (In a strange irony, Brian would later remarry, to a finance and real-estate attorney named Elisabeth.)
Brain did enter the Brodericks' home shortly after the murders and discover the bodies. However, somewhat different from Dirty John's account, he wasn't aware that anything had happened until the following morning. Betty's boyfriend at the time, a man named Brad Wright, contacted Brian to deliver the news that he had gotten a call from Betty's friend Dian that Betty had likely shot Dan and Linda. Forbes and Wright went to the house together before any law enforcement or ambulances had arrived, and came across the grim scene of Linda and Dan's bodies. He checked both their pulses, and as he testified in court, they had both evidently already died. Brian then called his wife from Brad's car phone and told Gail to "go and get" Danny and Rhett "and get them in a safe place." Brian and Gail soon told the kids that their father had been killed.
Brian passed away in 2018 from Alzheimer's disease. He had five children and two stepchildren, and was noted in an obituary for his ability to "lighten up even the most difficult circumstances."