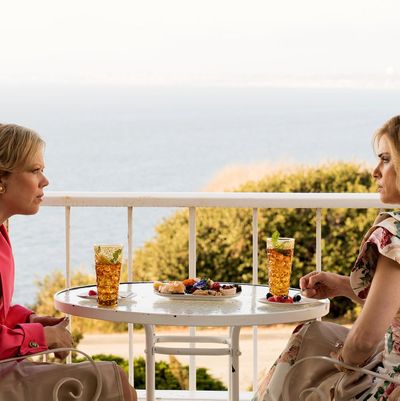 Photo: USA Network/Isabella Vosmikova/USA Network
The debut season of Dirty John focused on one woman's naïveté in the face of a smooth talker who put up an all-too-perfect façade to hide his violent, criminal intentions. Connie Britton, who headlined the first season as a wide-eyed woman in love, moves on to the role of executive producer as the second season shifts to tell another ripped-from-the headlines true crime story. Focusing this time on the sad tale of Betty (Amanda Peet) and Dan (Christian Slater) Broderick, Dirty John now refers to the more global concept of a woman done wrong by a man. (Although Dirty Dan does have a nice ring to it. I'm just saying.)
Most people are at least somewhat familiar with the Brodericks' story. Betty was the mom of four who had worked to put her husband Dan through medical school and law school. When Dan finally found financial and career success, he left Betty for his much younger receptionist. I won't spoil it beyond that, but suffice to say it does not end well.
When we first meet Betty in 1986 she's making sure her hair is perfectly coiffed, her make-up is flawless, and her outrageously expensive outfit is flattering. Her lawyer picks her up for a meeting with her estranged husband Dan and immediately something is off. "This is happening, Betty," he tells her.  But Betty still thinks she has a chance at reconciling with her husband. She refuses to go up to meet Dan and anxiously asks her lawyer what Dan said about her being in the car. Betty's face is crestfallen when she's told he said "nothing." There's that old adage that the opposite of love isn't hate but indifference, and it soon becomes clear that Dan is mostly indifferent to Betty while she is still deeply in love with him.
When Dan gets a court order to allow the sale of their house to go through, an enraged Betty first considers lighting her beloved home on fire before deciding to crash her car into Dan's new house with her two daughters inside. Dan calls 911 and has Betty put on a three-day psychiatric hold. Later, the good-old-boy network is on full display as Dan is chatting and laughing with his golf buddies before the judge grants Dan a divorce without Betty even being in the courtroom. The judge also grants Dan primary custody of their four children. It's rare for the father to get primary custody of the children, and I have to think it was even more of an anomaly in the '80s. Dan asking for custody appears to be more about not wanting to pay Betty child support than his love for his children.
When I was little I used to think if I closed my eyes and I couldn't see anyone they couldn't see me either. I was invisible! Betty, behaving like a toddler whose favorite toy has been confiscated, seems to be taking the same approach: If she ignores the problem it will go away, and tantrums will get her the attention she so desperately craves. "I know this wasn't my idea and I don't pay for things I don't want," she tells her lawyer, who quits representing her soon after. "I can't help someone who won't listen to me or can't," he tells her.
Those problems with listening come up again when Betty is out of the hospital and Dan tells her he wants to break the negative cycle they are in. An ever-hopeful Betty reads meaning into every decision he makes. He won't pay for her lawyer? It must be because he, too, doesn't want a divorce. He sends her and the children on a ski trip in Colorado? It must be because he feels so terrible about what he's done and wants to reconcile.
Throughout "No Fault," we get a few hints about Betty's past that seem to inform her behavior now. Betty's parents are visiting when Betty crashes her car into Dan's house, but they leave while Betty is still in the hospital. Betty's mom refuses to even come to the phone to talk to her daughter, which even Dan seems to know is terrible. We also get flashes of Betty's memories of what her life with Dan Broderick used to be like. Creator and executive producer Alexandra Cunningham has made the wise decision to not shy away from the trappings of Betty's financial comfort, from the beautiful seaside vista of her house to the leisurely lunches with friends to the lavish jewelry and vacations. (With its pulsating of-the-era soundtrack, big hair, and outfits reminiscent of Knots Landing, the series often has the feel of the music videos that came of age in the '80s.)
The episode's most heart-wrenching moment, though, comes when Betty, after a night out with a friend, calls Dan to relive an inside joke. "Do you smell carrots," she asks giggling. To our surprise, Dan doesn't hang up, but laughs along with her. They reminisce together about happier times and we get a glimpse of the rapport the pair once shared. It's a glimpse into the source of Betty's rage as well. Of course she's furious that this man is casting her aside after nearly 20 years of marriage. "People keep telling me to rise above it, move on from it, get over it. I am it," she tells her friend.
Betty's tenuous grasp on reality is on full display in the episode's closing moments. She's still talking about Dan in the present tense telling the unseen man interviewing her "maybe inside I still think he'll see reality for what it is." When the interviewer reminds her that Dan is dead, she deadpans "I'm amazed it only took one bullet to kill Dan Broderick."
Thoughts for your '80s Mixtape:
• The episode ends with the disclaimer "While this program is based on real events, some scenes and characters have been dramatized and fictionalized." Of note, the names of Betty and Dan's four children have all been changed in the series.
• It appears that there's no way to watch the 1992 CBS movie A Woman Scorned: The Betty Broderick Story starring Meredith Baxter and Stephen Collins, which is a shame. I feel like an entire thesis could be written comparing and contrasting the two highest-profile takes on the tragedy.
• Andy Buckley, who plays Betty's exasperated lawyer, will always be David Wallace from The Office to me.