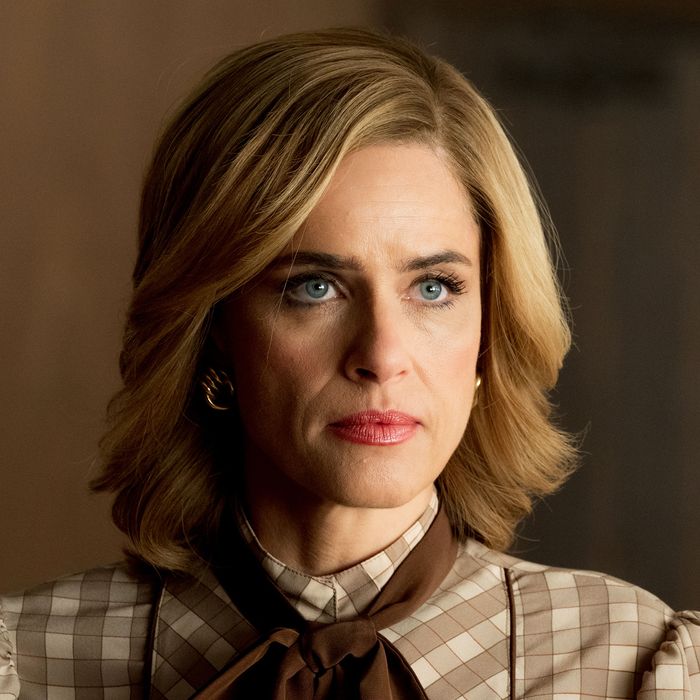 Photo: Isabella Vosmikova/USA Network
In "The Shillelagh," Betty does what has made this a story people are still making TV shows about more than 30 years after the fact: She breaks into Dan and Linda's house and murders them both in their sleep. Dirty John makes an interesting choice not to show Betty in their bedroom shooting them. We see her steal her daughter's house keys. We see her drive to Dan and Linda's house. And then we see a series of people who received a call from a distraught and in denial Betty that night. But, to quote a movie many of you probably watched over the weekend, there were only three people in "the room where it happened," and two of them are dead. We may never know what really transpired that night since Betty, an unreliable narrator if there ever was one, is the only one left to tell the tale.
There was a lively debate after last week's recap about the show's decision to have Amanda Peet's version of Betty still look relatively put together. In real life, it is well documented that Betty Broderick gained a lot of weight, stopped caring about her appearance, and, to use an insulting phrase too often aimed at women, "let herself go." In "The Shillelagh," Betty's appearance begins to disintegrate. She's no longer dyeing her hair. She dons some very unfortunate and ill-fitting tracksuits. But Peet still looks fairly good and certainly much better than Betty Broderick did in real life. This remains a wise choice made by showrunner Alexandra Cunningham. For starters, I'm not a fan of putting actors in fat suits or having them gain an inordinate amount of weight for a role. If Peet had done either of those options, I can guarantee there would have been an onslaught of stories about the fat suit and/or the weight gain. It would have detracted from Peet's truly amazing and transformative performance. By keeping Betty looking relatively put together, we can really focus in on Betty's mental state, how tenuous her grasp of reality is, and how her outrageous behavior, no matter how justified, led to the horrific tragedy.
As previously entered into evidence, Dan most definitely has a sensitivity chip missing. He and Linda get married in April, the same month Betty and Dan got married. Dan wears a morning coat for his second marriage when he refused to wear one in his first. "My mother was humiliated," Betty remembers. Dan and Linda go on a honeymoon to the Caribbean, which apparently is where Betty and Dan went. The minute they get home from the honeymoon Linda records the outgoing answering machine message. She's no longer the girlfriend. Now she's the wife  and can coo on the machine, "Hi, we're back all tan and rested. Please leave us a message." They could have chosen any month to get married and gone anywhere for their honeymoon. Linda's voice doesn't have to be the one on the answering machine. The lovebirds do nothing to mitigate Betty's anger and instead fuel the flames.
As he did in their marriage, Dan ignores Betty and specifically the threat that she poses. Sure, he hires security for his wedding, but that's merely to appease Linda. When his friend Richard worries that Betty is casually telling everyone that she used to be an intramural sharpshooter in college, Dan dismisses him. "She's not going to kill the golden goose, Richard. She just isn't," he says. Dan isn't concerned that Betty has a gun. "She wanted me to tell you, that's why she showed it to you guys," Dan tells his son. He thinks Betty is all talk.
Betty's friends are so worried that she will do something to disrupt the wedding that they have beepers to send a "911" message if they can't locate Betty. Her friend Karen (Missi Pyle) spends the whole day with her. "I know this day was hard, but it's over now," she tells Betty. But even her most sympathetic friends have grown tired of her negative vitriol. They don't want to have lunch with her since they want to discuss Field of Dreams and Betty just wants to complain. We've all been there with a friend who is so overwhelmingly negative that you just don't want to be around them anymore. Even the show seems tired of Betty's behavior, as most of the awful things she does are seen in the abstract. We no longer hear the messages Betty is leaving, just Dan telling her lawyer that she's still leaving them.
Betty steals Dan and Linda's invite list and calls up people to say things like "I just felt like you should know you're not invited." But the Betty who fights is better than the sad Betty who has lost all hope, who lies in bed crying and can't stop sobbing in front of her son. The Betty who says bizarre things, like she's going to buy herself an expensive watch and get it engraved with Dan and Linda's wedding date, is preferable to the Betty who is completely despondent. After Dan gets married, Betty has nothing left to fight against. He's re-married. She cries all the time, sometimes to strangers at a bar. The life has been sucked out of her.
In this episode we see Linda as the giggly young bride. She's bedazzling a shirt to wear for her bachelorette party and horrifying her friends with her rendition of the messages Betty leaves on their machine. But she also breaks into Betty's home looking for her wedding list and instead takes the journal. "You trespassed and stole her property. That's what she does. Not what we do. We do not do that," Dan tells her.
Dan Broderick was not a great guy and his cruel treatment and callous indifference to the mother of his four children was terrible. But he and Linda didn't deserve to die because of it.
Thoughts for Your '80s Mixtape:
• Once again, there's no great 1980s flashback song to add a bit of relief to what's happening. But this time we get to hear from the mixtape Betty has put together featuring Neil Diamond's 1966 hit "Cherry Cherry."
• "The Shillelagh" refers to the football trophy awarded to the winner of the Notre Dame/USC football game. But interestingly, a shillelagh is also a type of weapon.
• I still don't understand how Betty was allowed to get a job at a preschool. Were background checks for criminal records not a thing back then?
• It is amazing to me that the four Broderick children survived all of this. What a tragic childhood.