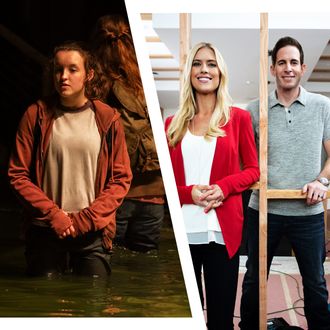 The Last of Us; Flip or Flop
.
Photo-Illustration: Vulture. Photos: HBO; Getty Images
Credit where it's due: The streaming service with 90 Day Fiancé, Ghost Brothers, and Naked and Afraid of Love has staying power. The Wall Street Journal reports that Discovery+ will not disappear from the earth after it gets merged with HBO Max later this year. The combined service is still happening and will include all the content on both streamers, but Discovery+ will "stay on the market," a spokesperson confirmed to Vulture. It will be a stand-alone entity that you can still subscribe to without having to also pony up for all that fancy HBO content.
"The decision to keep Discovery+ is part of an effort to avoid risking losing a significant chunk of the app's 20 million subscribers who might not want to pay the higher price to access that content," the Journal reports. Discovery+ is profitable, and there are concerns that its audience won't turn out in droves for a flashy, new, marked-up service. 90 Day Fiancé undoubtedly engenders a certain die-hard loyalty, after all, but the company is skittish on testing it for a price point higher than $4.99 a month (ad-supported) or $6.99 a month (ad-free). A subscription to Discovery+ is half that of HBO Max ($9.99 a month with ads, $15.99 a month without), and the audience that binges all that reality-TV programming doesn't always overlap with the one that watches The Young Pope or the Criterion Collection. And churn is more common now than it was last year — before the newly merged Warner Bros. Discovery shifted toward one streaming strategy.
So Discovery+ will stick around. And keeping it makes some sense given all the other streaming plates the company's spinning right now: WBD is still moving toward a larger, flagshippier service than what HBO Max and Discovery+ currently look like — one that includes all the programming available on both services. (As for more specific details on pricing, timing, and whether they intend to call it "Max," mum's still the word from the company.) WBD is also now licensing a ton of its notable original programming to FAST channels like Tubi and Roku, complete with a bunch of live channels on those services. It's trying to build a free, ad-supported streaming service of its own as well.
With all that in motion, WBD has no reason to futz with a product already making dough — especially one that can still merge into the flagship streaming service it first hyped last year (complete with oddly gendered PowerPoint slides). We just hope it doesn't randomly disappear more of its most beloved programming on the way.