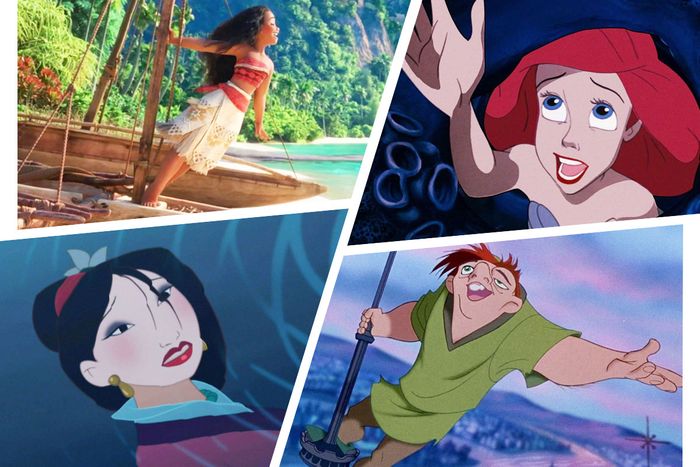 No matter how you might feel about Flounder's lip filler, Disney's new live-action remake of The Little Mermaid has at least one thing going for it, and that's the iconic music from the songwriting team of Howard Ashman and Alan Menken. The original 1989 film marked the pair's first collaboration with Disney, following their theater success with Little Shop of Horrors. That musical-theater sensibility, with Ashman as lyricist and Menken composing, helped revitalize the studio's flailing animation department, and the success of Mermaid ushered in what is now referred to as the "Disney Renaissance." The pair continued to work together, making music for Beauty and the Beast and Aladdin, until Ashman's untimely death from AIDS in 1991. Three decades after his death, Ashman's impact on Disney animation and the genre as a whole has stood the test of time.
One of Ashman's many great contributions to the House of Mouse was introducing the studio to the concept of an "I Want" song. An "I Want" song, as he explains in the Disney+ documentary Waking Sleeping Beauty, is a number early in a musical where "the leading lady sits down on something and sings about what she wants in life, and the audience falls in love with her and then roots for her to get it for the rest of the night." By expressing this desire in a song, Ashman says, it makes the point impossible to miss. While there are some songs in earlier movies that could be considered "I Want" songs, like Snow White's "I'm Wishing," it was Ashman and The Little Mermaid's "Part of Your World," in which Ariel sings about her desire to become human, that truly codified what a Disney "I Want" song sounded like.
In the Disney+ documentary Howard, which is about Ashman's life, producer Don Hahn explains just how important Ashman was to Disney as we know it. "Howard sat down when he first got there, and using The Little Mermaid, he literally taught us how to tell story with songs."
That lesson from Ashman was well taken, with the "I Want" song becoming an instant staple of the Disney formula and remaining a part of it to this day. Here, we rank every "I Want" song featured in a Disney animated musical since The Little Mermaid set the standard back in 1989.
14. "One Jump Ahead (Reprise)" (Aladdin)
Aladdin was always Ashman's passion project, but because of his death, Menken wrote this song with lyricist Tim Rice. Interestingly, Ashman did write a more traditional "I Want" song for Aladdin that ultimately didn't make it into the movie. However, that song, called "Proud of Your Boy," in which Aladdin sings about wanting to make his mother proud, did make it into the Broadway adaptation. Had the song made it into the movie, it would have likely jumped ahead (pun intended) a few spots on the list for giving us a deeper look at Aladdin's motivations and backstory.
13. "Just Around The Riverbend" (Pocahantas)
The greatest strength of this song is the booming orchestration that perfectly scores the roaring river we see onscreen. Unfortunately, the weakness of the song is that it doesn't necessarily tell us what Pocahontas wants, except the fact that it's something. This dilemma was clear in the development, with lyricist Stephen Schwartz feeling stuck on how to begin her journey musically, since her "want" didn't appear to materialize until the arrival of John Smith. It was Schwartz's wife, Carole, who suggested that her "want" be for something to happen. The result is reminiscent of "Something's Coming" from West Side Story — a fitting parallel, as both stories were based on Romeo and Juliet. Still, it's hard to get too worked up about an "I Want" song that's this unspecific.
12. "Out There" (The Hunchback of Notre Dame)
If there's one lesson to be learned from Disney movies, it's that people do not like being locked away in towers. "Out There" starts off as a haunting dialogue between Quasimodo and Frollo in which he calls him ugly, until it eventually builds to a booming plea from Quasimodo, who dreams of being among the outside world that he watches from above — even just for a day.
Though a perfectly solid, by-the-book "I Want" song, it's not one that has really had a life of its own beyond the film. While many of these songs have become iconic independent of their respective movies, you're probably not hearing "Out There" quite as much unless you're watching The Hunchback of Notre Dame. Very apropos of it to be cast aside by society like this.
11. "Almost There" (The Princess and the Frog)
Speaking of being locked away in a tower, that's where I'd always assumed Pixar was keeping Randy Newman. But lo and behold, Newman escaped the clutches of the Pixar lamp to also write the music for The Princess and the Frog. In "Almost There," Tiana (voiced by Anika Noni Rose) sings about wanting to fulfill her father's dream by opening up her own restaurant. The jazz genre fits the film's New Orleans setting, and the animation even switches to an Art Deco look to make the photo of Tiana's dream restaurant come to life. What the upbeat song lacks, however, is the emotional appeal that makes the audience invested in Tiana's dream. That gut punch instead happens earlier in the film via the scenes between young Tiana and her father.
10. "Into the Unknown" (Frozen II)
Is "Into the Unknown" an "I Want" song? Maybe, kinda, sorta? Frozen II subverts Disney's formulas and patterns more than any other film, so it's only fitting that its version of an "I Want" song be just as unconventional. If anything, "Into the Unknown" might be an "I Don't Want" song, or at least it starts out that way with Elsa pleading for the voices calling her to stop. She doesn't want to risk losing the happy ending she got at the end of Frozen, but as the song progresses, her temptation to follow the voices "into the unknown" grows.
On musical merit alone, this song and Idina Menzel's performance would rank much higher on the list. But, owing to the muddled nature of the "I Want" element, it sadly gets bumped down a few spots.
9. "For the First Time in Forever" (Frozen)
This song from Kristen Anderson-Lopez and Robert Lopez is unique not only because it covers the "wants" of two separate characters, but also because their respective "wants" are so different. While Anna sings an excited, upbeat tune about getting to finally open the palace gates, a brooding Elsa jumps in with her desire to conceal her powers and shut everyone out. The song's conflicting desires catapult the story into action, while also setting up the lyric "Why have a ballroom with no balls?" That being said, it only just begins to scratch the surface of the sisters' desires, which are far more complex than this song alone is able to cover. But to be fair, it is pulling double duty.
8. "I Just Can't Wait to Be King" (The Lion King)
One of the more unconventional "I Want" songs, "I Just Can't Wait To Be King" isn't meant to garner sympathy for our protagonist, but rather showcase a fun immaturity that demonstrates how much growth is still required until he's ready for what he wants. The cheeky performance displays Simba's playful innocence, just before the film shatters that innocence with the death of his father. Famously scored by Elton John with Tim Rice as lyricist, the song also makes the case for Rowan Atkinson to get more features — put him on any track, you can't go wrong.
7. "Waiting on a Miracle" (Encanto)
Disney's latest entry on this list is also arguably the saddest. After delivering an absolute bop where she quite literally sings her family's praises with "The Family Madrigal," Mirabel makes a sharp pivot tonally — highlighting the happy façade that she puts up for those around her. In "Waiting on a Miracle" she sings about being the outsider in her family as the only one without powers and how desperately she wants to fit in. Unlike the other songs in the film, Lin-Manuel Miranda wrote this one in triple meter (inspired by the Colombian bambuco genre) to symbolize the disconnect between Mirabel and her family. That disconnect can also be heard in Stephanie Beatriz's deeply emotional performance, which is even more remarkable when considering that she was actually in labor while recording the song.
6. "When Will My Life Begin?" (Tangled)
As you'll remember from "Out There," Disney already has a song about someone being locked in a tower and wanting out. So how does Tangled approach that scenario without being repetitive? The answer is by adding some complexity to our protagonist's perspective and showing Rapunzel's evolving feelings on the situation as the song progresses. We slowly see her, seemingly content in her routine at the beginning of the song, begin to question that monotony as it progresses and to flirt with the idea of freedom — particularly as it relates to the mysterious lanterns.
With a guitar-heavy score from Alan Menken (and lyrics by Glenn Slater), the song hits the perfect balance between the classic Disney sound that Menken is known for and something new and fresh sonically. And by singing about all the ways Rapunzel spends her time in her confinement, it helps the animation be visually active and exciting despite being geographically limited. Bonus points for Mandy Moore because Mandy Moore always warrants bonus points.
5. "Go the Distance" (Hercules)
Has a French horn ever been as rousing as the one in "Go the Distance"? Those five notes, along with the rest of the instrumental that comes in after, give this song a God-like sound fit for Mount Olympus. Caught between two worlds, a 15-year-old Hercules (with his big ol' Baby New Year ears) sings about finding where he belongs. It's the only song in the film that Hercules (Roger Bart) sings, which is a testament to how effective it is at getting the audience invested in his story. He's a one-hit wonder because one hit was all he needed, and as a bonus, the song's efficiency leaves more room on the soundtrack for the Muses.
4. "Reflection" (Mulan)
After a failed meeting with a matchmaker, Mulan (voiced by Lea Salonga) sings this Matthew Wilder–and–David Zippel–penned song about wanting to be her true self without disappointing her family. Staring at her own reflection in the water, Mulan wishes for it to reflect who she feels she really is inside. That message has given "Reflection" a reputation as a queer and trans anthem, particularly in light of the film's gender-identity subject matter.
Many also credit the song with launching the career of Christina Aguilera, who recorded a hugely successful cover of it for Disney ahead of her debut album with RCA. She once again covered the song in 2020 for the live-action remake (which, inexplicably, was not a musical).
3. "Belle (Reprise)" (Beauty and the Beast)
Don't discount Beauty and the Beast's "I Want" song because it's merely a reprise. It's one-half of a two-hander, one that tells us everything we need to know about the story when complemented, perfectly, by the preceding opening number. In "Belle," we're introduced to the poor provincial town that Belle drags to filth for having the "same old loaves and bread" and not having enough books. And then in the reprise we get to hear what it is that Belle wants instead: "adventure in the great wide somewhere."
Originally, the film wasn't intended to be a musical, with director Gary Trousdale describing an early reel as uninspired "animated masterpiece theater" — so Ashman and Menken were brought in to work their magic. According to Menken in the documentary Howard, though, after writing "Belle," Ashman was reluctant to send it to the studio, telling him, "We can't send it, we're gonna get laughed at. Who asked for a six-minute opening number?" But those six minutes, plus the gorgeously animated reprise in which Belle runs out into a field, Sound of Music style, instantly immerse you in this rich world and make you invested in her story (and also invested in the story of the lady who needs six eggs. Actually, on second thought, maybe this is really her "I Want" song instead of Belle's?).
2. "How Far I'll Go" (Moana)
Before "How Far I'll Go," Lin-Manuel Miranda's first draft of Moana's "I Want" song was a tune called "More." Ultimately, durinng the writing process, Miranda realized that there were complexities to Moana's desires that "More" just didn't cover — namely, the fact that she's juggling this want for more with a respect and love for what she already has. So Miranda went back to the drawing board and was eventually able to perfectly capture that sentiment with "How Far I'll Go," which conveys the nuance of Moana seeking adventure despite (not because) of what the island has to offer.
Her reckoning with those conflicting emotions also translates to the screen, where we see the character tread back and forth between the sea and her island as she tries to suppress her calling and convince herself that she's content. You can even hear that internal back and forth in the music. As she sings about staying on the island, the song's rhythm sounds like an obligatory march forward, but during verses about the sea, the tune effortlessly soars. Without the lyrics themselves ever even saying a bad word about the island, the song is still able to make us root for Moana to pursue that adventure.
1. "Part of Your World" (The Little Mermaid)
Even if it weren't top of mind thanks to Halle Bailey's stunning rendition of it in the remake, "Part of Your World" would still rank first by miles. It's the epitome of the genre, setting up the story on every level. It tells us everything we need to know about Ariel's fascination with the land and her relationship with her father, and it's beautifully sung by Jodi Benson — fresh from a Broadway role in Howard Ashman's Smile. Plus we get iconic lyrics like "whozits and whatzits galore" and "what's that word again?" — like she's Hilaria Baldwin looking at a cucumber.
But one of the most surprising parts of the song's history is that it was nearly cut from the film altogether. After what was considered a poor reception of the unfinished sequence during a test screening (which Benson blames on one restless kid spilling his popcorn), Walt Disney Studios chairman Jeffrey Katzenberg became adamant that the song was too boring and had to be cut. "Howard Ashman said over my dead body, I'll strangle you," an embarrassed Katzenberg later recounted in Waking Sleeping Beauty. "Ultimately he was right."
Thankfully, the song survived, becoming not just the gold standard for "I Want" numbers but one of the most iconic numbers in the Disney songbook.