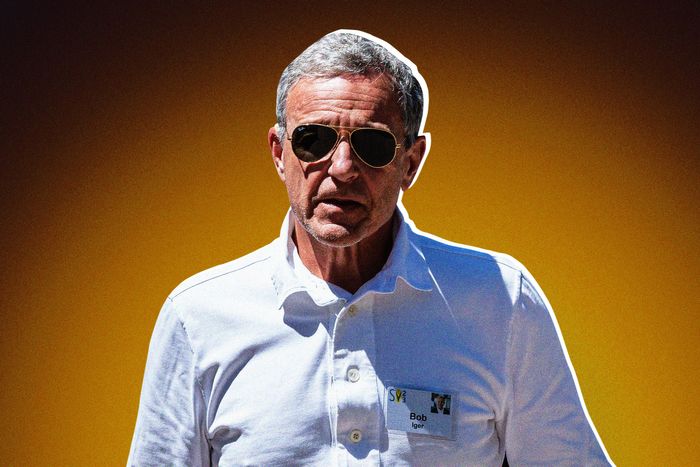 Photo-Illustration: Vulture. Photo: David Paul Morris/Bloomberg via Getty Images
On August 23, a group of Disney shareholders filed suit against the entertainment giant claiming that executives had misled investors about the profitability of Disney+ while the company's stock dropped, causing "significant losses and damages." The Delaware federal court lawsuit was filed just months after another group of shareholders sued Disney that similarly alleged financial misstatements about its streaming platform. Disney CEO Bob Iger as well as former CEO Bob Chapek and a handful of other company higher-ups are named as defendants in the new lawsuit.
Meanwhile, Disney is fighting legal battles in several Florida courts involving Republican governor Ron DeSantis's Parental Rights in Education Act, often referred to as the "Don't Say Gay" bill. After Disney voiced opposition to the legislation — which largely bars discussion of sexuality and gender in public schools — DeSantis tried taking away the company's status as a self-governing district. In one suit, Disney has accused DeSantis of punishing the company for expressing its First Amendment right. In another legal dispute, Disney and DeSantis are wrangling over the special district in which its theme parks are located. While Iger's comments opposing the legislation, including a tweet where he said the legislation "will put vulnerable, young LGBTQ people in jeopardy," seemed to suggest some awareness of social justice, he's since emerged as a sort of corporate villain figure during SAG and WGA negotiations. He described writers' and actors' push for simple labor protections "just not realistic," while raking in nearly $30 million in salary and stock options.
Here is a breakdown of some of the legal battles happening inside the Mouse House.
What is the new shareholder lawsuit about?
In the shareholder lawsuit filed last month, Stourbridge Investments LLC claims that financial shenanigans unfolded surrounding company restructuring — and largely laid the blame on former CEO Bob Chapek. The suit says that in October 2020, Disney said that it was changing the structure of its media and entertainment operations to ramp up its direct-to-consumer approach in the wake of Disney+'s success. Chapek expressed optimism about the strategy in an interview with CNBC quoted in the suit, saying, "We believe that we've got the opportunity to build upon the success of Disney+, which by almost any measure has been far and above anybody's expectations and really use this to catalyze our growth and increase shareholder wealth."
Without going too far into the weeds — and there are so many weeds in shareholder suits — the reorganization basically allowed execs to obscure problems with Disney+'s earnings, the lawsuit says. Per court papers, Disney "repeatedly misled investors about the success of the Disney+ platform by concealing the true costs of the platform, concealing the expense and difficulty of maintaining robust Disney+ subscriber growth, and claiming that the platform was on track to achieve profitability and 230-260 million paid global subscribers by the end of fiscal year 2024." The projections, it turned out, were only that. Disney's second-quarter results for fiscal 2023 revealed that Disney+ had lost subscribers for the second consecutive quarter. Indeed, during that period, the platform hemorrhaged 4 million paid subscribers compared to the previous quarter. And while streaming revenue went up 12 percent, it was "in part due to recent price hikes necessitated by the streaming service's horrendous losses," the suit said. The other suit, which was filed in California federal court on May 12, effectively makes the same allegations.
So, can shareholders just sue when profits go down?
Disney has a "fiduciary duty" to do what is in the shareholders' best financial interest, but there's always risks in this kind of stuff, even if you do the most risk-averse thing, like putting money in a retirement account through an employer. Scott Silver, a longtime securities attorney in Florida focusing on financial misconduct, told Vulture: "A company can't be found liable for making a bad business decision … just because you zigged where you should have zagged, you didn't necessarily violate the law."
However, investors can sue if something goes awry because of unlawful behavior — or if scheming execs try to sweep it under the rug in a way that goes against reporting obligations. This is where the shareholder lawsuits come in. Disney execs, per court papers, engaged in a "conspiracy" to hide "breaches of fiduciary duties, unjust enrichment, gross mismanagement, and abuse of control; and (b) disguise and misrepresent the Company's actual business and financial prospects. They did so by purposefully, recklessly, or negligently releasing improper [financial] statements." So, it's not so much the lackluster results from Disney+, but allegedly misstating its potential growth. Hiding data, Silver explained, "could be a violation of law."
Didn't Disney recently win a shareholder lawsuit?
Disney did see a legal victory in a shareholder lawsuit alleging its opposition to DeSantis's "Don't Say Gay" bill, which resulted in the governor trying to remove its special tax status. The shareholder claimed that Disney's opposition to this bill harmed its bottom line and alleged that its public position was negligent, per Deadline. A judge decided in late June that while "weighty public policy questions surround the margins of this lawsuit," the litigation was "quite simple." Per the judge, "The plaintiff and his counsel may disagree with Disney's position on [the bill]. But their disagreement is not evidence of wrongdoing," Bloomberg reported.
Do shareholder lawsuits ever go anywhere?
Yes. "Shareholder lawsuits and class-action litigation are very prevalent and hundreds if not thousands are filed each year covering a fairly large amount of issues against companies primarily for misstating their financial situation and other issues in the marketplace," Silver said. "They play a very important role and at times can have a very substantial financial impact on the company. Some shareholder lawsuits might result in a nominal financial impact on a company, but it can keep the company legitimate and honest, and make sure that it's probably making representations to the public and their Security and Exchange Commission filings." When a company is found to have engaged in extreme wrongdoing, these lawsuits can — and often — result in a "very substantial award to investors."
What about the messy Disney v. DeSantis drama?
Disney publicly opposed DeSantis's "Don't Say Gay" bill after getting flack for not speaking out about the anti-LGBTQ+ legislation. DeSantis responded by taking control of Disney's self-governing district and creating a state-run district. Disney effectively outsmarted DeSantis by having predecessors of this state board stripped of its power, according to CBS News. DeSantis's administration sued Disney over the end run; the company, in turn, filed a counterclaim, per the Associated Press. Meanwhile, Disney is suing DeSantis on First Amendment grounds over his retaliation against their opposition to his anti-LGBTQ+ policy, CBS explained. DeSantis's administration, for its part, maintains that Disney can't sue him for his actions in relation to the Disney district's governing board because he has "sovereign immunity" protecting him from litigation.