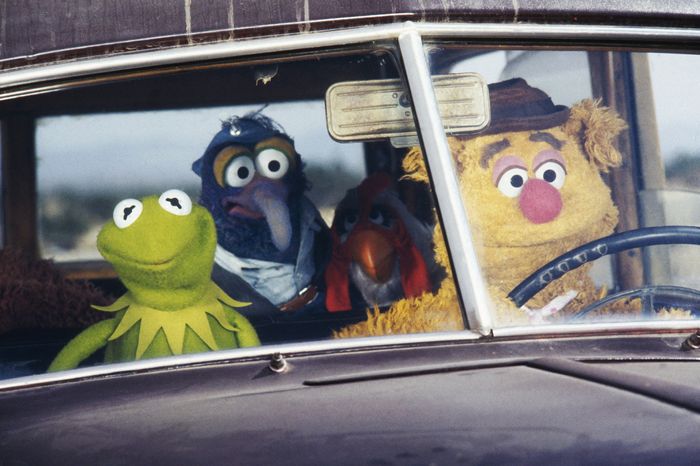 The Muppet Movie.
Photo: Henson Associates/Courtesy Everett Collection
This story was originally published in 2019 and has been update to include more titles.
It is easy to put together a list of the best movies on Disney+: Grab a handful of Pixar movies, sprinkle in some old-school animation, give it a dash of Marvel and Star Wars, and stir (using Forky, if you wish). The real trick, particularly with a service that runs as deep as Disney+, is to look past the obvious films. Here, our choices for the best underappreciated movies on Disney+ for parents — twenty titles that will make your kids a little bit wiser and more plugged in than the rest of their classmates.
Miracle on 34th Street (1947)
Maybe the greatest Christmas movie ever, this Oscar-winning 1947 family film is an impressively grown-up look at holding onto the spirit of the season, even if the holidays are overrun by cynicism and commercialism. Edmund Gwenn took home an Academy Award for his role as a kindly old man who descends upon Manhattan claiming to be the real Kris Kringle. Not only does Gwenn look the part; the actor's no-nonsense but warmhearted portrayal gave us that rare tough-love Santa who, above all else, is inspiringly noble and decent.
Sleeping Beauty (1959)
Neither Maleficent movie has done justice to just how imposing Sleeping Beauty's villain is. Indeed, she's the main draw of this underrated 1959 animated film, a widescreen Technicolor colossus that's more about its astounding visuals than its good-enough story. (The film was originally released in 70-mm. in some theaters.) Other Disney movies are sweeter or more beloved, but this one is rich in mood and texture — you can get lost in its beauty.
The Black Hole (1979)
It's ironic that Disney now owns Lucasfilm considering that, back in the 1970s, the studio just tried aping Star Wars. Drawing from that blockbuster as well as 2001, The Black Hole is a moody, somewhat schlocky, really endearing sci-fi/action/adventure/horror flick concerning a crew of explorers that meets up with a desolate ship parked right outside a black hole. Bad things await our heroes, although your kids should enjoy the trippy, cheap effects and John Barry's grandiose score.
The Muppet Movie (1979)
Because your kids ought to know where "Rainbow Connection" comes from, right? Better than any Muppet movie that's come around since, the original perfectly captures the smart-ass humor and sincere sentiment that were always inextricably linked in Jim Henson's enduring creation. Also, it is very nice to be reminded how these characters' voices used to sound — none of the talented subsequent voice artists have ever gotten them quite right.
Tron (1982)
It's cheating, of course, but this really is the best video-game movie ever. True, writer-director Steven Lisberger didn't base his novel vision on a preexisting game, but in terms of emulating the form's structure — a noble hero in a fantastical realm proceeding through different levels, using tools he acquires along the way to reach an ultimate goal — Tron is more imaginative and definitely a lot more fun than the competition. We're still mad that light cycles aren't a thing. And we dig the 2010 sequel, too.
Splash (1984)
Did you realize that this was Tom Hanks's first starring role? And that before this, he was primarily just known as either the Bosom Buddies guy or the uncle from Family Ties? Hanks is instantly likable as a down-on-his-romantic-luck New Yorker who ends up falling in love with … a mermaid (Daryl Hannah). It's a ridiculous concept, but Hanks sells it for all it is possibly worth, and director Ron Howard gives us a light, optimistic tone that is irresistible. There is no reason this concept should work, let alone still hold up nearly 40 years later, but somehow it all does.
Who Framed Roger Rabbit (1988)
Who Framed Roger Rabbit remains an absolute hoot — funny and endlessly inventive — but watching it today, the most impressive thing might be … Bob Hoskins? A man capable of playing snarling dregs of humanity, but here, Hoskins is light on his feet, at one point even being a literal tap dancer. Yet he still seems a little bit grouchy throughout in a way that works wonderfully. Oh, yeah, there's also a scene where Daffy Duck and Donald Duck play a piano number together. It's Who Framed Roger Rabbit. You know what you're getting here, and it's still a joyful, hellzapoppin' ride.
The Hunchback of Notre Dame (1996)
The last of the great films of the Disney animation renaissance — following The Little Mermaid, Beauty and the Beast, Aladdin, The Lion King, and Pocahontas — The Hunchback of Notre Dame is the darkest and most brooding of all of them. But don't be scared! It's still a blast, and it has a lasting lesson of acceptance, tolerance, and empathy.
Holes (2003)
A family film that's a little darker (but not too dark) and a little bit more ambitious than you might be expecting — in a way that feels almost '70s-esque in its detail and scope — Holes tells the story of an unlucky kid (Shia LaBeouf, who is great) wrongly sentenced to a juvenile detention camp. There, under the auspices of a strict warden (Sigourney Weaver), he and other inmates dig holes for reasons that aren't explained … until they slowly become clear. Holes is so funny and smart, with a lot on its mind, that it almost feels unfair to call it a kids' film at all.
Miracle (2004)
Director Gavin O'Connor signed up for the challenge of dramatizing perhaps the most widely known and unlikeliest patriotic moment in American sports history and … somehow makes it even more inspirational. Kurt Russell may have been a great Snake Plissken, but he was born to play a hockey coach. It feels good to root for America again, doesn't it?
Millions (2004)
Danny Boyle's most plaintive and earnest movie concerns a Catholic school boy in England who discovers a satchel full of money and decides, unlike nearly every other character in every movie with a similar plot, to give it away to the poor and needy. This is a deeply goodhearted movie with Boyle's signature panache: Millions is basically the opposite of his Trainspotting.
Bolt (2008)
One of Disney's more meta efforts of late, this film introduces us to an adorable dog named Bolt (voiced by John Travolta) who's the star of a kids' show, mistakenly believing he's got the same superpowers as his TV character. Thus ensues a road trip to get home amid plenty of funny/poignant moments about coming to terms with who you are. (Also, there's some clever showbiz satire.) Bolt never reaches Pixar's razzle-dazzle brilliance, but the movie has a big heart and is just too damn cute to resist.
WALL-E (2008)
Odds are your kids are more into Toy Story or Finding Nemo or even the Cars movies, but this remains the greatest Pixar film: an ambitious, almost experimental (the first half-hour has no dialogue) look at a futuristic world destroyed by mankind … and the robot who saves it through the simple act of falling in love. Moving, sad, wistful, and incredibly funny, WALL-E feels even more relevant today than it did a decade ago.
The Princess and the Frog (2009)
The emergence of Pixar briefly made Disney stop working on traditional animated films, but it went back to the well with this sharp, snappy, and charming fairy-tale retelling. Set in New Orleans, The Princess and the Frog was one of the first Disney films to feature an African-American protagonist, a princess no less. It was ahead of its time: A financial disappointment in 2009, one suspects it would do gangbusters in 2019.
Tangled (2010)
You and your family have watched Frozen a trillion times by now. We humbly suggest that the movie Disney Animation Studios released right before is actually better, boasting funnier jokes, richer characters … and, yes, superior songs. Actively catering to both boys and girls, Tangled redoes the Rapunzel story, giving it humor, heart, and action. We defy you not to get teary during its note-perfect finale.
Winnie the Pooh (2011)
Unabashedly old-fashioned in its humor and gentle sweetness, this Winnie the Pooh refuses to hip up the characters or bend to modern sensibilities. Instead, the movie, which runs just barely over an hour with credits, features all your favorite characters frolicking through the Hundred Acre Wood. Turns out, that's plenty enjoyable. The film will be a blast of honeyed nostalgia for parents who grew up with Pooh and his posse, and kids might find these unhurried adventures to be a nice change of pace from the adrenalized entertainment they usually consume.
Muppets Most Wanted (2014)
A commercial stiff that failed to capitalize on the 2011 reboot's success, Muppets Most Wanted is actually a funnier, goofier affair than its predecessor — and we like the songs better, too. This sunny satire of sequels in a franchise-crazy era teams the Muppets with a very game human cast, which includes a magnificently silly Tina Fey and a shockingly enjoyable Ricky Gervais. The gags are a pile-on of groaners, dopey puns, and some excellent running jokes; you might need to see the movie twice just to catch them all. This sleeper is so delightful that you'll want to anyway.
Queen of Katwe (2016)
What could be — and, at times, is — a familiar, even clichéd story about a poor Ugandan girl who finds a way out of her and her family's circumstances through chess, Queen of Katwe is inspirational while being more original in its execution than in its concept. It doesn't follow all the contours of a sports film, but it still reaches those highs, at the right moments. It also features wonderful performances from Lupita Nyong'o as the girl's mother and David Oyelowo as the man who introduces her to the world of chess. It's not always the most rigorous film, but it is undeniably a feel-good one.
*A version of this article appears in the December 23, 2019, issue of New York Magazine. Subscribe Now!