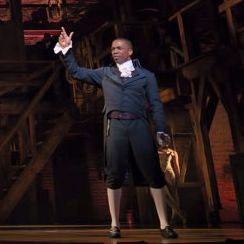 Disney calls its employees "cast members," too.
Photo: Disney+
This story originally ran on November 12, 2019. It's being republished today now that Hamilton has arrived on the service.
It's finally here: Disney+, the years-in-the-making streaming platform devoted to (almost) all things Disney, Marvel, Pixar, and Star Wars went live early Tuesday morning. While Netflix still has a decent sampling of Disney content, many of those titles have started disappearing and will continue to do so over the next year or so as Disney moves its most important movies and TV shows over to its own service. If you're wondering exactly what's on Disney+, or you simply want to know how to sign up and how much it'll cost, we're here to help.
What movies and TV shows are on Disney+? What does Disney+ include?
Disney says its new streamer has launched with "nearly 500 films and 7,500 episodes of television from Disney, Pixar, Marvel, Star Wars, National Geographic," as well a few titles from its newly acquired 20th Century Fox library, such as The Sound of Music and 30 seasons of The Simpsons. The vast majority of the service is older stuff, but what stuff it is: All the classic Disney and Pixar animated titles, tons of so-bad-it's-awesome movies from the '70s, '80s, and '90s (Herbie Rides Again, anyone?), and all the shows millennials and Gen Z watched on the Disney Channel. There's also a smattering of originals, most notably the first-ever live-action Star Wars series, The Mandalorian. If you want to see a list of most Disney+ titles, including which Marvel films are included, this epic Twitter thread should do the trick. And if you want to know why you can't find any serious dramas or edgy comedies on Disney+, this story explains why the service is just one part of Disney's streaming strategy.
How much does Disney+ cost?
You've got options! The basic price is $6.99 per month. You can also pay for a full year in advance for $69.99, which works out to $5.83 per month.
Can I get Disney+ for free? And What is the Verizon and Disney+ Deal?
Yes, but it could require a big life change (read: a new cell phone carrier or internet service provider). If you're a Verizon wireless customer with an unlimited plan, or you have a Fios plan, you're eligible for a free year of Disney+. You should've already gotten an email or text about this bonus, but if you don't see any messages, contact Verizon customer service and ask what's up.
If you're not with Verizon (or don't know someone with Verizon willing to share a password with you), then you could always switch. But keep in mind, you might be giving up other potential deals: If you're with AT&T, you'll likely get free or discounted access to HBO Max ($14.99 per month retail) when it launches in May. And if you have T-Mobile, you're likely already getting the basic $8.99 Netflix plan for free.
Isn't there a Disney+ bundle with Hulu and ESPN?
There is a bundle, but it doesn't include ESPN — at least not the ESPN you know from cable. Instead, Disney is letting folks buy Disney+ and the basic, ad-supported Hulu plan for $12.99 per month, or one cent more than what it costs for individual subscriptions to both services. For that extra penny, Disney will give you ESPN+ (normally $4.99 per month), which ain't a beanbag, but it's not ESPN. There's no Monday Night Football, and none of the marquee games aired on ESPN's TV channels. That's not to say ESPN+ is worthless: If you're big into soccer, rugby, or tennis, sports fans tell us there's plenty of great stuff. Bottom line: If you love sports, there could be some value in the bundle. But if you haven't cut the cord because you can't live without ESPN proper, this deal won't allow you to ditch cable. Also, if you want the ad-free version of Hulu or Hulu with Live TV, run far away from this bundle: There's no way to upgrade to those levels of Hulu here.
How do I actually watch Disney+?
The service is available on most major platforms: Android phones and tablets, Apple iOS and the Apple TV player (with full Apple TV integration), Roku, Amazon Fire devices, Sony Playstation 4, Xbox One, and select Samsung, LG, and Android TV smart TV sets. In many cases, including Apple, you can purchase a subscription right there in the app. If not, you can sign up on the Disney+ website.
How many devices can use Disney+ at once?
Per Disney+, its service offers "four concurrent streams, unlimited downloads on up to ten devices … and the ability to set up to seven different profiles. Additionally, parents have the ability to set Kids Profiles that create an easy-to-navigate interface to access age-appropriate content."
Do I need to live in the U.S. to watch Disney+?
Nope. It's also available right now in Canada and the Netherlands. On November 19, Disney+ will also come to  Australia, New Zealand, and Puerto Rico. And on March 31, EuroDisney+ will become a reality when the streaming service launches in the U.K., France, Germany, Italy, Spain, and a number of other countries in western Europe. (Full disclosure: It won't be called EuroDisney+. I made that up. Long live EuroDisney.)
Can I watch The Office or Friends on Disney+?
You know there are other TV shows out there, right?
Don't have Disney+ yet? You can sign up here. (If you subscribe to a service through our links, Vulture may earn an affiliate commission.)