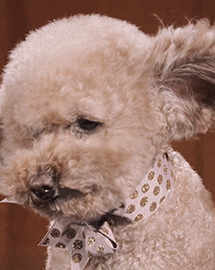 Dog-based programming used to be extremely niche, a schedule filler for daytime slots on Animal Planet. Maybe you'd catch the odd episode of Dog Whisperer With Cesar Millan or Pit Bulls & Parolees. Suddenly, though, dog reality shows are front and center on every major streamer and airing in prime time on ABC, pandering to young professionals with just enough money to adopt a pet but not enough to pay off their loans or ever retire. Now, celeb hosts are taking a back seat to very telegenic dogs while the pups do tricks, solve puzzles, and get makeovers. We sorted through the series to find the leader of the pack — with categories inspired by the dog-show circuit.
These series are all about pretty looks and winning personalities. In other words, they're grooming competitions.
Haute Dog debuted before Pooch Perfect and looks and feels like an SNL game-show parody thanks to its retro set design, out-there fashion, and laugh-out-loud recurring bits, including one in which winning dogs are offered their choice between an all-expenses-paid vacation and a single treat. A drag sensibility runs throughout, from the moment a contestant gives a poodle named Superman extensions and carves "cleavage" into his chest fur. What takes this show over the top is its host, Las Culturistas' Matt Rogers, who is so good at riffing opposite dogs that we would watch him host a paint-drying competition. Also someone puts false lashes on a Shih Tzu, and it's hilarious.
This series gets you invested in the drama of its competition by following the same teams of groomers for an entire season, and they go all out. Famous small-dog enthusiast Lisa Vanderpump — who also hosted her own Peacock dog show (see: the Working Group) — is a judge, claiming dog reality TV as her territory. The show is hosted by Rebel Wilson, the Pitch Perfect actress (hence the name) with a penchant for bad puns told squintily. But the show doesn't focus enough on the animals themselves: These grooming artists may as well be on Skin Wars doing body art or Steampunk'd doing nerdy interior design.
Taking a cinematic lens to the lives of dog people. Call them "dogumentaries."
HBO's best sports documentary is about competitive dog groomers. It dives deep into an eccentric subgroup you didn't know was such a thing and leaves you gobsmacked at not only the groomers' talent but also their extremely weird creations: Dogs are dyed, trimmed, and airbrushed to look like everything from Johnny Depp as the Mad Hatter to a mural of a Smurf giving E.T. a daisy. The results may be the most frivolous things you've ever seen, but the groomers treat the process with the utmost seriousness, and it falls into that chasm between perception and passion, where all the best documentaries lie. Would Pooch Perfect or Haute Dog exist if not for this 2019 doc?
Runner-up: Dogs (Netflix)
The second season of this intimate, lyrically filmed doc series comes out today, July 7. Each episode observes a human-dog relationship from around the world, including an epileptic girl in small-town Ohio and her service dog; a Syrian refugee trying to save his pup; and the caretakers who run Costa Rica's famous Territorio de Zaguates, a free-range pet shelter. Tears will be jerked.
The athleticism of agility trials plus the drama of reality-competition programming.
Disqualified: The Pack (Amazon Prime)
Like The Amazing Race but with human-dog duos. Contestants travel to such places as Costa Rica and Switzerland to compete for cash prizes, some of which will be awarded to the dog charities of their choice. Feats of derring-do like sled expeditions and white-water rafting are paired with goofier challenges, including one in which dogs act as servers on a cruise ship and balance plates on their backs. The Pack was canceled after one season — which might or might not have been because unaired footage leaked showing dogs in distress in a rock-climbing scene, leading PETA to complain. (Amazon denied that any dogs were harmed or that PETA had anything to do with its decision.)
In this spin on obstacle-course series like American Ninja Warrior, dogs and their owners duke it out on land, in water, and on zip lines (!) in timed challenges. Every episode has two human-dog teams from each of three categories — working dogs (therapy, hunting, herding), underdogs (pets), and K-9s (cop-dog duos) — but it's often skewed toward the K-9s: Dogs may have to sniff out a hidden substance or attack a man in body padding. However, the show fails to address how police-dog attacks lead to thousands of hospitalizations every year, police take little accountability for these attacks, and studies of cities such as L.A. show that most victims are people of color. Pure copaganda.
Workplace-based reality shows about the people with the most crucial of canine-centric jobs: finding dogs homes.
All the gentle sweetness, countryside vistas, and tinkly music of The Great British Baking Show but applied to the nicest dog shelter you've ever seen. Set on 52 acres of lush green estate in Cambridgeshire, the show takes a fly-on-the-wall approach to every stage of dog adoption — including, upsettingly, when owners have to give up their pets. The staff members treat the adoption process like a dating service, finding perfect matches between people and dogs who need each other. Heart-melting stuff.
An extension of the Bravoverse that doesn't feel as fully realized as most of the other shows on this list; it could have just as easily been a web series. But for any Vanderpump Rules completist — or anyone who likes to see raggedy rescue dogs get makeovers and loving homes — it's a treat. Every episode takes place in Lisa Vanderpump's Beverly Hills hybrid rescue center and pet boutique. We watch as dogs are brought in, inspected by a very hunky vet, and given a "Vanderpuff" makeover before Vanderpump matches them with adoptive parents. Edited more like an advertorial than a series.
Very short and feisty.
This super-shortform show debuted on the now-defunct streamer Quibi in 2020. While it's impressive how much it covers in five minutes, each episode is still just five minutes. It also feels like a reality-TV parody: In every episode, a contractor and an interior designer approach a different B-list celeb, meet their dogs, take in their expansive L.A. backyard, and fire off a custom-built doghouse. The clients include Kyle Richards, Joel McHale, and Lilly Singh. It's a total trifle. That being said, the doghouses are really cute. We recommend just Googling the end results.
.

Best in Show: Haute Dog
Genuinely funny. Aesthetically distinct. And never takes itself too seriously — you know, like a dog.