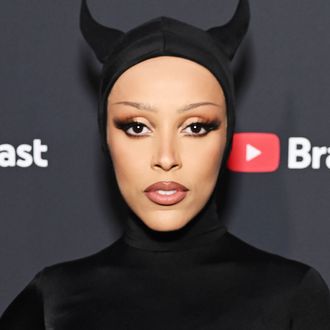 Photo: Noam Galai/Getty Images for YouTube
Update, August 31: Doja Cat debuted a new cover for her album Scarlet, just over a day after releasing the first one, which was nearly the same as a cover for the band Chaver. Doja did not address the updated cover, which now features two spiders with big pearls on their backs. (They're not even scarlet anymore!) The artist behind the initial cover, Dusty Ray, reposted the new one with hearts to their Instagram Story, but it's not clear if they designed it.
Doja Cat appeared to have lost the game of spider chicken after the "Paint the Town Red" artist deleted her Instagram post debuting the cover for Scarlet. Chaver's post remains, and was even posted to their Stories, with links to preorder their album. Doja Cat's IG profile pic is a photo of a big ol' arachnid, however, so the spider motif isn't completely lost. The itsy-bitsy album cover will go up (on Instagram) again.
Original story follows.
Look at her, look at her — you lookin'? At Doja Cat's album cover for Scarlet, that is, which she debuted last night. The simple art features a scarlet (well, maybe more magenta) spider with a drop of blood above it. And to some fans, it looked pretty familiar. A month before, the German metal band Chaver previewed their upcoming album, Of Gloom, with a cover featuring what looks like the same spider, with a jewel instead of a blood drop (plus their logo). Both covers were designed by the Portland, Oregon, artist Dusty Ray, whom Chaver said on Instagram has designed all of their albums. And to make things more complicated, both albums will be released on September 22. Vulture reached out to Ray, Doja Cat, and Chaver for comment. In the meantime, see if you can spot more of a difference between the two covers, below.