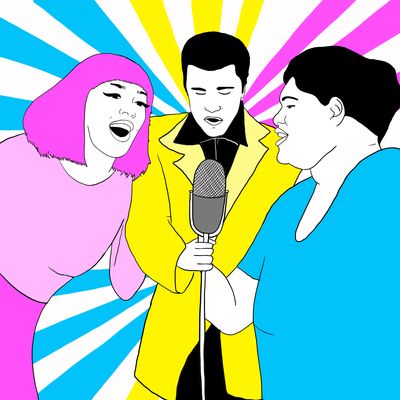 Illustration: Iris Gottlieb
Everyone's sweaty for the King thanks to Baz Luhrmann's hit box-office biopic Elvis. Since the film's release, Chartmetric reports that Elvis Presley has gained 2 million Spotify subscribers. But if you're hearing a lot more "Hound Dog" these days, you might look to Doja Cat's hit song "Vegas," which updates — and interpolates — one of Elvis's signature songs for contemporary listeners. But what the Doja Cat version actually samples is the original Big Mama Thornton rendition from 1953.
Presley is frequently said to have stolen Thornton's song, which was written by acclaimed songwriting team Jerry Leiber and Mike Stoller (whose credits include Presley's "Jailhouse Rock"). Thornton's is a sauntering blues song with a raunchy tale about a two-timing man; Presley's take features tepid lyrics about an actual dog, radically changing the groove.
But in an interview last month with Rolling Stone, Stoller said Presley didn't steal the song at all. (A number of lawsuits swirled around the record — "Hound Dog" is often cited as one of the most litigated songs in history.) Rather, he adapted one of its many covers — specifically, the version performed by the Las Vegas lounge act Freddie Bell and the Bellboys, whose "Hound Dog" borrows its upbeat rhythm from yet another cover," Rufus Thomas's "Bear Cat." It has a similar rhythm to the one we hear on the contemporary Doja Cat version, "Vegas," which heavily features samples of Thornton's vocals — as performed by the late Shonka Dukureh, who portrays Thornton in the film. Listening closely reveals a song that synthesizes the complicated musical history of "Hound Dog" by uniting the best parts of its many versions.
Listen to the latest episode of Switched On Pop as hosts Nate Sloan and Charlie Harding dig into the long legacy of "Hound Dog" and all its echoes through time.