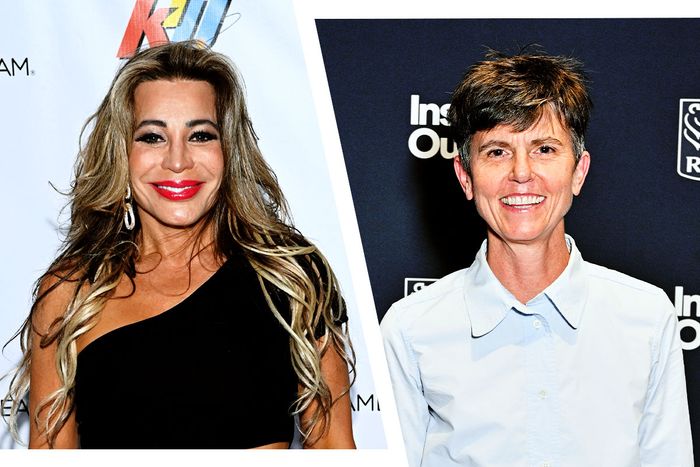 Photo-Illustration: Vulture; Photos: Getty
Are you new to comedy podcasts, overwhelmed by the array of options, and wondering where to begin? Then welcome to "Start Here," a recurring guide to the best comedy podcasts available — and our recommendations for which episodes are the best entry points into your next auditory obsession.
In the early days of the COVID era, when hope was scarce and the future of media still so uncertain (unlike today, of course), it seemed like nearly every new release was being hailed as "the kind of show we need right now." Only Tig Notaro — for my money, the funniest stand-up working — would dare to launch a podcast designed specifically not to be useful to anyone in such a landscape.
Don't Ask Tig, Notaro's follow-up to the much-missed Professor Blastoff, launched its first episode with guest Will Ferrell on July 22, 2020. From the get-go, it was as it remains today: an apologetically unhelpful counterpoint to the myriad advice podcasts that sprouted up during the pandemic. Unlike those series, which promised their listeners concrete guidance "on life's many challenges," Notaro made no secret of her "inexpertise" and general lack of experience counseling others through their problems. "We're warning you now: Don't ask Tig," the show's description cautioned.
Those who know Notaro only for the dry, droll deadpan she has perfected in her stand-up might be surprised to discover that the podcast is a warm and welcoming affair. Each episode opens with "Friend in Tig," an affectionate little ode written for the show by Edie Brickell and Kyle Crusham. Notaro then welcomes the week's co-adviser, and her effusive introductions for the likes of Abby Wambach and Rebecca Corry (whose charities Notaro supports) or Zack Snyder and Lake Bell (who directed her in life-changing performances in Army of the Dead and In a World …, respectively) illustrate how intimately Notaro is involved in the show's bookings — an increasing rarity in the era of the podcast-booking agency. Together, guest and host then attempt to answer questions about relationships, parenting, gender, and anything else, despite having absolutely no qualifications whatsoever.
Flickers of Notaro's stage work appear from time to time, like when she deploys her famous clown-horn impression in the pilot. By contrast, some episodes feel more like excuses for Notaro to get quality time with her personal heroes. But in the episodes that make a subscription so worthwhile, Don't Ask Tig is both at once, as it is in the milestone 50th featuring Taylor Dayne. Dayne is the natural choice of guest for such a landmark, explains Notaro in the opening moments, given that one of her seminal bits centers on a series of serendipitous run-ins with the beloved singer. But Dayne makes clear that she feels just as much admiration for the comic. When Notaro kindly raves over her "incredible singing and speaking voices," Dayne growls back, "Which voice would you like today, baby?"
The longtime friends reminisce about those awkward first encounters, which Notaro immortalized on This American Life in 2018. Dayne compares the social experiment Notaro subjected her to — repeating, "Excuse me, I'm sorry to bother you, I love your voice" whenever they met as strangers — to Sandra Bernhard, who famously imitated her on Letterman. "You are brilliant, babe!" Dayne gushes. "You girls are like peas in a pod." It's a darling moment, and Notaro is clearly moved. "I just love that you had a sense of humor about it," she says humbly.
After ten minutes of talk and an impromptu sing-along to Dayne's "I'll Be Your Shelter," they're on to the advice section. The first listener question is a simple write-in from "Marie," who needs help to overcome stage fright so she can sing at her best friend's wedding. At first, Dayne responds with legitimate words of wisdom: "This isn't a show. This isn't a performance. You're with family and friends. They're watching the first dance. Believe me — think about how many times I've been asked to sing, you know?" Notaro tries to play it just as sincerely. "It's not about you, but I'll bet you'll be forever grateful that you were included in that moment," she says. Then a whiff of silliness starts to creep in: On the other hand, she suggests, what should Marie do if she somehow loses control of her, er, bodily functions? Dayne holds firm: If it would truly make the listener happy, Marie better work up the necessary courage to perform, no matter what happens to her faculties. Hungry for a laugh from Dayne, Tig yelps, "Ya gotta do it, Marie!"
The next question is more deliberately tongue-in-cheek: "Alison" from Utah asks whether she should go on a restrictive diet or allow her body to go, as she describes it, full "Winnie the Pooh" ("skinny legs, no ass, big belly"). "Should I yet again become a sexy health fanatic," she writes, "or should I accept my Pooh-ness and just enjoy whiskey, chocolate, and honey treats?" Dayne is shocked by both options: "So the alternative to being healthy and getting in shape is to be a … a what?!" She doesn't want the listener to develop some kind of complex, she insists, but she also argues that maybe working on one's body would help stave away anxiety around having a teddy-bear-shaped body. "I mean, Pooh's happy," she acknowledges, "but all he's doing is suckin' on honey all day!"
Now Notaro cracks up. Instead of drowning in candy and spirits, she offers, "I highly recommend that you not turn into Winnie the Pooh and that you don't terribly restrict yourself. Incorporate some fruits and vegetables and nuts and seeds, and keep your body moving." Her philosophy, she says, extends to every aspect of your life: "Use it, don't lose it." Dayne cheers. "Iiiii like it!"
The episode takes a more emotional turn with "Hoo Boy!", a segment named for the sound Notaro makes when she receives truly difficult questions. In a doozy of a phone call, "Carol from New York City" reveals that she discovered the man who sired her during a one-night stand in 1964 on Ancestry.com, as well as contact info for two half-sisters and several cousins on his side. Should she reach out and risk blowing up their family, she asks the advisers, or just let sleeping dogs lie?
As hard-core as Carol's situation is (it is, after all, a "Hoo Boy!"), Notaro stays cool as a cucumber: "Oh, man, Carol … That's a lot. You got a situation on your hands." But her honest suggestion is that the caller take steps to establish contact with her dad, so long as she doesn't get, you know, all weird with his extended family. "If you're mature enough to be having sex, you're mature enough to find out that this happened," notes Notaro. "But if he shuts it down, are you gonna be the lunatic that reaches out to his kids?" Dayne warns Carol not to make that kind of move either, lest she wind up "on a new Netflix show."
Despite that final laugh, both women acknowledge the realness of Carol's problem; Notaro even sounds a bit weary as she's announcing the end of the show 34 minutes in. But when the opening licks of Brickell's closing theme, "That's What Your Heart Is For," start to hum over her and Dayne's closing words of gratitude to one another, the vibe shifts palpably toward mutual joy. Ever the veteran performer, Dayne sets Notaro up for one last callback that any fan of either woman will appreciate. "Excuse me …" she whispers. Notaro catches on immediately. "I'm sorry to bother you," she says. "I have to tell you. I love your voice." "Oh?" Dayne laughs. "Which voice?"