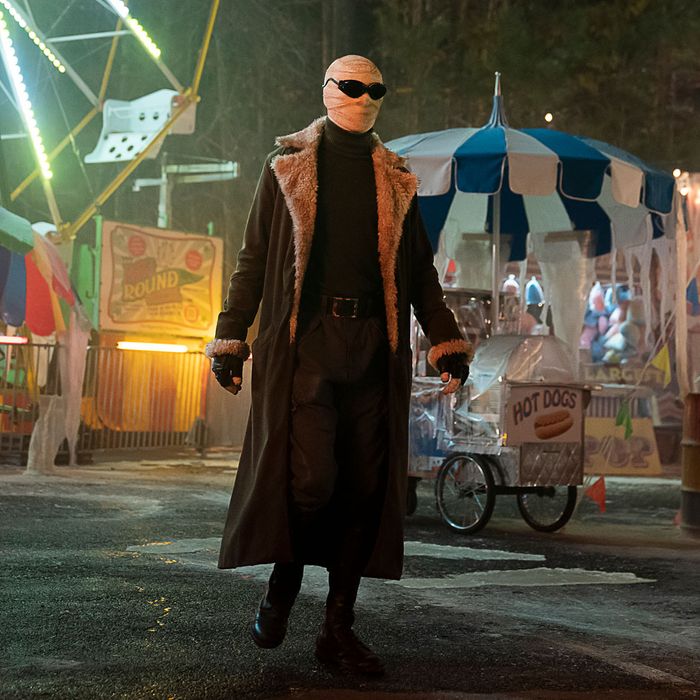 Photo: Bob Mahoney/HBO Max
While the ninth and final episode of Doom Patrol's second season leaves the audience with some major cliffhangers, it doesn't quite do it in a way that screams "epic finale." Instead, the cliffhangers feel more like the television equivalent of edging. It makes sense, as this season was originally supposed to be ten episodes, but once again, ye olde pandemic got in the way of things that were "supposed" to happen. One can imagine that episode ten would have provided some closure for the season, in addition to some teasing for the next, but now, all that's left is teasing. It's difficult to look at this as a true season finale, as it wasn't planned to be, but in true Doom Patrol fashion, Doom Patrol has to make the best out of a bad situation.
To be fair, it works very well in certain cases. It doesn't quite work when it comes to Larry, though, since if the whole point is that the Candlemaker is using everyone's imaginary friends against them, the fact that Larry never had one should make him impervious to becoming a wax museum cast-off. Instead, the plot dictates that he does get waxed, which … Wouldn't that suggest Candlemaker doesn't need to go through the imaginary friend rigamarole at all? It's not like Larry Trainor is a character lacking in insecurity, so to skip that altogether either makes no sense, or would've been explained in episode ten. That general "either or" feeling is the biggest issue with "Wax Patrol."
Miranda being taken out of commission makes a lot more sense, though. Understandably, the other personalities don't plan to forgive Dorothy after what she (and Candlemaker) did to Baby Doll and Flaming Katy, and they're starting to question Miranda, even asking about where Jane is. But Miranda seems to be hellbent on making amends with Dorothy — a point that's worth even more questioning, after the Miranda reveal at the end. Again, Miranda brings up "what Kay wants," as Kay wanders around the Underground, seemingly curious herself. The Jane/Kay/Miranda aspect of the episode presumably sets up the Big Bad situation for season three, and it all begins with a flashback to Miranda in Milwaukee in 1969.
With "armageddon" apparently on the table, Doom Patrol's detour into This Is Us flashback-land comes across as a potential disappointment at first. Miranda falling for a busker named John (Carter Jenkins, doing a folksy accent that does not suggest any part of Wisconsin) is a level of "aww, shucks" that doesn't line up with where the story ultimately goes or the big finale feel "Wax Patrol" has to shoulder now. But as is the case with plenty of Jane/Kay/Miranda flashbacks, it starts off looking like it's about one thing when it's really about something else. This isn't just about Miranda's original "downfall," it's also about Jane's origin and strength. (Last week's flashback looked like it was about Miranda's weakness but it was about her strength. And this week's even manages to warp that whole story as well.) What begins as a seemingly charming story about boy meets girl, with Miranda seeing John as the Nice Guy answer to Kay's (and the other personalities') problems, turns into one about how Miranda let her guard down and was fooled by a wolf in sheep's clothing. Miranda had built herself up over the years by knowing what Kay needed, and with John, she kept telling the other personalities that this relationship was the key — only to end up being completely wrong and traumatizing all of them even further.
For all of Doom Patrol's wackiness, it's definitely an adult show, but that doesn't make the orgy scene any less jarring once it happens. It's also why it's so disturbing to watch Miranda literally retreat into herself, and other personalities pop out, as she's having sex with one of John's co-workers. Comparing it to the sex ghosts from "Danny Patrol" that have continued to pop up at Doom Manor (and whatever sexuality may have spawned from anything Danny-related), the major difference is that the idea of "free love" isn't genuine here. As Jane points out, it's manipulation. It's why Jane's speech to everyone at the party isn't just a matter of repression or shaming, as we see the manipulation from John when Miranda approaches him about his co-worker's advances and the purpose of this party. But even with that powerful moment of triumph for Jane — which reframes just how strong she remains, despite how worn down she's been since the beginning of the series — it's not the big moment for the plot. Instead, the big moment is Jane in the Underground well, realizing that Miranda is actually dead. Kay realizes that too, as she is approached by "Miranda," who seems to be … a manifestation of Kay's abusive father?
Diane Guerrero deserves praise for the way she's able to anchor so many character beats, but so does Samantha Ware for her turn as Underground "Miranda." There actually is a moment of Ware as the real Miranda in this episode — after Miranda tries to leave the party and is brought to the Underground — where we see the way she immediately struggled after failing Kay and jumped into the well as a result. As we've only really seen the strong versions of Miranda (and "Miranda"), this is our first concentrated glimpse of vulnerable Miranda, and it's absolutely heartbreaking. That's not easy to do for a character who is technically an antagonist, but the combination of Ware's performance and Chris Dingess and Tanya Steele's script make it work.
It helps that so much of the Jane/Kay/Miranda story this season functions in a way that could pretty much always end a season. "Time for a change," Jane locked up, Jane thrown in a well — all of these hype up subsequent episodes, but could also easily hype up a new season. Especially as these stories have a solid beginning and middle on their way to the end. For the rest of the plots, however, it's more like a beginning, middle, and "end …"
Topside, there's an interesting thread that comes from Vic's imaginary friend, Doctor Cowboy, who was created for him to get constant affirmation that his father never gave him (which is why Phil Morris also plays this character). This season began and has ended with interesting material about Vic's psyche, but the question is whether any of it will be followed up on, or instead forgotten to focus on something else (like Roni) that came up in between those moments of introspection. As Doctor Cowboy tells Vic he needs to grow up, it does suggest that Vic will have to confront his issues head-on next season.
Rita's had a rough time confronting her issues head-on this season. Despite an early moment with Vic, Rita doesn't spend the entirety of "Wax Patrol" beating herself up for freezing back in Detroit. Instead, when confronted by her imaginary friend — paper doll Mademoiselle Roxie — she brings up her "blobby abilities" as proof she's changed in the 90 years since they last saw each other. Of course, Roxie's able to get into Rita's insecurities like clockwork, as Rita stopped playing with her after the triggering moment with her mother. (Roxie's eyes are actually from a photo of Rita's mother.) Rita's story this season requires her to move on from something she believes colored her entire career, which presumably is what would've happened in episode ten. So it still makes sense for this season to end with her inability to do so being her downfall.
Since "Dad Patrol" left Cliff in a place where it looked like he might actually have a happy family story for once, "Wax Patrol" makes sure everyone knows that can't be the case. After a sweet scene of Cliff deciding which band T-shirt to wear to Clara's wedding, Doom Patrol throws the aforementioned armageddon wrench into his plans. There's a quick discussion about "family" — and how the Doom Patrol count as family too, even Niles and Dorothy — before Cliff ultimately chooses the mission over the wedding. This segues into Cliff's insecurities that he discusses with his imaginary friend, as he's afraid of being like his unreliable father. However, this mindset doesn't quite track, because he isn't bailing on Clara, he's literally saving the world. Cliff is a character that isn't good with words outside of expletives — Brendan Fraser can make those sing — but his "something's come up" voicemail to Clara when he's been told that "armageddon" is coming reeks more of plot contrivance than an understandable attempt at the character trying to make sure his daughter doesn't freak out. Obviously, the team isn't one big "happy" family, but misery doesn't have to be the default.
At the same time, Doom Patrol really goes full Doom Patrol (read: fun) in having this version of Jesus out for Cliff's blood and eventually ripping his arm off. The visual of Cliff hiding in the eyeball ball-pit in the fair's funhouse is hilarious, which is especially impressive considering how creepy it was just last week. That's where "Wax Patrol" excels when it comes to the mission: visuals. Specifically in terms of both Rita's imaginary friend — which is truly haunting — and the wax itself, which fits with the horror show that the Candlemaker brings along with it.
While this season (and Niles) has been vague in how Dorothy could bring forth the end of the world, it has been clear about the Candlemaker's involvement. There's a clearer picture now, as the fate of the world apparently depends on the result of Dorothy versus the Candlemaker. The power of imagination versus the power of being very scary. Niles has no faith in his daughter, and after a season of trying to prevent her from growing up, that doesn't change here, even though it seems like Dorothy growing up — not at Candlemaker's nefarious urges but actually being nurtured to do so — could have only helped. Having her maintain the childlike nature only made it easier for Candlemaker to manipulate her and her emotions. As "Wax Patrol" ends, Dorothy ends up being the more mature one of herself and her father, as she makes the decision to go after the Candlemaker. And based on the weapon she creates from her imagination, she could be a formidable opponent.
"Wax Patrol" ultimately wasn't designed to be viewed as a season (or, gulp, series) finale, so it's hard to criticize it as such. But even imagining that there will be another new episode next week to wrap this up, "Wax Patrol" is excellent in the Jane/Kay/Miranda story and provides the potential for something either amazing or underwhelming in the battle between Dorothy and the Candlemaker. However, it is also somewhat treading water with both Vic and Rita's storylines, Larry's taken off the chessboard as soon as possible, and Cliff … well, Cliff gave us ass-kicking Jesus.
It was kinda worth it for ass-kicking Jesus.