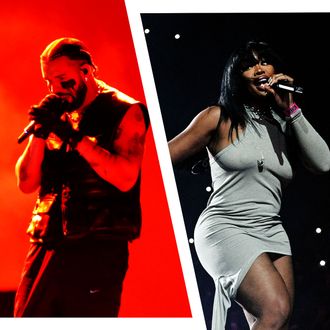 Drake and SZA.
Photo-Illustration: Vulture; Photos: Getty
Update September 17: Halle Berry is refusing to be slimed out by Drake. On Friday, Berry posted on Instagram that she had to be the "bigger guy," in a situation, which fans immediately knew was about the Drake/SZA joint post. In the comments, Berry wrote that Drake's team had asked for her permission to use the photo of her at the 2012 Kids Choice Awards, and permission was not given. "He did have his people call my people and I said NO I didn't like that image of slime all over my face in association with his song," she wrote. "And he chose to do it anyway! You see…that is the disrespect." Berry said that Drake's team shouldn't have reached out if he was going to do it anyway. "Why ask if you intend to do what you want to do!" she commented. "That was the f— you to me. Not cool. You get it?"
Original story follows.
Drake and SZA have linked up to maximize their joint slay. "Slime You Out," their new single, is out today, and it's exactly what you would anticipate from a duet by two people so often unlucky in love. "I don't know what's wrong with you girls," Drake says bitterly in the intro to the five-minute track. "I feel like y'all don't need love, you need somebody who could micromanage you, tell you right from wrong, whose smart from whose a fool, which utensil to use for which food, like." By the first verse, the prolific bra collector is promising to start "sliming you for those kid choices you made." Hurt people hurt people. SZA, for her part, sings, "Damn, these niggas got me so twisted," and she's got "too much pride" to let them slime her out. Good for her! The song was first teased in a mysterious Instagram post shared on the artists' respective profiles. The pair chose a picture of Halle Berry being slimed at the Nickelodeon Kids' Choice Awards in 2012 for the post, giving eager fans a clue to the song's theme. "Slime You Out" is the second single from Drake's upcoming album, For All the Dogs, after "Search & Rescue."
It's not SZA's only collaboration released today. The R&B singer dropped a version of her top-ten hit "Snooze," featuring Justin Bieber, who recently had a starring turn as one of SZA's video vixens in the official music video for the O.G. version of the song. She's bagging Canada's finest, and we have to salute.