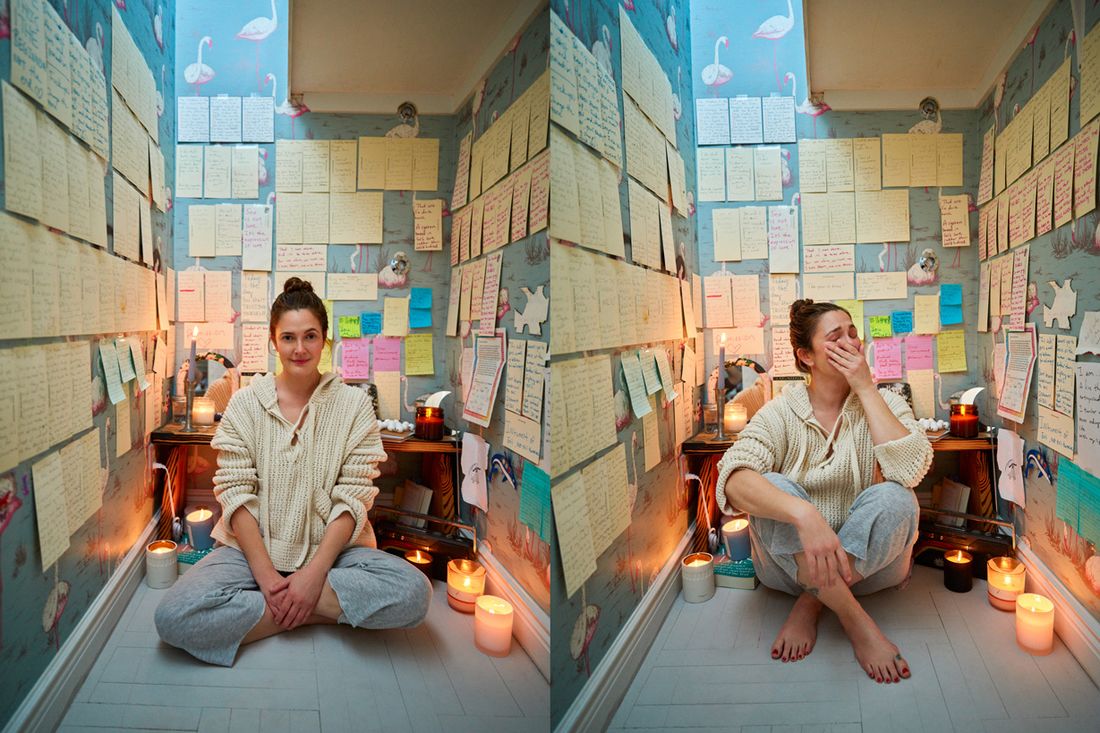 Photo: Mark Seliger for New York Magazine
This article was featured in One Great Story, New York's reading recommendation newsletter. Sign up here to get it nightly.
Drew Barrymore is barreling barefoot down the hallway to make it to the studio on time. It's a Wednesday morning in April, and this is the first of today's two episode tapings for The Drew Barrymore Show. The screams from audience members at Studio 41 get louder as the emcee whips them into a frenzy — Drew is right there! She can hear you! — before leading them in an increasingly rapid call-and-response: "Are you ready?" "Yeah!"
Her costume designer, Lee Harris, is waiting at the threshold with chunky beige platform heels. This is a variation of her daytime uniform: a pantsuit with legs so wide you could strap a child to each calf, a silk blouse with a pussy bow, and thick pumps. "Feel that," she tells Harris, lifting the leg of her pants to reveal smooth, hairless skin. (She finally had time to shave.) "Ooh, once in a lifetime," he replies as he buckles her shoe. "Rossy!" she yells, and the hilarious Ross Mathews, her co-anchor on "Drew's News," appears by her side. As she wets a Q-tip with her tongue to do a final check on her eyeliner in the mirror, she launches into a thought about his New York apartment, which she redesigned as part of "Designed by Drew," an interior-decorating segment on the show. "I'm questioning the mirror I got you for the dining room," she says. The size is right, but she feels the cream-and-gold frame is fighting with the floral wallpaper. So maybe something grassy? Anyway, 20 seconds! They dive into the crowd.
The major event of the day is an interview with Jennifer Garner, whose birthday Barrymore wants to celebrate. She describes Garner as a woman who "really saved" her. In 2016, soon after Barrymore divorced Will Kopelman, her husband of four years and the father of her two children, Garner began her separation from Ben Affleck. Barrymore saw her as a model of how to comport yourself in public, and she and her producers have pulled out all the stops: Here's a key to your hometown of Charleston, West Virginia, with a video message from the mayor declaring April 17 Jennifer Garner Day! Here's a $250,000 donation to the charity Save the Children! A chocolate cake! A balloon drop!
"This is bananas," Garner whispers into her ear as the balloons bounce around them.
"I certainly am!" Barrymore whispers back.
After Garner leaves and the crew resets the stage for the next segment, Barrymore has a private chat with the audience — no cameras rolling. She has some things she wants to confess, like maybe she screwed up the interview they just watched. "I will just be totally honest with you guys," she says. "Making this show makes me have these personal whirlwinds. Like, I really want to make a very personal show, and I totally fucking spiraled after Jennifer Garner."
Negative voices started whirring around in her head, she explains, telling her she was making a mess of everything because she's a messy person: Bad Drew Barrymore! Meanwhile, Garner is this poised 51-year-old woman who made it through a painful divorce with grace and dignity and fantastic posture. Then Barrymore started thinking if she focused too much on how she'd fucked it up, she would want to run away and cry, but she couldn't do that because she's at work! So she would feel her feelings here, come what may. "Like, there's nothing I can do but just walk through it and feel my own discomfort," she says. "And hope I didn't put anyone else in an uncomfortable situation."
The shouts start coming: No, Drew! We love you! You're awesome! You're awesome!
She takes it in. "Does anyone ever have those episodes where, like, all of a sudden nothing they can do is right and everything is just more evidence about what a crazy weirdo you are?" she asks.
"All the time!" screams an audience member.
The emcee, Joey, tries to cut in, but Barrymore just needs to say something else: "The energy in this room!!!!" If she could, she would relive this moment over and over again. She wants to encourage everyone to just risk it and let that class-A weirdo inside you out. Because maybe then you'll feel the way she feels right now, which is this incredible infinity sign of love. "I will carry each one of you in my heart, and I will never forget today, because today proved if you risk telling your truth, if you don't just always try to fake it till you make it, it can be safe and it can be okay," she says. "So thank you for that life-affirming truth."
Her longtime therapist Barry Michels would call this "active love." With his colleague Phil Stutz, Michels is a practitioner of what they call "the tools," a fusion of Jungian psychiatry and self-help. (It's very popular in Hollywood.) In so many ways, the emotional structure of The Drew Barrymore Show, which is to say, how Drew Barrymore thinks and feels, manifests these precepts. Active love, a technique used to shove negativity out of the mind, goes something like this: "Imagine you're in a universe completely made out of love. It's a world that's almost dense with loving energy. Feel yourself taking in all the love in the universe and gently but firmly place it all in your heart. Right at that moment, you're the principal leader of love in the whole universe."
The Drew Barrymore Show launched into a void during the pandemic and, three seasons in, has become a therapy-infused, feel-good viral sensation — a part-Oprah, post-Ellen lovefest among its famous host, her famous guests, and her adoring audience. The show is by and for Barrymore: a venue for her to laugh, learn, love, cry, get rid of stains, and get snuggly. It is the purest distillation of the Drew Barrymore brand (also available as a chair at Walmart), which she has honed since becoming the most famous child star since Shirley Temple, overcoming her adolescent humiliation with a redemption arc as America's rom-com sweetheart. Now, she's bringing the public along for her postdivorce, don't-call-it-sobriety alcohol-abstaining, single-mom journey of healing and self-discovery. She's a conduit for all these emotions — hers, her guests', yours — because rather than shut down or become self-protective, she opened up in the other direction: Let's feel together five times a week.
Poor thing," Barrymore says as she leans against her kitchen island watching a cut of Garner looking genuinely taken aback by the cavalcade of gifts. "I really hard-launched on her."
We're hanging out in her apartment, a prewar, three-bedroom, three-bath co-op in Manhattan, a couple of days after the taping. She pours me her "mom drink" — seltzer over pebbled ice with a splash of cranberry juice. On Fridays, she usually works from home. This morning, she woke up at 6 a.m., made breakfast, and got her daughters, Olive, 10, and Frankie, 9, dressed and ready for school. She made it by about 20 seconds before Tommy, the bus driver, arrived. "He doesn't like me," she whispers. "Brought him cookies the other day 'cause we're like, 'Maybe if we bring cookies …'" Then she met two of her girlfriends for a dance-cardio class. She pulls out video evidence of herself jamming under mauve lighting, which she will send to Garner. During the episode, Barrymore asked the actress for a piece of advice on what she does to "go and be you that day." The answer: "Hard cardio."
"By the way, no, I did not reach 'hard cardio,'" Barrymore says. "But I honored what she said by doing it. It's a good thing: Honor people by doing the work."
She gives me a tour of the rest of her apartment. On the kitchen counter, Turner Classic Movies plays silently on a monitor she calls "the family portal." "They come and visit me," she says. She pulls up a video she took the previous week when the silent film When a Man Loves appeared on the screen, starring her grandparents Dolores Costello and John Barrymore. "Good morning, Grandma and Grandpa!" she says.
Her daughters' presence is everywhere: drawings, photos, a playroom for Frankie. There's a chalkboard with their daily activities, such as Hebrew school, therapy, and tutoring, and a list of HOUSE RULES taped up in the hallway leading to the kitchen and signed by them in marker at the bottom. It begins, "1. SOME THINGS ARE NONNEGOTIABLE." What's a nonnegotiable? "Like, 'Can't do anything else until homework is finished,'" she says. "Just consistency. Homework, dinner, bath. It took me so long to learn the simplicity of how to say 'no' because growing up, I didn't know how comforting and safe that is."
Having her daughters changed how Barrymore oriented her life. She felt further removed from acting. "It was like, there is one role of your entire life that's going to matter the most, and it's being a real-life mother," she says. She had always craved a family: a boy, a girl, another boy, is how she envisioned it as a 17-year-old. "I want to cook and clean and be little Betty Crocker at night and a businesswoman-actress by day," she told Us magazine in 1992. She got married a couple of times: at 19 to Jeremy Thomas, the bar manager of the Room in Hollywood, then the prank-heavy marriage to Tom Green in 2001 that ended a year later. "In my early 30s, I realized I didn't have any relationships that could have gone to the next level, a.k.a. marriage and kids," she says. At 37, she married Kopelman, an art consultant and son of the former president of Chanel. She sold her house in L.A. and moved to New York so they could be closer to her husband's family. "I think that's why I took the marriage so hard," she says. "Because I was the best I could have ever been."
She thought she knew rock bottom — like, she was in rehab at 13 — but the divorce might have been a new low. She was drinking to numb the pain, and Michels (her therapist) broke up with her because she was stuck in an endless rut. She doesn't want to elaborate because the fact that there has been no public scandal around the divorce is something she's proud of. But she stopped drinking for two years, which convinced Michels to take her back. "Then the pandemic happened, and I was like, Thank God I got my shit together," she says. "Because I am the strongest I've ever been. Then we were building the show, and it was hard, challenging, scary, emotional, exhausting, and overwhelming, but I could handle it. Which was so great because the divorce convinced me I couldn't handle things."
The Drew Barrymore Show has just wrapped its third season and for the first time got an easy pickup for the next. "We have been told we were DOA — dead on arrival — almost every year by higher-ups," Barrymore says. "The show spoke to us odd birds, but it wasn't necessarily speaking to a commercial audience." It premiered live on September 14, 2020, in a pre-vaccinated New York without a studio audience. Barrymore, who has the energy of an entire studio audience, made do. The first season is a kind of effervescent fever dream — a time capsule of a madness-induced pandemic culture. "I knew we weren't reaching our potential in year one," she says. "It was a public-access show on premium television."
At the very least, there was an impressive commitment to the bit: She interviewed Courtney, an American Girl doll, and later had Neil Patrick Harris give Courtney career advice as a former child star; Billy Porter serenaded a red flower blossoming toward the ceiling with "Edelweiss"; she brainstormed morning-safe euphemisms for the word vagina with Gwyneth Paltrow ("Pat of butter!"); and in a surprisingly moving segment, she interviewed herself as Josie Grossie, her high-school character from Never Been Kissed. The ratings weren't great. The show had 694,000 viewers, a fourth of the leader, Live With Kelly and Ryan. When the gray suits at Paramount Global told her it was "too wacky," she said, "I can try to tone it down a little," but there was only so much she could do. As she said in her opening monologue, "I am who you think I am."
Then last year, during the summer hiatus, something happened. Well, specifically, two videos happened. Barrymore took one of herself running out into the rain laughing and shouting, "Whenever you can go out into the rain, do not miss the opportunity!" The other shows the renovation of the apartment she bought just below hers, a low, claustrophobic space of which she could sense the potential. She suspects one wall may be hiding something: a window. As the contractors are about to tear out the drywall, she howls like a wolf and cackles maniacally when a sliver of light appears. "I knew there was a window here," she says. The tears start flowing. "I knew it. I knew it."
The clips went viral and reminded everyone that Barrymore has been a star since Ronald Reagan was president (first term) and that even as she stepped away from acting, she never lost the ability to be, in actorly terms, completely present. There is a magnetically weird and disarming enthusiasm to her being whether she's on-camera or off: They just don't teach that at Juilliard. Her spontaneity has played well on the internet but, more important, translated into actual ratings averaging 1.2 million viewers per day in the most recent season. These days, the show's multiple social-media assistants constantly record her — in the dressing room, talking to the audience, meeting people at a photo shoot. "We just record everything," says Corinna Shapiro, her personal social-media coordinator. "Because you never know if there's a good moment."
In the most recent season of The Drew Barrymore Show, she and the producers made smarter bets on the oddball stuff: They built a replica of the glass prison in You for her birthday episode; she dressed up as the killer doll from M3GAN, freaking out Allison Williams. But what started to connect were the interviews, which felt surprising for their emotional candor — as when a tender Machine Gun Kelly says he isn't sure he's up for the whole talk-show thing while he paints Barrymore's nails, and she responds that now it makes her like him "so much more." She will lie on the floor, crawl on her knees, and sit on people's laps mid-conversation. These moments have inspired memes about how a Drew Barrymore interview is like two eyeballs touching.
As a producer and a cheerleader of Hollywood, she does a lot of wrangling, getting important people in her life to come on the show, including Cameron Diaz ("Auntie Poo Poo"); Lucy Liu ("Pussy Liu"); Gwyneth Paltrow ("I just love her so much I could eat her alive"); the notoriously press-averse Adam Sandler, who helped shoot the sales tape; and her exes Green and Justin Long. Barrymore is both the text and the interpreter of the show. For the season-two premiere, she gave an autobiographical tour of L.A. that included stops at ASAP Family treatment center, the rehab facility she went to at 13, and the first apartment she lived in after getting emancipated from her parents at 14. When Mathews tells her, "You were on red carpets. You were gorgeous as a teenager, right?" she replies, "I was in mental institutions, too."
Barrymore and I are sitting cross-legged on the floor facing each other, so close I can see a rim of green in her eyes and a horizontal wrinkle on her nose. We've taken a seat in a small walk-in closet in her bedroom. It has a slanted ceiling and pink-flamingo wallpaper covered in affirmations and aphorisms she has written, such as TODAY IS THE DAY YOU START TRUSTING YOURSELF, SPIRITUAL SUPERHERO, and, simply, PERMISSION ❤️. There are longer, more diaristic reflections that read like ecstatic poetry: LISTEN TO MY BODY AND SOUL. TREAT MYSELF AS THE MOTHER I NEEDED. DO NOT BEAT MYSELF UP. This is her meditation room, her room of revelations. She can come here and shut the door and be totally quiet.
"This is all the stuff I work on with Barry," she says, waving a hand at the mosaic of sticky notes and stationery. Any conversation with Barrymore will invariably return to the topic of her therapist. "So many of the cards are about the shadow," she adds. Playing off Jung's concept, the shadow is a manifestation of "everything we don't want to be but fear we are." Whereas other Jungian archetypes define how we see the world, the shadow is about how we see ourselves. "No amount of validation can eliminate your Shadow," write Stutz and Michels. The goal is integration, holding hands with your shadow. Barrymore is predisposed to focus on the present — to react and deal with the task at hand — but the end of her marriage made her confront her feelings about her childhood. "I'm still very much in survival, persevere, one-foot-in-front-of-the-other mode. And the shadow is supposed to be there to help you fall back on the things you haven't dealt with yet," she says. "And I still don't understand my own childhood, maybe."
Everyone knows the story: Drew was 7 years old when E.T. became the biggest blockbuster of its time. It caused a split in her life: Home and school were miserable, but work was fortifying. It became her constant, the thing she was good at and could learn to self-generate. It provided both freedom and structure and adults who adored her. Sets were makeshift families that bloomed like a flower in the desert only to dissipate once the production was over. The director was a ready-made parent.
Steven Spielberg was the exemplar father, "the only person in my life to this day that ever was a parental figure." A couple of weeks into shooting, Drew noticed the men operating E.T. behind a wall and told Spielberg to kick them out. "I didn't want to burst the bubble," Spielberg tells me. "So I simply said, 'It's okay, E.T. is so special E.T. has eight assistants. I am the director, I only have one." In an effort not to break the spell, Spielberg shot the entire movie in strict continuity. He kept a couple of operators on hand so the alien could react to her. Drew would have lunch with E.T. and tell him her secrets. She asked Spielberg if he could be her dad. He said "no," so she asked if he could be her godfather. (He agreed.) She stayed with him on weekends; he gave her a cat she named Gertie and took her to Disneyland and Knott's Berry Farm. When she walked into the office wearing red lipstick, he told her to wipe it off. "She was staying up way past her bedtime, going to places she should have only been hearing about, and living a life at a very tender age that I think robbed her of her childhood," he once said. "Yet I felt very helpless because I wasn't her dad. I could only kind of be a consigliere to her."
The prestige of her last name refers more to her grandfather John Barrymore, considered one of the greatest interpreters of Shakespeare of his time, who, along with his siblings, Ethel and Lionel, cemented the family's acting legacy. Drew's own father, John Drew Barrymore, was an actor with moderate success who had flamed out by the time she was born. He was an abusive drunk who abandoned her mother, Ildiko Jaid Barrymore. Drew's first memory of him, from when she was 3 years old, is the time he stormed in and tossed her into a wall. He would do things like hold her hand over a candle and say that pain is in the imagination. He would usually reappear when he needed money. He became an itinerant eccentric, houseless and shoeless, using lemons and olive oil to bathe. "Talk about someone who was not a careerist," Barrymore recalls. "He was like, 'I will burn this fucking dynasty to the ground.'"
Jaid, her tenacious mother-manager, treated her like a friend and client. They would go to industry parties, nightclubs, Studio 54, Limelight. She dated Drew's boyfriends; after Barrymore posed nude for Playboy in 1995, Jaid followed suit later that year as "Drew's Sexy Mom." With no one to say no, Drew was uninhibited. As she recounts in her 1990 memoir, Little Girl Lost (written with journalist Todd Gold), she had her first glass of Champagne at the wrap party for Firestarter when she was 8. A year later, she had her first beer at Rob Lowe's 20th-birthday party and made out with his 12-year-old stepbrother. She started doing coke when she was 12 and loved how it allowed her to "soar above my depression and sadness." Drew was forced into rehab by her mother and was in and out of it for the next year and a half. (Jaid pulled her out after 12 days to film Far From Home and then again to do postproduction on See You in the Morning, which led to a bender.) When she got out, she lived with David Crosby and his wife, Jan Dance. Drew emancipated herself from her mother soon after, at which point she became an adult in the eyes of the state.
Since childhood, she has had a natural charisma and free-spiritedness that came to define her filmography and late-night appearances, whether she was placing two (fake) front teeth on Johnny Carson's desk as a 7-year-old or flashing David Letterman as a 20-year-old. As a person, she enlists you into her thoughts and personal dramas. When the director Tamra Davis was looking to cast the lead for 1992's Guncrazy, she initially did not want to meet with the actress. Post-rehab, Drew was persona non grata in Hollywood and became a regular tabloid fixture, the Lindsay Lohan of her day. "She did not have a good reputation," says Davis. "But she came in and said, 'Nobody takes me seriously. I want to prove that I can come back.' And I just melted. I immediately was like, 'Oh my God, I love you. I will do anything I can to help you out.'" Before they started shooting, Barrymore moved in with Davis and her husband at the time, Mike D of the Beastie Boys. "I showed up in her house late at night with my laundry basket, and she said I could stay in her guest room, and then I didn't leave for eight months," says Barrymore. "I felt like she was kind of our daughter," says Davis. "We provided this surreal, stable family for her, where she lived with us and she got to just focus on being an actress."
Barrymore's stint in rehab was the first time she learned, in therapyspeak, how to do "the work." Every Wednesday night, there was group. Here, her traumas weren't unique. Families came, and you would have to discuss your most personal details in front of other people. They would cheer you on, listen quietly, cry, or call bullshit. She stonewalled before learning to embrace the communal experience of it. Listening to other people's stories allowed her to reconsider her own family dynamics. Radical honesty was possible here. When she started envisioning The Drew Barrymore Show, she imagined a circular set; she wanted everyone to be "in the round," to evoke that feeling of holding one another. (The layout ended up being more like a horseshoe.) And now — oh my God, she's having a realization — "maybe that's the show I didn't know we were making," she says. "But if I think about those Wednesday nights, that's exactly what we were doing."
Barrymore's interviews often sound like therapy — she's more life coach than journalist. What she has created is not only a safe space for celebrities to open up in but one where her aura of relatability extends to her guests. They can be seen as she is: flawed, empathetic people who are just trying to figure shit out. She doesn't press for details because she knows what it's like to be hounded about your personal life. At times, there's a casual shorthand between her and her guests that gives the effect of eavesdropping — even if you're not entirely sure what they're talking about, it rings true.
Barrymore knows she has an elliptical interviewing style. Talking to her is a bit like watching a bumblebee fly to its target — she'll get there. "It's collaborating and being open to everything and trying to take it all in," she says. "But I definitely get lost out there sometimes. Sometimes, I'm like, I've got a full tank and no idea where we are, but it's going to be fine." After she interviewed Michelle Obama, the former First Lady told her, "Oh, I see what you're doing here, and it is different." Guests usually do preinterviews, and producers will put questions on the teleprompter, but when she's out there, she's going to ride the wave and see where it takes them. She could probably talk for hours and hours — can they edit that?
"I've done the show three times now, and I've never had a conversation that was anywhere near the talking points we came up with in the preinterview," says Melanie Lynskey, who first met Barrymore right before they started filming Ever After in 1997. On a March episode, Lynskey appears with her husband, Jason Ritter, who, in talking about how they met, warns that it's "not as cute of a story." Ritter says that he struggled with alcoholism (to which Barrymore raises her hand and says, "Me too") and that he didn't feel worthy of his wife until he stopped drinking. The flash of vulnerability catches you off guard. "There's nothing in Drew's eyes that says, 'Say something that the audience will like,'" says Ritter. "She's just sitting there with you."
The most intense conversations have revolved around the complexity of mother-daughter relationships. Barrymore's own with her mother is a wound that has never really healed. As she grew older, her attitude toward her father softened. "I just understood what an incapable human being he was," she says. When he was diagnosed with multiple myeloma, she paid for his hospice care until he died in 2004. Then she spread his ashes around Joshua Tree. Meanwhile, she and her mother have never fully reconciled since she left the house at 14, though Barrymore still supports her financially. "I know that must be so hard for my mom," she says. "It's like she gets all the heartache and he gets given a free ticket."
Barrymore personally pursued an interview with Jennette McCurdy, a former Nickelodeon star who published the memoir I'm Glad My Mom Died, in which she explicitly names and reckons with an abusive parental relationship. This interview in particular, but also the one with Brooke Shields, who had a famously complicated relationship with her momager, Teri Shields, gives the feeling that we're witnessing Barrymore hash out her own relationship on the show. She and her team decided not to conduct the McCurdy interview for broadcast with a live studio audience, so there are no laugh lines, no playing to the camera. (It did so well online that producers eventually cut a version to run on TV.) Barrymore is at her best; she is inquisitive while being empathetic and has an intuitive sense of where the conversation should go, no doubt because she's been thinking about the subject too.
Still, she speaks in slightly ambiguous terms, working things out in her mind without revealing too much. Knowing Barrymore's own history lets the viewer fill in the gaps. "Do I have to wait to tell all my truths?" she asks McCurdy at one point. "I don't know if I can do it because certain people are alive."
"I understand. My thought on that is if saying the truth ends a relationship, I think it's a relationship that needed to end," McCurdy replies. "I realized I was more concerned with how to keep my mom looking good than I was expressing my true emotional reality."
"Okay, I'm having an aha moment," Barrymore replies. "Maybe it's protectiveness that I feel. I've never put it in those terms in my head."
Her relationship with her mother is an inevitability in our conversations. We've moved over to the big living-room couches surrounded by walls of books. The sounds of distant neighbors softly float up through the sheer curtains. "All their moms are gone, and my mom's not," she says. "And I'm like, Well, I don't have that luxury. But I cannot wait. I don't want to live in a state where I wish someone to be gone sooner than they're meant to be so I can grow. I actually want her to be happy and thrive and be healthy. But I have to fucking grow in spite of her being on this planet."
An hour after the words leave her mouth, she already regrets suggesting any ill will toward her mom. "I dared to say it, and I didn't feel good," she says. "I do care. I'll never not care. I don't know if I've ever known how to fully guard, close off, not feel, build the wall up."
This, after all, is not the Barrymore way: She has an anti-victim mentality. On the episode with Shields, they both wrestle with how their experiences didn't fit neatly into the Me Too mold. They had complicated feelings about the "inappropriate" experiences they'd had growing up — it was difficult to parse what they were accountable for. As Barrymore sees it, the stuff that happened to her as a kid is about survival, not tragedy. It is part of the arc that has brought her here. "I choose very consciously not to see my life as things that have been done to me," she says. "I want to see it as the things I did and chose to do. I'm not attracted to people who lay blame on others. I don't find it sexy."
I ask if she isn't being a little hard on herself, that maybe a child shouldn't be held single-handedly accountable for the things she did, even if she shouldered responsibilities far beyond her age. She considers this. It's true: That toxic voice in her head — the inner saboteur, the superego with a whip, what Michels calls "Part X" — is relentless. "I've been a circus bear my whole life. I swear to God, if the ringmaster left the tent, I would become the ringmaster and start, like, flagellating myself," she says.
But maybe I have a point, she concedes. "When will I ever give myself a fucking break?" she continues. "What would it be like to be empathetic toward that little girl?"
Barrymore has been swiping on Raya, but she can't gin up the interest. Since the divorce, she hasn't really dated — a 180 from her prior life. "I was such a love junkie," she says. "I was almost never not single." Her friend Nancy Juvonen, with whom she started the production company Flower Films when she was 19, is the one who pushed her toward rom-coms. She turned down parts like Rollergirl in P. T. Anderson's Boogie Nights because they started to feel too obvious during what Barrymore calls her "tart exhibitionist free wildflower kitten" era. "I'm like, 'D, I don't understand why you keep being put in these dark movies. You need a romantic comedy,'" Juvonen recalls. "You are mushy, it's annoying. You should share this with the world."
Barrymore thrived as the heroine in Never Been Kissed, Going the Distance, 50 First Dates, and more. In those films, she was free to express one of the most relatable emotions: love. And, maybe more acutely, the desire to be in love. The yearning came from inside; she wanted to be the person you would want to fall in love with, and most people did. When Luke Wilson met her for a chemistry read for Best Men, he brought her a bouquet of daisies because he had read somewhere that she loved them. After they filmed a sex scene, he was smitten. "I was dealing with two people that were madly in love now, and it was so funny to watch him. She hypnotized him, and it's like, Forget it," says Davis, who directed the film.
"I spent a lot of my life loving romance and drama and all of that," Barrymore says. "I just burnt myself out on it. I genuinely am tired and exhausted." The distance has made her curious to explore relationship dynamics in the fourth season of the show: how they function, or don't, and what makes them work, or not. Men are something of a black box for her — something she's been reluctant to explore even with Michels. "I'm curious to examine why I'm not open to a relationship," she says. "I really think I have some serious shit buried. And I don't know if it's like I need to try an MDMA treatment or psilocybin as a way to get to some state where I could see things in a different way."
But then she thinks maybe she's good. The show is finally working, and so is the rest of the extended universe — sorry, Drewniverse — that she started in her effort to move away from acting. Beautiful, her kitchenwares line, has been getting into furniture and sold out the first run of its Drew Chair at Walmart, while Flower, her beauty brand, is now almost ten years old. "I want to be cereal and toilet paper and underwear," Barrymore says, "just commonly used things that don't make you angry and bring us all together." She has her kids and friends like Davis, Diaz, and Juvonen, who have been with her for the past 30 years, loving her, doing interventions when she needs them, and being the family she's always wanted. If there's one thing about the Drewniverse, it's that people tend to stay in it.
Before Barrymore's wedding to Kopelman, Davis had a wave of déjà vu at the rehearsal dinner. "We were all sitting at a table at her house, and I looked around and I realized this was the third time I sat at this wedding dinner before the ceremony. The family had changed. The guy had changed, but all her core girlfriends that had been close to her since she was a teenager — we were all still there."
A few weeks later, Barrymore sends me a text:
I texted my mom for her birthday
and she told me she loved me
and she was proud of me.
I don't care how old you get
Or how big your mission is
When your mom tells you
she loves you
You revert back to small
And the fact that she loves
me with my truth
And my honesty
Is the best time I have ever
heard her say it.
Five days later, she wrote a blog post for Mother's Day in which she describes the relationship as "my most poignant subject. My most important. My deepest lifelong search."
"My daughter Olive suggested I see her," she tells me when we meet again at her home a few days later. It's a Thursday morning in May, and the show has officially wrapped for the summer. We're sitting in her kitchen nook, the one with the hidden window. "I was like, 'Maybe we will, Bear. Maybe we will. I have to leave you with a maybe.'" Little Kitty, a skinny black cat, is splayed out like a fashion model. "Oh, you are just production designed for this space!" she exclaims. Little Kitty is one of seven animals — four cats (Peach, the femme; Lucky, the butch top; Big Kitty, the gray lovebug; plus Little Kitty, the fashion girlie), a mutt named Douglas Fairbanks, Lucy the white-haired golden retriever, and a bearded dragon named Jeremy. (They are all girls, except for Douglas, and surnamed Barrymore, as in Little Kitty Barrymore.)
As part of the apartment renovation, she knocked out the old ceilings and can lights that were hiding about two and a half feet of height. The exposed concrete walls give the space a raw, open feeling. "Olive thinks I've lost it," she says. There are three ceramic fishes on the wall, representing Barrymore and her daughters; when they curl up in bed together, that's her happy place — they call it "Chez Sardine." She's still in her silk nightie with a sweater on top. She sits down for some breakfast, a spinach-watercress soup from her cookbook, Rebel Homemaker, that her co-author and personal chef, Pilar Valdes, has prepared.
The question of empathy and forgiveness has been on Barrymore's mind since we first spoke. "You had such an effect on me that day. I was like, I would like to come back to this person slightly shifted because that's the only way I can honor what I felt," she says. She often strives to meet other people's standards — what would Spielberg do? What would Michels say? Would Jennifer Garner consider this "hard cardio"? — as part of her self-improvement plan. Our interview becomes another opportunity for growth and self-reflection. Call it an act of transference. Writing the blog post and texting her mom were both part of making an effort, she says. "I was really excited I could tell you I've done some serious work and I do feel different. I forgive my mom. I forgive my dad. I've never forgiven myself, but I'd like to and I'm ready to."
One of Michels's exercises involves visualizing your shadow as a way to bring you closer to the thing you've suppressed and to create "an unbreakable bond" between the two of you. I ask what hers looks like and she bolts up and heads toward the living room, where she has a framed drawing of it. Often, clients imagine a pimply-faced adolescent — a Josie Grossie type, for instance — but Drew's drawing is far more indistinct. The shadow is … a shadow. It's opaque, shaped like a shroud, and oddly beautiful.
How old is she? "She's ageless," she says. "I don't always know her voice. I don't always know what she's saying or wants. How does one get in touch with their own childhood and upbringing and truly connect with them in a way where they can separate themselves and look at it objectively?" Usually, she says, her shadow has a sad expression that repulses her and makes her feel lost: "I'm like, I know you're hurt. What do I do? What do I do?"
Over the next hour — yes, she's working this out in real time — she tries to reach her. She visualizes rooms from her childhood where she used to live with her mom and "crazy shit happened." There are so many things she cannot say, will not say, but she can feel them. She closes her eyes. She is silent. She speaks aloud. A realization: When she had only herself to rely on, she became so hard on herself, particularly after she had daughters. She could give them grace and the childhood she never had, but she couldn't grant that to herself.
"I guess what you tried to do is make it okay for everyone around you, and you didn't make it okay for yourself," she says. She is speaking to herself. Or maybe to her shadow.
She opens her eyes. "And you asked when I would ever forgive myself," she says to me. "That is the work. I have to forgive myself for not knowing exactly what to do at certain times."
Tears are streaming down her face, and she looks beatific in the morning light. Her shadow is in the room with us now, she says, and she's smiling. "Oh!" — here comes another revelation — "She's like, 'I am you, dumbass.'" Barrymore starts to laugh — light, cathartic guffaws. Her assistant peeks her head in to make sure everything is okay.
She seemed older when she was younger — "7 going on 29," as Spielberg once put it — and in this moment, she seems childlike. She has maintained her capacity for wonder — to allow herself to be overwhelmed by feeling.
"She's so happy because I just learned something," Barrymore says, smiling. She wipes away her tears. "I'm going to bring this to Barry on Monday."