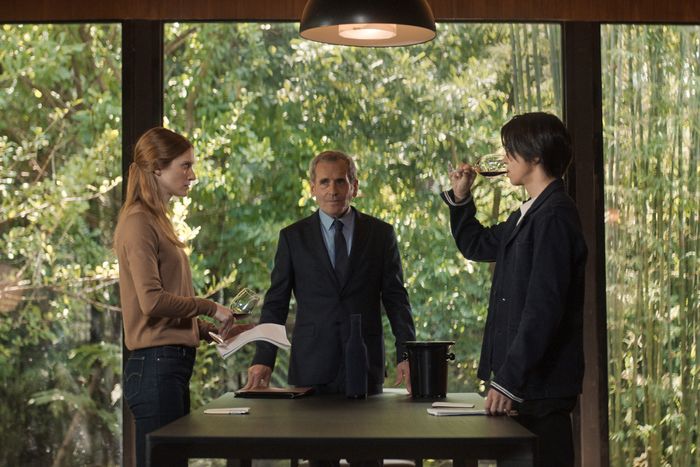 The Apple TV+ manga adaptation overcomes clichéd writing to serve a series unlike anything else on TV.
Photo: Courtesy of Apple
Nothing's sweeter than death to kick off a story. Drops of God, a new series on Apple TV+, opens with the passing of a legendary French wine critic, Alexandre Léger, who leaves behind a massive private collection in Tokyo estimated to be worth $148 million — "the fruit of a lifetime's work." Leger was a megalomaniacal diva in life, and so he continues to be in death: The beneficiary of his trove is to be decided, perversely, through a series of ornate oenological tests pitting his estranged daughter Camille (Fleur Geffrier) against his Japanese protege, Issei Tomine (Tomohisa Yamashita). 
But don't let the gorgeous cinematography cloud your eyes: Drops of God is prestige television with a pure soap-operatic heart. Camille, years removed from her father's hard-driving parenting and wine tutelage, is nowadays incapable of drinking the stuff. Literally: Even an ounce of alcohol causes her to keel over and bleed through her nose. Meanwhile, the stern, incredibly ripped Issei hails from a powerful diamond family whose patriarch threatens to cut him off over his professional passion for wine. Yes, Drops of God is a high-stakes succession drama steeped so lovingly in the wine world even LeBron James would feel out of his depth. But the series' perspective is often so curious and bizarre as to be uniquely compelling. There's really nothing else like it.
Adapted by Quoc Dang Tran, a French Vietnamese television writer who worked on Call My Agent!, and directed by Oded Ruskin, Drops of God is based on a revered manga by Tadashi Agi, the pseudonym for brother-sister team Yuko and Shin Kibayashi. Published between 2004 and 2014, the manga was so popular it drove a boom in wine sales across East Asia, in large part owing to how the text doubled as a kind of educational pamphlet. Concepts like "vintners" and "terroir" are elaborately explained alongside narrative drama and character high-jinks, all bundled together in a celebration of its wine-world setting. In 2018, the French government awarded the Drops of God manga with L'Ordre des Arts et des Lettres, which recognizes significant contributions to the French arts; the rise in sales was said to be a boon to French vineyards.
The Apple TV+ adaptation is a French-Japanese co-production that quite clearly tries to merge the two cinematic aesthetics. It's not a particularly balanced pairing, as Drops of God comes off as a French show with robust Japanese components, but the two halves do unlock a fascinating contiguity in how the French and Japanese perspectives meditate on ideas about beauty, artisanship, pleasure, and legacy. The series is a very loose adaptation of its source material, but it preserves one of the manga's most recognizable motifs: routine swerves into lavish sequences illustrating a character's experience with the wine they're consuming. Vintages are described by flavor and note, but also by images, memories, emotions, and metaphors run gloriously amok. In an early scene, the manga's protagonist, Shizuku Kanzaki, samples a bottle that vaults him into a reverie. Transposed against imagery of an open field, the wine appears to Kanzaki as an ethereal woman persistently turned away from him. On the show, such flourishes appear as bouts of imaginative surrealism. Sniffs of wine yank Camille into a memory palace where she sorts through cabinets and piles of clutter in search of the right tasting notes. Later, during a heist to identify a particularly rare bottle, Camille's pupils flash with a rapid sequence of images, her mind computing a galaxy of possible options.
To some extent, Drops of God reminds me of Giri/Haji, the BBC Two and Netflix series that radically synthesized British and Japanese crime drama tropes to novel effect. Comparatively speaking, though, Drops of God is much less successful. It's simply not as well written — the narrative is riddled with clichés, the plot is hampered by a sagging middle third, character motivations shift on a dime — and the two leads aren't terribly compelling. But there's something undeniably intoxicating about the show's enthusiastic transnationalism. Drops of God confidently glides across multiple languages: Camille is fluent in French, English, and Japanese; Issei in Japanese and English; the lawyer overseeing their competition is French but communicates with the duo in English; an excursion to Italy sees Camille relying on an Italian compatriot to translate. The linguistic criss-crossing sometimes feels awkward to the ear, but there's a dramatic power baked into the pockets of overlap. A wonderful scene late in the series, for example, involves a moment when Camille and Issei conjure a veil of privacy by quietly shifting into Japanese, concealing a life-changing conversation from their French companions.
That transnational orientation also drives a thematic depth. Drops of God unspools with a nervous tension between Issei and Camille, who on paper could represent some passé conflict between "east" and "west." But as the narrative unfolds, a sense of dislocation emerges within the two lead characters. It's really something to watch Issei, a Japanese man unsure of his place in the universe, striving for dominance in an arena long identified as French terrain. It's similarly intriguing to watch Camille, in some ways a poster child of bloodline entitlement, navigate the increasingly globalized wine world. Where their stories end turns on a fairly predictable twist, but the whole thing is elevated by the show's commitment to both the bit and the beauty of its subject matter. When delivered with the right amount of passion, a cliché transforms into a classic.