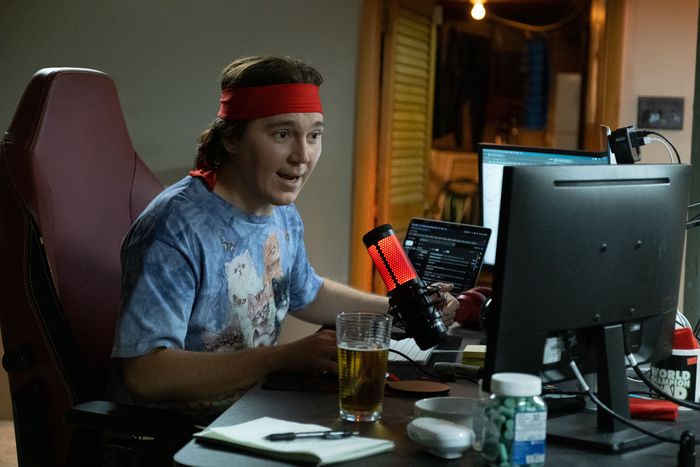 Paul Dano as Keith Gill — aka DeepFuckingValue, aka Roaring Kitty — the online investor whose videos and posts helped drive GameStop stock to record highs.
Photo: Claire Folger/Columbia Pictures
The race to bring the meme stocking of GameStop to the screen began before the Reddit-fueled phenomenon even reached its peak in January of 2021. The nonfiction projects were finished first — feature doc GameStop: Rise of the Players managed to get pulled together in time to hit theaters on the one year anniversary of the short squeeze, while a Kieran Culkin-narrated docuseries about the events was released on HBO Max two months later, in March 2022. Scripted projects are slower moving and more expensive, making the stakes higher. Blumhouse and RatPac Entertainment got in the mix, while Netflix announced that homegrown hunk Noah Centineo would star in a film written by The Hurt Locker's Mark Boal. A newly launched production company declared its intentions to make a series version called To the Moon. But the winner turned out to be Dumb Money, a movie directed by I, Tonya's Craig Gillespie and starring an ensemble cast led by Paul Dano as Keith Gill — aka DeepFuckingValue, aka Roaring Kitty — the online investor whose videos and posts helped drive GameStop stock to record highs.
Will these other projects ever materialize? More likely, they'll dissipate like morning mist. Dumb Money may not aim to be definitive, but it doesn't leave you feeling like there's a wealth of other stories about this incident that are demanding to be told. Whenever Hollywood piles onto a news story like this — remember the Thai cave rescue? — you can only hope that everyone involved remembers that they have to then make something that stands on its own, rather than just recapping semi-recent events with actors. In the case of GameStop, that means crafting a movie about a bunch of people who stare at screens. The pleasant surprise of Dumb Money is that it's such an effective entertainment, even if it oversells the revolutionary impact of what it's depicting. Gillespie, working off a script from Lauren Schuker Blum and Rebecca Angelo, keeps things brisk and juggles over a dozen characters while steering clear of the smugness that made Adam McKay's The Big Short so unbearable. Dumb Money works not because it feels ripped from the headlines, but because the moment it so precisely depicts — of shuttered malls, Megan Thee Stallion's "Savage," and widespread masking — isn't far into the past but feels distant. It's a film about the height of the COVID era, which battered the masses while barely touching the rich, but which also gave us time to start paying attention to the systems that made things this way.
The heroes of Dumb Money are a selection of r/wallstreetbets users representing different facets of financial struggle. America Ferrera plays Jenny, a Pittsburgh nurse and single mother carrying a mortgage by herself. Anthony Ramos is Marcus, who lives with his parents in Detroit and trudges to work at an actual GameStop, which stayed open during the pandemic by claiming it was "essential retail." Myha'la Herrold and Talia Ryder are UT Austin students saddled up with loads of student debt. Dumb Money puts everyone's net worth on screen alongside their introduction, making it clear that Keith — who doesn't own the Brockton, MA house he shares with his wife (Shailene Woodley) and baby, but who isn't in the red — is in one of the stronger positions thanks to the $50,000 in savings he puts entirely into GameStop stocks as an investment. Of course, that's in contrast to the hedge fund types like Gabe Plotkin (Seth Rogen), Steve Cohen (Vincent D'Onofrio), and Ken Griffin (Nick Offerman), who are worth from the hundreds of millions to the billions, and who are nestled in compounds in Greenwich and in Florida. Then there's Vlad Tenev (Sebastian Stan) and Baiju Bhatt (Rushi Kota), the preening founders of Robinhood, who talk a big game about democratizing trading while really just being aspirants to that same tier of finance elite.
As momentum gathers around GameStop, Gillespie splashes memes and videos on screen, sometimes intercut with increasingly slackjawed news coverage at the time. The film doesn't sand away all the rough edges of Reddit culture, from the tendency of the stonk-loving forces to refer to themselves as "retards" and "autists" to the fact that the subreddit temporarily got shut down for hate speech and threats. But it, understandably, focuses on the giddy pleasure of masses of people feeling powerful, for once, when banding together against wealthy figures to whom a different set of rules have always applied. How can you not root for this show of force from the everyperson, a momentary union of true class rage and entirely juvenile online spite that may not have transformed into more lasting political will, but that's still satisfying? It's why, while Dano gives an endearing turn as a guy finding his voice after being cowed by years of rejection, the movie's animating performance is actually from Pete Davidson as Keith's dickhead brother Kevin. Davidson, playing an app worker who steals his brother's car to make deliveries while grazing on the food he's meant to be dropping off, gives unexpectedly good Masshole. But it's his mix of no-fucks-to-give attitude and genuine feeling that sums up the sentiment of the movie as a whole. Dumb Money may not convince you that the world needed a movie about the GameStop affair, much less multiple ones, but it doesn't leave you feeling sorry you watched it.