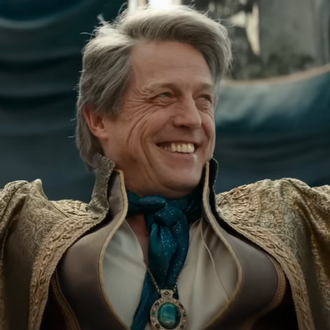 Photo: Paramount Pictures
Have you been looking for a ragtag group of magical miscreants you can have some fun (and maybe save the world) with? Well, the new Dungeons & Dragons movie is here to fill that hole in your heart. The new campaign recently premiered at SXSW, and the energy was so intense that there was fainting from some audience members (seriously). If you're not familiar with the popular tabletop game, fear not! According to directors Jonathan Goldstein and John Francis Daley, the film takes inspiration not only from the world of the game but also from popular movies such as The Princess Bride, Monty Python and the Holy Grail, The Lord of the Rings, and Indiana Jones as well as the heist genre. Regardless of whether you align as a chaotic evil or a lawful good, you'll still need a handbook to prepare for your quest. It's time to roll for initiative, whether you want to or not.
What's the campaign about?
Dungeons & Dragons: Honor Among Thieves follows a group of (potentially honorable) thieves as they attempt to rescue the land from the evil it has accidentally unleashed. They set out on a quest to defeat the evil Red Wizards of Thay from trying to transform their home of the Forgotten Realms (a popular D&D setting) into a place of the undead.
Who's playing?
It stars Chris Pine, Regé-Jean Page, Justice Smith, Sophia Lillis, and Michelle Rodriguez — along with Hugh Grant in a villain role that's not on the red carpet. Pine plays Edgin Darvis, a bard who raises his daughter with friend and barbarian Holga (Rodriguez) after his wife passed. Both Holga and Edgin get imprisoned after a heist goes wrong, separating them from their daughter, Kira Darvis. Joining them on their campaign are Page as paladin Xenk Yendar, Smith as sorcerer Simon Aumar (who uses sign language to cast his spells), and Lillis as tiefling druid Doric; the latter has organized a resistance against Grant's Forge Fitzwilliam, a.k.a. Lord of Neverwinter, as he's targeted her homeland for resources. Daisy Head and Jason Wong are Sofina and Dralas; both of them are Red Wizards of Thay, a powerful group of mages who want to take over the Forgotten Realms.
What's it looking like?
In the second trailer for the film — the first premiered at San Diego Comic-Con last year — we get a look at a slew of monsters and mayhem. It's got dungeons! It's got dragons! It's got a crew of rapscallions! And it certainly does take inspiration from heist films.
When can you play?
Premiering March 31 in theaters, every cleric, fighter, magic user, and thief you know is certain to be in attendance.