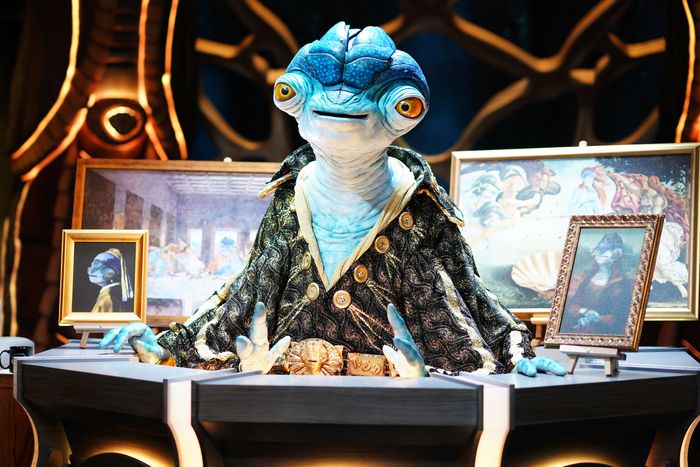 Earth to Ned.
Photo: Disney+
Forty-four whole years ago, in 1976, The Muppet Show debuted on ABC. At the time, there were about as many variety shows as there were celebrities, but Jim Henson's creations satirized the genre in a way that also felt like a celebration. It brought an unapologetic, infectious enthusiasm for the joy of performance to an American audience left jaded by Vietnam and the fall of a president. Fast-forward to today, and we find ourselves with as many talk shows as there are celebrities, each trying their best to grapple with a year that is going so badly we don't even need to say why it's going so badly. All we need to say is that it is the year 2020.
Enter Earth to Ned, a late-night talk show from the Jim Henson Company hosted by a gigantic space alien named Ned and his sidekick, Cornelius. It's a family-friendly show currently streaming on Disney+ with a premise that's decidedly dark: Ned was sent here by his father, known only as "the Admiral," to destroy Earth. But Ned fell in love with it instead, so he pivoted to hosting a talk show from his spaceship, parked just under the Earth's crust. I started watching because I've always loved Muppets, and while I'm a big fan of late-night shows, I haven't been able to handle them much recently. As this year drags on, I'm less able to enjoy jokes about how the president did something bad he definitely won't get in trouble for, impassioned speeches lamenting the state of things, or even just stories about the awkwardness of our unprecedented times. Ned initially served as a respite from all that, but I eventually started to realize that while it may not acknowledge our current reality outright, it is exactly the rallying cry my exhausted heart needed.
Each episode is dedicated to a different element of Earth life Ned has discovered and wants to learn more about, like comedy, pets, musicals, and sports. (Also, since it's Disney, there's a whole episode dedicated to Star Wars, which Ned pivots to after discovering it's more fun than his original idea for the episode: slugs. But, damn, do I want that slugs episode.) Ned and Cornelius have arrived on Earth truly knowing nothing about it, save for what BETI, their ship's wry and somewhat spiteful AI program, looks up for them. So it's up to celebrity guests like Jenny Slate, Lil Rel Howery, NeNe Leakes, and Thomas Lennon — whom they abduct via space beam — to enlighten them on these topics, which they approach with the enthusiasm of two hyperintelligent children.
What makes it all work so well is how sharp Ned and Cornelius actually are, despite their adorable naïveté. Paul Rugg, former writer and voice actor for Animaniacs, voices Ned with a personality that I would describe as "Big Bird meets Rip Taylor." Cornelius, voiced by Groundlings alum and Muppets veteran Michael Oosterom, is Ned's put-upon underling sent out to do field pieces against his will. He often develops a much easier rapport with the guests, sending Ned into a jealous fit. While the show employs a small but stacked writing staff of Sierra Katow, Jordan Morris, Maggie Monahan, Eliza Skinner, Yassir Lester, Adam Stein, and Nick Wiger, the interviews are largely improvised. This looseness gives space for each guest to make what they will of being surrounded by certified Henson creatures: Some are terrified; some are thrilled; some are Joel McHale. And just in case the guests are too comfortable, they'll inevitably be approached by one of the studio's many Clods. Clods are small, furry aliens with squidlike legs who speak mostly in growls and snarls, but can of course say words when someone's trying to remember the names of Italian Renaissance painters.
But what turned me from a casual fan to a person who wants everyone on Earth to watch it is just how goddamn joyful it is. Everyone is having so much fun! The guests are all surprisingly very game to be in a fake spaceship talking to a ten-foot-tall alien who is asking questions like "How much money do you make?!" and "Is that sarcasm?? Teach it to me!" Rachel Bloom bursts into song about how no one likes to be pranked on set ("Everybody's there to work!"); Raven-Symoné seems genuinely surprised and touched when Ned produces one of her own paintings so she can tell us about it; RuPaul excitedly judges a tiny fashion show the Clods put on, featuring Bob Mackie's designs for Cher; and Bindi Irwin holds a puppy up to Ned who, having no concept of what a puppy is, cautiously asks it, "Puppy, what are your regrets?"
And while, unlike other talk shows, this one can completely avoid partisan politics, the aforementioned premise of "Ned is supposed to be killing us all" is the undercurrent that connects Earth to Ned to our mildly apocalyptic reality. In the epilogue of each episode, after the talk-show portion ends, Ned records a "Daily Mission Report" to send back to his father. Ned will come up with an excuse for not having destroyed Earth yet ("A part of the ship fell off! A really important part too!") and then excitedly relay the cool things he learned about human culture that day. We're reminded of the horrible reason he's here as he tries to convince his father to maybe reconsider our destruction. At a time when it can feel like we have plenty of reasons to give up on humanity, it's refreshing to see how hard Ned is rooting for us. If The Muppet Show helped '70s America rediscover irreverent joy, Earth to Ned might be here to convince 2020 America that our world is worth saving.