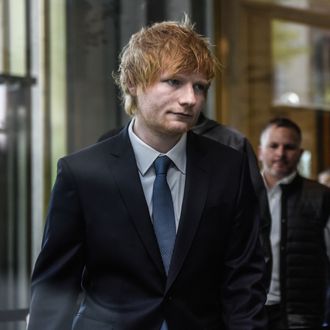 Ed Sheeran arriving at the courthouse on April 25.
Photo: Stephanie Keith/Bloomberg via Getty Images
Ed Sheeran's much-awaited copyright-infringement trial ended when a jury found he did not copy Marvin Gaye's song "Let's Get It On" in Manhattan federal court. Sheeran was accused of copying the R&B song in his 2014 hit "Thinking Out Loud." This lawsuit, filed by the heirs of the song's co-writer and composer Ed Townsend, claimed Sheeran unlawfully employed the "heart" of Gaye's song — that is, "harmonic progressions" and "melodic and rhythmic elements."
The suit claimed Sheeran copied those elements and "repeated it continuously throughout 'Thinking' — this incontrovertible musical similarity has been observed by music industry professionals previously, as embodied by various social media and articles about the matter," the suit claimed. Sheeran has denied the heirs' allegations since the suit was filed on July 11, 2017. For his part, Sheeran has insisted in court papers that the "heart" of "Let's Get It On" is composed of no more than routine elements of popular songs that aren't "unique, original, or protectable." Here's what you need to know about the trial over Sheeran's song.
What, exactly, is Ed Sheeran accused of copying?
Sheeran is accused of copying the musical building blocks of Gaye's song, not the lyrics or overall feel. The jury is supposed to weigh only whether Sheeran copied those building blocks, which are recorded on sheet music that's on file with the United States Patent and Trademark Office, according to the Associated Press.
Has Ed Townsend's family said anything else?
Townsend's family has been vocal about the case. "This must stop," Townsend's daughter, Kathryn Townsend Griffin, said last month, according to CBS News. "We have enough chaos going on in the world today, besides having to stand here and worry about other people stealing other people's belongings." The article also quotes Ben Crump, a renowned civil-rights attorney representing Townsend's family, as saying "Thinking Out Loud" exemplifies the history of appropriation of Black artists' work. "For far too long, Black artists have created, inspired and spread music all around the world," Crump said. "And Ed Townsend's family believes artists', like Mr. Sheeran's infringement of Black artists, is merely another example of artists exploiting the genius and the work of Black singers and songwriters."
Has Sheeran been accused of copyright infringement before?
Oh, yes — the current case is among several he has faced other litigation for alleged copyright infringement. Sheeran faces two other lawsuits in the same courthouse over the alleged similarities between "Thinking Out Loud" and "Let's Get It On." They were filed by a company that holds an 11.11 percent stake in "Let's Get It On," per the New York Times. The company, Structured Asset Sales, bought the stake from one of Townsend's sons.
In 2016, the two songwriters behind "Amazing," a song performed by Matt Cardle, filed suit against Sheeran, alleging he had copied aspects of the track for "Photograph." The case was settled in 2017, and the "Amazing" writers were added to the credits of "Photograph," the Times said. The artist Sami Chokri, a.k.a Sami Switch, alleged in a lawsuit that Sheeran's 2017 song "Shape of You" copied his 2015 song "Oh Why." Sheeran won the U.K. suit last spring with a court finding that he "neither deliberately nor subconsciously copied" Switch's tune. Although there were "similarities between the one-bar phrase," these commonalities were "only a starting point for a possible" copyright infringement, CBS News reported of the court finding.
When that court action wrapped, Sheeran remarked that he was "happy with the result" but expressed concern over this type of litigation, saying he feels "like claims like this are way too common now and have become a culture where a claim is made with the idea that a settlement will be cheaper than taking it to court, even if there's no base for the claim." Sheeran said he thinks cases like these are "really damaging to the songwriting industry" and pointed at the volume of songs being released daily. "There's only so many notes and very few chords used in pop music," he said, according to Music Business Worldwide. "Coincidence is bound to happen if 60,000 songs are being released every day on Spotify."
What has Sheeran testified?
Per The Guardian, Sheeran appeared in court to defend himself in person this week. He argued that "most pop songs can fit over most pop songs," citing "Let It Be" by the Beatles and "No Woman, No Cry" by Bob Marley as examples. "If I had done what you're accusing me of doing, I'd be quite an idiot to stand on a stage in front of 20,000 people and do that," he reportedly said during his testimony.
The New York Times reports that Sheeran also brought in a guitar and played the four-chord progression from "Thinking Out Loud." Alexander Stewart, a musicologist for the plaintiffs, argued that Sheeran's second chord is similar to the minor one in the same position in the "Let's Get It On" progression. Sheeran reportedly demonstrated a version with a major chord that he said he played at "every single gig." According to the Times, he had a "slight grimace" as he played the minor version that Stewart suggested.
When the trial picked back up after the weekend, Sheeran returned to the stand with his guitar. Per the Daily Beast, his testimony became a performance of multiple mash-ups — including one of "Thinking Out Loud" and a song by Van Morrison, who Sheeran claimed was actually the primary inspiration for the song. Sheeran said his producers referred to "Thinking" as "the Van Morrison tune" because his voice sometimes sounded like the Irish singer-songwriter. The Beast reported jurors "looked amused" during the performance. Under questioning by his defense attorney, Ilene Farkas, Sheeran went on to say that being accused of stealing a song is "really insulting." Asked about if he were to lose the lawsuit and the songwriting precedent it would set, he responded, "I'm done."
Has Sheeran said anything else about the latest lawsuit?
The legal team repping Sheeran has insisted the songs are structurally similar only because pop music is characterized by similar structural elements. "The two songs share versions of a similar and unprotectable chord progression that was freely available to all songwriters," AP quoted his lawyers as saying in a court filing.
What did the jury decide?
A jury found on May 4 that Sheeran did not copy the song. Sheeran praised the ruling in a statement afterward. "I am obviously very happy with the outcome of the case, and it looks like I won't have to retire from my day job after — but at the same time, I am unbelievably frustrated that baseless claims like this are allowed to go to court at all," he said.
What have the ramifications of the ruling been?
Just weeks after, another judge dismissed a similar lawsuit against Sheeran, alleging similarities between "Thinking Out Loud" and "Let's Get It On." Per The Guardian, a Manhattan district judge dismissed the lawsuit brought by Structured Asset Sales, which owns part of the original copyright of "Let's Get It On." The judge ruled that the chord progression Sheeran allegedly copied wasn't unique enough to be copyrighted. This case dealt specifically with the sheet music to "Let's Get It On," though — Structured Asset Sales still has a separate suit over the song's recording.
Have there been similar lawsuits over Marvin Gaye songs?
A jury in 2015 determined that Robin Thicke and Pharrell Williams's "Blurred Lines" infringed on the copyright of Gaye's "Got to Give It Up" and awarded more than $5 million in damages to Gaye's family, the Times said.
Did Sheeran commit a crime?
No. Sheeran is accused of copyright infringement in a civil lawsuit. Whether one believes "Thinking Out Loud" is a crime against music remains an entirely separate issue.
This post has been updated.