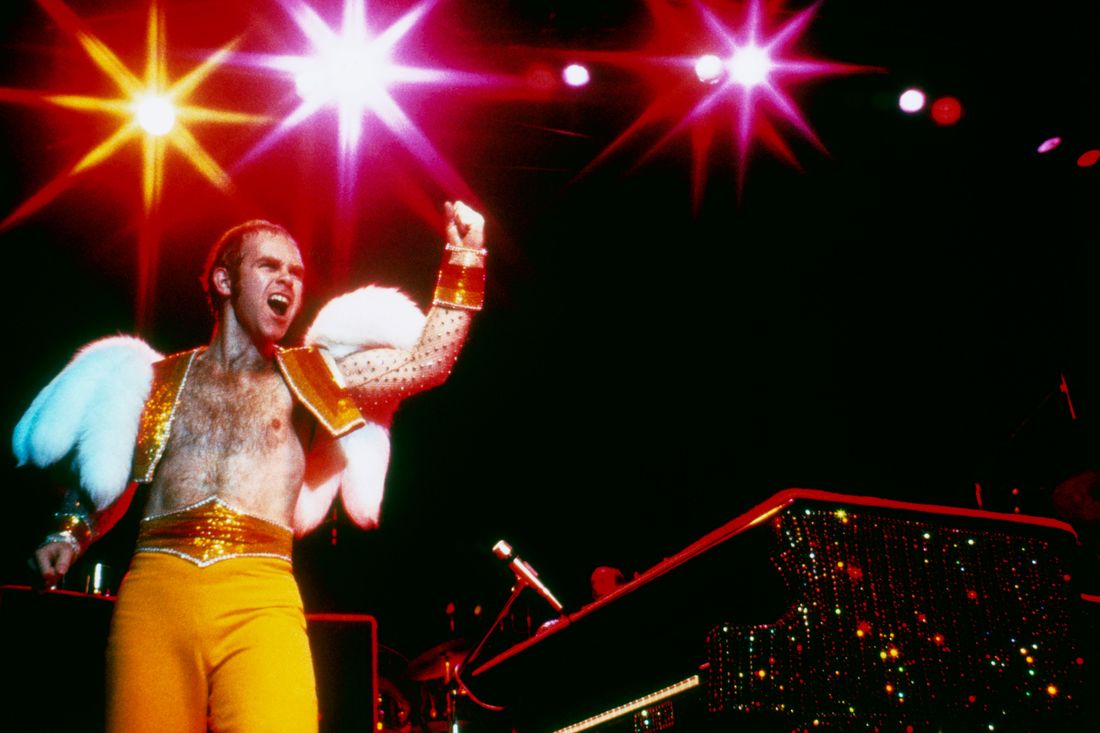 Photo: Ed Caraeff/Iconic Images
The biggest obstacle to creating a ranked list of every Elton John song ever is Elton John himself.
The 76-year-old songwriter hasn't just set a curve for success against which other artists' best songs can be judged. He's destroyed the very idea of a curve. Half a century ago, he released a total of seven LPs (including one double album!) in just shy of four years, all co-written with lyricist Bernie Taupin and often composed and recorded in a matter of hours or, at most, days. And they were good. Very good. Elton John is as bold and excellent a first proper debut for a new artist as has maybe ever been released. Honky Château is the album equivalent of the most perfectly paired French red wine and mellow weed; Tumbleweed Connection is solid Americana on par with anything you'd hear from a Yankee in the 20th century. Madman Across the Water levies a scorched-earth rebuke of critics. And Goodbye Yellow Brick Road is the mind-melting double-disc epic that could stand in for an encyclopedia entry on "music of the 1970s." They're the kind of albums that other artists would eat a feathered boa to pull off once, let alone back to back to back.
John's trajectory from seeming overnight success in 1970 to dangerous near-overexposure happened at a dizzying pace, though he'd put in the work before that; he was classically trained at London's Royal Academy of Music and played in blues bar bands since he was a teen. The boisterous, flamboyant front man could often be mistaken for the ringleader of a one-man circus. He created offhand feuds almost faster than new hits, alternately pumping up and then trashing his friends and peers (including Rod Stewart, Tina Turner, and even Princess Diana), along with more than a few hotel rooms, along the way. Through it all, he waited anxiously for the other shoe to drop. Asked about any new album, he'd predict it to be both the biggest success ever and quite likely to fall right out of the bottom of the charts. "I never feel as if I've really arrived," he complained in 1975. He frequently mused about how he'd handle the inevitable fall from grace, the coming apocalypse when he would be out of favor and fashion — and when his late pivot to disco (and an untimely trial separation from Taupin) finally broke his Midas touch, he spiraled spectacularly for a good stretch of the 1980s and early '90s.
Not every one of his best songs was a hit, or even a single. John famously argued on several occasions against releasing some of his most enduring tunes, notably "Don't Let the Sun Go Down on Me," to radio. Luckily the good ear and good sense of his label — or more often rogue radio DJs — prevailed, sending unexpected tracks rocketing up charts. But still, his catalogue is so deep that there are several dozen songs where the line between ubiquity and universality has blurred over time. Take for example the way that a song like "Tiny Dancer" could skip across the surface of a lake when it was released in 1971 only to make a true splash because of an emotional needle drop in Almost Famous almost 30 years later. And then 20 years after that, the same "blue jean baby" was capable of inspiring Britney Spears to return to the recording studio in 2022 to team up for "Hold Me Closer." All it took was a lyrical fragment and a couple emoji on Instagram to immediately spur a fan frenzy.
When things are really trucking along, you don't know where exactly an Elton John song is going to go — sometimes he'll change course musically two or three times in one tune, as on the Goodbye Yellow Brick Road opener, "Funeral for a Friend," or when "Madman Across the Water" skates from eerily beautiful harmonics to crashing drums and dissonance. His lifelong mind meld with Taupin yields songs about both nothing identifiable ("Take Me to the Pilot," which even Taupin admitted was about "fuck-all") and, as in the alienating big city of "Mona Lisas and Mad Hatters," something deeply specific — and also somehow universal. Taken collectively, his now six-decade career as a working musician encompasses an insouciant rebelliousness against being boxed in to any one genre and a cheeky, often annoying tendency to dash off formulaic soundalike songs ("No Shoestrings on Louise" and "Crocodile Rock," I'm scowling at both of you) as if to prove he could have been in numerous other famous rock bands if only he'd deigned to bother.
Sometimes he's less inspired — or worse, and for so many years, coked out and drunk seemingly beyond mortal comprehension — and it quickly becomes obvious he's phoning it in. When Taupin's words veer from the poetic and bizarre back to bitter (as with "Dirty Little Girl"), especially during the 1980s on tracks like "Poor Cow," the misogyny is glaring and can drag down otherwise serviceable tunes. And while "Border Song" — which became their breakthrough work as struggling songwriters when it was covered by Aretha Franklin — stands the test of time, there are a handful of tracks where these two white guys from England making songs about racial inequality (sometimes, like "Slave," written in first person) feels absurdly out of touch, if not offensive.
Nevertheless, perhaps miraculously, and despite an unprecedented effort to kill himself and his career in myriad ways, John has survived — physically, mentally, financially, creatively. He has a weekly Apple Music radio show on which he enthusiastically supports emerging artists, he without fail digs up archival material to put out for album rereleases and in support of indies on Record Store Day, and he had a No. 1 dance-chart hit in both of the past two years, with Spears and, in 2021, with Dua Lipa. He's made more than 35 studio albums and has seemed hellbent on extending his retirement tour seemingly forever.
In order to attempt the basically impossible task of stack ranking nearly 400 Elton John songs, I considered each song holistically, inclusive of the lyrics even though they are almost never written by John himself. He's unquestionably an album artist, not a singles man, but when separated out from the LP track listing, the best and worst individual efforts became more and more obvious. A bad Elton song, relatively speaking, is forgotten almost before you finish hearing it even if it's generically competent. A great Elton song transcends time and sometimes literal space to reach through and clench a fist around your lungs, even if it can be harder to explain why than to just sing along at the top of your lungs. The median point ("Candle in the Wind," by my math) is commercially dominant, patently emotionally manipulative, and yet somehow still heartfelt. And, despite the blitz of greatest hits from the 1970s, when allowed a moment to breathe, almost every new album of the last decade has at least a couple songs that are as finely crafted as, and often more emotionally honest than, those from a half century ago.
What's not in this ranking: B-sides. Often what doesn't make the cut of an album release is left behind for a reason or because there are many softballs lobbed in the writing-and-demoing process before zeroing in on a banger. In John's case, he had such a heavy early output that though he and Taupin wrote copiously and quickly, the complete songs usually ended up somewhere. So while there are technically hundreds of B-sides to be found on Spotify or in the indices of older biographies, most of them released only as the LPs enjoyed at least one if not multiple remastering and reissues, I have not included them. Live versions or demos aren't separate entries (but they do count toward a song's overall ranking, and John's Live in Australia album is itself a master work). Most soundtrack efforts — largely instrumental or voiced by others — were not included, unless they were recorded by John and nominated for an Oscar. I also omitted remix and tribute albums made by other artists and smaller features by Elton John on other artists' albums.
On sources: A shout-out to EltonJohn.com, which has added at times significant archival material to its own master discography as each album was lovingly re-issued. John's memoir, Me, is a great read and the rare autobiography in which the author routinely calls his own work out for being shit when it was (and even sometimes when it wasn't). It was also helpful for tracking at which point the drugs truly overtook the creative process. Also recommended for detail on the 1970s era: Tom Doyle's Captain Fantastic.
Enough of all that — let's start at the bitter end.
Nothing I can write about John's 1986 album, Leather Jackets, can beat his own excoriating review in his autobiography: "It was about as unmitigated a disaster as anything I've ever released … There was no getting around the fact that Leather Jackets had four legs and a tail and barked if a postman came to the door." (This seems unfair to dogs, honestly.) He added: "[It] wasn't an album so much as an exercise in trying to make music while taking so much cocaine you've essentially rendered yourself clinically insane."
While Elton squarely accepted blame for breaking his long-standing rule about keeping drugs out of the studio, the melodies do nothing to redeem Taupin's lyrics. This is the rare album of his that has not one redeeming track, so I'm placing these songs in an 11-way tie for last and will simply quote the worst lyric from each in lieu of further description, which they do not merit:
"Leather Jackets": "Is Memphis for real or just a song?"
"Hoop of Fire": "Don't pretend you wouldn't spend some time in a hoop of fire."
"Don't Trust That Woman": "A woman half crazy, oh then again lazy." (This one is not Bernie's fault — it's a cowrite with Cher and Elton, who hated it so much he resuscitated an old nom de tune, Lady Choc Ice, to take the rest of the blame.)
"Go It Alone": "The cards that always cheat the hearts / The spades you play just dug my grave."
"Gypsy Heart": "You come and go, just like the rain."
"Slow Rivers" (with Cliff Richard): "Shallow waters never sank so low."
"Heartache All Over the World": "Girls, girls, girls, have pity on me."
"Angeline": "Bite me, Angeline, let me use you like a sex machine, Angeline."
"Memory of Love": "Why conceal you still feel / the need to push and shove me."
"Paris": "Art has its price." (This is maybe, maybe, the least awful.)
"I Fall Apart": "This fool's suffered gladly, each and every day."
The lyrics are only compelling if you imagine them being spoken aloud by Christian Bale as Patrick Bateman in American Psycho: "Slip into my soul glove / Pull it on, we got a tight fit / Oh never take it off / And baby if the seam's rough / And honey if the skin's soft / You and me we go together."
366. "Shakey Ground" (with Don Henley), Duets (1993)
Just Googled "Elton John duet Shakey Ground why" and there were no results.
Why not open Victim of Love, your 13th studio LP — a disco album written and produced by Peter Bellotte for which you helicoptered in to record a few lead vocals in less than a day — with an eight-minute Chuck Berry cover? Why fucking not?!
364. "If You Were Me" (with Chris Rea), Duets (1993)
Chris Rea, a British guitarist who has actually sold some 30 million records worldwide despite being all but unknown in the U.S., does nothing here to really introduce himself, and his buddy Elton doesn't help.
The Orientalism here is so strong it's tough to dig down to whether it's actually any good as a song. (It's not.)
362. "Born Bad," Victim of Love (1979)
"There ain't no use denying / It was me / Who put you through this misery." He said it.
Elton said he made Victim of Love in part because he was still furious his American label hadn't released A Single Man's "Song for Guy" — a lengthy instrumental with only one lyric — to radio and was eager to finish the overall deal. But he also admitted an album made "in bad faith" wasn't likely to overcome its ill intent, and this is nothing if not a bad-faith song.
The lyrics on this one are as cringe as the title: "Along came a señorita / She looked so good that I had to meet her."
There's a reason Bernie Taupin hates The Big Picture with a fiery passion. To his credit, Elton comes closer to belting here in 1997 than he has in a while (not counting The Lion King, I guess), but it doesn't make the song good. There's a duet version with Luciano Pavarotti that's not much better.
358. "Hymn 2000," Empty Sky (1969)
Literally no one needed Elton John to try to be another Bob Dylan, and his warbling here (and whistling courtesy of the studio tape operator) makes less sense than the lyrics.
Even this cloyingly sweet song takes a beat to slander an ex-girlfriend who won't leave him/Bernie alone. Sure.
"Open up your heart, little girl, and take me back." This is not a credible plea on any level.
355. "January," The Big Picture
"January is the month that cares." Self-care, no matter the time of year, means respecting Bernie Taupin's dislike of The Big Picture.
This is certainly no "Honky Cat."
353. "Slow Down Georgie (She's Poison)," Breaking Hearts
"The reputation of the woman you're dating's 'bout as nasty as the Berlin Wall." Come on.
One of my least favorite John songs simply because it feels so lazily cliché. It's still catchy, though, and if you listen very closely, there's some Pete Townshend on acoustic guitar.
351. "The Scaffold," Empty Sky (1969)
There's a very unexpected lively chorus — with harmony — that stands out amid the rest of the early Empty Sky songs, which are almost demos for future work, but it's not really unexpected in a good way. The lyrics here — "The buckshee hangman swears for open crypts to silence" — presage decades of fans left puzzling through Taupin's hodgepodge of classical references and utter nonsense.
350. "Dixie Lily," Caribou (1974)
One of their least impressive country crooners.
Anytime you're listening to Caribou and muttering "What the fuck is happening," just remember, as Taupin said of making this album, "There was more snow inside than outside."
Vaguely Paul Simon in his Graceland era, but nowhere near that.
It genuinely hurts my heart that after "Take Me to the Pilot" they even bothered making another track about the possibility of meeting aliens. This is so literal it could be a Doctor Who teleplay. And not a good episode, either.
It's hard not to hear this as a sort of creepy ode to one of Bernie's many youthful loves — his own early memoir is a recounting of his various jobs on and off the family farm and the series of young women he desperately hoped might sleep with him — and it's only weirder for the wobbly use of a theremin throughout.
345. "Stinker," Caribou (1974)
Even with "The Bitch is Back," John and Taupin knew Caribou was a mess — so much so that they suggested at one point that this song become the album title. "Tell me what your hound dogs think," goes one solicitous lyric. (What's baffling is that by the time this album was released, the Elton John train was moving so fast that it still sold outrageously well.)
Would I be so angry at this (undeniably terrible) song if it didn't land in the emotional aftermath of the great "Breaking Hearts (Ain't What It Used to Be)"? I don't know, but it's awful no matter where it pops up. Actual lyric: "Why, li'l 'frigerator, you're so cold."
343. "Pain," Made in England (1995)
Elton really does what he can here vocally, but with a refrain like "You're all I ever wanted / I'm pain!" there's not much hope.
A three-way tie. Burying these tracks in the middle of Victim of Love can't hide the fact that they are all egregiously awful, almost interchangeably so. "Thunder in the Night" is the least convincing attempt by a narrator to care that he's been left by a woman for many good reasons. From there we roll right into "Spotlight," a Saturday Night Fever wannabe so tepid I nearly forgot that I do unironically love a disco clap, and then slide into "Street Boogie," which tries desperately to evoke a cool cat roller skating with a boom box but instead sounds like a Sesame Street reject. Cocaine is, as they say, a helluva drug, and this trio is caked with it.
339. "I've Got 2 Wings," Wonderful Crazy Night (2016)
A classic Bernie Taupin dilemma: Are these lyrics, from 2016's Wonderful Crazy Night, about some elusive fleeting observation he's spun into an operatic tale or simply batshit nonsense? T-Bone Burnett and Taupin showed John YouTube footage of the real-life preacher Elder Utah Smith, who in fact did preach with a pair of paper wings on his back — while playing electric guitar. That backstory doesn't quite make the song gel, but it explains a little.
338. "Princess," Jump Up! (1982)
This song positions John as a former "prisoner" who is "set free" by love: "You're one fine lady / You're my princess." This is an example of the division of labor between John and Taupin causing more confusion than harmony. It's not that it's impossible to imagine John found some kind of love with one (or more!) women at a time when he publicly identified as bisexual; on the other hand, we know from his own many candid recountings since that he … probably wasn't doing that. So what the hell is this song — or at least Bernie — trying to tell us?
This song sounds like it was programmed by an AI, and approximately 75 percent of the lyrics are literally just the title words with some crunchy synth. This and "Princess" are both very repetitive, so I'd like to assert now that the only way they could possibly be redeemed is if his next pop-reboot megamix made better use of them.
This sounds like a sign to skip ahead to the next song: "Find your feet and your fortune can be told."
335. "In Neon," Breaking Hearts (1984)
"Candle in the Wind" has never been my favorite; this sounds like its half-hearted outtake.
"I just can't sleep with this feeling anymore," it goes, but at an emotional and musical pace so slow I fell asleep.
Would've made a good Kenny Rogers song. That should be a compliment, but this isn't a Kenny Rogers song.
Another three-way tie, this time between paint-by-numbers Elton John album closers. I'm sorry. I love this man's work so much I'm relistening to every song in his catalogue (again! multiple times!), but I have no way to distinguish these tracks from each other. No one will ask you to turn the music off, but nobody will want you to turn it up. For "Tambourine," see "Guilty Pleasure," except this one is from a tambourine's POV. Literally. For "The Open Chord," also see "Guilty Pleasure," except this one goes over a rom-com montage about a couple who met in church.
329. "Blue Wonderful," Wonderful Crazy Night (2016)
One of those songs that inexplicably has too many syllables in every single line. "It's very Californian," John explained (or tried to), "full of electric guitars, very West Coast–y" — but it floats away just as easily on a breeze of forgettable melodies.
328. "A Good Heart," Wonderful Crazy Night (2016)
The second single off 2016's unremarkable Wonderful Crazy Night did help keep John's streak going on Billboard's adult contemporary chart. It starts off with some throwback harpsichord but meanders its way through a middling rise-and-fall chorus and key-changing bridge.
John said he and Taupin "hadn't even bothered to try to sell" this very early effort off 1969's Empty Sky, heavily influenced by Leonard Cohen, back when they were largely composing songs for other acts. But the studio manager liked it and urged them to try writing more for themselves. It's not particularly inspiring in retrospect, just more of Bernie's weird nostalgic songs about young brothers on a farm and not particularly rescued by John's subtle and inventive organ work underneath.
326. "Sails," Empty Sky (1969)
The problem with Empty Sky is that it's so hard to see the promise buried underneath what, especially in retrospect, sounds like a bit of a soup of other contemporary artists. This could have been a lesser Frampton song, or mid-catalogue Beatles or Stones, but mostly it's out of sight out of mind.
325. "Old Friend" (with Nik Kershaw), Duets (1993)
This is no way to treat an actual old friend who was with you in the dark days of "Nikita," on which Nik Kershaw also appears. If you listen to Elton John's Apple Music Rocket Hour weekly show, which leans heavily on curating new artists, you know he actually has outstanding taste and a stellar ear for young talent. Even if he was right that Kershaw was gifted, you can't tell in this duet.
324. "Dear God," 21 at 33 (1980)
A musically beautiful ballad that makes almost no sense in the context of Elton John's life in 1980.
323. "True Love" (with Kiki Dee), Duets (1993)
It's an actual goddamned tragedy that Kiki Dee and Elton John didn't make a full album with each other considering how much time they spent together and how much fun they actually had. Alas, this song is not fun. How do you cover Cole Porter and turn in a less gay and bouncy track than you might have when you were still in the closet 17 years earlier?
322. "Poor Cow," Reg Strikes Back (1988)
At a certain point, pinning down who is the subject and who is the object of the misogyny in this song becomes dizzying. On the other hand, you could almost make an argument that with a few lyric tweaks this could be Taupin and John cracking down on how Brits talk about Meghan Markle.
321. "Island Girl," Rock of the Westies (1975)
I truly don't know where to start with this song, which is ostensibly about a Jamaican sex worker in New York City (I'm assuming, based on the reference to her six-foot-three height, that she is a trans woman). "Tell me what you wanting with the white man's world," John sings in the midst of a patois-laden chorus. (This was a No. 1 song in the U.S.)
320. "Belfast," Made in England (1995)
Producer Paul Buckmaster, reunited with John on Made in England for the first time since A Single Man, jumps right back into the deep end of the orchestra — and then adds a surprise dancing jig to the end of this otherwise very schlocky tribute to the brave people of Ireland.
319. "Jamaica Jerk-Off," Goodbye Yellow Brick Road (1973)
Because the chateau they'd used for two albums running was booked, the band spent a week or two trying to make Goodbye Yellow Brick Road in Kingston, Jamaica, where the Stones had famously recorded. They were plagued by some unfortunate culture clash of island time, missing equipment, a union strike at the adjacent record-printing factory — all yielding perhaps too much time sitting around getting stoned and writing songs, including many of the eventual standouts on Goodbye Yellow Brick Road but also this clunker-slash-revenge diss track. On the upside, when the band finally retreated back to France they had enough songs for a double album — and they brought the weed with them.
I have more questions than answers about this song off 1993's Duets. Did P.M. Dawn's Attrell Cordes write it for a duet with Elton? Did they just dust it off and go in and see how it went? Did anyone bother asking why at all?
"Did he shoot that girl that used to be mine?" Bernie. What.
Done with gusto, but not done well.
315. "Blessed," Made in England (1995)
I want to say something cutting here about how this is a kinda-creepy song about an unborn child, but Elton John's later-in-life joy in being a father is so pure and now that's what I'm thinking about instead and I can't be too snarky. (Still, this song isn't great.)
314. "The Power" (with Little Richard), Duets (1993)
After Elvis Presley, Little Richard might be the artist young Elton John most revered: "Elton John was born [the] night" he saw Little Richard live in 1962, he writes in third person in his own memoir. But this watery pop gospel doesn't begin to do justice to that influence.
313. "Wicked Dreams," The Big Picture (1997)
The aggressive lyrics all but challenging someone to a nighttime rendezvous don't match the soft-rock music.
I'm just going to say it: A lot of Ice on Fire is probably Margaret Thatcher's fault. By then she'd sucked all the fun out of being British.
311. "In the Name of You," Wonderful Crazy Night (2016)
John called this a "Little Feat-ish" throwback, and it does sound pleasingly out of time, like something that should be played over a scene of someone driving through American farm fields — or maybe a missing track from A Star is Born sung by Bradley Cooper.
310. "Cold," Made in England (1995)
There are more key changes than a song this forgettable needs.
A little on the nose, boys, even though I don't think it's meant to actually be a gospel record.
308. "Claw Hammer," Wonderful Crazy Night (2016)
There's a touch of early 1980s Elton here — "my Peter Gabriel moment, probably," John calls it, "because he used so many different instruments." But mostly it makes me want to listen to the criminally underrated The Fox again.
307. "Too Young," Ice on Fire (1985)
"You're too young to love me / And I'm too old for you / At least that's what they tell us." Um? (I'd like to think George Michael heard this and thought, Oh, I can do that, and then busted out "Father Figure," which does this creepy theme better.)
306. "House," Made in England (1995)
A confusingly childish song, so simple you keep waiting for it to surprise you, but it never does.
This mid-'90s feel-good rocker arrived a decade too late.
304. "Looking Up," Wonderful Crazy Night (2016)
"It's the 2016 version of 'I'm Still Standing,'" John said in a track-by-track companion piece for Tidal. "It's about my life. It's a really joyous song about being happy." The joy comes through, as does a heavy dose of jukebox classic rock. But there's none of his earlier reference point's casual cheer, and maybe that makes sense for a man in his 70s. You'd stand and bop along with this band over barbecue at a street festival, but I doubt you'd be shook, rattled, or rolled.
This song, about a defeated man who won't bother to keep fighting even if she's still "pretty in that lacy little dress," is a serviceable country-western sad-sack tune but not a particularly inspired one.
302. "Indian Sunset," Madman Across the Water (1971)
Some of Taupin's first-person storytelling reads a lot more cringe today, and this is a prime example. That said, it's the only song on this list that Eminem sampled for a posthumously released remix of a Tupac song ("Ghetto Gospel"), so make of that what you will.
This song is too dirty to blame on Brian Wilson.
300. "High Flying Bird," Don't Shoot Me I'm Only the Piano Player (1973)
Sleepy and sweet but ultimately unremarkable.
Given the full operatic treatment of a 1970s Elton album, this might feel very different.
298. "Please," Made in England (1995)
"Please, please, let me grow old with you" is a surprisingly sweet refrain, but it doesn't save this song from sounding like it's one part happy-hour line-dancing lesson, two parts lounge act.
297. "I'm Your Puppet" (with Paul Young), Duets (1993)
This is not the worst but nowhere near the best on Duets. That's all I have to say about it.
296. "Latitude," Made in England (1995)
"It's just the weather and me," John sings on this dour, plodding waltz.
295. "Slave," Honky Château (1972)
Would a song written from the point of view of an enslaved person by two white British guys make it onto an album today? Of course not. Especially not one where the narrator refers to himself and his brothers as "slave." This is a slow, sweet-sounding country song full of hate for the colonel overseer and the narrator's dreams of a time when they might burn down the whore house where he spends his days as they work in the fields. But it's still Elton John singing it. (The "alternate fast version" that accompanies the album in many places on streaming is even more fever-pitched and confusing.)
One of many songs from this era that just seem to drag on.
An unusually trudging cadence, the kind of lyrics that end up sounding like a middle-school poem, and the early-'80s weak R&B vibe (on 2004's Peachtree Road!) isn't helping.
292. "Man," Made in England (1995)
A relative standout on the very middling Made in England, but it's still weighed down by borderline incoherent lyrics defending … the worthiness of man. Men. #NotAllMen. "Man stumbles on his own belief," sings John. "Don't lose hope if you can."
291. "Teacher I Need You," Don't Shoot Me I'm Only the Piano Player (1973)
If you're looking for an uncomfortably sexy song about a teacher, there's always George Michael's "One More Try." I don't know that it was in any way inspired by this one, but it's actually good.
290. "Dirty Little Girl," Goodbye Yellow Brick Road (1973)
Presumably from some real creep's POV, this might be the most blatantly misogynistic song in the Taupin-John catalog. It's hard to rock out to this relentless series of promises to "grab that bitch by the ears / Rub her down, scrub her back."
When this was recorded, Taupin was largely off the hard stuff, though his musical partner singing the deadly obvious lyrics was definitely not. "Sometimes the lyrics he gave me felt quite pointed," John admitted later. "I had the brass balls to sing it as if it was about someone else."
Peak ladies' man Bernie Taupin lyrics — "Them women, oh they're gonna slice your pie" — but the best of the melodies here start to sound borrowed from John's own catalog. And even after repeated listens I can't decide if "static" is an insult or a compliment.
Takes a left turn at the intersection of hard drugs and Frampton and never quite comes back.
286. "Hard Luck Story," Rock of the Westies (1975)
An early rare album track not written by Taupin, which in retrospect should have been more of a warning sign.
285. "Feed Me," Rock of the Westies (1975)
It feels like a different kind of '70s in this jazzy rock song, and not in a good way. The lyrics are demented — "I feel like a carcass, white like a marrow bone" — but the arrangement is insistently groovin' along.
284. "Restless," Breaking Hearts (1984)
A little too Dire Straits for my taste, even though buried down a layer is some biting social commentary: "We feed ourselves lies and then we scream for action."
283. "Georgia," A Single Man (1978)
There's something acutely missing in this weirdly romanticized idea of southern Georgia: Bernie's obsession with the messy actual history of the American South. This comes off like a forced tourism tune.
282. "Reverie," A Single Man (1978)
A minute-long instrumental interlude that largely serves as a prelude to the much more affecting "Song for Guy."
"Your lifestyle shows / In the clothes you chose / Sitting pretty in the masquerade."
280. "Freaks in Love," Peachtree Road (2004)
The wallflowers at gay prom deserve better than this slow-jam arrangement. Imagine if it were an amped-up crazed rocker like "Take Me to the Pilot."
279. "Grimsby," Caribou (1974)
Bafflingly not commissioned as a tourism-board ode to a small seaside English town, but probably better for everyone that they could just move on from this.
This instrumental opener to 1976's Blue Moves is fine, but it's no "Funeral for a Friend" and is basically unnecessary given it's followed by the exceptional "Tonight." I've never been so mad at an intro track just for existing.
The hook is serviceable. That's about it.
A book report, more or less, about all the reasons war — in particular the Great one — is hell. This was actually released as a single, though that version did not include the giant church-organ swell.
275. "One More Arrow," Too Low for Zero (1983)
The upper end of John's register here is a real struggle, but the classic Taupin storytelling almost sells it through.
"I feel like an old jukebox / Playing the same song all the time."
273. "Passengers," Breaking Hearts (1984)
This one is trying to do a lot. It's inspired by a South African folk song — the most famous singer of which, Phineas Mkhize, is credited here as a co-writer — apparently in some soft protest of apartheid, and yet it also sounds a bit too much like an imitation of generically African accents.
272. "This Town," Ice on Fire (1985)
Now we're stuck in a cheap '80s comedy. And Sister Sledge is on backing vocals (really).
271. "Ain't Nothing Like the Real Thing" (with Marcella Detroit), Duets (1993)
The track first appeared on Detroit's Jewel and is a more lively pair-up than much of Duets — but it's a far cry from the Marvin Gaye–Tammi Terrell original.
A Very Sad Song About War and the depressingly low expectations of life in a small English town, but set to a driving '80s raw synth beat — which is exactly as disconcerting as you'd think. "No birthday songs to sing again / Just brick and stones to give them."
It's a relief to hear piano tinkling in the foreground of this mix even if it's not exactly a standout.
Taupin likes to check in periodically to see if the American South is as corrupt and racist as he remembers, and at this point — yup.
267. "The North," The One (1992)
For every Taupin joint about the American South, there's a song about the North — the English North. It was rough up there for a lad, and he's not done reminiscing about it.
266. "Pinky," Caribou (1974)
A drowsy easy listen you forget almost as soon as it's gone. Chiffon.
My least favorite Elton genre is "wrote a song that could have appeared on another artist's album just to prove it wasn't so hard," and in this case he admits he had the Rolling Stones squarely in his sights. Well done, I guess. It's as enjoyable as any generic Stones track from this era.
Very determined to tell an epic story — "Take my red shoes / I can't wear them anymore" — but it never quite lands. The song is earnest and well intentioned (John has said it was about Ronald Reagan's inaction during the AIDS epidemic), but it doesn't live up to its heavy task.
263. "Midnight Creeper," Don't Shoot Me I'm Only the Piano Player (1973)
Love a light blues rocker about a stalker. What kills me is there are some damned brilliant throwaway lyrics in here, from "Tina Turner gave me the highway blues" to "second cousin to a son of a gun," but they're pretty wasted on the actual song.
262. "Born to Lose" (with Leonard Cohen), Duets (1993)
This Ted Daffan song — most famously sung by Ray Charles — is an odd vehicle for Cohen's deep growl, especially when John comes in and transforms the track into something better resembling a … Christmas slow dance.
261. "All the Nasties," Madman Across the Water (1971)
The arrangement is upbeat, almost a light gospel. As in "Madman," Elton is speaking directly to the "nasties" — the critics and their questioning, real or perceived, and also probably an imaginary bogeyman keeping a secret locked up tight. It's (now) a fairly obvious musing on what would happen were he to come out publicly: "If it came to pass that they should ask / What would I tell them?" "Not a single person seemed to notice what I was singing about," he said later. It's not a great song, but it's arguably the gayest of his early tracks and it's mostly been forgotten. There aren't any significant covers to note, but if you go listen to the Killers's "All These Things That I've Done," you can hear how similar those final refrains are.
260. "I Don't Care," A Single Man (1978)
Elton's cocktail for A Single Man was a heavy mix of coke, brandy, and weed. This probably makes sense as a bold defiant statement given enough of all three of those.
It was right around this track when Elton's queerness became more of an accepted backstory instead of a defiant flamboyance — he told Rolling Stone that year he was "comfortably gay" — and his lyrical collaboration with Taupin was similarly a given. But that introduced its own new dissonance. This song isn't good — the ocean-wave sound effects here are way too Miami Vice, for one — but the tiresome, almost whiny lyrics about how difficult it is to be a straight dude make even less sense than they ever did.
258. "Saint," Too Low for Zero (1983)
I do really like the vocal climb John does over the course of this even when it's a bit of a stretch.
257. "Go On and On" (with Gladys Knight), Duets (1993)
Stevie Wonder wrote, produced, arranged, played all the instruments, and sang backup on this one with Gladys Knight, which gives it a serious leg up on most of the awful Duets. And yet it's just not that great, a generic mishmash and certainly not the kind of banger you'd hope these three could belt out together.
256. "Circle of Life," The Lion King: Original Motion Picture Soundtrack (1994)
One of three songs from The Lion King soundtrack nominated for an Oscar, and we have no information about whether it received more or less votes than "Hakuna Matata," but it wasn't the winner. Compared to the cast recording, this studio version is … fine. But the original animated sequence of the 1994 film was genuinely jaw-dropping, and in comparison, John's feels every inch the AC hit and awards bait it became. Musically the melodramatic vibe is a knock-off of "The One," released two years before, which is far better.
255. "Beauty in the Bones" (with Jimmie Allen), The Lockdown Sessions (2021)
This track is catchy and melodic and poppy but probably a better calling card for Allen than a memorable musical moment for either artist. "I just wanted to learn from him and do things his way to experience something new," John wrote of their in-studio time together for Duets.
For all that Empty Sky wanders after the opening title track, it mostly does so succinctly — until it hits this seven-minute rambling ballad. This is the John we'll hear later on Goodbye Yellow Brick Road. Sure he can make a big sound and then do something totally different — now it's a jazz interlude! Now there's some Chuck Berry–like solo guitar! — and then back into a groovy reprise of … every other track on the album. It's almost like a badly edited montage of exciting scenes from his future career.
253. "One of Me" (with Lil Nas X), The Lockdown Sessions (2021)
If any young performer is truly an heir to John, it's Lil Nas X. The joy, the fuckery, the fashion. ("He has balls of steel," John says.) This remix of Nas's track only brings John's contribution forward a tiny bit — it's forgivable if only because it's hard to imagine the two won't continue to get up to no good in the future.
252. "Nothing Else Matters" (with Miley Cyrus, Watt, Yo-Yo Ma, Robert Trujillo, and Chad Smith), The Lockdown Sessions (2021)
The Lockdown Sessions is an album seemingly because eventually John had recorded enough songs during the pandemic to make up an album. And that's fine! Good for him. He and Taylor Swift, overachievers to the very end. But — and I can't believe I'm saying this here either — where folklore and evermore were cohesive COVID-era songwriting efforts, Lockdown is a channel-flipping melange best meant for a random Elton John playlist. For example, Miley Cyrus crushes the vocals here, and just for variety there's also Watt, Yo-Yo Ma, Robert Trujillo, and Chad Smith woven in. But why? This is like an alternate universe where Gal Gadot produced an MTV tribute performance.
The production isn't doing this song any favors. The lyrics and melody aren't actually awful; it's just a bit hard to tell through all the effects.
It takes far too long to reveal this song is actually about the narrator receiving the great and apparently very impressionable gift of — wait for it — a baby brother. And unlike the spare perfection of "Sixty Years On," the dramatic arrangement doesn't seem warranted. Just a bit weird.
The third collaboration with producer T Bone Burnett sounds like it was ordered from Elton John Central Recordings — it's almost never bad, but it's rarely all that great. John says that when recording it in 2015 — with his touring band, for the first time in ten years — he wanted something brighter than the world outside. "The news was just relentless misery: I wanted something light and fun, a sense of escape, lots of bright colors and 12-string guitar." The album that session produced is damnably, solidly upbeat, and the title track is the strongest of the batch. For any other artist it would be pretty good, but for Elton it feels a bit too much like background noise to be exciting.
248. "Love Letters" (with Bonnie Raitt), Duets (1993)
I can think of dozens of songs I would kill to hear these two sing together. This is not one of them.
247. "Victim of Love," Victim of Love (1979)
"If the title track had come on at Studio 54," Elton insisted, "I would have danced to it." It's the only real sign of life on his otherwise moribund 1979 album, but that's truly faint praise.
246. "Street Kids," Rock of the Westies (1975)
What kills me about 1975's Rock of the Westies is you can almost hear where a song like this should have a clear throughline to, say, "Saturday Night's All Right (for Fighting)" and instead the second the track ends you've forgotten all about it.
245. "Empty Sky," Empty Sky (1969)
The title song for John's first recorded album (it wouldn't be released in the U.S. until six years later) comes in like a Jefferson Airplane but fails to inspire any real heights for its eight-and-a-half-minute runtime. John and Taupin have said they were aiming for a Rolling Stones–esque dramatic entrance and were deliriously happy with the results. Luckily for John's "overnight success" narrative, most people never heard this until he'd made much more of a name for himself.
"I wanted to make the band a little more raucous," said John of this album, which by all accounts was cut after peak (or nadir) cocaine-fueled weeklong rehearsals. The Elton train continued to move so fast at this point that the album itself almost didn't matter — it premiered at No. 1, his second in a row to do so, an event he celebrated by trying to kill himself (again), a swan dive into his pool dramatized in the film Rocketman.
When you apparently need to close out an exceedingly not-great collaborations album with a solo song … (It's not great, but it's better than almost all of the other tracks.)
242. "Mansfield," Songs From the West Coast (2001)
Bucking a lifetime of precedent, Taupin and John wrote this album in the same room at the same time, but all that really proves on this song is they should go back to their corners.
241. "After All" (with Charlie Puth), The Lockdown Sessions (2021)
NME said this pop ballad could have been on The Lion King soundtrack, and I really can't top that except to add it could also have been on a Peter Cetera album.
240. "Teardrops" (with k.d. lang), Duets (1993)
If you don't remember 1993, it would be hard to explain why a discofied Womack & Womack song should be covered by Elton John and k.d. lang; to be fair, it only made slightly more sense at the time.
239. "Lies," Made in England (1995)
"The young lie with their guitars / The old lie for a little respect" is a great lyric, but as with much of 1995's Made in England, the one-word title here tells the truth about the simplicity of the song.
238. "Dark Diamond," Songs from the West Coast (2001)
A decent rocker with Stevie Wonder on harmonica.
237. "Too Many Tears," Peachtree Road (2004)
There's a sneakily powerful chorus hiding in this song, which is otherwise like a slow-roll version of history in the style of "We Didn't Start the Fire."
236. "Elderberry Wine," Don't Shoot Me I'm Only the Piano Player (1973)
Bernie Taupin really loves women, y'all (except during the 1990s when all his lyrics were about hating them). He loves them when he's got them and after they've gone, and this is a solid upbeat rocker for a song that's really about being left behind. Elton sounds good and sells it well, but then it's just gone in the wind.
235. "Learn to Fly" (with Surfaces), The Lockdown Sessions (2021)
Feel-good light funk. John's genuine passion for younger acts comes through on his Apple Music radio show, and that includes a broad assortment of British and American pop-rock styles and singers that you might not think in a million years are qualified to share his rarified air — but you aren't mad when they do.
234. "Love Her Like Me," Songs from the West Coast (2001)
Honestly pretty creepy, but Bernie Taupin's imagination is detailed as he describes how his fantasy of a woman is more powerful than reality. But, like, in a rockin' way: "You may have her in the real world but if you could only see / How we rock this room in the twilight zone."
233. "Orbit" (with SG Lewis), The Lockdown Sessions (2021)
S.G. Lewis's heavy disco grooves are a suitably swoony backdrop for John's vocals, which are unfortunately a bit muted here — ultimately making the track feel more like some light thumpa-thumpa you'd yell-talk over at a middling gay bar on a Saturday afternoon.
It's only fair to note that this is from The Big Picture, Bernie Taupin's least favorite album they ever made together (yes, he insists it's even worse than Leather Jackets). I don't think it's terrible or nearly that bad, but it's a bit of an artifact. By 1997, American rock had long moved on from this soft, breathy big-bass vibe.
231. "The Pink Phantom" (Gorillaz featuring Elton John and 6lack), The Lockdown Sessions (2021)
More a feature than a duet, but John's emphatic vocals here pair well with the Gorillaz pulsating sound. Compared to the other hodgepodge tracks on The Lockdown Sessions it's probably the coolest, but maybe a bit too cool for school.
230. "The Cage," Elton John (1970)
A welcome, seemingly straightforward blues rocker that actually makes little sense — "Have you ever lived in a cage / Where you live to be whipped and be tamed" — but doesn't take anything away from John's self-titled first real album. There's an unnecessary electronic instrumental bridge before the horns come smashing back in for a groovy good time, but soon enough you're back to bopping around.
229. "Son of Your Father," Tumbleweed Connection (1970)
A little more wah-wah, harmonica, and gospel backing vocals, yet somehow — compared to the stellar tracks on either side of 1970's Tumbleweed Connection — it comes off feeling like filler. On this album, though, even John and Taupin's just-okay song has more grit and wail than anything else in sight.
228. "The Big Picture," The Big Picture (1997)
If this had more theremin, it could have been on a very early Elton John album without raising an eyebrow. It just feels a little late for 1997.
227. "Holiday Inn," Madman Across the Water (1971)
When you bring your lyricist on tour with you, you get an album with multiple tracks about the road-weary schedule of a rock band crisscrossing America. This is somewhere between "Piano Man" and "On the Road Again" (that would be a great medley, actually). If nothing else, it's great to see John's life captured during slightly simpler times.
226. "Made in England," Made in England (1995)
A bouncy feel-good chorus belies a few sharp elbows from Taupin in the bridge: "You can still say 'homo' / And everybody laughs / But the joke's on you."
Fine, but on the very same album is a very similar song ("Weight of the World") that is ten times better.
224. "Look Ma, No Hands," Songs From the West Coast (2001)
This song wants to be good, and this album was pretty warmly received at its release exactly because of tracks like this. But it's a touch too clever — "it takes a silver tongue to have the Midas touch" — to read true.
223. "Rotten Peaches," Madman Across the Water (1971)
Technically the first of a two-part song story (picked up in "Have Mercy on the Criminal" on Don't Shoot Me I'm Only the Piano Player), this track probably has the most egregious examples of John's twangy Americana accent creeping in, but there is a certain determined doom and gloom to the peach metaphor that just works. Also, I am pretty sure this is the first name-check cocaine receives on an Elton record.
A little cheesy with its slow-dance island vibes, including Ray Cooper on marimba, but beautifully orchestrated.
221. "Monkey Suit" (with Leon Russell), The Union (2010)
The story behind The Union is nearly as good as the album itself, which is very, very good. Forty years after a young Elton John looked out at the Troubadour audience to see one of his heroes staring back at him, they reunited — helping lift Russell out of a late-life struggle on the edge of poverty — for a dream collaboration fusing the strengths of both powerhouse musicians. The Union is John's first legitimately great album of the aughts, and while this is the least great song on it — it's a bit too on the nose and a little Robert Palmer to boot — at least it gets your foot stomping again.
One of two solo writing credits for Russell on The Union (the other, "If It Wasn't For Bad," scored a Grammy nom), and this is unquestionably his song, though Elton still turns in some honky-tonk piano solos. Russell deserves to take center stage at least once here, but it's also not quite as satisfying as the true two-handers.
219. "Susie (Dramas)," Honky Château (1972)
A monster of a bass line (courtesy of Dee Murray and John's left hand) propels this standard-issue funk rocker into a deep-chested mid-album throb.
218. "Blues for Baby and Me," Don't Shoot Me I'm Only the Piano Player (1973)
Sweet-sounding radio rock, almost like a Carpenters song that got lost.
217. "Goodbye," Madman Across the Water (1971)
A very melancholy sign off for Madman, an otherwise rocking album.
216. "Sweet Painted Lady," Goodbye Yellow Brick Road (1973)
Spiritually, this sounds like a sequel to "Honky Cat," another New Orleans–esque story song about a lady of the night.
And here's the dangerous boyfriend to our "Sweet Painted Lady."
The most overtly poppy single off A Single Man. Don't worry, it still has a disco backbeat and a gospel choir and a guitar solo — the whole kitchen sink.
Will I ever get out of this small town?, worries the Brown Dirt Cowboy, "a long lost and lonely boy" who's "just a black sheep going home."
Musically this up-tempo narrative about Jesse James (kinda) feels like a leftover from a few albums back, even if it's not nearly as strong as its ilk on Madman or Caribou. But compared to the other uneven tone of Rock of the Westies, it's identifiably an Elton John joint.
After the slide guitar, at the very end of the track, one of Elton's dogs barked along in perfect time with the cowbell, and they left it in (along with the laughter of his indulgent human; the easygoing Ryan Adams Heartbreaker-era influence here is strong).
A more Yellow Brick–like arrangement and lyrics — "take the wheel, I hear the timbers creakin'" — but the ship seems to be struggling under its own weight. The weight of cocaine in the captain's quarters, that is.
A disco backbeat and orchestral runs laid under a rocker with a heart like "Rock and Roll Madonna."
208. "Texan Love Song," Don't Shoot Me I'm Only the Piano Player (1973)
This is a charming little ditty about two long-haired freaks who come through small-town Texas; get called fairies, communists, and hippies; and are threatened with being (at best) run out of town. I cannot believe it hasn't been on the soundtrack of a big gay movie or even a not-gay art movie.
A bit of a pep talk set to music.
A six-minute interlude on a double album that sounds like an intermission break with the Who. Okay, sure.
The backstory of the lyrics here is the most Fleetwood Mac drama, with Taupin openly wondering about whether the band's bass player is sleeping with his wife (spoiler: He is). In a song like this, with Elton voicing such personal dilemmas, the line between the songwriter and the performer blurs even further.
204. "Ego" (1978)
Originally written with Taupin for Blue Moves but released only as a single between that and Elton's A Single Man, "Ego" is a melodic but pointed diss track dedicated to "the Jaggers and Bowies of this world — and especially to Mr. McCartney," Elton later said bitingly. "I'm not in it for the bread / I'm in it for the gravy, honey." (I know I said I'm not ranking B-sides, but if I were going to include any, it would be the one for "Ego," a track called "Flintstone Boy" that is a very forward call for tolerance of your local drama queen. "He got trouble / But he ain't got joy," Elton sings.)
After two albums of a trial separation in which the duo both made music with other people but never quite hit the same highs, Bernie's back, baby, for three songs on 21 at 33. The LP title is a reference to the total number of albums, studio and otherwise, that John had put out by his Jesus birthday. It's hardly the best work they'd done together, but it's somehow reassuring to know how easily they could slip back into their own ways.
202. "Voyeur," The Diving Board (2013)
The most adult-contemporary-leaning track on The Diving Board, this one features the rare appearance of a vocal cut so clean you can hear the hint of John's lisp in his evasive (but not creepy) meditations on what you might learn anew from looking back over the years at your love. I think. Bernie's not quite as senseless than he was in his early days, but sometimes it's less a narrative and more a vibe, you know?
A solid driving melody with lyrics that make an appropriate amount of sort of nonsense — "I put the clock in the drawer 'cause I've canceled out the time" — but you quickly find yourself singing along to.
What sounds a lot like an epic assertion of Bernie and Elton's lifelong partnership, break be damned. And like the other reunited tracks on 21 at 33, it crackles at a different frequency than John's other co-writes.
199. "Social Disease," Goodbye Yellow Brick Road (1973)
What would have been a brilliant B-side to "Teenage Idol," this is a clever ditty about a broke mess of a man who's having a real good time getting bombed for breakfast, dinner, and tea.
A rare track from The Union that sounds more like a feature for Russell than a duet — and closer to a Bernie-Elton leftover from The Captain & The Kid. There's a catchy melody, but it doesn't fit.
197. "Religion," Too Low for Zero (1983)
"A working girl who loves the Lord" is the hooker-with-a-heart-of-gold story filtered through Taupin — you bet your ass they managed to make that rhyme with a line about a "compact Ford."
196. "Madness," A Single Man (1978)
Sounds like a sinister missing song from The Who's Tommy, except for whatever evil force it is that "turns good men bad." Not as good on that theme as "Ticking" from Caribou is.
195. "Kiss the Bride," Too Low for Zero (1983)
This album was where Elton met Renata Blauel. When they got impulse-married while making its follow-up, someone played this out the window of the mansion where the paparazzi waited. (It's a wedding song like how Panic! at the Disco's "Sins Not Tragedies" is a wedding song — about a man who is not the groom but who still wants to, well, you get the idea.) You may recognize a bit of this from the Dua Lipa duet, too.
It's almost too on the nose to say a song with this title presaged the hard turn we took from disco hedonism to the AIDS epidemic. This pays homage to the time of the Four Tops, but it would be very Ryan Murphy to play this over a Halston montage.
193. "Crazy Water," Blue Moves (1976)
A little heavy handed on the fishing metaphors over a funky disco guitar riff, but a lively one.
Working couple's blues with a little bit of a disco backbeat and some wild key changes.
191. "Crocodile Rock," Don't Shoot Me I'm Only the Piano Player (1973)
Confession: I hate this song, which was Elton's first No. 1 single in both the U.K. and U.S. I hate it because it's a joke — and it's meant to be, an homage-slash-mockery of "all the rock 'n' roll records of the 1960s." But to me, instead of a brilliant send-up, it's too easy, a cheap derivative. It's evidence of Elton's genius that he can toss off a song that precisely mimics a decade of musicology, that he can barely seem to care what he's lispily singing about, and that he can still walk away with a decades-long hit (at the time I wrote this rant it had 225 million streams on Spotify). Still, to his credit and for all of you who love it so much, there were three times I really enjoyed it: when he played it with Dr. Teeth & the Electric Mayhem on The Muppet Show; in Rocketman when it's used as a stand-in for his first performance at the Troubadour, leading the whole crowd to levitate and sing along; and in the live broadcast of his 1979 Russian concerts, when he transitions into a few lines of "Back in the USSR," a song he was explicitly told not to cover during his show. If you're going to write a joke track this well, you should at least end it with an international incident. If you'd rather enjoy that punk spirit, check out "Screw You (Young Man's Blues)," a bonus cut from the album that is similarly a genre-mash song, but at least it's rebel rock.
190. "Candle in the Wind," Goodbye Yellow Brick Road (1973)
The story of this song has overtaken the tune itself several times over, but to me it will always be the Medium Place, so we're putting it right smack in the middle, half the songs above and half below. The original was written quickly. John's diary entry from that day lists his achievements, in staccato, as: "Got up. Tidied house. Watched football on TV. Wrote 'Candle in the Wind.' Went to London. Bought Rolls-Royce. Ringo Starr came to dinner." It wasn't released to radio in the U.S. yet still forced Taupin to spend years insisting he wasn't creepily obsessed with Marilyn Monroe. ("It could have been about James Dean," he swore, though for his 21st birthday Elton had gifted him a Marilyn dress in a glass case; take that, Kim.) A live version from Australia recharted massively in 1986. And then Princess Diana died, not long after she and Elton had patched up their friendship after a bit of a falling out. Richard Branson rang to say people were leaving lyrics from the song in her memorial books and asked Elton to consider a new version to be sung at the memorial service. It had been a shit summer of 1997 for Elton already — the last time he and Diana had seen each other was when they were sitting at their good friend Gianni Versace's funeral just a month before — but Bernie obliged with less-ribald words and Elton, though stressed, showed up at Westminster Abbey and then went directly into the recording studio to deliver what became essentially the biggest single record of all time (only Bing Crosby's "White Christmas," released before pop charts even existed, has a legit claim of beating it). Even though the single was intended to raise money for Diana's charities, the longer it stayed on the charts, the more uncomfortable Elton became, seeing it weekly on Top of the Pops "as if people were somehow wallowing in her death," he later wrote. "It seemed unhealthy to me." Elton has enjoyed three generations of friendship and connection to the Royal Family — the fun ones, starting with Princess Margaret and continuing through to Harry and Meghan — but he's fully retired the revised version of the song.
A tight little murder rocker about a woman who avenges her man's betrayal but perhaps not without regrets, or so the narrator hopes: "Don't judge a man by his misdemeanor / You may be sorry when his light goes out." Marred by some bright sax runs, but if you like it when Haim and T-Swift get revenge, there's a bit of this in that DNA.
"The queen of the sly line / I feed on your fame." This almost sounds like a Dire Straits song, but this time not in a bad way.
Again, you can hear the Taupin right off the bat: "The Brussels museum where we piled on the front steps like stray cavaliers." A little nostalgia and some specific memories built into a somewhat sensical but always lyrical story, and the title phrase is sticky sweet and quick to earworm..
186. "Emily," The One (1992)
Such a gothic song for a '90s rocker.
Unlike other tracks on Duets, somehow a club remix with RuPaul of the Kiki Dee classic does make sense even if you don't remember 1993 — maybe because, unlike the other guest stars on this album, Ru only became more famous after this appearance. (Credit where it's due: Elton's great mood in this video is probably at least in part because he and his now-husband David Furnish had recently started dating.)
One of five Bernie Taupin tracks on Jump Up!, an album Taupin counts among his least favorite, though it's hardly the worst outing for Elton and a variety of songwriters. I like to imagine this song is about Elton's longtime manager and first boyfriend, John Reid ("Watching you tear your hair out is gonna be the best part"), though I have absolutely no evidence that it is.
183. "Runaway Train" (with Eric Clapton), The One (1992)
What's a song in the '90s without Eric Clapton? He even gets to sing. (This is also on the Lethal Weapon 3 soundtrack, which tells you everything else you need to know.)
182. "Big Dipper," A Single Man (1978)
Two years after his big Rolling Stone coming out, Elton seems ready to dispense with all but the loosest of metaphors. This Big Easy slow-funk come-on is short on subtlety — "he's got his own Big Dipper / And won't be needing yours." In other great (?) ideas, he also includes the lads from his newest binge-shopping acquisition — an ownership stake in the Watford Football Club — on backup.
Not the most pointed (or best) song he ever did about Margaret Thatcher (that would be the excellent B-side, "Merry Christmas, Maggie Thatcher"), but a bit hard to miss the target of ire in this more political track.
This album, his first in four releases fully co-written with Bernie Taupin again, feels more like Bernie's divorced-dad blues, but it's beautifully written and produced: "I call the kids on the telephone and say there's something wrong out here / It's July but it's cold as Christmas in the middle of the year."
"Say goodbye to Jackie Collins" is maybe not the cultural indictment I imagine it was meant to be in 1988, but "I need to put some distance between overkill and me" — plus some screaming guitar solos from o.g. Davey Johnstone — makes the point well enough that the times they were a-changin'.
178. "Heavy Traffic," Reg Strikes Back (1988)
This is a song written by some men (also including Johnstone) who knew exactly how much fun it would be live. It has a little Paul Simon vibe to it, but years ahead.
It's ironic that Taupin has been writing wistful, nostalgic lyrics since he was barely out of his teens, but they sound appropriately well earned here many decades later.
176. "Whipping Boy," Too Low for Zero (1983)
A simplistic stand-your-ground quick jive, but there's something in it where you can hear the young Elton and Bernie trying like hell to make it through their 30s.
175. "Hold Me Closer" (with Britney Spears) (2022)
First listen: WTF am I hearing? Twentieth listen: Can't stop, won't stop. If anyone were to lure Britney Spears back into a recording studio thousands of miles away to lay down a wildly varied series of standalone lyrics — from "Tiny Dancer," "Don't Go Breaking My Heart," and "The One" — and her signature kitty-cat vocalizations, it was apparently Elton John. And we should be glad he did, not just because a world without Britney megamixes is a sad version of our universe no one, especially Sir Elton, should have to suffer through. "She's been away so long," he told the Guardian. "There's a lot of fear there because she's been betrayed so many times." The song was a No. 1 Billboard Hot Dance hit, inspiring more twirly Instagram videos and a pledge from John to consider making this new style of collab an annual summer treat and giving him a 51-year span of top-ten Billboard hits across his career. But will it hold up if it turns out to be the only return this blue-jean queen makes to music?
I wish Elton John had recorded this song 30 years earlier. I want to know what he would have sounded like singing it: Bold? Defiant? Shy? Cocky? He's not even singing about being queer so much as having a long-time pine for someone. But it would have, as they say, hit different then.
A literal sequel to a classic, but it's now a brassy, sassy time in New York, especially compared to their first scary dark days in the big city.
172. "Wrap Her Up," Ice on Fire (1985)
There are two ways to interpret this song. One is as a straight-up shitty, sexist list of interchangeable ladies that Bernie and/or Elton would like to take home and have their way with. The other is as an absolutely unhinged Wham rap camp romp with a bridge as nonsensical as Madonna's "Vogue" — Nancy Reagan and Linda Lovelace make appearances — except sung along with George Michael. Get all the way to the end and you win a prize: You're done.
171. "Town of Plenty," Reg Strikes Back (1988)
Some three years and a voice-altering throat surgery later, John came back from the nadir of Leather Jackets with a strong comeback contender, Reg Strikes Back. His buddy Pete Townshend joins him again for this more typically upbeat if not wholly remarkable John rocker — a homage to a town of plenty "with no media." (The album cover features a pile of hats and clothes collected to auction off at Sotheby's post-divorce.) There are a lot of old friends from previous bands who join up for this outing, but it's the addition of three backup singers throughout that deepens the sound the most.
More like "Breaking Hearts (Is Hard to Do)" than anything else on the album. This is Elton at his Billy Joel best.
169. "Satellite," Ice on Fire (1985)
It's Bernie's space world; we all just drop in and visit occasionally. It's getting mellow as fuck up on his ship.
168. "Durban Deep," Sleeping with the Past (1989)
It took another bit to stick, but John was sober — and essentially stranded in the middle of rural Denmark — when he made Sleeping with the Past, and he was still energized from recapturing his groove with Reg Strikes Back. The sound is very much of the late 1980s but meant to evoke favorites from the 1960s; tracks like "Durban Deep" are as much about a mood as anything else.
167. "Healing Hands," Sleeping With the Past (1989)
This was the first of three big singles from Sleeping With the Past and helped push the album to be Elton's biggest U.K. seller up to that point. It's the beginning of some legitimately feel-good power-rock efforts and does more than hold its own in that genre.
Without this one-off I can't imagine we'd ever have gotten Love, Actually. The song is deliberately compressed to sound like a Phil Spector track, and a video John made for the Gilbert O'Sullivan Show in 1973 features a rare cameo from Bernie mimicking Ray Cooper on bells.
Bernie playing dumb about how Spanish works shouldn't be this charming, but somehow Elton pulls it off.
Half of a bet between Elton John and John Lennon, this cover was most memorably performed at Madison Square Garden and features Lennon on guitar and backing vocals. The Elton-ification of the Beatles song is solid but not particularly revelatory; it's jarring to hear him slide back from a country twang to an almost Liverpudlian accent. One of the best anecdotes in John's memoir is about getting so high with Lennon that they refused to answer the hotel-room door when Andy Warhol showed up, sure he'd have a camera in hand and presumably ruin whatever lost weekend they were determined to have.
163. "Dear John," Jump Up! (1982)
A very spirited opener to Jump Up!, a lively album full of sparkly pop-rock about breakups and Elton's second LP with Geffen Records. This track is like if Robert Palmer recorded an even peppier version of Paul Simon's "50 Ways to Leave Your Lover." It's fucking catchy, though.
162. "Whispers," Sleeping with the Past (1989)
About as adult contemporary as Elton gets, but there's something sincere here that I always loved. Also, you can hear how quickly he's moved from playing acoustic pianos to the electronic Roland, and it's not terrible.
Fittingly, this is the first album cover on which Taupin also appears — astride a horse, of course. (The son of a farmer, Bernie spent a couple decades, starting in the 1990s, at his Santa Barbara ranch riding in local shows.) This tune closes out their second joint memoir, rather than opening it, but they've lived up to their promise: "No lies at all / just one more tale."
The vocals are heavily processed — almost to the point of being unrecognizable — but the bones of this song are good, which is probably why Wynonna Judd's version is better.
159. "American Triangle," Songs from the West Coast (2001)
"It's a cold, cold wind," John sings on the excellent chorus with Rufus Wainwright on backup vocals. The full track, about the murder of Matthew Shepard in Wyoming, isn't as consistently powerful as its refrain, but at its best it's deeply emotional.
The Fox was the first album John made for Geffen Records, which promised him complete artistic creative license, and it is a great step forward from his messy, coked-out quasi-disco period. It's criminally underrated and not much of a commercial success, but the 1980s version of John finally crystallized here. He's a little more bitter, but he's also taking himself seriously again.
The Taupin-John wedding band is back.
156. "Birds," Songs from the West Coast (2001)
If only Ryan Adams hadn't turned out to be such an asshole, it would be easier to revel in the obvious ways he and Elton influenced each other.
This could have really gone either way, especially given some of the other extreme lowlights of their ball-and-chain songs past, but instead this is a real Bonnie Raitt–ish tribute to respecting a woman's wishes. The irony, I'm assuming, is deliberate: "You gotta play it straight / When a woman doesn't want you."
This song by Taupin could easily be from a woman's perspective, or maybe it's Elton finally and more comfortably singing about loving complicated men.
153. "Old '67," The Captain & the Kid (2006)
Taupin pulls no punches at their by now old old-man routine — like a Tennessee Williams play, they say. "It's amazing / That we can get together at all / For in between the saddle and the grand piano / We can read the writing on the wall."
152. "A Woman's Needs" (with Tammy Wynette), Duets (1993)
It's hard not to think that had Elton John been less controversially queer, we would have heard him duet with every powerhouse female vocalist, including country music's finest. But maybe, as Tina Turner may have reported, he wasn't as easy a song partner as one might have hoped. This is a solid duet, but the slide guitar is doing a lot of the work.
151. "Val-Hala," Empty Sky (1970)
A bit of a Nick Drake vibe carries Taupin's gentle, almost romantic take on Thor. Plus John plays harpsichord. An early hint of brilliance.
150. "E-Ticket" (with Eddie Vedder), The Lockdown Sessions (2021)
Eddie Vedder's contribution to this sometimes jarring juxtaposition of collaborations is solidly Don't Shoot Me I'm Only the Piano Player. John likened this collection to his days in the 1960s as a studio session player, and while this track is nothing like the others, in a streaming-singles world, it's just two good dudes excited to jam together.
Do I love this song because videos with animated extras — especially singing or dancing cats! — were a formative part of my MTV age or because even as a youngster it seemed quite obviously queer? Maybe it's just because it has a nice throwback vibe to it (those "Kokomo" backing vocals!).
There's more momentum on this track than in most of the early songs put together — it "felt like a breakthrough," John once said — and it was a good choice for John's first live BBC appearance. It was also a top-ten hit in the U.S. when covered by Three Dog Night.
147. "Always Love You" (with Young Thug and Nicki Minaj), The Lockdown Sessions (2021)
John said a Minaj collab was a "bucket list" goal, and he saves what is probably the best new hook of the entire Lockdown collection for her. What happens from there feels predictable — everyone gets a rap verse and sometimes a secondary hook layered under it — but each time it circles back to "I will always love you / Even if you let me go," it amps up like a key change.
A short and sweet country song, it would have fit well on a later LP like Honky Château or Madman Across the Water. The Band was a major influence on John's early work, and you can hear that here.
145. "Blue Avenue," Sleeping with the Past (1989)
Beautifully layered with just a few new tricks up its sleeve.
144. "Original Sin," Songs from the West Coast (2001)
Clever without being cutesy, this tale of love as old as time is one of the best on the album.
Would you like to have your heart stomped on? Or consider the regret you have for how you've treated the ones you love most? Here you go. "We can build a bridge between us / But the empty space remains." If I had a time machine, I'd take all the ballads from the mid-'80s records and make one long depressing but beautiful album out of them.
142. "Amazes Me," Sleeping with the Past (1989)
It's good to hear John get his gospel back here.
141. "Cold Heart (PNAU remix)" (with Dua Lipa), The Lockdown Sessions (2021)
The idea of this — longtime John remixers PNAU tackle not just "Rocket Man" but three less well-known John tracks, as sung by Dua Lipa — was at first a bit of a baffling pivot for John in 2021, but it quickly proved itself to be an earworm-y, chest-thudding return-to-society dance hit.
140. "I Want Love," Songs from the West Coast (2001)
John's refreshingly unsentimental vocal delivery is persuasively performed in the video by Robert Downey Jr. (as directed by 50 Shades of Grey's Sam Taylor-Johnson), and the song was eventually nominated for a Grammy.
139. "Tower of Babel," Captain Fantastic and the Brown Dirt Cowboy (1975)
"Jesus don't save the guys / In the Tower of Babel," John sings here as he dodges and weaves through the guitar lines of Davey Johnstone.
138. "Legal Boys," Jump Up! (1982)
The first co-write for Elton and Tim Rice, later his longtime and much-lauded movie-musical and Broadway partner. Originally drafted as part of the Thom Bell sessions but revived for Jump Up! the next year, where it thematically fits the divorce themes found elsewhere on the album except with far more dash and verve. It's exactly the right amount of bitter and biting and melodic. "Oh they'll let us know the cost," he sings of the only ones in a divorce who come out ahead: the lawyers.
A gorgeous and fully orchestrated etude from The Fox that stretches over 11 minutes and into two other movements, the first a synth fanfare and the second a full-throated rocker featuring a series of heartbroken and heartbreaking questions to a desperate lover. Genuinely and weirdly welcome after Elton interpreted artistic freedom as the right to make truly terrible albums, and then beautifully revived for the massive Australian tour of 1986. It's not included on that release but can be seen (thank God) on YouTube.
136. "Salvation," Honky Château (1972)
"When we went to record Honky Château we thought 'Salvation' would be the single," John said, and the song fits squarely in their "Burn Down the Mission" and "Border Song" oeuvre, almost possible to play as a triptych. "What we need are willing hands," John sings. "You must feel the sweat in your eyes."
The harpsichord-led accompaniment hearkens back to John's first album, but there's a clear leap forward here — sonically it's edited down to essentials versus the earlier kitchen-sink approach. The waltzing troubadour construction hints at "Streets of Laredo," a John and Taupin fave. "I had barely touched a harpsichord before we hired one for 'I Need You To Turn To,'" John said. "It was a really hard instrument to play, but I did it."
Written with Tom Robinson and only later included on 1981's The Fox, Elton would call this his "first gay song that I actually recorded as a homosexual song" — that is to say without any coyness or cover from Taupin. The video even reflected the theme — a boy's crush on an older guy — though Elton doesn't actually appear himself.
133. "The Wasteland," Songs from the West Coast (2001)
John evokes Robert Johnson's devilish crossroads dilemma here and channels the sound of it, too.
132. "Country Comfort," Tumbleweed Connection (1970)
Exactly as advertised, including sing-along refrains you'll feel like you have always known even if you're hearing it for the first time. If this could be slotted into any jukebox still playing "Sweet Home Alabama," we'd all be better off.
131. "I'm Not Gonna Miss You" (with Glen Campbell), The Lockdown Sessions (2021)
Are you going to begrudge John the chance to go back into Abbey Road and lay down some piano and vocals for his favorite sad song by the late Glen Campbell about having Alzheimer's? Neither am I.
130. "Bitter Fingers," Captain Fantastic and the Brown Dirt Cowboy (1975)
One of many songs on Captain Fantastic that's just about writing songs, and yet sounds like it's about something far bigger and more important.
A gospel chorus weighs in for the third cut on The Diving Board, which is really an album that should be listened to straight through for maximum melodic-layering appreciation. Bernie's back in a dusty western and John's singing like he's right there with him, tickling out a piano flourish with a tilt of his hat. The sound and songs here are so consistent and wholly realized it's almost as if they made a movie without the picture, something like Crazy Heart but gayer. (Thankfully Elton's ego doesn't extend to overestimating his onscreen acting ability.)
128. "A Dream Come True" (with Leon Russell), The Union (2010)
Russell's in the driver's seat here and sounds like a real comeback king creating the soundtrack to the montage of his triumphant return. "Somehow I know that you're a dream come true," he sings like a man 40 years younger; when he says "life is good," you believe him. Following The Union, which went to No. 2 on the Billboard rock chart and No. 3 on the 200, Russell not only got to tour "places Leon said he'd never seen the inside of in decades" but also got a new record deal, toured on his own, and played right up until his death in 2016. "If you didn't see him," John later wrote, "I'm sorry: you missed out."
Among the best of the too-clever ditties, in this case in clear tribute to the best of the Sgt. Pepper's–era Beatles. Elton's piano work here dances by so quickly and smartly it's easy to miss how brilliant it is.
The second track of The Diving Board — John's second collab with producer T Bone Burnett and the first solo studio album John had made in seven years — kicks it up a small but serious notch by adding in a bass (Raphael Saadiq) and drums. They accompany John and his piano in this Taupin-penned story of a very specific incident in the gay writer's difficult life: his release from prison after being imprisoned for sodomy. "It has a sadness to it, which, you know, is the story of Oscar Wilde," John said. Still, the bridge breaks into a livelier if bitter barroom bounce, evoking Wilde's flashy comebacks.
If you're gonna talk shit about somebody's sister, do it this well.
From the opening notes of The Captain & the Kid, sequel to the dual-autobiographical Captain Fantastic and the Brown Dirt Cowboy, there's a reassuring sonic and storytelling familiarity. Bernie and Elton are back with the story of their own partnership, picking up where they left off, relatively speaking — on a "big red bus" doing promo while Richard Nixon's saying, "I gotta go, but you can stay."
123. "When Love Is Dying" (with Leon Russell), The Union (2010)
Just a little torch song in the middle of an Americana album. "Nobody told me how to fight a world of hurt / Somebody help me now" is a bruiser coming from Russell's mouth, but it still begs to be belted out. Somebody cover this gem!
If this song appeared on a Mumford & Sons album today, it wouldn't sound out of place. You can almost feel John not being able to keep himself from writing a perfect pop hook and then burying it in a concept album about the American West.
121. "Better Off Dead," Captain Fantastic and the Brown Dirt Cowboy (1975)
A whimsical roundabout melody circling the darkest of themes (again): "You're better off dead / If you haven't yet died."
120. "Gone to Shiloh" (with Leon Russell, featuring Neil Young), The Union (2010)
A dirge-y heartbreaker with guest star Neil Young that reimagines the Civil War through the eyes of a young man off to fight for the titular Union.
119. "Merry Christmas" (with Ed Sheeran), The Lockdown Sessions (2021)
Unexpectedly sincere and sweet. Of all The Lockdown cuts, it's the most deliberately commercial, designed specifically for the U.K. singles chart (where it of course entered at No. 1). It's a short, jolly, upbeat, and slightly wistful holiday tune — with a tiny COVID twist of the knife suspended amid snowflakes and jingle bells: "Know there's been pain this year, but it's time to let it go," Sheeran sings, just before John belts back, "My God, you look beautiful."
The first track from the pointedly named A Single Man — written not by himself but, for the first time, without Bernie — was actually produced as part of Elton's shelved sessions with classic Philadelphia soul producer Thom Bell the year before and co-written by Gary Osborne. We can thank Bell for finally saying to Elton's face what was becoming clear on earlier albums: His falsetto needed work, or at least less time in the foreground; the strength of the ballads this time around, mostly in a lower register, seem to reflect that advice. Unlike with Bernie, Elton and Gary tended to write music and lyrics in the same room at the same time, and the overall result yielded more personal, if less magical, songs. The cover art — Elton in a funereal formal suit, posed on the Long Walk leading to Windsor Castle — was a not particularly subtle sign that unlike in the manic decade before, Elton was now making more of his own choices.
117. "Sacrifice," Sleeping with the Past (1989)
This track is a bridge to the 1990s Elton John "Circle of Life" tracks — just a solid and sincere rock ballad. (You may recognize it from Sinead O'Connor's excellent cover or that hook from the Dua Lipa megamix.)
116. "This Train Don't Stop There Anymore," Songs from the West Coast (2001)
The video for this standout track (starring Justin Timberlake as Elton, basically) kickstarted John's collaboration with David LaChapelle, whom he also hired to design his Las Vegas show, the Red Piano, and it could have led to Timberlake being cast in Rocketman had it not taken so long to actually get made. It takes the whole album to get Taupin and John sounding like they are completely on the same page, but when they finally hit their stride, it's as good as ever. "It ended up being a very Californian-sounding record," John said, "as if the warmth gets into your bones and relaxes you, and the sunlight somehow glows in the music you make."
115. "Nikita," Ice on Fire (1985)
John later talked about how this song was inspired in part by the KGB agent assigned to him during his 1979 trip to the USSR — with whom he slept with during their long train travel between cities (because why not?!). Nikita is clearly a Russian man's name, even though the music video treatment allowed a cool blonde woman to stand in as the object of his affection, a border guard on the cold side of the Cold War. (Listen closely and you can hear George Michael, still in his Wham days, singing backup.)
114. "Simple Life," The One (1992)
Finally totally sober — post-rehab for alcohol, drugs, bulimia, and other addictions, like fame — Elton John came out with this song from The One, which I'd count as the true comeback moment of his career. The big '90s sound is solid and grounded, and the flourishes seem intentional rather than like a fancy distraction.
"You came to town in headlines and $800 shoes" is the perfect self-recrimination.
A beautiful, early Buckingham-Nicks sound that is supposedly about the end of Edith Piaf's life and the slow twilight of fame. Blue Moves itself is a bit of a lost album, having seemingly suffered from Elton's big Rolling Stone coming-out moment and the backlash that followed. But it's musically and lyrically stronger than its predecessor, Rock of the Westies, and was the last true Taupin-John collaboration for many years.
111. "Stolen Car" (with Stevie Nicks), Duets (1993)
In the liner notes to the Duets album, John writes, "Stevie and I sound like an old married couple having an argument," and he means it as the compliment it should be. This would have fit in well on any of the sans-Bernie 1980s albums — the lyrics aren't exactly poetic, but the delivery of both parts is a good old-fashioned barn fire.
A scathing indictment of casual indifference to politics (I think?) from Taupin with a driving rock beat and a properly used gospel choir on the chorus, welcome after the de rigeur application during the disco days.
The spare piano accompaniment showcases John's soulful delivery and Taupin's succinct storytelling, a crisp monologue from the point of view of (what else?) an old soldier sitting at a bar, sorting through his memories of friends and days gone by. It's timeless — could be any fighter from any war in any country left to his own long survival.
Back in Bernie's history books — this one's about Thomas Wiggins, a composer and performer born a slave in the 19th century — but unlike some other efforts in a similar lane, the lyrics and melody rumble through a tight four-minute story that makes you want to learn more. (Start here.)
107. "Roy Rogers," Goodbye Yellow Brick Road (1973)
A catchy and unexpectedly effective homage to TV westerns, also well covered by Kacey Musgraves on the 2018 Restorations collection.
It almost sounds five years early, better suited to American rock ballads in the 1980s, with a lonely sharp guitar solo befitting a Hollywood drama (think: Tina Turner's "Private Dancer"). The lyrics aren't groundbreaking, but they showcase a more involved-sounding Elton on vocals.
105. "Finish Line" (with Stevie Wonder), Duets (1993)
Despite nearly a half-century of friendship, Wonder and John had never done a proper duet together. "Stevie sounds like he's 19 again," John wrote in the liner notes. (If you haven't read John's stellar memoir, Me, it might be worth it just for the story he tells about Stevie Wonder … snowmobiling.) Between the two men, they've eked out more than a dozen cat's lives, and earned every second of the soulful heights this song hits.
104. "Chameleon," Blue Moves (1976)
Both Bernie and Elton were in a breakup-song kind of mood on Blue Moves, with their longest relationships cracked up in the wake of Westies. This smooth rocker has a soft, wounded underbelly, full of confusion over love that's clearly gone off track.
Taupin, who was 62 when The Diving Board was released, seems to have been enjoying a certain later-in-life domestic bliss as surely as John was. There's a foot-stomping grin of a heartbeat to John's piano riffs, too, content but happy.
102. "I'm Gonna Be a Teenage Idol," Don't Shoot Me I'm Only the Piano Player (1973)
A cheeky tribute to his friend Marc Bolan — who John later called "the perfect pop star" and a "great role model" — "Idol" is a self-aware but more serious first-person song seemingly directed at critics than "Going to Kill Myself" (though it would have made a great A-side to it).
101. "In the Hands of Angels" (with Leon Russell), The Union (2010)
The Union closes with a thank you from Russell to John in the form of this song, because as he told Rolling Stone: "I wanted to give him something for doing this for me: 'What can I give this guy? He has ten of everything.' I went in and sang it, two keys too high. Then I did it again, lower. That's the take on the album." Cameron Crowe filmed the recording session, because of course he did. It's hard but not impossible to find the doc online — and worth it.
This is what it sounds like when absurd natural talent and decades of experience yield a track that seems to be almost effortlessly well executed. It's not the best or most famous song he'll ever make, but it's still better than almost anything else that's been recorded.
99. "Harmony," Goodbye Yellow Brick Road (1973)
This Beatles-esque good-bye to a long double album, also released as the B-side to "Bennie and the Jets," was never officially a single but did get a lot of play at radio stations, especially those that counted fan requests in their own chart numbers. A briefly available video assembled for the song's 40th anniversary includes rare Super 8 footage shot on Elton's mile-high party plane, including Stevie Wonder and many others.
"I didn't know how to love you, though I loved you so much." A pretty perfect slice of acute lovelorn regret.
Begging for a smoke-filled cabaret version or cover, maybe by Sam Smith. At its core, though, it's a perfect example of the often-forgotten mid-album track — heads above almost anything else out there, emotional and cinematic and crisply orchestrated.
96. "The Fox," The Fox (1981)
This title track closes out the album with exactly the right amount of harmonica, of backing vocals, of carefully composed couplets: "It's an evergreen affair, as tradition taunts the fox / Into the hunter's waiting lair."
93, 94, 95. "Dream #1, #2, and #3," The Diving Board (2013)
The three "Dream" interludes on The Diving Board — all improvised piano-only passages — serve as perfect nocturnal bridges carrying us through this underrated album.
A classic country-western spin around the sawdust-strewn dance floor: "Things have to change / And they might." There's a pleasant simplicity here that calls back to "I Guess That's Why They Call It the Blues," but John's general happiness shines through even the wistful lyrics.
"How come it gets so disturbing / When two ships pass in the storm?" Maybe because when they finally collide again you get a song like this, one of four from Taupin on this open marriage of an album.
More than any other track off the struggling Reg Strikes Back, this song feels like he's remembered how to do it and make it look easy — a bittersweet but not totally twisted breakup tune, maybe best known for its whoa-ohs.
89. "Shooting Star," A Single Man (1978)
Somehow this sounds both like the Carpenters and a Donna Summer "On the Radio" rip. But it's a great tragic little song about being in love with someone whose fame takes them away from you.
88. "Idol," Blue Moves (1976)
Could have been the B-side to George Michael's "Kissing a Fool," or maybe Michael borrowed more from Elton than even he admitted. Based on Elton's own recounting of his sad later-career encounter with Elvis, this is almost certainly his love letter to the King That Was. After a brutal critique of his fading looks, the song ends with the ultimate knife-twist: "I have to say, I like the way his music sounded before."
87. "Crystal," Too Low For Zero (1983)
I'm not totally sure this song is about coke, but with a title like that why wouldn't it be? It's also catchy as hell.
A bluesy state-of-the-times lament, with an organ, deep horn line, and falsetto chorus filled in by a Baptist choir.
85. "Tinderbox," The Captain & the Kid (2006)
"Lately we've been getting more roll than rock," The Captain & the Kid warn in this pointed couples-therapy self-assessment, presumably of Elton and Bernie's relationship, though it gets a bit heated at points. "We've gotta climb out of the other one's pocket / Or we're gonna burn out on this beautiful rocket."
"Amoreena" all grown up, including a gospel chorus. Evocative, emotional, quietly wrenching
83. "There's No Tomorrow" (with Leon Russell), The Union (2010)
The most gospel track of the album also features one of its few pure electric-guitar solos. But it feels a bit repetitive.
82. "The Bridge," The Captain & the Kid (2006)
An almost but not quite maudlin contemplation of the inevitability of death. Unlike the jokey dark humor of their youth, this one's deeply serious: "On a distant beach your song can die / On a bitter wind, on a cruel tide." John's voice here sounds raw, almost his age, a vivid plea to be heard or hear himself.
This harks back to earlier, Honky Château–era John rockers, organ, and deep thoughts.
A real "you don't have to go home but you can't stay here" end to Blue Moves, which is at heart a moody double album. Back to the blues-rock bars we go with a little disco beat thrown in, but it's still Saturday night here in this club.
79. "Curtains," Captain Fantastic and the Brown Dirt Cowboy (1975)
Folksy and simple, almost like a yearning Nick Drake song that returns the young protagonists of Captain Fantastic and the Brown Dirt Cowboy to their child-like roots.
Earlier on Blue Moves we heard sweet harmonies like CSN. This is like the weirder Neil Young entry, swirly and evasive, beautiful but uncomfortable. But that's the point of a second LP in a double album, right? Weird shit that would never, ever be a single.
An unhinged and hilarious instrumental. What happens in this imaginary show? Why does Taupin get a credit for a song with nonexistent lyrics? Who cares?
A beautiful love song to the elusive, contradictory New York, and a far better sequel to its obvious ancestor than "Mona Lisas" Part 2. John's raspy voice here works so well for a later-in-life memoirist.
75. "Blue Eyes," Jump Up! (1982)
This song — written with Gary Osborne about one of Elton's many blond, blue-eyed boyfriends, Vance Buck — finds Elton in the deepest end of his register and his feels, crooning smoothly "I am home again." In a frustrating elision, John framed the video and song as if it were a tribute to his friend Elizabeth Taylor. Vance, whose shirtless jump for joy is among photos that appear inside the Jump Up! album art, later died of AIDS.
One of those songs Elton John likes to brag he wrote fast — essentially, he claims, in the amount of time it takes to sing it through, he'd taken Taupin's lyrics and added music. This is no "I Guess That's Why They Call it The Blues," but it feels honest and upbeat, and that goes a long way on AC radio.
73. "Simple Things" (with Brandi Carlile), The Lockdown Sessions (2021)
John and Carlile finding each other and becoming fast friends seems almost preordained. Her covers of John songs in concert are breathtaking ("Madman Across the Water" especially) and this one, like his very different collab with Olly Alexander, should in any righteous world be the first blush of a better, fully fledged duet album.
Written to celebrate John's friend tennis legend Billie Jean King, it was a bit of a forced anthem, among Taupin's least favorite write-on-demand assignments. But the heavy bass endures, making it a kind of historical monument to queerness and another legendary groundbreaker.
Obviously written as awards bait and played over the end credits, this self-esteem-boosting duet with John's stand-in Taron Egerton in other hands might be unbearably trite ("I'm gonna love me again / check in on my very best friend"). But the orchestration as a girl-group 1960s bop is a rockin' nod to his Bluesology days and buoys the track. And it won Bernie and Elton their first shared Oscar for Best Original Song, leading the pair to arrive at John's own multimillion-dollar-raising viewing party with a matching set of statuettes and giddy grins. (Another Egerton performance worth listening to, even if not eligible for this list: his 11-hour reading of the audiobook of John's memoir, Me.)
70. "Come Down in Time," Tumbleweed Connection (1970)
Tumbleweed Connection's softest track starts with harp and strings and paints a pastoral portrait of unrealized love — sung with a more emotionally dialed-in John than heard up to then, except on "Your Song." John was full of praise for Taupin's lyrics when the song was released, calling it an "astonishing lyric for someone who's not even twenty."
69. "Amoreena," Tumbleweed Connection (1970)
Okay, that's enough soft songs about lovable ladies and dying soldiers, "Amoreena" seems to say, kicking things back into a funkier gear. This is the most believably lusty delivery by John of lyrics about Taupin's earthly urges. If "Take Me to the Pilot" is a song that fucks indiscriminately, and weirdly, "Amoreena" is just an old-fashioned rocker about the best time you ever had and how much you'd like to have it again.
If there's a man qualified to make a song out of addiction metaphors, it's Elton John (and let's be real, Bernie Taupin's no slouch either). This bluesy lament never names the last remaining vice, but I'd argue it's probably fame, and in any case, John sings the hell out of it.
67. "Razor Face," Madman Across the Water (1971)
Delightfully weird love song for, it seems, a tough guy living on the streets after an even tougher life. This fully settles into a New Orleans–esque honkey-tonk bridge, with Hammond organ (and accordion!) played by none other than Yes keyboardist Rick Wakeman.
John embraced synthesizer more than ever before in this title track and its accompanying album. The lyrics are tightly composed right from the opening complaint about an early wake-up call: "Let that sucker jingle-jangle / Ring right off the wall." And then just as you're getting lulled by the electro vibe of it all, John comes in with a bright piano solo, crackling you awake again.
65. "Have Mercy on the Criminal," Don't Shoot Me I'm Only the Piano Player (1973)
The second-best song on Don't Shoot Me I'm Only the Piano Player, loud and dramatic and just screaming at you to remember these men know how to write a real banger. If you're gonna write about a lawbreaker, make it a pleading, mournful demand for Johnny Cash–like redemption and safety from the evil lawman.
64. "Hercules," Honky Château (1972)
If Rocket Man became the anthropomorphization of the Elton brand, Hercules was his devilish alter ego and id — he legally took it as his new middle name and even used it to christened the mansion he bought and shared with John Reid. The song is a stompy southern jam, too stuffed with slang but still born to be blasted from a bar jukebox.
63. "Mellow," Honky Château (1972)
A sleepy, stoned, sexy love song from Honky Château about those days when you just can't bother getting out of bed. It suitably kicks into a higher gear for each bass-heavy chorus before slipping back to "wrecking the sheets real fine."
The first song of four albums that John released in 1971, this rocking opener to Tumbleweed Connection announces in its own way their British invasion of Americana. Bernie and Elton have fully hit their stride. Listening to this blind you'd be hard-pressed to figure out John hadn't grown up playing southern honky tonks rather than workingman's pubs in Pinner, England. That's also a credit to Taupin, who was so sweet on the idea of the cowboy West he wrote the album's lyrics before he'd ever actually been to the U.S.
61. "Believe," Made in England
The epitome of mid-1990s radio hits. You know every word to this even if you don't realize it.
60. "(Gotta Get a) Meal Ticket," Captain Fantastic and the Brown Dirt Cowboy
If anyone knows what it's like to get chewed up and spit out by the music industry, it's these guys. John bites out the virtues of finding yourself a wagon to hitch your future to: "Do yourself a favor, the meal ticket does the rest."
59. "Ticking," Caribou (1974)
All the useless coked-out filler of Caribou unexpectedly yields this brash, broken, demanding song about a troubled young man who kills 14 in a mass shooting. There's tension in every repetition of the title but also an underlying empathy it's hard to imagine in a song written today about such senseless gun violence.
I like to think of Alice as Amy's other girlfriend (see No. 44), but things don't go so well for her either. Why was Bernie writing all these songs about sad teenage lesbians, and how has that not become a bigger deal in this day and age? One man who took this song very seriously all along: guitarist Davey Johnstone, who among other sonic tricks here used a bottle on the guitar strings.
A classic — especially for karaoke — and for good reason: It's bouncy, sweet, and saucy, with an iconic tongue-in-cheek video treatment that was as glass closet-y as one might get in 1976. The best Kiki Dee duet, though — at least according to Elton's autobiography — is seemingly lost to the world, one he and Taupin wrote on a beach in Barbados called "I'm Always on the Bonk." Among the lyrics, allegedly: "I don't know who I'm fucking / I don't know who I'm sucking / but I'm always on the bonk." I invite you to also now fully integrate "on the bonk" into your vocabulary. It's so useful.
A gorgeous tribute to his recently slain friend John Lennon, with whom John had played at Madison Square Garden in what would turn out to be Lennon's last live performance. Taupin's constant-gardener metaphor is a bit heavy handed, but John singing "I've been knocking but no one answers" is a plaintive and heart-wrenching call to a lost brother.
55. "Song for Guy," A Single Man (1978)
For some reason the American record bosses weren't keen to release an almost seven-minute instrumental track (okay, there's one lyric: "Life isn't everything"), no matter how haunting and beautiful. Still, many people who did hear the track or see it listed assumed it was a gay love song, when in fact it was named in tribute for a young motorcycle messenger who worked for John's record company, Rocket, and who died in an accident the day after John composed it. (It was fittingly featured in season four of The Crown, providing the sad soundtrack for a young Princess Diana dancing by herself in Buckingham Palace.)
54. "Chosen Family" (with Rina Sawayama), The Lockdown Sessions (2021)
John is impressively committed to fostering not just collabs but what seem to be genuine relationships with younger queer artists. His advocacy of Sawayama's work via his Apple Music show and many other media mentions no doubt had a demonstrable impact on her exposure, especially in the States. This revamped duet version of her own LGBTQ-pride power ballad adds an appropriate gravitas without making it self-serious. John's parts on this are the embodiment of that intergenerational love.
Recorded at a studio near where he then lived in Atlanta, Peachtree Road feels sweltering and syrupy, settled in its twang in a way that John was imagining long before he ever got there. This is a song about having nothing to prove that also demonstrates what it sounds like when you're this caliber of musician and have, in fact, nothing to prove.
The most direct, even satirical of the John-Taupin subgenre of songs about suicide, and also the most upbeat pop treatment, in the style of a Sgt. Pepper's sendoff. The narrator's complaints are pitch-perfect petulant: "I can't use the car / I gotta be in by ten o'clock / Who do they think they are?" Sweet woo-woos about "I'd like to see what the papers say / On the state of teenage blues" lead into a tap-dance bridge and then high-kick exclamations of "kill myself!" and "suicide!" It's funny even or especially because of Elton's cheeky own recounting of his various unsuccessful attempts to end his life through both short- and long-term self-destruction.
By far the standout track on the largely unheard first Elton John album, Empty Sky, and one of John and Taupin's personal favorites, this recording features a lovely arrangement with John on harpsichord. But it's the song's later versions (first on Don't Shoot Me I'm Only the Piano Player, then live on Here and There) that prove just how strong the foundation is — and how much promise John's career held. The stripped-down 1979 version on Live From Moscow is perhaps the best, capturing an earnest yearning.
50. "It's a Sin" (with Years & Years), The Lockdown Sessions (2021)
Olly Alexander (a.k.a. Years & Years, now a solo venture) and John belted out a live version of this Pet Shop Boys classic on the Brit Awards that would have stood out for being absurdly sexy in any decade. Alexander also starred in the stunning AIDS drama series of the same name and was a featured guest on John's Apple Music show while promoting his triple-threat skills (acting, singing, hula hooping). The two seem deeply mutually enamored. For as good as this cover is, it only makes you hope they'll find time to commit to a proper co-write.
How has this song not been the centerpiece of a massive trailer release or season finale needledrop? (Kingsman franchise, I'm looking at you; I'm also accepting an on-the-nose cue in season 6 of The Crown.) Said to be Taupin's tribute to the novels of Mary Renault, its satisfying power is that it's far less literal, and more obviously about a famous man whose public adulation cannot last forever. (Hah, says Elton John.)
48. "Can You Feel the Love Tonight," The Lion King: Original Motion Picture Soundtrack (1994)
Of the three songs from The Lion King nominated for Oscars, of course it was the cheesiest and sweetest that won. It was originally heard over the film's closing credits, further establishing that slot as the best lure for pop stars in animation. John and Tim Rice then helped adapt the music into a Tony Award-winning Broadway juggernaut, and the song was again used in the live-action film version with Beyoncé, which means that at least three decades of kids probably know exactly when to go hard on its karaoke-epic closing lines: "It's enough to make kings and vagabonds / Believe the very best."
The third Elton John song to pay tribute to John Lennon, among many more lost friends along the way. An existential question is at its core as he asks about his own unlikely survival: "Who makes the call and who gets to choose? / Who gets to win and who gets to lose?" A wildly underrated eulogy that wouldn't have been out of place on the much more critically acclaimed The Union.
Inexplicably borne of one of the worst John-Taupin albums ever made, this throwback ballad has only a handful of lyrics but they perfectly capture a sweet, sincere romantic daze, like a wedding song you know is a tiny bit sappy but don't mind so much. It's also, if inadvertently, half of the best-selling song of all time, because it became the B-side to the Princess Diana tribute version of "Candle in the Wind."
45. "Amy," Honky Château (1972)
If you're not paying attention, this almost sounds like it's about a heartsick teenage boy lusting after the wrong girl (aka a typical Taupin jawn). Except it's really a sweaty, almost uncomfortably intense tribute about a girl who "may not be James Dean, may not be nineteen" — and risks the ire of a dad who promises to break her neck — because she cannot for the life of her stay away from Amy, "the girl that wrecks my dreams." It's so throaty and queer — a little desperate, a lot determined, and lusty enough to have gotten itself banned from radio.
My absolute favorite on The One, not just because it's a tribute to his dear friend Freddie Mercury, but also because it harkens back to the grand despair heard on earlier albums — though 15 years prior it would have had less electric flute and more orchestra.
43. "Love Song," Tumbleweed Connection (1970)
John's first non-Taupin track — it's co-written by Lesley Duncan — has Crosby, Stills & Nash-like gentle harmonies and guitar-picking over a swoony main vocal where John pleads that "love is the key we must turn." (Daisy Jones & the Six might try, but could never.)
42. "The One," The One (1992)
This might be the most 1990s song to ever exist in the best possible way — a perfectly airy mix of programmed drums, keyboards, whooshing ocean sounds, and crooning backup singers. There are even dramatic key changes and unjustifiable confidence in deeply felt lyrics: "Like freedom fields where wild horses run!" and "When stars collide like you and I!" and "No shadows block the sun!" (Bonus: the album cover is designed by Gianni Versace.)
The rare cover of a (complicated, problematic) rock classic that improves on the original, maybe because Elton John happily got into character in the Who's 1975 film version of their rock opera Tommy.
Despite The Diving Board having been born during a relatively peaceful and happy era in John's life, he hasn't forgotten how to bang out a sad one. "It's from a desperate time," he said. "And, you know, I love miserable songs." One of the few tracks on the album with added horns and orchestration, the piano-driven waltz powers through the tragic tale of an absolutely miserable sounding couple that you can't tell me isn't based on someone in the Royal Family.
Somehow, of all the dramatic ways John and even Taupin reacted to their growing fame and riches, the two never managed to ruin their own creative marriage. Maybe that's because they were able to weave a grand love story without (they swear) ever being lovers, but if ever there was a song to make you wonder, it's this earnest refrain: "Did we, didn't we, should we, couldn't we?"
38. "My Quicksand," The Diving Board (2013)
A brilliant later-life look-back in the key of Bond themes, "My Quicksand" is the emotional heart of The Diving Board, a theme song fit for the biggest stage and screen. But it features an even more ragged, weary, and worried 007-ish hero than we got with Daniel Craig — "when you least expect it you can drown," he sings before the song slides into a haunted jazz break.
It's hard to tell if this is (yet another) suicide note or just a Dear John letter from a man at the end of an unhappy marriage. It's heartbreaking all the same. Elton is flirting dangerously with lyrics that are too sentimental, but somehow they teeter and stay on their feet together.
36. "My Father's Gun," Tumbleweed Connection (1970)
Of all the obvious homages to The Band on Tumbleweed Connection, this is probably the most explicit. ("I wouldn't say it was a blatant rip-off," Taupin said, "because, God, if only I could have ripped off so well.") John was often playing on the same bill as many of those influences he and Taupin had listened to from afar, and in his memoir remembers bumping into Bob Dylan on the backstairs at the Fillmore East. "He stopped, introduced himself, then told Bernie he loved the lyrics of a song from Tumbleweed called 'My Father's Gun.'" John's reaction: "What the fuck is happening?" The guitar here (by Caleb Quaye) sounds like Stephen Stills at his sharpest, and John's vocals complement the gospel backing perfectly. The song is actually about the son of a Confederate soldier during the Civil War who has to bury his dead dad and then decides to join up in his place — but his promises to "not rest until I know the cause is fought and won" sound tragically doomed rather than politically motivated.
One of the best Elton John songs of the decade, crunchy '80s synths wrapped in what feels like a cashmere slipknot of self-recrimination and regret, divorce, and disillusionment and still throughout it all a sad and lonely longing. My kingdom for this to have been used properly in an episode of The Americans and thus led to a rediscovery of The Fox, an excellent and underrated album.
A diamond in the rough of a chaotic, inconsistent album, this Beach Boys-inspired piano ballad is traffic-stopping stellar. Unlike earlier (and later) vocal acrobatics, John carefully climbs up through his range in a series of progressive key changes, each step adding an exquisite, regretful tension. A lost gem that sneaks up and leaves you on the brink of tears, and then it's done.
33. "Oceans Away," The Diving Board (2013)
The opening track of 2013's excellent and underrated The Diving Board, this is as beautiful and spare as it gets — just Elton and a piano, doing justice to Bernie Taupin's meditations on getting older. ("It's a very adult album," John, then 66, told NPR's Terry Gross adding, "I'm very happy with my personal life. When I started the album, I had one son. When I finished the album I had two sons. I think subconsciously all that played into the end sound and the end product.")." "Oceans Away" is a tribute to soldiers more elegiac than anything else on the theme they did in their western folk days, with John and Taupin paying specific mind to their parents who survived WWII — John's famously tough mum was a gunner — and the burden they and other veterans carried through the decades after fighting: "The ones who hold onto the ones / they had to leave behind."
Less than a decade after their first meeting, the sweet and simpler times were already calling out wistfully to Bernie Taupin, who penned the lyrics for most of Captain Fantastic and the Brown Dirt Cowboy just in time to hand them off for Elton John as he disembarked on a trans-Atlantic sailing. On the SS France, John shared time in the ship's only music room with an opera singer, working his way through his and Taupin's shared history, playing each song through until he'd memorized it with his musical accompaniment. The resulting album – and this opener to it – is among their absolute best, restrained and sincere, the story of two earnest kids who loved rock 'n' roll despite their unlikely starts.
The absolute worst thing to happen during the making of Caribou, a middling record on which this is one of only two great standouts, is that Elton John tried cocaine for the first time (thanks John Reid!). If there are great awful turning points in Elton's tragic tale of addiction, this plot twist may count as the single most destructive. "The Bitch is Back" is a fiery, groovy, egoistic clapback to his many haters, but it reads just as well as a coked-out declaration of independence.
The only bona fide single of an album's album, chronicling John's early engagement to a woman who made him so miserable he literally, if somewhat badly, stuck his head in an oven in hopes of perhaps ending his own life. Famous at least half because it made us all ask the unbelievably ridiculous question: "Who is 'Sugar Bear'?"
29. "Honky Cat," Honky Château (1972)
"Oh, a change is gonna do me good," John winks out between buzzy horn flashes and ragtime riffs, as if he and his band's nine days writing and recording this masterfully self-assured album in a French chateau were quite possibly spent instead shacked up in a New Orleans saloon. It's somehow a little raunchy, a little cynical beyond his and Taupin's years, and a little naive all at once.
28. "Jimmie Rodgers' Dream" (with Leon Russell), The Union (2010)
Somehow Taupin's classic storytelling twists hit different when sung by Russell; "wheezing like a freight train hauling 60 tons of steel" sounds more like a warning. During the making of the album, in fact, Russell could only manage a few hours a day of work, and John worried whether they'd make it through, writing later "I wondered if his contributions to the album were going to be released posthumously." They paused at one point when Russell collapsed and was treated for heart failure, pneumonia, and fluid leaking from his brain.
27. "Home Again," The Diving Board (2013)
Once again I'm left asking: How was The Diving Board not actually a movie or featured prominently in one?! This song is huge — big chords and big questions, without ever being too much. In a jukebox musical it would be the moment the main character realizes just what he's lost and pledges anew to make it right, no matter how far he must travel to do so. And though I maintain John should not be starring himself in a show or film like that, the emotion his voice carries here is pitch perfect.
26. "Border Song," Elton John (1970)
Aretha Franklin recorded this track in 1972, outperforming the original on the charts and adding some legitimate soul cred to what is essentially a gospel song preaching racial equality: "There's a man over there, what's his color? I don't care / He's my brother, let us live in peace." (John is said to have added those last lines himself to Taupin's other lyrics.) John's early work as a paid musician who toured with soul groups goes to good service here. The label had somewhat bizarrely chosen this as Elton John's first release, so he trooped over to BBC1 to record it for Top of the Pops, where backstage he was starry eyed to meet actual soul songstress Dusty Springfield, who offered to mime singing backup for the taping.
25. "If It Wasn't for Bad" (with Leon Russell), The Union (2010)
This opening track announcing The Union, with a classic Leon Russell vocal that stomps across the room and back, quite deservingly scored a Grammy nomination.
24. "Tonight," Blue Moves (1976)
"Tonight" is not quite "Funeral For a Friend" but it's a bold overture fitting Blue Moves, a very different double album, from brassy to balladeer and back again. By the time it folds itself from instrumentals into vocals, you've almost forgotten that's what you're waiting for. Then John — working here at the top of his register, and straining a bit in a too-human way from his earlier ease — delivers a stunning scene setter. The live version from Australia should probably go down as the definitive version rather than this studio recording.
Here's John (via Taupin's words, as usual) taking a frank and unsweetened look back at the times he was most fatally tempted by fame — including perhaps the night he OD'd and dramatically threw himself off a literal diving board and into his own swimming pool in front of a yard full of guests. "It's a song about the pitfalls of fame and how much you want it and how much you're willing to sacrifice to get it, to sell your soul," John said. "And then when you get it, you have to repay what you sold your soul for. And some people survive it, and some people don't." As a certified survivor of more near-death experiences than even all those accounts can fully capture, John dangles the life lesson wrapped in a smoky-sounding torch song, as if he is the devil tempting you personally.
22. "Grey Seal," Goodbye Yellow Brick Road (1973)
A sleeper banger. Turn it way, way up. Originally released as a B-side to his self-titled second album, but fully revived with the grand rocking orchestration it deserved on Goodbye Yellow Brick Road.
Probably the Elton John song most likely to be covered by sweet-voiced open mic strummers, this wide-eyed tribute penned by Bernie on an early stop in New York City — there was a police shooting outside his hotel, spooking him badly — endures both in its original forms and many heartfelt covers, despite a somewhat saccharine obviousness.
20. "Daniel," Don't Shoot Me I'm Only the Piano Player (1973)
This is a groovy, ambiguous song that sounds exactly like it's from 1973, with an ARP synth and a Mellotron flute patch played by John on an electric piano. "Daniel" has rightfully endured as both a killer karaoke option and a classically misunderstood lyric. Bernie, who wrote this the summer before when they were working on Honky Château — the same French mansion where Don't Shoot Me… was also recorded — was inspired by a TIME magazine story about a Vietnam vet, as well as his own brother who had lived in Spain. But because Elton killed a more direct final verse, many at the time (and since) assumed it was a gay love song. "I always thought that was hilarious: no one noticed any of the songs that Bernie wrote in the '70s that actually did allude to my sexuality, but everyone jumped on one that had absolutely nothing to do with it," Elton wrote later. Another late revision to the canon came in the form of a video shot by David LaChapelle that made the references more clear. This sweet sad song marked the beginning of the end for John's long relationship with their early record label head Dick James, who resisted promoting the song as a single, only to be called out by Elton publicly until James relented. And in this case Elton was right — the track went to No. 4 in the U.K. and 2 in the U.S..
Settled into his sober elder statesman role, John sounds it here, singing like the happier, alternate ending all the suicides and overdoses he imagined for himself and barely dodged: "These days I'm happy to see a sunset instead of a line."
18. "Levon," Madman Across the Water (1973)
A fully self-contained — and fictional — rock opera about sons and fathers and all the expectations they have for each other, "Levon" is a mish-mash of American and British references and lyrics you'll find you already know even if you don't register the story they tell: "He was born a pauper to a pawn / On a Christmas day when the New York Times said 'God is Dead' and the war's begun." In live shows the song can easily extend to 15-minute or longer jam sessions, and nobody is mad about it.
From the ominous beehive opening bars, quickly dropped for a light classical harp-picking, this is a track that builds and weaves and bobs dramatically (and effectively) as it imagines the lonely future of a ragged warrior. It's operatic but it all works together, even more so now that John's seventh decade is comfortably in his rear view and yet he seemingly refuses to slow down. Because the orchestration was so complex, John was long dissatisfied by its live presentation — but it shines in extravagant settings of later tours such as that captured on Live in Australia.
A rare song where Elton, heartbroken by an unimpressed straight man he'd fallen for post-John Reid, penned the first couple soppy lines and Bernie swooped in as closer. The resulting ballad is not only the standout of Blue Moves but felt for a long time like it might be the last word from super-not-couple Taupin and John.
This is, to be blunt, a song that fucks. Every version of it, whether recorded in a studio, live with a full orchestra or only a piano, just rails through absolutely incomprehensible storytelling (something about virgins on a spaceship?) with a lusty guitar and smashed piano chords. In the original, you can hear John's lispy vocal delivery, which only adds to the off-kilter but compulsive trajectory of the song. Here's a real mindfuck: Depending how loyally you took direction from a 45's label, "Take Me to the Pilot" was released as the A-side of "Your Song" — two tunes that capture the extremes of Elton through his career. But can you imagine flipping over that 45 on the sweet afterglow of the radio hit ballad only to be electrocuted by this balls-out jam?
14. "Hey Ahab" (with Leon Russell), The Union (2010)
Despite how it might have looked — rock superstar gets a bee in his bonnet about whatever happened to his onetime idol, tracks him down, asks if they should record together — John quite convincingly argues it wasn't a selfless offer. "It wasn't an act of charity," he writes in ME. "It was more pure indulgence for me." At its strongest, as on "Hey Ahab," the sheer joy John conveys bears this out.
13. "Writing," Captain Fantastic and the Brown Dirt Cowboy (1975)
You can hear in every track of Captain Fantastic that John and Taupin's decades-long, platonically resilient partnership is, at least narratively speaking, the mutual great love of their lives. But nowhere so much as this straightforward song about writing songs. There's a half-asked question of whether something so pure can last — "Will the things we wrote today / sound as good tomorrow?" — that's then immediately answered: "We will still be writing in approaching years."
Elton John's superpower is that he makes a song like this look deceptively easy, just a rollicking love tune he banged out on a Saturday afternoon. One of many standouts on Too Low For Zero, longtime guitar player Davey Johnstone gets a co-write credit here (and Stevie Wonder chimes in on harmonica). It's been covered by everyone from Luciano Pavarotti to Mary J. Blige to Alessia Cara; is always a popular karaoke pick; and deserves absolutely every bit of enduring popularity.  Despite its emo title, it is packed full of yearning for every second spent away from your true love.
A shit-kicker of a song that can be dropped on any day of the week and make you feel like actually getting up out of your seat. "Get about as oiled as a diesel train" is a magnificent metaphor for so many kinds of Saturday night mischief. Any rock band from the seventies to today would murder for a party song like this to fall into their laps.
John closed his famous first set at the Troubadour in 1970 with this song, which no one in the audience had ever heard before, kicking his piano stool to the side and levitating his legs for the iconic images that accompanied that show's overnight-success stellar reviews. Would this list even exist if he hadn't channeled childhood hero Little Richard and manifested that moment? The album version shifts from what could at first be mistaken for a pastoral, pleasant crooner about country life into a four-alarm fire, crackling with impatient riffs by the first refrain, when horns pile insistently on top of each other only to strip back, again, to an orchestral piano hymn. Make no mistake, though. This is a call to action wrapped in a revival tent jam.
9. "Bennie and the Jets," Goodbye Yellow Brick Road (1973)
The Overton window for how much production is too much moved slightly over for this track by Gus Dudgeon, which features two types of live-recorded applause (from Elton's own 1972 Royal Festival Show and an unrelated Jimi Hendrix show) along with various hooting and hollering from the studio crew and session musicians, and it baffled the singer himself when it began garnering organic spins from American DJs on Black radio. It's just the right mix of youth-rallying generational angst, semi-coherent lyrical twists, and the strong implication that the kids are high as hell and singing nonsense their folks will never understand. A hands-down perfect karaoke choice, too — though try to keep up with the falsetto and you'll have a new appreciation for what a young Elton's vocal cords were capable of.
Like most of John's gothic death-obsessed oeuvre, the "friend" in this funeral is Elton himself, and from the taste we get he's going to have a hell of a sendoff. "I got very down one day," he said. "I like tearful, plodding music." But he can't seem to restrain himself in this musical intro to one of his all-time best albums, Goodbye Yellow Brick Road, from painting a dramatic portrait of a superstar, even without lyrics, giant guitar solos, and slapped-out piano chords. By the time it crashes into a few minutes of upbeat and almost familiar-sounding rock with "Love Lies Bleeding," ostensibly the heartbroken and betrayed last missive of a music man lamenting how he couldn't live up to the expectations of a girl — or perhaps the crushing expectations of the press? — it's clear this isn't a wake. It's a welcome party.
Is there any better way to sell a comeback album than by insisting so powerfully that's exactly what you intend to do? Among many contenders, this song could be the true title of Elton's biography, as the unkillable, unstoppable force of nature continued to survive sex scandals, excessive drug use, and (the most horrific) a string of underselling albums. "Looking like a true survivor, feeling like a little kid," he insists, and who are any of us to say otherwise?
The title track off John's peak operatic double-album tells what feels like a familiar story of Taupin's itchy dreams to move off the farm and get to fucking Oz, already. But there's an alchemic energy that thrums through the relatively short three-minute-plus song, buried just beneath the whooshy Beatles-y harmonies. "I'm not a present for your friends to open" is a crisply jaded snipe whether it's targeted at parents or a lover. John named his final-for-real-this-time multi-year tour "Farewell Yellow Brick Road" and the album art frames the massive stage set-up, with an illustrated John stepping back onto the golden path for one (alleged) final victory lap.
5. "Don't Let the Sun Go Down on Me," Caribou (1974) and Duets (1993)
One of the greatest ballads of not just John's catalogue but of all time. John happily recounts in his memoirs the epic tantrum he threw while originally recording this song — "Send it to Engelbert Humperdinck!," he shouted — in part because the high Rocky Mountain altitude of their studio made it so hard to track the vocals. But producer Gus Dudgeon thankfully ignored him, then later layered harmonies (from the Beach Boys, no less) and teased out its resilient brilliance, ultimately scoring a Grammy nom. There are many excellent versions across his decades of live albums, but it's the heartbreakingly timeless duet with George Michael that really elevates it. It's not quite playing fair for that version to even appear on Duets, where every other track struggles in its wake. Already among the best Elton songs ever, the live take goes and adds one of the 20th century's greatest and most emotive vocalists into the mix with an iconic, almost offhand introduction (a pre-knighthood "Mr. Elton John!"), seemingly bringing John out of his own belting shell with soaring harmonies. These two men clashed off and on over decades of friendship and collaboration interrupted by icy public feuds, largely rooted in fights about Michael's unrepentant drug use. Rather than being able to help nudge him toward sobriety, as he did with Rufus Wainwright and Eminem, John was instead the sole survivor of what could have been decades more musical collaborations.
Though the song sounds like it could have itself taken weeks to record, the entirety of this album was laid down in four days — "it was supposed to be five," John writes in his memoir, but they lost a day after Paul Buckmaster pulled an all-nighter to finish the scoring, then spilled ink all over the sheet music. "Even when Paul screwed up, he screwed up in a way that reminded you he was a genius," John says, a comment that presumably thousands of collaborators have said about John himself. Both a seeming reflection of criticism of John's focus on American tours and audiences over his fans at home — and in some ways a premeditated manifestation of a backlash for those choices (some reviews of the album at the time were lukewarm, and the sales and radio replay reflected that) the dark, almost bitter tone of the title song pushes back, too: "They think it's very funny everything I say / Get a load of him, he's so insane." John's fourth studio album in two years came on the tail of almost two years of non-stop touring, and was his first where he didn't start off with a stack of tunes ready to be recorded. This song was also the first to feature Davey Johnstone, largely on his preferred acoustic guitar, who then joined John's touring band, in which he still plays today.
3. "Tiny Dancer," Madman Across the Water (1971)
Famously overlooked at the time of Madman's release, then resuscitated when featured as a shaky post-party singalong in Cameron Crowe's film Almost Famous, "Tiny Dancer" might be Taupin and John's best prognostication of future nostalgia.
The brutal schedule of international touring and back-to-back album recording was catching up to the duo, as was the hot spotlight of media attention. The lyrics are a tribute to Taupin's then-wife and "seamstress for the band," Maxine, at once wistful and weary, like he's grasping to keep her close despite the turmoil of life on the road. The orchestration by Paul Buckmaster drives big emotional waves and John rides each one with almost uncharacteristic restraint — he's at his piano man storytelling best here, laying out the tale and then leaning back a bit to let us listen.
"Painful" was the word most likely to be dropped in press interviews John gave at the time. "It was done under pressure and really tortured out of us," he said of the album. "I think it's remarkable that it turned out as well as it did." And while Madman scored decent reviews, "Tiny Dancer" was unreleased in the U.K., and didn't crack the Top 40 in the States. Almost Famous and the way it centered the song at its peak emotional pivot changed that, thrusting it onto radio and MTV, and back on Elton's own radar.
"I think the film subconsciously put some ideas into my head, about the kind of artist I'd been back then, about how my music was made and how it was perceived, before I became absolutely huge," he wrote in his autobiography. "It wasn't that I wanted to turn the clock back. I didn't have any interest in doing something retro. I think nostalgia can be a real trap for an artist."
Still, it helped inspire a stripped down re-approach to his work that ultimately yielded Songs from the West Coast, not to mention a breathtaking range of excellent cover versions, from Tim McGraw to Florence + The Machine. Forty-plus years later, a music video directed by Max Weiland shot to be used by John on tour pays artful tribute to Los Angeles, the other love story at the center of the song.
2. "Your Song," Elton John (1970)
An iconic true beginning to the Elton & Bernie era and the blueprint for hundreds of songs to come: written in mere minutes ("in a way, we'd already done all the hard work," John recalled), a song about writing songs (a frequent topic they'd revisit often), recorded simply with a small string section and harp backing John's piano.
If it were possible to make a checklist for "how to become a classic," this one ticks all the boxes: It's universal (no gendered pronouns) and specific ("if I was a sculptor…but then again, no"), sappy ("yours are the sweetest eyes that I've ever seen") and coy ("I've forgotten if they're green or they're blue").  But it's the way it dances on the head of a pin that makes it an unforgettable forever favorite. Through the early verses, folk crooning flush with humble modesty ("I know it's quite simple.."), there's a tension that begins to build. It's not about whether the narrator will admit his feelings — we know even through all the poetic hedges ("anyway, the thing is, what I really mean") that he will. It's that he absolutely wants you to know. He wants you to brag and "tell everybody this is your song."
The song's real brilliance, though, is in the will-he-or-won't-he musical arrangement, as we wait to find out whether the singer will give in to a fully belted out declaration of love. "Your Song" wants desperately, with all the young passion of a nearly virginal pair of troubadours, to be the song.
Only in the final refrain does Elton begin to let himself be free, rising to meet the swell of the strings. But it was enough to turn heads. John Lennon, upon hearing the track, declared Elton "the first new thing that's happened since we happened," which is one hell of an endorsement for a 23-year-old who'd just barely cracked the beginning of a long career. Yet the label released it as a B-side to "Take Me To the Pilot," and it was only thanks to the good ear of American radio jockeys that it began climbing the charts, becoming his first international top 10 hit. Over the years in live performances, Elton has often put a bit more shine on the back half, buoying the vocals and banging through emphatic piano accompaniments. Cover versions from Lady Gaga to Ellie Goulding (or thousands of others on YouTube) are often far more enthusiastic, perhaps none as full-throated as Ewan McGregor's earnest take in Moulin Rouge, which layers operatic riffs over the song. Whether you're swaying to it at a wedding or bringing down the house at karaoke, "Your Song" has held up for more than 50 years, a seemingly effortless but architecturally perfect beginning to a long, still ongoing career.
Like the bright light of a dead star we see thousands of years later, and among literally hundreds of beautifully crafted songs, "Rocket Man" lives on. Its journey to the top of Elton's stratospheric catalogue was sealed on the first day of recording Honky Chateau, one of three songs for which John banged out new melodies in quick succession. Taupin's lyrics "about the drudgery of being an astronaut," inspired by Ray Bradbury's 1951 short story, hint at a larger narrative, rife with wistful alienation and loneliness amid a journeyman's almost pedestrian work up among the stars.
The album version features Elton's falsetto at its strongest. Davey Johnston's spacey slide guitar twists and turns around a crisp, clean piano melody, building to crescendoing intergalactic piano and rock riffs.It's a music cue that can and has been dropped into nearly every genre of television or film to powerful effect — and according to real-life rocketeers, it has been in heavy rotation for multiple space-shuttle crews and on the International Space Station.
Universal Records, having clearly realized there was no such thing as aiming too high with John's press, placed ads that unironically celebrated the new single alongside Apollo 16's trip to the moon. "What a trip!" the ad read under side-by-side photos of John in full regalia and the spacecraft. "Both launchings bound to set new records." They weren't wrong: Although John and Taupin thought of themselves as "album artists," this breakthrough smashed radio charts on both sides of the pond, going to No. 2 in the U.K. and becoming triple-platinum in the States. "We'd stumbled into a different kind of commerciality, and its success changed our audience," John writes in his autobiography.
From spawning the name of John's own media and management companies — as well as the title of his biopic and a misapplied nickname that nearly brought the U.S. and North Korea to WWIII — there's also the enduring cultural resonance that the song has had. Elton remixed the refrain into his own 2022 pop hit with Dua Lipa, "Cold Heart." There are absolutely epic covers (try Kate Bush, for one), a spoken-word interpretation by William Shatner (maybe skip it), and live versions recorded by Elton everywhere from the Royal Festival Hall to Live Aid to Madison Square Garden.
My personal favorite of this best-ever comes from his Cold War trip to the USSR, released recently for Record Store Day as Live from Moscow, 1979. It's an atmospheric, echoey solo-piano version that climbs and climbs and climbs to the point where there's nowhere left to go but off into an unstoppable spin. The repeated refrain of "I think it's gonna be a long long time" feels as much like a prayer as a promise. The astronaut's drudgery suddenly isn't as dire a risk as the chance that he might lose sight of himself, "burning out [his] fuse out here." But the rolling sound gets so big, the song goes so far beyond its Earthly origins, that it becomes a permanent mark left on the vast, endless potential of deep space.
I like to imagine, though I'm well aware this is not how science works, that as we live in a world where an awkward queer kid from Pinner can become one of the most prolific and accomplished recording artists of all time, Elton John's songs can also spin out endlessly across an infinite universe. That a catalogue so deep and varied and enjoyable to a listener isn't bound to one format or generation. That maybe an artifact like "Rocket Man" could be discovered by its blue-collar alien equivalent and, even if it doesn't exactly make sense, say something beautiful about what we've been searching for here on Earth.